Oct 30.2014:
My website is still under construction.  However I will be posting my commentary at
harveyorgan.wordpress.com and at the silverdoctors website on a continual basis.
I would like to thank you for your patience.
Gold: $1198.10 down $26.20
Silver: $16.39 down 83 cents
In the access market 5:15 pm:
Gold $1199.00
silver $16.46
As promised to you, the crooked bankers continue with their criminal ways by whacking gold and silver on the week of options expiry.
Why anyone would play the options market at the comex is beyond me.
The gold comex today had a poor  day, registering  0 notices served for nil oz
A few months ago the comex had 303 tonnes of total gold. Today the total inventory rests at 259.74 tonnes for a loss of 43 tonnes.
In silver, the open interest continues to remain extremely high and today we are at multi year highs at 176,444 contracts.
To boot, the December silver OI remains extremely high at 118,765.
Today, we had another withdrawal in gold  inventory of 1.20 tonnes at the GLD . Inventory rests tonight at 741.20 tonnes.
SLV's inventory remains unchanged and rests at 343.415 million oz.
.
We have a few important stories to bring to your attention today…
Let's head immediately to see the major data points for today.
First: GOFO rates/We are now in  backwardation!!
All months basically moved slightly in a positive directions  with the first two GOFO months still in the negative. On the 22nd of September the LBMA stated that they will not publish GOFO rates. However today we still received today's GOFO rates.
It looks to me like these rates are now fully manipulated.
London good delivery bars are still quite scarce.
Oct 30 2014
1 Month Rate: 2 Month Rate 3 Month Rate 6 month rate 1 yr rate
-.045%                  -.015%               + .0225%          + .08%          + .18%
Oct 29 .2014:
1 Month Rate 2 Month Rate 3 Month Rate 6 month Rate 1 yr rate
-.0775% +          -.0425%                  +-0025%           +.07        + .16%
end
Let us now head over to the comex and assess trading over there today,
Here are today's comex results:
The total gold comex open interest rose by a large margin of 5045 contracts from 414,410 up to 419,455 with gold down $04.90 yesterday. Not too many longs left the arena. We are now in the active delivery month of October and generally this is a very poor month for deliveries. The October contract month is now off the board. The next delivery
month is November and here the OI actually rose by 53 contracts.  The big December contract month saw it's Oi rise by 3367 contracts up to
275,404.  The estimated volume today was good at 203,047 with the help from Bart's high frequency boys.  The confirmed volume yesterday
was weak at 140,857.  We had 0 notices filed so all results tonight are final standings for gold.
Final standing:  1268 notices x 100 oz  =  126,800 oz or 3.94 tonnes
The fun begins with the silver comex results.  The total OI rises to a multi year record of 176,444, a rise of 2711 contracts from
yesterday with silver up a tiny 4 cents.  The next non active silver contract month is November and here the OI rose by 384
contracts up to 591.  The big December active contract month saw it's OI surprisingly rose by 1134 contracts up to
118,765.  The estimated volume today was humongous at 82,846.  The confirmed volume yesterday was fair at 36,833.
We also had 0 notices filed so again all figures for the silver comex are final for tonight.
Final standings:  774 notices x 5000 oz =  3,870,000 oz
Mark Lundeen on the huge OI in silver and what it means:
"With silver's OI representing something like 868 million ounces of silver, today's $0.80 (4%) decline cost the longs $694 million dollars. It will be real interesting to see today's open interest figures. If OI doesn't decline by much, or if it actually increased after today's drubbing, the longs must be holding on to demand for delivery as they don't seem to care much for their dollars. If that is the case, we could see a panic in the silver market before the year is out.
What's next? Is the COMEX going to change some long standing rule to protect the big shorts?"We may be watching history here!
Mark Lundeen
as I have pointed out to you, 868 million oz is represented by 124% of total annual global production (ex China)
Data for the October delivery month.
October final standings
| | |
| --- | --- |
| | |
| Withdrawals from Dealers Inventory in oz | |
| Withdrawals from Customer Inventory in oz |  96,482.15 (Manfra, JPMorgan) |
| Deposits to the Dealer Inventory in oz | |
| Deposits to the Customer Inventory, in oz | nil |
| No of oz served (contracts) today | |
| No of oz to be served (notices) | |
| Total monthly oz gold served (contracts) so far this month |  1268 contracts  (126,800 oz) |
| Total accumulative withdrawals  of gold from the Dealers inventory this month |  70,724.27  oz |
| Total accumulative withdrawal of gold from the Customer inventory this month | 1,213,950.1 oz |
Today, we had 0 dealer transactions
total dealer withdrawal:  nil  oz
total dealer deposit:  nil oz
we had 2 customer withdrawals:
i) Out of Manfra;  32.15 oz  (one kilobar)
ii) Out of JPMorgan:  96,450.000 oz  (300 kilobars)
total customer withdrawals :96,482.15  oz
we had 0 customer deposits:
total customer deposit: zero oz
We had 1 adjustments:
i) out of Scotia:
102.95 oz was removed from the customer and this landed into the dealer account at Scotia.
Total Dealer inventory: 890,231.648 oz or   27.68 tonnes
Total gold inventory (dealer and customer) =  8.135 million oz. (259.74) tonnes)
Several weeks ago we had total gold inventory of 303 tonnes, so during this short time period 43 tonnes have been transferred out. We will be watching this closely!
Today, 0 notices was issued from  JPMorgan dealer account and 0 notices were issued from their client or customer account. The total of all issuance by all participants equates to 44 contracts  of which 0 notices were stopped (received) by JPMorgan dealer and 0  notices stopped by JPMorgan customer account.
Thus the final standings:
The total number of gold oz standing tonight for the October contract month is 1268 x 100 oz =  126,800 oz or 3.94 tonnes
 October final  standings:
1268 contracts x 100 oz = 126,800 oz +      =  126,800 oz or 3.934 tonnes
 And now for silver:
Oct 30/2014:
 October silver: final standings
Silver
Withdrawals from Dealers Inventory
  nil oz
Withdrawals from Customer Inventory
7060.800 oz
(Delaware,)
Deposits to the Dealer Inventory
nil
Deposits to the Customer Inventory
nil oz
No of oz served (contracts)
0 contracts  (10,000 oz)
No of oz to be served (notices)
0 contracts (nil oz)
Total monthly oz silver served (contracts)
774 contracts (3,890,000 oz)
Total accumulative withdrawal of silver from the Dealers inventory this month
2,573,732.0
Total accumulative withdrawal  of silver from the Customer inventory this month
9,112,164.3 oz
Today, we had 0 deposits into the dealer account:
 total dealer deposit: nil oz
we had 0 dealer withdrawal:
total  dealer withdrawal: nil  oz
We had 1 customer withdrawals:
i) Out of Delaware: 7060.8 oz
i
total customer withdrawal 7060.8 oz
We had 0 customer deposits:
total customer deposits: nil     oz
we had 1 adjustments:
i) Out of Delaware:  336,925.049 oz was adjusted out of the dealer and back into the customer account of Delaware
Total dealer inventory:  66.185 million oz
Total of all silver inventory (dealer and customer)   180.924 million oz.
Total number of notices filed for the month:  774
Thus Oct. final  standings for silver:  774 notices x 5,000 oz per notice or 3,870,000 oz + (0) –  (0) x 5,000 oz  =  3,870,000 oz,
we thus we have the same silver standing in the October contract month as yesterday.
This does complete the October silver month and a rather large 3.87 million oz stood for delivery.
It looks like China is still in a holding pattern ready to pounce when needed.


The two ETF's that I follow are the GLD and SLV. You must be very careful in trading these vehicles as these funds do not have any beneficial gold or silver behind them. They probably have only paper claims and when the dust settles, on a collapse, there will be countless class action lawsuits trying to recover your lost investment.
There is now evidence that the GLD and SLV are paper settling on the comex.
***I do not think that the GLD will head to zero as we still have some GLD shareholders who think that gold is the right vehicle to be in even though they do not understand the difference between paper gold and physical gold.  I can visualize demand coming to the buyers side:

i) demand from paper gold shareholders
ii) demand from the bankers who then redeem for gold to send this gold onto China
vs no sellers of GLD paper.
And now the Gold inventory at the GLD:
October 30.2014: we had another 1.2 tonnes of gold leave the GLD and heading to Shanghai/Inventory 741.20 tonnes
October 29.2014: we had another .99 tonnes of gold removed from the GLD/inventory 742.40 tonnes
Oct 28.2014: we had another withdrawal of exactly 2 tonnes of gold heading to Shanghai;  Inventory 743.39 tonnes
Oct 27.2014: no change in gold inventory at the GLD/inventory 745.39 tonnes.
Oct 24.2014: a huge withdrawal of 4.48 tonnes of gold at the GLD/Inventory 745.39 tonnes.  This gold is heading to friendly territory: namely Shanghai.
Oct 23.2014: no change in gold inventory at the GLD/Inventory at 749.87 tonnes.
Oct 22.2014: we lost another 2.1 tonnes of gold at the GLD. Inventory rests at 749.87 tonnes.  This tonnage no doubt is off to Shanghai.
Oct 21.2014: no change in inventory/GLD inventory rests tonight at 751.96 tonnes.
Oct 20.2014: wow!! a massive 8.97 tonnes of gold leaves the GLD heading to the friendly shores of Shanghai./Inventory 751.96
Oct 17.2014: No change in gold inventory at the GLD/Inventory 760.93 tonnes
Oct 16.2015: GLD gained back 1.79 tonnes of gold/inventory 760.93 tonnes
Oct 15.2014  GLD lost back the gold it gained yesterday to the tune of 2.09 tonnes/Inventory back to 759.14 tonnes
Oct 14.  GLD inventory/stays the same at 761.23 tonnes
Today, Oct 30 we lost 1.20 tonnes   gold inventory   at the GLD
inventory: 741.20 tonnes.
The registered  vaults at the GLD will eventually become a crime scene as real physical gold  departs for eastern shores leaving behind paper obligations to the remaining shareholders.   There is no doubt in my mind that GLD has nowhere near the gold that say they have and this will eventually lead to the default at the LBMA and then onto the comex in a heartbeat  (same banks).
GLD gold:  741.20 tonnes.
end
And now for silver:
October 30.2014; no change in silver inventory at the SLV/inventory at 343.415 million oz
October 29.2014 no change in silver inventory at the SLV inventory/343.415 million oz
October 28.2014: no change in silver inventory at the SLV/Inventory at 343.415 million oz
Oct 27.2014: no change in silver inventory at the SLV
Oct 24.2014: as of 6 pm, there is no change in silver inventory at the SLV. Note the difference between gold and silver.  Gold leaves the vault of GLD as little silver leaves the SLV.  (I guess it means that there is no silver to give to the banker participants)/Inventory:  343.415 million oz
Oct 23.2014: no change in silver inventory at the SLV (as of 6 pm est
Inventory: 343.415 million oz
Oct 22.2014: no change in silver inventory at the SLV ( as of 6 pm est)
Inventory: 343.415
Oct 21.2014; no change in silver inventory at the SLV (as of 6 pm est)
Oct 20.2014: we lost 1.15 million oz of silver inventory at the SLV/inventory 343.415 million oz
Oct 17.2014: no change in silver inventory/344.565 million oz
Oct 16.2014: no change in silver inventory/344.565 million oz
Oct 15.2014 no change in silver inventory/344.565 million oz
Oct 14.2014 today we had a loss of 1.201 million oz/SLV inventory rests at 344.565 million oz
Oct 13.2014: no change in silver inventory so far:
345.766 million oz
 Today, Oct 30.2014: no change/inventory at 343.415 million oz
And now for our premiums to NAV for the funds I follow:
Note:  Sprott silver fund now deeply into the positive to NAV
Sprott and Central Fund of Canada.
(both of these funds have 100% physical metal behind them and unencumbered and I can vouch for that)
1. Central Fund of Canada: traded  at Negative 9.5% percent to NAV in usa funds and Negative   9.4% to NAV for Cdn funds
Percentage of fund in gold  60.8%
Percentage of fund in silver:38.60%
cash .6%

.( Oct 30/2014)   


2. Sprott silver fund (PSLV): Premium to NAV falls to positive 4.39% NAV (Oct 30/2014)  
3. Sprott gold fund (PHYS): premium to NAV  falls to negative -0.55% to NAV(Oct30/2014)
Note: Sprott silver trust back hugely into positive territory at 4.39%.
Sprott physical gold trust is back in negative territory at  -0.55%
Central fund of Canada's is still in jail.
Now  your more important physical stories today:
(courtesy Mark O'Byrne)
U.S. Mint Gold Coin Sales Near 60,000 Ounces In October – Swiss Gold Initiative Leading To Increase In Demand?
Published in Market Update  Precious Metals  on 29 October 2014
The U.S. Mint has sold nearly 60,000 ounces of American Eagle gold coins so far in October due to increased global demand from store of wealth buyers as economic and geopolitical uncertainty increased.
With only three business days left until the end of October, the U.S. Mint has sold 59,500 American Eagle bullion one ounce gold coins. On a year-on-year basis, U.S. gold coin sales in October are up 21% from 48,500 ounces in October 2013.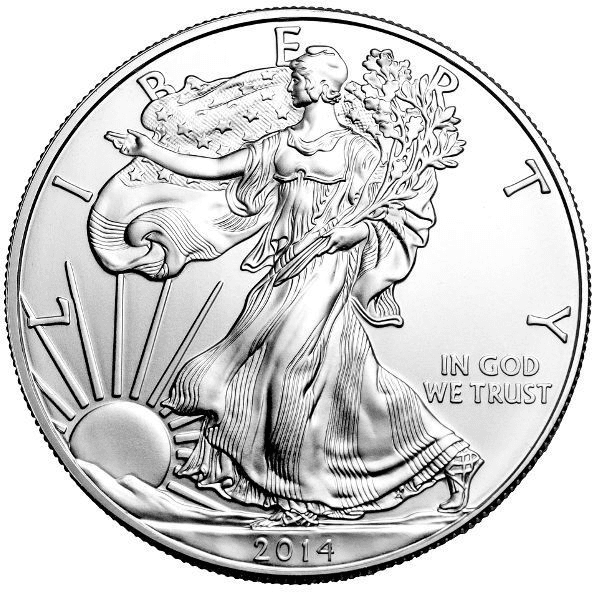 U.S. Mint Silver Eagle, 2014 (1 Ounce)
Store of wealth silver bullion buyers continue to stack silver at a steady clip. They bought 4.12 million ounces of American Silver Eagle coins so far this month, versus 4.14 million ounces in September.
This means that nearly 68 times more silver in ounce terms was bought than gold. Silver buyers continue to see silver as severely depressed with silver below $20/oz and the gold silver ratio at 71 or $1,228/oz divided by $17.24/oz.
The gold bullion coin sales from the U.S. Mint are the highest monthly sales since January and are higher than the 58,000 that were sold in September. The 58,000 ounces sold in September was more than double the demand in August, mint data shows

Ultimate Financial Insurance – U.S. Mint "Monster Box" With 500 Silver Eagles
"(Islamic State), Ebola, Putin and Ukraine… There is a litany of these things which have risen in the last year or so which have provided a negative backdrop," Scott Spitzer of MTB told Reuters.
Sales to European buyers rose on the belief that a proposal to prohibit the Swiss National Bank from selling any of its gold reserves and a provision that the SNB may have to have a 20% gold backing to the Swiss franc may lead to increased demand both from the Swiss central bank and from other central banks.
It is important to note the following:
* Bullion coins are purchased by long-hold collectors and financial insurance buyers
* Bullion coins attract demand from savers and store of wealth buyers, rather than speculative investors and speculators
* Bullion coins are used frequently to store intergenerational wealth and pass wealth from one generation to the next
Gold and silver bullion coins remain the preserve of a tiny minority of buyers who are more risk conscious and generally more aware of geopolitical, monetary and indeed systemic risk than the broader public.
Smart money is willing to pay a small premium to own actual coins and bars rather than have the exposure of an ETF or digital gold platform.
Prudent diversification into physical coins and bars will again reward those who take a long term view.
See Essential Guide to  Storing Gold and Silver In Switzerland here
GOLDCORE MARKET UPDATE
Today's AM fix was USD 1,228.00, EUR 963.67 and GBP 761.65 per ounce.
Yesterday's AM fix was USD 1,228.25, EUR 967.58 and GBP 762.23 per ounce.
Spot gold was up 0.3% to $1,230 an ounce in New York yesterday. Gold traded little changed above a two week low in London today despite very robust global demand for physical gold.

Gold in U.S. Dollars – 5 Years (Thomson Reuters)
Gold for Swiss storage or for immediate delivery was flat at $1,228.40. Silver for immediate delivery added 0.1% to $17.2285/oz. Platinum rose 0.4% to $1,271.25/oz. Palladium climbed 0.6% to $797.89/oz. It's up for a fifth day in the longest run of gains since August 15.
Fed watchers continue to see the Fed's interest rate decision as key to the outlook for gold. It may indeed cause price volatility in the short term. However, global physical demand may again be of more importance to the gold market. This seems likely as interest rates are set to remain low for the foreseeable future.
Asian demand remains strong, especially in India and China.
Volumes on the Shanghai Gold Exchange's (SGE) benchmark gold bullion spot contract rose to a three week high today.
Gold's biggest buyer, China, continues to see very robust demand. Imports of gold from Hong Kong rose to a five-month high in September, data showed this week and even more importantly imports ex Hong Kong remain very high as seen in the withdrawals from the Shanghai Gold Exchange (SGE).

Silver in U.S. Dollars – 5 Years (Thomson Reuters)
India saw very high demand for gold for the Hindu festival of Diwali, a major cultural and religious gold buying event.
Central banks remain net buyers too. Russia and Kazakhstan were among nations that substantially added bullion to their reserves in September, data on the International Monetary Fund website showed today.
The U.S. Mint sold 59,500 ounces of American Eagle gold coins so far this month – the most ounces of American Eagle gold coins sold since bullion coin inventory stocking in January (see above).
end
Koos Jansen reports that gold demand for China was 51.5 tonnes for the latest week totals:
(courtesy Koos Jansen)
Chinese Gold Demand 1541t YTD
First things first, Chinese gold demand is still very strong and it's in a uptrend since July.
Apologies for my late reporting on the latest SGE withdrawals numbers – which are the best benchmark for Chinese gold demand. I was trying to figure out some details on gold trade rules between the mainland and the Shanghai Free Trade Zone. I still haven't got confirmation, so will get back to it.
Chinese wholesale gold demand is at least 1541 metric tonnes year to date (inc. week 42 – until  October 17). Shanghai Gold Exchange (SGE) withdrawals, as disclosed by the Chinese SGE reports, were 52 tonnes in week 42 and according to my estimates China has approximately net imported 991 tonnes year to date.
In this chart the numbers displayed are as disclosed by the SGE.Perhaps the ones with a sharp eye noticed the title of this post claims Chinese gold demand is 1541 tonnes year to date, but in the chart above we read total SGE withdrawals stand at 1547 tonnes year to date. Do SGE withdrawals still equal Chinese wholesale gold demand? Not anymore, sadly.
Blue (本周交割量) is weekly gold withdrawn from the vaults in Kg, green (累计交割量) is the total YTD.
What Has Changed?
Since September 2013  I've reported every week on Chinese gold demand measured by withdrawals from the SGE vaults, as my research has pointed out this was the best benchmark to use. The game is changing, though, now the Shanghai International Gold Exchange (SGEI) has launched in the Shanghai Free Trade Zone (FTZ). In terms of trade the FTZ must be considered as a separate country from China mainland.
The new subsidiary of the SGE has not completely opened up the Chinese gold market to the world, gold bullion is still prohibited to be exported from China. Technically speaking the SGEI serves two functions; it's a satellite exchange for the rest of the world to trade gold in renminbi, additionally the SGEI can be used by Chinese banks, that have a PBOC gold import license, to buy gold and subsequently import the bullion into the mainland (click here for a comprehensive analysis of the SGEI). Since the launch of the SGEI, the withdrawal numbers from the SGE and SGEI are disclosed enumerated, which distorts our view on Chinese gold demand in the mainland.
To be as conservative as possible on Chinese gold demand I applied the following math to SGE withdrawals numbers in the past weeks. I subtracted the weekly volume traded on the SGEI from withdrawal numbers just in case all buyers on the SGEI opted to withdrawal their gold from the vaults in the FTZ and re-exported it anywhere but the mainland.
Chinese law dictates all gold bullion imported into the mainland (in general trade) by commercial banks is required to be sold first through the SGE. If gold is imported into the FTZ it's officially not imported into the mainland. The thing I'm not sure about at this stage is, if Chinese banks buy gold on the SGEI, withdrawal this from the vaults in the FTZ and import it into the mainland, is this required to be sold through the SGE again (?). My common sense would say no, but I need to have it confirmed by the SGE.
From Detailed Rules for Physical Delivery of the Shanghai Gold Exchange (the International Board is the SGEI):
Article 36

Each Domestic Member and Domestic Customer may withdraw physical bullions deliverable on the Main Board from an MB Certified Vault, but is not permitted to withdraw physical bullions deliverable on the International Board from an MB Certified Vault. Except for those members and customers qualified to import and export gold, no Domestic Member or Domestic Customer is permitted to withdraw bullions from an IB Certified Vault. Any Domestic Member or Domestic Customer that has gold import and export qualifications may withdraw physical bullions deliverable on the International Board from an IB Certified Vault.
Recently the Bank of Shanghai (BoS) has imported 500 Kg from the SGEI vaults (IB Certified Vaults) into the mainland. As we could read on Antaike, I'm not a member of Antaike but I could see this headline on October 23:
Let's assume the BoS imported this gold on October 15. And let's assume the imported gold was not required to be sold through the SGE again.  If we remain as conservative as possible we can make the following calculation:
In week 42 (October 13 – 17) 51.5 tonnes were withdrawn from the SGE and SGEI vaults combined. SGEI trading volume that week was 3.8 tonnes and of this 0.5 tonnes was imported into the mainland. My conclusion would be Chinese wholesale demand was at least, based on the data we have, 48.2 tonnes (51.5 – 3.8 + 0.5). In this fashion I also calculated Chinese wholesale gold demand year to date; it was at least 1541 tonnes.
SGEI trading volumes are still tiny at this stage, thereby, my SGE contact told me SGEI withdrawals are small. So for now total withdrawal numbers are quite accurate for Chinese gold demand, however, this will change. I expect for this year (2014) we can still make good estimates of Chinese gold demand, for next year the numbers might get more blurred. Unless new numbers will be disclosed by China which we can use as tools to clear our view, all in an effort to keep track of gold demand in the mainland, even more important, to make estimates of how much gold is imported from the rest of the world. I hope to have more facts from the SGE by next week in order to report as precise as possible on Chinese gold demand and import.
Koos Jansen
end
(courtesy Arabian Money/Peter Cooper)
Swiss gold referendum likely to pass and send prices higher says Julius Baer's Burkhard Varnholt
Posted on 30 October 2014 with no comments from readers
Swiss private bank Julius Baer's chief investment officer Burkhard Varnholt told ArabianMoney that the gold referendum in Switzerland (click here) is likely to pass and that will send gold prices much higher next year as the Swiss Central Bank will then have no alternative but to buy gold.
'I will be voting against the gold referendum,' he said before a seminar for clients in Dubai' Royal Mirage Hotel today. 'I am not against a gold standard but against tying the hands of the Swiss Central Bank and forcing them to buy an asset that they will not then be allowed to sell.
Commodities bull
'However, I think the referendum is likely to pass, and if a majority supports it then gold prices will go higher.' Dr. Varnholt also argues that commodity prices in general are almost at a bottom and that a new bull market for oil is around the corner with 'substantially higher' prices possible next year and a 'certainty for 2016′.
For US dollar investors – and that includes the dollar-pegged currencies of the GCC – Dr. Vanrholt recommends a 10-20 per cent gold holding in their portfolio for diversification and protection against renewed dollar weakness.
'The end of QE means nothing,' he said. 'It is not going to happen. Loose monetary policy will continue keeping bond yields low for at least another five years. Dr. Varnholt is also 'super bullish' on the outlook for the Gulf Oil States.
'If any countries can deal with high oil prices it is the GCC and they are totally able to survive this,' he said. 'They have first mover advantage, the position between East and West for trade and transportation, business-friendly governments and a real estate supply that will lag behind demand right up until the 2020 Expo in Dubai.'
Incredible India
Dr. Varnholt is also a China bull and thinks India under Prime Minister Modi will show it 'really is incredible'. Not surprisingly then his equity allocation is biased towards emerging markets and those Western companies most deeply connected with them like Nestle and Unilever.
On the eurozone believes long-term structural reform with the 'liberalization of labour and taxation' will eventually allow these countries to emerge from their current malaise and join a global economic upturn. In a recent meeting with the new Italian Prime Minister Dr. Varnholt noted that this was now moving up the political agenda.
Equities, he argues, are in a long-term bull market that will only end 'years from now' when price-to-earning ratios are a lot higher than the are today, while commodities are almost a buy.
Posted on 30 October 2014
end
Markets will start testing Fed to see if QE is really over, former Fed aide tells KWN
Submitted by cpowell on Thu, 2014-10-30 01:19. Section: 
Daily Dispatches
9:15p ET Wednesday, October 29, 2014
Dear Friend of GATA and Gold:
Former Federal Reserve official Andrew Huzsar tells King World News tonight that the markets are likely to start testing the Fed's commitment to end the bond monetization of "quantitative easing."
"I see a tug of war between the Fed and the market," Huszar says, "because the Fed ultimately does want to disengage from being so active in key markets. Today the Fed used language that implied that they may raise interest rates sooner. I strongly believe that the market will effectively push back against the Fed and this will create bouts of enormous volatility."
An excerpt from Huszar's interview is posted at the KWN blog here:
http://kingworldnews.com/kingworldnews/KWN_DailyWeb/Entries/2014/10/29_M…
CHRIS POWELL, Secretary/Treasurer
Gold Anti-Trust Action Committee Inc.
end
Hugo Salinas Price: The fall in international reserve assets
Submitted by cpowell on Thu, 2014-10-30 01:07. Section: 
Daily Dispatches
9p ET Wednesday, October 29, 2014
Dear Friend of GATA and Gold:
Hugo Salinas Price, president of the Mexican Civic Association for Silver, writes tonight that the international reserve assets of central banks, having long increased steadily, have been declining in recent weeks, apparently for the first time in 18 years. He's looking for explanations. His commentary is headlined "The Fall in International Reserve Assets" and it's posted at the association's Internet site, Plata.com, here:
http://www.plata.com.mx/mplata/articulos/articlesFilt.asp?fiidarticulo=2…
CHRIS POWELL, Secretary/Treasurer
Gold Anti-Trust Action Committee Inc.
end
And now part ii of Bill Holter's review of Alan Greenspan's remarks:
Alan Greenspan "GATA's missed opportunity" part 2.
(courtesy Bill Holter)
In part one, I recounted Alan Greenspan's one on one interview with Gary Alexander.  Later in the daySaturday, Alan Greenspan was part of a round table with Porter Stansberry and Dr. Marc Faber, moderated by Mr. Alexander.  While both Stansberry and Faber had a couple of good "zingers" for Mr. Greenspan early on and they both had good points and additions to the discussion, I want to concentrate on what Alan Greenspan had to say.  Before getting to part 2, I do want to make one correction to yesterday's piece.  I heard Mr. Greenspan's reply to the question "where will interest rates and gold be five years from now?" as "higher…considerably".  I have been corrected several times, his exact word was "measurably", I apologize for the misquote.
  If you remember, in part one Alan Greenspan told several white lies.  One regarding the leasing of gold by central banks, the Fed never speaks with the Treasury regarding debt/deficit levels, while another was diverting the blame for the housing crisis to Fannie and Freddie amongst other factors…but not the Fed.  The key from GATA and the gold community's point of view was Greenspan's denial of gold leasing and the question "do you recall testifying before Congress where you stated central banks stand ready to lease gold in increasing quantities should the price of gold rise?".  This question by Gary Alexander was flubbed miserably and we may never get this opportunity again, I will finish with what and "how" I think it happened but first I'd like to lay out what the former chairman had to say.
  While Mr. Greenspan spoke of many topics, there were too many and some even irrelevant in my opinion to recount them all, the following is what I found important.  The talk began with the topic being "the savings rate".  Alan Greenspan went back to his old spiel of "productivity" and said that the system of entitlements was crowding out savings.  He used an equation of "more benefits=less growth" and there is no way out or around this, we have been eating our seed corn.  I agree as it is the common sense which is so "un"common in Washington but I guess one must leave the beltway before it hits them in the forehead?
  Next, the conversation shifted to government spending.  Greenspan continued his attempt at cleansing his legacy by saying "it's Congress's fault for spending, the Fed HAS to buy Treasury debt or else interest rates will explode".  Gary Alexander then asked him "so you are saying the Fed is not independent?" and the reply much to my surprise was "I never said it was independent".  Before going any further, I think this point is important for several reasons.  First, why should interest rates explode if the economy is self sustaining and government is spending within its means?  Was the economy (and Treasury) being bottle fed even all those years ago through the late 80's and 90's?  What would have happened if the Fed was not so accommodative?  Higher savings, less debt, a lower standard of living then but a higher one in the future?  Would any of the bubbles have been blown and subsequently popped or would we have had lower yet more sustainable growth?  I think we all know the answers to this.
  The question of China's growth was next, Greenspan called it "phenomenal".  He said much of the growth was due to "stolen technology" and that productivity would necessarily be slowing in the future.  He touched on the "shadow banking" system within China and suggested it to be a huge problem, as you know, I have harped on this topic for quite some time myself.
  The next question was very interesting, the panel was asked what will happen to the Fed's $4.5 trillion balance sheet with QE winding down, what will Fed policy be?  Porter Stansberry was quite blunt and said there is "mathematically no way out" (does this sound familiar to readers?) and that we will live with QE forever.  Faber agreed and added that real interest rates would have to remain negative indefinitely.  He added that central banks all over the world have "distorted" financial markets and QE cannot be withdrawn.  Alan Greenspan took a pass on this one and posted a "no comment" as he said Paul Volcker never spoke publicly or second guessed him while chairman and he would do the same.  He did say "the Fed is very smart" and they know everything "we" do.  What was really interesting to me was when he added that "a lot of money can be created until everything blows up".  He talked again about how huge bank balance sheets are the kindling wood (he used the word "tinder") for hyperinflation if and when velocity does pick up…"no one can forecast 5 years out".  I guess my question to him would be as follows "could banks carry such huge balance sheets if the Fed did not facilitate it with blowing their own balance sheet past the moon and then offering a free 1/4% interest to any bank willing to play"?  Mr. Greenspan was given a pass here in my opinion.
  Porter and Marc were then allowed to ask Mr. Greenspan one question each.  Sad to say the two questions were somewhat soft and certainly NOT what I would have asked.  They asked "you have said that bubbles are very hard to spot, are we in one now?" and "would you do anything differently now if you had the chance?".  Greenspan's answer to Porter was pretty much the "non speak" gobbledygook he used to play for Congress.  He talked about commercial real estate being dead for years and now rising on very low volume which is a real potential danger. He also said stocks are valued "average" historically and that much current and future economic demand has been eliminated.  Importantly, he did add that much future demand has been pulled forward and thus now eliminated.  This is an important admission in my opinion, he was saying that easy money works for today rather than tomorrow.
  He replied to Marc Faber by saying again "bubbles are very hard to spot" and that "no one" has been able to forecast the timing of a bubble bursting except by accident.  When I heard this I just started laughing out loud!  I must be "no one" because in late 2006 I left a very high paying job, sold my real estate, shipped my gold outside of the country and packed my family up to leave the country.  Did I do this on a whim?  No, I saw what was coming, I wrote about what was coming (it is still all archived as proof) throughout 2007 and 2008 and was surprised it took as long as it did.  I must admit that what I did not see coming was the Treasury and Fed's response by bankrupting themselves to prolong the game.  This is a story for another day but hearing "no one" saw it coming is laughable as I can name more who saw it coming than I have fingers and toes to count them on …it's just that they were not on CNBC or visible via other mainstream media pabulum for the public to see.
 As for the very last question, it was supposed to have been regarding his testimony to Congress in 1998 where Mr. Greenspan said "central banks stand ready to lease gold in increasing quantities should the price rise".  Gary Alexander substituted "buy" for the word "lease" which obviously changes the meaning and allowed Greenspan to truthfully say "No, I don't recall that".  I know that many believe Mr. Alexander let Greenspan off the hook and did not want to embarrass "the Maestro", I disagree.  I watched as Alexander furiously tried working his IPad, he had been e-mailed the quote 4 days earlier by Chris Powell and others and then again "re" e-mailed between sessions so the question could be asked.  This is where "caveman techniques" would have worked better using a pen and piece of paper, he could have simply stuffed it in his shirt pocket …ready for use.  He (we) dropped the ball.  I saw it with my own eyes and believe it was an honest error, one that may never be corrected and could have had very significant historical ramifications but it is now water over the dam.  Alexander held two good interviews where he did not serve up softball questions and did actually get some truthful (and surprising) answers.  The problem as I see it is this question could have opened many cans of worms for the cartel as it is at the center of the suppression scheme and thus one of the core supports to a fraudulent fiat financial system.  As I said, I believe it was an honest mistake but a mistake of epic proportions in the scheme of things.
  Before finishing I would like to ramble just a bit.  Had I been allowed to ask questions, I would have been much more specific with the questions he was asked.  I would have asked him (since it was born under his watch) which markets and "how" the PPT manages markets?  I would have asked him if there is ANY mathematical way out of where we are now.  If there is, what is it?  If there is not (there is not) does it bother him that he was at the helm while this ship headed toward the iceberg?  I would ask him "since you obviously understood and still understand gold versus fiat money, what in the world enticed you to captain a ship you knew would mathematically hit an iceberg?  Have you no conscience sir?  Enough said.  Regards,  Bill Holter
Early Thursday morning trading from Europe/Asia
1. Stocks mostly up on  Asian bourses   with the lower yen  values   to 109.02
 1b USA vs Chinese yuan strengthens  (yuan weakens) to 6.11573
2 Nikkei up 104 points or 0.67%
3. Europe stocks down/Euro down USA dollar index up at 86.21.
3b Japan 10 year yield at .47%/Japanese yen vs usa cross now at 109.02/
3c  Nikkei now below 15,000
3d  Japan and Denmark sell negative bills !!!
3e  Japanese companies going bankrupt with the high yen vs dollar at over 109.
3fOil:  WTI  81.34   Brent:     86.29
3g/ Gold down/yen down;  yen above 109 to the dollar/
3h/  Bank of Russia intervening in the market place.  Rouble rises 2.8%
3i  Greek bonds plummet another 6% (falling 60 basis points)
3j Gold at $1204.00 dollars/ Silver: $16.82
4.  USA 10 yr treasury bond at 2.31% early this morning.
5. Details Ransquawk/Bloomberg/Deutche bank/Jim Reid
(courtesy zero hedge)
Sudden Bout Of Risk-Offness Sends European Shares Sharply Lower, US Futures Not Happy
The best summary of the morning after the Fed's official end of QE3 comes from DB's Jim Reid, and is as follows: "The surprises from last night's FOMC statement was not that the Fed wants to be more hawkish than the market currently prices in and that its wants to raise rates in 2015, but that they chose to be so confident so soon after the recent volatility. Last night's statement would have been near impossible to publish two weeks ago so it is a bit of a risk. However as ever the Fed is data dependant and therefore what they say they are going to likely do at some point in the future might prove to be largely irrelevant when the time comes. As a minimum the Fed seem quite comfortable withdrawing liquidity from the market and with that we continue to think that bouts of volatility are more likely now than they were for most of the two years that QE3 was in existence. A lot now depends on the ECB and maybe the BoJ picking up the liquidity baton. We may not have to wait too long to find out about their future direction as the BoJ have an interesting meeting tomorrow and the ECB one this time next week."
Indeed, the Fed's hawkishness and the resultant dollar strength are already having an impact on global fixed income markets, as both Japan and Denmark sold Bills at negative yields for the first time. Not only that, but despite another day of endless Japan jawboning which perhaps sought to extend the JPY losses above 109, the USDJPY reverted back to its 109 tractor, a level which it may find far too high as increasingly more Japanese businesses are going bankrupt fighting the weak (gasp) currency. And then there was the Bank of Russia which is rumored to be intervening in the market ahead of its key rate decision tomorrow when it is expected to lower rates by 50 bps to 8.00%, the result being the biggest Ruble surge since January 2010, rising by over 2.8%. What can one say: it is a central bank world after all.
But more to the point, after a relatively tame reaction yesterday in the aftermath of the Fed statement, there has been a sudden and sharp bout of risk-offness around the globe, with Eurostoxx finding an air pocket, following German deflation data which was negative across the board and another day of broad weakness surrounding Italian banks in the aftermath of the "successful" stress test. Perhaps most surprising is the speed with which the session, which was until just an hour ago looking at an unchanged open, turned sharply red, suggesting that while volumes continue to be low, liquidity is near record lows.
So despite opening in the green following a batch of strong earnings reports, European equities trade firmly in the red (Eurostoxx -0.9%) with the DAX slipping below 9000 and Eurostoxx below 3000. This comes as attention resides with the lacklustre German CPI releases with most of the regional results slipping into negative territory around the 0.2-0.3% level. Furthermore, sentiment has also been buoyed in a continuation of the response to the hawkish Fed release yesterday and comments from the EBA chief who said banks should not feel too secure after ECB stress tests, even those banks who passed them. As such financials (particularly in the periphery) are being squeezed lower, with basic materials names are also notably lower, given the broadly stronger USD which was weighed on the commodity complex. US equity futures, which had flirted with the unchanged line for most of the session, just dropped in sympathy to overnight lows.
Elsewhere, Greek bank stocks are down 5%-9% with the GE/GR 10yr government bond yield spread seen wider by 60bps on the session, as the country continues to face a "climate of uncertainty" until February, amid snap election risk, according to the administrative reform minister Mitsotakis. Elsewhere, fixed income markets have been provided some reprieve alongside the slide lower in equities, with the Bund currently residing just shy of yesterday's highs at 150.66.
To summarize (even though with liquidity as non-existant as it is, this may be completely stale by the time we go to print in a minute or so), European shares erase gains, fall close to intraday lows following the Fed's decision to end QE. Banks, basic resources sectors underperform, while health care, tech outperform. Companies including Shell, Barclays, Aviva, Volkswagen, Alcatel-Lucent, ASMI, Bayer released earnings. German unemployment unexpectedly declines. The Italian and U.K. markets are the worst-performing larger bourses, the Swiss the best. The euro is weaker against the dollar. Greek 10yr bond yields rise; German yields decline. Commodities decline, with nickel, silver underperforming and wheat outperforming. U.S. jobless claims, GDP, personal consumption, core PCE due later.
S&P 500 futures down 0.4% to 1963.7
Stoxx 50 down 0.9% to 2955.6
US 10Yr yield down 1bps to 2.31%
German 10Yr yield down 3bps to 0.87%
MSCI Asia Pacific down 0.3% to 140.2
Gold spot down 0.7% to $1204.2/oz
Bulletin headline Summary from RanSquawk and Bloomberg

Despite opening in the green after a batch of strong earnings, EU equities trade firmly in the red (Eurostoxx -0.9%) as attention turns towards weak regional German CPIs and the more hawkish than expected Fed.
The Post-FOMC USD strength has seen EUR/USD and GBP/USD break below 1.2600 and 1.6000 respectively, with USD/JPY breaking 109.00 to the upside.
Looking ahead, attention turns to the advanced reading of Q3 GDP, weekly jobs data and the US Treasury wrapping up this week's auction with USD 29bln in a 7yr note.
Treasuries steady, curve spreads flatten. Week's auctions conclude with $29b 7Y notes, yield 2.025% in WI trading vs 2.235% award in September.
2Y yield rose most in 3-1/2 years yesterday after Fed officials dismissed recent turmoil in financial markets and focused instead on "solid" employment gains that will keep them on a path toward an interest-rate increase next year
German unemployment declined 22k in October, most in six months, vs median estimate for 4k increase in Bloomberg survey; adjusted jobless rate held at 6.7%
Greek bond investors face a rollercoaster ride for the next four months as the government tries to contain the risk of snap elections, Minister of Administrative Reform Kyriakos Mitsotakis said
ECB chooses Deutsche Bank, State Street, ING and Amundi to advise on ABS purchases, Manager Magazin reports, without saying how it obtained the information
Obama said the U.S. must keep sending health workers to West Africa to "snuff out" Ebola at its source, warning for the second straight day that travel bans and quarantines won't keep the U.S. safe
Republicans, who hold a majority of U.S. governor's offices and legislatures, seek to expand their dominance to unprecedented levels in Nov. 4 elections that will set the agenda on issues such as abortion, taxes and regulation
The advance of the U.K. Independence Party is being tested today in an election for a police commissioner's post in Labour's political heartland of northern England, three weeks before the party seeks its second elected member of the House of Commons
Sovereign yields mostly lower; Greece 10Y +38bps to 7.96%. Asian stocks mostly higher, European stocks and U.S. equity- index futures decline. Brent crude and gold decline, copper gains
JGBs trade down 2 ticks at 146.50 in quiet trade ahead of tomorrow's key risk events including; BoJ rate decision and semi-annual economic forecast, jobless report and CPI releases. Asian markets trade mixed with corporate earnings the focus of much of today's session so far. The Nikkei 225 closed up 0.7% supported by a weaker JPY which lost ground against the greenback following the FOMC decision. The Shanghai Comp (+0.8%) and Hang Seng (-0.5%) traded mixed, the latter led lower by oil names after CNOOC (-4.6%) and PetroChina (-1.2%) reported downbeat earnings.
Further cautious sentiment has also stemmed after the Palestinian Authority President Abbas said the closure of Al- Aqsa is declaration of war. This comes after Jerusalem's Israeli mayor visited the Al-Aqsa mosque compound Tuesday, angering Islamic authorities. Ahead, the UN Security Council is to hold an emergency meeting Wednesday to discuss Israel's plans to build more Jewish settlements in Arab east Jerusalem.
FX
Price action in FX markets has been predominantly dictated by movements in the USD following the more hawkish than expected Fed release. As such, USD pairs trade on the back-foot, USD/JPY broke above 109.00 to the upside to post a 3-week high while EUR/USD and GBP/USD fell below the 1.2600 and 1.6000 handles respectively. Weakness was observed in AUD led by cross-related selling in AUD/JPY and selling in AUD/USD by a European Life Insurer name. Elsewhere, NZD pared its post-RBNZ losses, where the central bank left rates unchanged, talked down the currency and dropped its reference to further policy tightening.
The RUB has strengthened significantly in recent trade, with USD/RUB falling around 2.5%. Tomorrow the Russian key interest rate decision is scheduled for 1030BST where expectations are for a 50BPS hike from 8.00% to 8.50%. Analysts at Goldman Sachs earlier this morning said that the Russian central bank will increase its key rate by 50 bps at its meeting tomorrow, abolish rule-based interventions and conduct discretionary intervention large enough to stabilise the RUB.
Brazil's COPOM unexpectedly raised it SELIC rate by 25bps to 11.25%; decision was not unanimous and had favour vote split of 5-3. (BBG)
COMMODITIES
WTI crude futures trade lower after retreating from a 1-week high following the release of lower-than-expected- build in crude stockpiles, weighed on by a strong USD overnight. Similar weakness was observed in spot gold which fell over 1% to trade at its lowest level since October 8. In terms of notable energy related news, Libya is markedly increasing its oil prices, according to people familiar with the matter (WSJ) and Ukraine and Russia have failed to reach a gas agreement at their overnight talks with the EU. (FT)
* * *
DB's Jim Reid Concludes the overnight event recap
The surprises from last night's FOMC statement was not that the Fed wants to be more hawkish than the market currently prices in and that its wants to raise rates in 2015, but that they chose to be so confident so soon after the recent volatility. Last night's statement would have been near impossible to publish two weeks ago so it is a bit of a risk. However as ever the Fed is data dependant and therefore what they say they are going to likely do at some point in the future might prove to be largely irrelevant when the time comes. As a minimum the Fed seem quite comfortable withdrawing liquidity from the market and with that we continue to think that bouts of volatility are more likely now than they were for most of the two years that QE3 was in existence. A lot now depends on the ECB and maybe the BoJ picking up the liquidity baton. We may not have to wait too long to find out about their future direction as the BoJ have an interesting meeting tomorrow (more below) and the ECB one this time next week.
Reviewing the FOMC statement in more detail, the main highlights were that QE will end on time this week and that the 'considerable time' language around policy rates was retained. DB's Peter Hooper noted that the statement was clearly more positive on labour market developments in recognising 'solid job gains' and 'lower unemployment'. Furthermore they also noted that the 'underutilization of labour resources is no longer significant and is gradually diminishing'. On activity the Committee also dropped the reference to fiscal drag holding things back. The Committee was more downbeat on the inflation picture though as they noted that market-based measures of inflation have declined somewhat while survey based measures have been stable. For us it was interesting to see the mention of disinflationary pressures arising from lower energy prices (and other factors).
Trying to make sense of this all, DB's Peter Hooper noted that his view remains consistent with a mid-2015 lift-off under current Fed expectations. His belief is that on balance the committee is feeling better about activity and the labour market although still somewhat concerned about the inflation picture with risks likely more skewed to the downside. Peter also mentions that retaining the wording that policy rates will be held at current levels for 'a considerable time? following the end of the asset purchase program this month seems fully consistent with the guidance in recent Fed speak from near the center of the Committee. One interesting thing to look out for in the near term will be any additional changes in wording at upcoming meetings that could suggest any changes to expectations of a mid-year lift off.
The market reaction to the statement was dominated by the move higher in the US Dollar and yields. Markets brought forward their expectations of the first rate hike slightly to currently pricing a first full rate hike around late next year from completely pricing out a 2015 hike two weeks ago. With that also came a round of bear flattening especially at the front end of the Treasury curve with the 2s/10s curve flattening by around 7bps to 184bps. Although a firm performance of the 30yr (-2bps to 3.049%) actually led to a bull flattening at the very long end. The Dollar appreciated sharply against key currencies with the Euro, Sterling and Yen now around a percent lower from pre-FOMC statement levels at 1.262, 1.598 and 109, as we go to print. Away from rates and FX, the S&P 500 hit an intraday low shortly after the FOMC statement before recovering back up to just being -0.14% lower on the day. US credit was also slightly weaker with the CDX HY index ending the day 0.38 points lower.
Looking at the overnight session Asian equity markets are somewhat mixed. The Nikkei (+0.8%) is up ahead of BoJ's decision tomorrow and is probably also helped by the weaker JPY. Elsewhere we see bourses in Australia, India and Shanghai moderately higher despite the slightly negative lead from the US session yesterday. The Hang Seng (-0.6%) and the HSCEI (-1.0%) are standout laggards this morning led by declines in energy stocks. News that China's biggest bank has reported its largest spike in bad loans since 2006 probably hasn't help. NPLs rose 9% in Q3 from the previous quarter even though overall earnings came in line with market estimates. Asian credit markets are marginally weaker with IG spreads 1-2bp wider while China onshore IG spread curves are around 3-5bp steeper led by firmer action in the front end.
The FOMC statement aside the other interesting macro release yesterday was the ECB's Bank Lending Survey. Interestingly the survey shows that Eurozone banks eased loan standards to the private sector over the quarter whilst demand for loans also climbed across both business and households. Although modest, this now represents a second consecutive Bank Lending survey showing a higher proportion of eurozone banks easing credit rather than tightening lending whilst crucially the survey highlights that the outlook for the next quarter also painted a further positive picture. As a side note, the survey also mentioned that by far the biggest reason behind not taking TLTRO money is because the banks have no funding issues at present, rather than there being a lack of demand for loans from the private sector.
Away from macro, corporate earnings have also been keeping company analysts pretty busy lately. 34 S&P 500 companies reported yesterday with 28 of them exceeding EPS estimates although only half of them managed to top the street's sales revenue forecasts – a theme that has been ongoing for many years now. On the other side of the pond 19 Stoxx600 companies reported yesterday and the beat/miss stats were fairly balanced with just over half of the companies beating analysts' earnings and revenue expectations.
Before we preview the calendar for today, tomorrow's BoJ announcement will be a key highlight for markets over the next 24 hours. DB's Japanese Fixed Income strategist wrote that most market participants likely expect the BoJ to maintain its current policy this time round. The outlook report will likely lower forecasts for GDP in FY14, but maintain the outlook for 2% inflation in FY15. A focus will be whether Kuroda says he is fully committed to keeping current monetary policy open ended, and whether he outlines a target for the BoJ's asset balance at end-2015. However as a Reuters article overnight noted with just five months left before Governor Kuroda's self-imposed 2-year deadline for achieving his 2% inflation target there's also reports about divides among policy makers which may undermine public confidence.
As for today the first Q3 GDP read will probably be the key data highlight in the US although we also have the usual jobless claims series. Yellen will speak on Diversity in the Economic Professions but off a prepared text and there will not be a Q&A so it isn't likely to be a market moving affair. Importantly we will also get October's inflation numbers from Germany and Spain as well as the Q3 GDP report of the latter. We'll also hear speeches from Bank of Finland's Liikanen (on Europe's financial sector) and Bank of Spain's Linde's (on the role of central banks in Euroland) today.
end
This is trouble:
Bad Debt At China's – And The World's – Largest Bank Surges By Most Ever
Submitted by Tyler Durden on 10/30/2014 14:17 -0400
A week ago, when showing the following chart of Chinese housing trends…
… we reported that the "burst Chinese housing bubble leads to first annual price decline since 2012", and warned that it is only a matter of time before both China's GDP,extensively reliant on housing construction, as well as Chinese bank assets, primarily consisting of housing-related loans and other fixed income exposure, take a major hit
This happened yesterday, when in an exchange filing China's Industrial & Commercial Bank of China, the biggest bank in both China and the entire world,reported its biggest jump in bad loans since at least 2006.
Specifically, ICBC's nonperforming loans rose to 115.5 billion yuan in September from 105.7 billion yuan in June.The increase was the biggest since quarterly data became available. Nonperforming credit accounted for 1.06 percent of total advances.
It wasn't just ICBC: as the chart from the WSJ below shows, bad debt rose at every single other major bank in China as well:
According to Bloomberg, nonperforming loans rose 9 percent in the third quarter from the previous three months, the Beijing-based bank said in an exchange filing yesterday. This increase surpassed the rise in net income which gained 7.7 percent from a year earlier to 72.4 billion yuan ($11.8 billion).
The problem for China is two-fold. On one hand as Bloomberg observes, "a struggling Chinese economy is weighing on ICBC's share price and is poised to drag the company to its weakest full-year profit growth since at least 2001 as more borrowers default."
The second problem is that as ICBC felt first hand (and surely underreported, because this is China after all), the soaring bad debt notionals make it next to impossible for the PBOC to inject even more good debt which would promptly turn into NPLs until it ultimately drowns China leading to the mass defaults which the Politburo has been avoiding for so long.
"ICBC remains under pressure as bad loans in China continue to rise," Zheng Chunming, a Shanghai-based analyst at Capital Securities Corp., said by phone yesterday. "The operating environment for companies is getting more difficult as China's economy faces downward pressure."
Furthermore, as noted above, since ICBC is the world's largest bank by assets, it has operations everywhere. "In its overseas push, ICBC this year acquired a Turkish lender, won approvals for a branch in London and yuan clearing operations in Luxembourg and Cambodia, and obtained a banking license in Myanmar. The lender previously expanded in Argentina, Canada, South Africa, Thailand and Indonesia. Operations outside China accounted for 7.1 percent of company assets as of June, up from 6 percent a year earlier.
ICBC set aside 8.2 billion yuan of provisions against potential soured credit, 30 percent more than a year earlier.

"Provision charges will be the biggest swing factor for banks' earnings," said Mu Hua, a Guangzhou-based analyst at GF Securities Co. "The more bad loans they write off, the more additional provisions they need to set aside to maintain the required coverage ratio."
This means that growth not only China but the rest of the world (but not the US, don't worry: the US will successfully decouple from the rest of the world for the first time in history) grinds to a halt, ICBC's balance sheet is about to become an epic disaster, suggesting that instead of spending money on growth and infrastructure projects, China will spend 2015 and/or longer simply trying to keep its banks stable. Just as, according to conventional wisdon, the Fed prepare to hike rates.
end
This is trouble also:
(courtesy Bloomberg)
Greece's Euro Dilemma Is Back as Minister Sees Volatility
By Nikos Chrysoloras and Antonis Galanopoulos  Oct 30, 2014 7:07 AM ET
Greek bond investors face a rollercoaster ride for the next four months as the government tries to contain the risk of snap elections, Minister of Administrative Reform Kyriakos Mitsotakis said.
Prime Minister Antonis Samaras has until February to pull together a supermajority in the national parliament to elect a new president or the anti-bailout opposition party Syriza will force a snap election. That would return Greek voters to their 2012 dilemma when the country's membership of the single currency hung by a thread, Mitsotakis said in an interview.
"The reality is that there will be a climate of uncertainty until February," Mitsotakis, 46, said in his Athens office overlooking the Acropolis. "Volatility is caused by the fear of snap elections and the possibility that these will be won by a party which is not normal."
Greek government bonds plunged today, with yield on the country's 10-year benchmark note rising 55 basis points to 8.12 percent at 12:48 p.m in Athens, the biggest jump in two weeks. The selloff started in September when Samaras moved to sever the international lifeline that has kept Greece afloat since 2010 and ended a two-year rally in Greek government notes.
Asked whether investors should just dump their Greek bond holdings until the next president has been installed, Mitsotakis said: "Don't ask me, I'm just doing my job. Ask Syriza."
Electing a President
To replace President Karolos Papoulias the coalition government needs the support of 180 lawmakers. Samaras's alliance controls 155. Failure would threaten early elections by March which polls suggest Syriza would win.
Samaras's plan to secure that vote involves shaking off the euro area and International Monetary Fund officials who have policed the budget cuts imposed since 2012 and angered voters. In the process though, he still needs to retain enough financial backup to keep investors onside.
"Some of the dilemmas that we had to answer in 2012 will definitely be posed again in February," Harvard-educated Mitsotakis said. That year Greeks needed two general elections before Samaras could form a government to accept the bailout terms set by its official creditors. "Lawmakers will know what's at stake," Mitsotakis said.
Reform Commitment
Greek stocks fell 4 percent in Athens. The benchmark Athens Stock Exchange has fallen 16 percent in the last month, making it one of the worst performing major indexes tracked by Bloomberg. Greek government bonds have lost 8.4 percent in that period, more than any other sovereign security tracked by Bloomberg's World Bonds Indexes.
"If Greece's political system doesn't show that it's serious about its commitment to reforms, then government bond yields will remain high," Mitsotakis said. "This should be understood by everyone involved and mostly from Syriza."
Greece is negotiating with its international creditors over a precautionary credit line that would be available should market borrowing costs spike after the nation exits its rescue program at the end of this year, Samaras said on Oct. 17. The credit line may consist of funds from its existing bailout, originally earmarked for recapitalizing the country's lenders.
"We just left the hospital, so we are not ready to run a marathon. For the moment, the best we can do is walks in the park," Mitsotakis, who worked at McKinsey & Co. before becoming a politician, said. "The credit line is this transitional stage we needed."
Strings Attached
Access to a credit line provided by the euro area's crisis fighting fund would come with conditions attached and Mitsotakis, who leads the effort to overhaul Greece's public sector, said that a Syriza-led government would never accept those terms.
"I don't share the view that Syriza has gone moderate in its policy proposals," he said. "I see the same party, the same people, the same divisive political discourse. About 40 percent of its executives wouldn't mind Greece leaving the euro."
For Mitsotakis, Greece has to stick to the path of economic overhauls and accept the terms of the credit line in order to finance the government next year. Tapping the bond markets or borrowing from official euro-area creditors remain the best options for the country, he said.
"The third option would be disastrous," he said. "Exit the euro area and print your own currency. There are no other options."
To contact the reporters on this story: Nikos Chrysoloras in Athens at nchrysoloras@bloomberg.net; Antonis Galanopoulos in Athens at agalanopoulo@bloomberg.net
end
Germany deflating:
(courtesy zero hedge)
Don't Show The "Deflation Isn't Going To Happen" ECB Germany's Declining October Prices
Submitted by Tyler Durden on 10/30/2014 07:52 -0400
Remember when this past weekend, as part of its stress test "worst case" scenario, in all its wisdom the ECB decided not to stress test a deflationary outcome in Europe's immediate future…
Despite the market clearly screaming "deflation, deflation, deflation"…
… because as ECB governor Constancio said "the scenario of deflation is not there because indeed we don't consider that deflation is going to happen."
Well, don't tell the ECB, but according to just reported October regional inflation data for Germany, the country that is supposedly Europe's growth dynamo is now in outright deflation:
Brandenburg CPI -0.3%, Previous 0.0%
Hesse CPI -0.2%, Previous 0.1%
Saxony CPI -0.2%, Previous 0.1%
Bavaria CPI -0.3%, Previous 0.1%
And lest someone think this is purely a "core" phenomenon, Spain also reported October CPI which was not the balmy 0.0% expected but a negative print as well, at -0.1%.
So, is it already time to rerun "the most successfull and thorough European stress test" yet? Judging by the clobbering Italian banks have gotten virtually every day in the past week, it is probably not a bad idea.
end
Russian rouble soars over 5% on Putin's intervention:
(courtesy zero hedge)
Russian Ruble Soars Over 5% (Swings Most Since 1998) On Intervention, Rate-Hike Rumors
Submitted by Tyler Durden on 10/30/2014 09:28 -0400
Having made new record lows for 7 days in a row, various technical triggers, short squeezes, and rumors of Central Bank intervention prompted the Russian Ruble to rally over 5%  – the biggest swing since 1998 as chatter of a very aggressive (greater than 50bp) rate-hike at tomorrow's meeting.
Massive shortr squeeze
and intraday the move is immense!
Commerzbank suggests intervention:
…looks like either a substantial one-off central bank FX intervention, or indirect intervention to the local banking community, Simon Quijano-Evans, head of EM Research at Commerzbank

If RUB recovery is not due to any geopolitical progress, a strong message in defense of the RUB is needed in tmrw's CBR meeting: Quijano-Evans

This would include a rate hike of at least 200bps, and/or one-off FX interventions, and dropping the corridor policy
UBS' EM desk suggest 3 drivers:
a) hope of rapproachment between Ukraine and Russia

b) risk that central bank hikes rates very aggressively tomorrow

c) expectations that oil price isn't going much lower from here; small tactical rally is possible near term
And technical drivers:
"Ruble may be poised to appreciate against the U.S. dollar in coming weeks after the slow-stochastics study, which measure the velocity of a security's price movement, exhibits a bullish crossover near the oversold threshold," says Bloomberg Technical Analyst Sejul Gokal. "A similar crossover in March this year, led to a 6.2% appreciation of the the Russian ruble versus the greenback, over a period of 13-weeks."
As Goldman adds,
The sharp decline in the Ruble and US$28bn in reserve losses month-to-date are likely to be of significant concern to the CBR, given related risks to financial stability as well as to inflation expectations, and we think this is likely to cause the CBR to enact decisive changes to its FX policy.
While the recent uptick in inflation expectations increases the risk of a larger rate hike and this is now being priced by the market, we continue to expect the CBR to hike its policy rate by 50bp at its board meeting on Friday morning (October 31).
In our view, the rationale for a rate hike of this magnitude would be grounded in the recent deterioration in inflation dynamics, and we think a larger rate hike would not be the most cost-effective tool to stem the recent weakening of the Ruble. Given the options available, we expect the Bank to abolish its current intervention rule and conduct a discretionary currency intervention of a magnitude sufficient to stabilize the FX market and signal to the market that the CBR views the recent FX volatility as a significant risk to its mandate.
Such a policy choice would likely be more effective and significantly less costly than a large policy rate hike.
Timing the change to the FX policy is difficult. Nonetheless, we think that a change to FX policy prior to Friday's rate decision would give the CBR additional policy optionality with respect to its interest rate decision. Our expectations for the CBR's decision continue to suggest that OFZs and Russian sovereign credit remain attractive.
end
And now for our more important paper stories today:
Opening Portuguese 10 year bond yield:  3.34% down one basis point
Closing Portuguese 10 year bond yield: 3.33% down 1 basis point from this morning.
Opening Japanese 10 year bond yield: .47% par from yesterday
Closing Japanese 10 year bond yield: .47% par from this morning.
And now for our more important currency crosses this Thursday morning:
EUR/USA:  1.2585  down .0047
USA/JAPAN YEN  109.02   up .190
GBP/USA  1.6006 up .0003
USA/CAN  1.1190 flat
This morning in  Europe, the euro is well down, trading now just below the 1.26 level at 1.2585
  as Europe reacts to deflation and bourses crumble.  The yen is down a little and it closed in Japan falling by 19 basis points at
109.02 yen to the dollar.  The pound is marginally up from Wednesday as it now trades just above the 1.60 level to 1.6006.
The Canadian dollar is flat trading at 1.1190 to the dollar.
 Early Thursday morning USA 10 year bond yield:  2.31% !!!    down 1 in  basis points from  Wednesday night/
USA dollar Index early Thursday morning: 86.21 up 26 cents from Wednesday's close
The NIKKEI: Thursday morning up 104 points or 0.67%
Trading from Europe and Asia:
1. Europe  all in the red
2/    Asian bourses mostly in the green (except Hang Sang)  / Chinese bourses: Hang Sang  in the red, Shanghai in the green,  Australia in the gr:  red/Nikkei (Japan) green/India's Sensex in the green/Australia in the green/India in the green/Japanese Nikkei in the green.
Gold early morning trading:  $1204.00
Your closing Spanish 10 year government bond Thursday/ up 3 in basis points in yield from Wednesday night.
Spanish 10 year bond yield:  2.17% !!!!!!
Your Thursday closing Italian 10 year bond yield:  2.48  down 3 in basis points:
trading 31 basis points higher than Spain:
 IMPORTANT CLOSES FOR TODAY
Closing currency crosses for Thursday night/USA dollar index/USA 10 yr bond:   Europe falling apart this afternoon
Euro/USA:  1.2609 down .0023
USA/Japan:  109.36 up  .520
Great Britain/USA:  1.6001  flat
USA/Canada:  1.118 down .0010
The euro rose a bit in value during this afternoon's  session, but it was down  by closing time , closing well below the 1.27 level to 1.2609.  The yen was well down during the afternoon session,and it lost 52 basis points on the day closing well above the 109 cross at 109.36.   The British pound gained some ground  during the afternoon
session but was flat on the day.  The Canadian dollar was up in the afternoon and up on the day at 1.1180 to the dollar.
Your closing USA dollar index:   86.14   up 19 cents  on the day
your 10 year USA bond yield ,down 1 in basis points on the day: 2.31%
European and Dow Jones stock index closes:
England FTSE up  9.68 or 0.15%
Paris CAC  up 30.60 or 0.74%
German Dax up 32.03 or 0.35%
Spain's Ibex up 15.90 or  .16%
Italian FTSE-MIB up 37.20    or .19%
The Dow: up 221.11   or 1.30%
Nasdaq; up 16.91   or 0.37%
OIL:  WTI 81.03
Brent: 86.02
And now for your big USA stories
Today's NY trading:
(courtesy zero hedge)
Broken Stocks, Battered Bullion, & Bruised Crude
Submitted by Tyler Durden on 10/30/2014 16:06 -0400
If a broken window is good for the Keynesian economy, then today's broken market (worse than the 2013 Nasdaq blackout) was certainly good for stocks as exchanges broke left and right, futures volume exploded and S&P almost hit 2,000 all on the back of a 2-week old headline from Japan. Today's market was volatile… everywhere. Silver and gold were smashed lower (-2.2% & -4.1% on week); US Dollar was pumped higher (+0.5% on the week) but weakened after GDP; Treasury yields unch today, notably flatter on week (30Y unch – almost broke 3.00% today, 5Y +9bps); HY Credit wider in whippy range (+10bps on week). VIX tested to 14 but closed near 15. Stocks end mixed: Trannies -1.2% (worst in a week), Nasdaq unch, Dow +1.1% (V +145 of Dow's 220pts). Post-FOMC – Energy is down 1%, Utes/Healthcare +1.6%.
Despite broken markets and old headlines, the ramp to 2,000 failed… and stocks roundtripped on the breakage before a late meltup
Post-FOMC, Trannies are red…
Post-FOMC, Healthcare and Utilities are th ebig winners, Energy the losers…
Trannies weak today, Dow strong on Visa…
VIX ended under 15…
Credit remains notably less impressed with things this week than stocks…
Now where have we seen this decoupling before?
Treasury yields closed the day unchanged to very marginally higher – but notably flatter on the week… notable vol intraday around GDP
The USD extended its post-FOMC gains led by JPY weakness… not that after GDP data hit, USD sold off
Commodities were sold today with gold and silver clubbed like baby seals…
With silver down 5% post-FOMC and gold and crude down 2% (WTI around $81)
Charts:Bloomberg
end
The Dow rises on news that  3 GDP rose to 3.5%, despite slowdown in consumer consumption?
Why did GDP rise:  huge government spending!!
(courtesy zero hedge)
end
And here is the reason for today's stock market gains:
(courtesy zero hedge)
end
this ought to be good:
(courtesy zero hedge)
end
Something that we should be mindful of:  total shadow banking assets: 75 trillion usa or 120% of global GDP
(courtesy zero hedge)
Shadow Banking Assets Increase By $5 Trillion To Record $75 Trillion, 120% Of Global GDP
That is all for today
I will see you tomorrow night
bye for now
Harvey