GOLD: $1405.10  DOWN  $5.25 (COMEX TO COMEX CLOSING)
Silver:  $15.12  DOWN 9 CENTS  (COMEX TO COMEX CLOSING)//
Closing access prices:
Gold : $1403.70
silver:  $15.12
take a close look at what was read into Hansard  UK, on the criminal manipulation of gold and silver.
other than that a small raid on gold and silver as the crooks have a huge derivative obligation especially Deutsche bank. Alasdair Macleod does a good analysis and comes to the conclusion that a sovereign, (and it is China) that is accumulating massive amounts of gold.
YOUR DATA…
JPMorgan has been receiving gold with reckless abandon and sometimes supplying (stopping)
today RECEIVING  33/57
EXCHANGE: COMEX
CONTRACT: JULY 2019 COMEX 100 GOLD FUTURES
SETTLEMENT: 1,410.100000000 USD
INTENT DATE: 07/10/2019 DELIVERY DATE: 07/12/2019
FIRM ORG FIRM NAME ISSUED STOPPED
____________________________________________________________________________________________
657 C MORGAN STANLEY 2
661 C JP MORGAN 33
685 C RJ OBRIEN 1
690 C ABN AMRO 20
737 C ADVANTAGE 30 21
905 C ADM 7
____________________________________________________________________________________________
TOTAL: 57 57
MONTH TO DATE: 828
NUMBER OF NOTICES FILED TODAY FOR  JULY CONTRACT: 57 NOTICE(S) FOR 5700 OZ (0.1772 tonnes)
TOTAL NUMBER OF NOTICES FILED SO FAR:  828 NOTICES FOR 82800 OZ  (2.5754 TONNES)
FOR JULY
3 NOTICE(S)

FILED TODAY FOR 15,000

  OZ/
total number of notices filed so far this month: 3617 for   18,085,000 oz
XXXXXXXXXXXXXXXXXXXXXXXXXXXXXX
Bitcoin: OPENING MORNING TRADE :  $

11786 DOWN 562 
Bitcoin: FINAL EVENING TRADE: $ 11,786

DOWN 1022
end
Let us have a look at the data for today
xxxxxxxxxxxxxxxxxxxxxxxxxxxxxxxxxxxxxxxxxxxxxxxxxxxxxxxxxxxxxxxxxxxxxxxxxx
IN SILVER THE COMEX OI ROSE A CONSIDERABLE  SIZED 1047 CONTRACTS FROM 218,493 UP TO 219,540 WITH THE 9 CENT GAIN IN SILVER PRICING AT THE COMEX.
TODAY WE ARRIVED CLOSER TO AUGUST'S 2018  RECORD SETTING OPEN INTEREST OF 244,196 CONTRACTS.
WE HAVE ALSO WITNESSED A LARGE AMOUNT OF PHYSICAL METAL STAND FOR COMEX DELIVERY AS WELL WE ARE WITNESSING CONSIDERABLE LONGS PACKING THEIR BAGS AND MIGRATING OVER TO LONDON IN GREATER NUMBERS IN THE FORM OF EFP'S.  WE WERE  NOTIFIED  THAT WE HAD A FAIR SIZED NUMBER OF COMEX LONGS TRANSFERRING THEIR CONTRACTS TO LONDON THROUGH THE EFP:,
0 FOR JULY. 0 FOR AUGUST, 551 FOR SEPT, AND ZERO FOR ALL  OTHER MONTHS  AND THEREFORE TOTAL ISSUANCE  551 CONTRACTS. WITH THE TRANSFER OF 551 CONTRACTS, WHAT THE CME IS STATING IS THAT THERE IS NO SILVER (OR GOLD) TO BE DELIVERED UPON AT THE COMEX AS THEY MUST EXPORT THEIR OBLIGATION TO LONDON. ALSO KEEP IN MIND THAT THERE CAN BE A DELAY OF 24-48 HRS IN THE ISSUING OF EFP'S. THE 1551 EFP CONTRACTS TRANSLATES INTO 2.755 MILLION OZ  ACCOMPANYING:
1.THE 9 CENT GAIN IN SILVER PRICE AT THE COMEX AND
2. THE STRONG AMOUNT OF SILVER OUNCES WHICH STOOD FOR DELIVERY IN THE LAST 12 MONTHS:
JUNE/2018. (5.420 MILLION OZ);
FOR JULY: 30.370 MILLION OZ
FOR AUG., 6.065 MILLION OZ
FOR SEPT. 39.505 MILLION  OZ S
FOR OCT.2.525 MILLION OZ.
FOR NOV:  A HUGE 7.440 MILLION OZ STANDING  AND
21.925 MILLION OZ FINALLY STAND FOR DECEMBER.
5.845 MILLION OZ STAND IN JANUARY.
2.955 MILLION OZ STANDING FOR FEBRUARY.:
27.120 MILLION OZ STANDING IN MARCH.
3.875 MILLION OZ STANDING FOR SILVER IN APRIL.
18.845 MILLION OZ STANDING FOR SILVER IN MAY.
2.660 MILLION OZ STANDING FOR SILVER IN JUNE//
20.775 MILLION OZ INITIAL STANDING FOR JULY
WE HAD CONSIDERABLE SHORT COVERING AT THE SILVER COMEX LAST NIGHT..AND ZERO SPREADING ACCUMULATION.
ACCUMULATION FOR EFP'S/SILVER/J.P.MORGAN'S HOUSE OF BRIBES, / STARTING FROM FIRST DAY NOTICE/FOR MONTH OF JULY:
9613 CONTRACTS (FOR 8 TRADING DAYS TOTAL 9613 CONTRACTS) OR 48.07 MILLION OZ: (AVERAGE PER DAY: 1201 CONTRACTS OR 6.008 MILLION OZ/DAY)
TO GIVE YOU AN IDEA AS TO THE HUGE SUPPLY THIS MONTH IN SILVER:  SO FAR THIS MONTH OF JULY:  48.07 MILLION PAPER OZ HAVE MORPHED OVER TO LONDON. THIS REPRESENTS AROUND 6.86% OF ANNUAL GLOBAL PRODUCTION (EX CHINA EX RUSSIA)*  JUNE'S 345.43 MILLION OZ IS THE SECOND HIGHEST RECORDED ISSUANCE OF EFP'S AND IT FOLLOWED THE RECORD SET IN APRIL 2018 OF 385.75 MILLION O
ACCUMULATION IN YEAR 2019 TO DATE SILVER EFP'S:          1206.67   MILLION OZ.
JANUARY 2019 EFP TOTALS:                                                      217.455. MILLION OZ
FEB 2019 TOTALS:                                                                       147.4     MILLION OZ/
MARCH 2019 TOTAL EFP ISSUANCE:                                          207.835 MILLION OZ
APRIL 2019 TOTAL EFP ISSUANCE:                                              182.87  MILLION OZ.
MAY 2019: TOTAL EFP ISSUANCE:                                                136.55 MILLION OZ
JUNE 2019 , TOTAL EFP ISSUANCE:                                               265.38 MILLION OZ
RESULT: WE HAD A CONSIDERABLE SIZED INCREASE IN COMEX OI SILVER COMEX CONTRACTS OF 1047, WITH THE 9 CENT GAIN IN SILVER PRICING AT THE COMEX /YESTERDAY... THE CME NOTIFIED US THAT WE HAD A  FAIR SIZED EFP ISSUANCE OF 551 CONTRACTS WHICH EXITED OUT OF THE SILVER COMEX AND TRANSFERRED THEIR OI TO LONDON AS FORWARDS. SPECULATORS CONTINUED THEIR INTEREST IN ATTACKING THE SILVER COMEX FOR PHYSICAL SILVER (SEE COMEX DATA) .
TODAY WE GAINED A GOOD SIZED: 1598 TOTAL OI CONTRACTS ON THE TWO EXCHANGES: 
i.e 551 OPEN INTEREST CONTRACTS HEADED FOR LONDON  (EFP's) TOGETHER WITH INCREASE OF 1047  OI COMEX CONTRACTS. AND ALL OF THIS  DEMAND HAPPENED WITH A 9 CENT GAIN IN PRICE OF SILVER AND A CLOSING PRICE OF $15.12 WITH RESPECT TO YESTERDAY'S TRADING. YET WE STILL HAVE A STRONG AMOUNT OF SILVER STANDING AT THE COMEX FOR DELIVERY!! 
In ounces AT THE COMEX, the OI is still represented by JUST OVER 1 BILLION oz i.e. 1.098 BILLION OZ TO BE EXACT or 156% of annual global silver production (ex Russia & ex China).
FOR THE NEW FRONT MARCH MONTH/ THEY FILED AT THE COMEX: 3 NOTICE(S) FOR 15,000 OZ OF SILVER
IN SILVER,PRIOR TO TODAY, WE  SET THE NEW COMEX RECORD OF OPEN INTEREST AT 243,411 CONTRACTS ON APRIL 9.2018.  AND AGAIN THIS HAS BEEN SET WITH A LOW PRICE OF $16.51.  
AND NOW WE RECORD FOR POSTERITY ANOTHER ALL TIME RECORD OPEN INTEREST AT THE COMEX OF 244,196 CONTRACTS ON AUGUST 22/2018 AND AGAIN WHEN THIS RECORD WAS SET, THE PRICE OF SILVER WAS $14.78 AND LOWER IN PRICE THAN PREVIOUS RECORDS.
ON THE DEMAND SIDE WE HAVE THE FOLLOWING:
HUGE AMOUNTS OF SILVER STANDING FOR DELIVERY  (MARCH/2018: 27 MILLION OZ , APRIL/2018 : 

2.485 MILLION OZ

  MAY: 

36.285 MILLION

OZ ; JUNE/2018  (

5.420 MILLION

OZ) , JULY 2018 FINAL AMOUNT STANDING:

30.370

 MILLION OZ   )

 FOR AUGUST

6.065

 MILLION OZ. , SEPT:  A HUGE

39.505

 MILLION OZ./ OCTOBER: 2,520,000 oz

 NOV

AT 7.440 MILLION OZ.

/ DEC

. AT 21.925 MILLION OZ   JANUARY AT  5.825 MILLION OZ.AND FEB 2019:  2.955 MILLION OZ/ MARCH:

27.120

MILLION OZ/  APRIL AT

3.875

MILLION OZ/ A MAY: 

18.845 MILLION OZ

..JUNE 2.660 MILLION OZ//JULY 20.775 MILLION OZ
HUGE RECORD OPEN INTEREST IN SILVER 

243,411 CONTRACTS

 (OR 1.217 BILLION OZ/ SET APRIL 9/2018) AND NOW AUGUST 22/2018:  244,196 CONTRACTS,  WITH A SILVER PRICE OF $14.78.
HUGE ANNUAL EFP'S ISSUANCE EQUAL TO 2.9 BILLION OZ OR 400% OF SILVER ANNUAL PRODUCTION/2017
RECORD SETTING EFP ISSUANCE FOR ANY MONTH IN SILVER; APRIL/2018/ 

385.75 MILLION

OZ/  AND THE SECOND HIGHEST RECORDED EFP ISSUANCE JUNE 2018

345.43

MILLION OZ
AND YET, WITH THE EXTREMELY HIGH EFP ISSUANCE, WE HAVE A CONTINUAL LOW PRICE OF SILVER DESPITE THE ABOVE HUGE DEMAND.  TO ME THE ONLY ANSWER IS THAT WE HAVE SOVEREIGN  (CHINA) WHO IS ENDEAVOURING TO GOBBLE UP ALL AVAILABLE PHYSICAL SILVER NO MATTER WHERE, EXACTLY WHAT J.P.MORGAN IS DOING. AND IT IS MY BELIEF THAT J.P.MORGAN IS HOLDING ITS SILVER FOR ITS BENEFICIAL OWNER..THE USA GOVERNMENT WHO IN TURN IS HOLDING THAT SILVER FOR CHINA.(FOR A SILVER LOAN REPAYMENT)
.
IN GOLD, THE OPEN INTEREST ROSE BY A CONSIDERABLE 4284 CONTRACTS, TO 603,261 ACCOMPANYING THE STRONG $11.65 PRICING GAIN WITH RESPECT TO COMEX GOLD PRICING YESTERDAY// /THE SPREADING ACCUMULATION WILL NOW IN EARNEST COMMENCE FOR GOLD….
THE CME RELEASED THE DATA FOR EFP ISSUANCE AND IT TOTALED A STRONG SIZED 5978 CONTRACTS:
APRIL 0 CONTRACTS,JUNE: 0 CONTRACTS, AUGUST 2019: 5940 CONTRACTS, DEC>  38 CONTRACTS AND ALL OTHER MONTHS ZERO.  The NEW COMEX OI for the gold complex rests at 603,261.  ALSO REMEMBER THAT THERE WILL BE A DELAY IN THE ISSUANCE OF EFP'S.  THE BANKERS REMOVE LONG POSITIONS OF COMEX GOLD IMMEDIATELY.  THEN THEY ORCHESTRATE THEIR PRIVATE EFP DEAL WITH THE LONGS AND THAT COULD TAKE AN ADDITIONAL, 48 HRS SO WE GENERALLY DO NOT GET A MATCH WITH RESPECT TO DEPARTING COMEX LONGS AND NEW EFP LONG TRANSFERS. . EVEN THOUGH THE BANKERS ISSUED THESE MONSTROUS EFPS, THE OBLIGATION STILL RESTS WITH THE BANKERS TO SUPPLY METAL BUT IT TRANSFERS THE RISK TO A LONDON BANKER OBLIGATION AND NOT A NEW YORK COMEX OBLIGATION. LONGS RECEIVE A FIAT BONUS TOGETHER WITH A LONG LONDON FORWARD. THUS, BY THESE ACTIONS, THE BANKERS AT THE COMEX HAVE JUST STATED THAT THEY HAVE NO APPRECIABLE METAL!! THIS IS A MASSIVE FRAUD: THEY CANNOT SUPPLY ANY METAL TO OUR COMEX LONGS BUT THEY ARE QUITE WILLING TO SUPPLY MASSIVE NON BACKED GOLD (AND SILVER) PAPER KNOWING THAT THEY HAVE NO METAL TO SATISFY OUR LONGS. LONDON IS NOW SEVERELY BACKWARD IN BOTH GOLD AND SILVER  AND WE ARE WITNESSING DELAYS IN ACTUAL DELIVERIES.
IN ESSENCE WE HAVE A STRONG SIZED GAIN IN TOTAL CONTRACTS ON THE TWO EXCHANGES OF 10,262 CONTRACTS: 4284 CONTRACTS INCREASED AT THE COMEX  AND 5978 EFP OI CONTRACTS WHICH NAVIGATED OVER TO LONDON. THUS  TOTAL OI GAIN OF 10,262 CONTRACTS OR 1,026,200 OZ OR 31.92 TONNES.  YESTERDAY WE HAD A STRONG GAIN OF $11.65 IN GOLD TRADING.…AND WITH THAT STRONG GAIN IN  PRICE, WE  HAD A HUGE GAIN IN GOLD TONNAGE OF 31.92  TONNES!!!!!! THE BANKERS WERE SUPPLYING INFINITE SUPPLIES OF SHORT GOLD COMEX PAPER.
WITH RESPECT TO SPREADING:  WE WILL WITNESS THE MORPHING OF OUR SPREADERS OUT OF SILVER AND INTO GOLD AS THE JULY MONTH PROCEEDS INTO THE ACTIVE DELIVERY MONTH OF AUGUST. 
. 
FOR NEWCOMERS, HERE IS THE MODUS OPERANDI OF THE CORRUPT BANKERS WITH RESPECT TO THEIR SPREAD/TRADING.
AS I HAVE MENTIONED IN PREVIOUS COMMENTARIES:
"AS YOU WILL SEE, THE CROOKS WILL NOW SWITCHED TO SILVER AS THEY INCREASE THE OPEN INTEREST FOR THE SPREADERS. THE TOTAL COMEX GOLD OPEN INTEREST WILL RISE FROM NOW ON UNTIL ONE WEEK PRIOR TO FIRST DAY NOTICE AND THAT IS WHEN THEY START THEIR CRIMINAL LIQUIDATION.
HERE IS HOW THE CROOKS USED SPREADING AS WE ARE NO INTO THE NON ACTIVE DELIVERY MONTH OF JULY HEADING TOWARDS THE VERY ACTIVE DELIVERY MONTH OF AUGUST.
AS I HAVE MENTIONED IN PREVIOUS COMMENTARIES, HERE IS THE BANKERS MODUS OPERANDI:
YOU WILL ALSO NOTICE THAT THE COMEX OPEN INTEREST IS STARTING TO RISE IN THIS NON ACTIVE MONTH OF JULY BUT SO IS THE OPEN INTEREST OF SPREADERS. THE OPEN INTEREST IN GOLD WILL CONTINUE TO RISE UNTIL ONE WEEK BEFORE FIRST DAY NOTICE OF AN UPCOMING ACTIVE DELIVERY MONTH (AUGUST), AND THAT IS WHEN THE CROOKS SELL THEIR SPREAD POSITIONS BUT NOT AT THE SAME TIME OF THE DAY.  THEY WILL USE THE SELL SIDE OF THE EQUATION TO CREATE THE CASCADE (ALONG WITH THEIR COLLUSIVE FRIENDS) AND THEN COVER ON THE BUY SIDE OF THE SPREAD SITUATION AT THE END  OF THE DAY. THEY DO THIS TO AVOID POSITION LIMIT DETECTION. THE LIQUIDATION OF THE SPREADING FORMATION CONTINUES FOR EXACTLY ONE WEEK AND ENDS ON FIRST DAY NOTICE." 
ACCUMULATION OF EFP'S GOLD AT J.P. MORGAN'S HOUSE OF BRIBES: (EXCHANGE FOR PHYSICAL) FOR THE MONTH OF JULY : 58 674 CONTRACTS OR 5,867,400 oz OR 184.33 TONNES (8 TRADING DAY AND THUS AVERAGING: 7334 EFP CONTRACTS PER TRADING DAY
TO GIVE YOU AN IDEA AS TO THE STRONG SIZE OF THESE EFP TRANSFERS :  THIS MONTH IN 8 TRADING DAY IN  TONNES: 184.33 TONNES
TOTAL ANNUAL GOLD PRODUCTION, 2018, THROUGHOUT THE WORLD EX CHINA EX RUSSIA: 3555 TONNES
THUS EFP TRANSFERS REPRESENTS 184.33/3550 x 100% TONNES =5.73% OF GLOBAL ANNUAL PRODUCTION
ACCUMULATION OF GOLD EFP'S YEAR 2019 TO DATE:     3099.33  TONNES
JANUARY 2019 TOTAL EFP ISSUANCE;   531.20 TONNES
FEB 2019 TOTAL EFP ISSUANCE:             344.36 TONNES
MARCH 2019 TOTAL EFP ISSUANCE:       497.16 TONNES
APRIL 2019 TOTAL ISSUANCE:                 456.10 TONNES
MAY 2019 TOTAL ISSUANCE:                    449.10 TONNES
JUNE 2019 TOTAL ISSUANCE:                   642.22 TONNES
WHAT IS ALARMING TO ME, ACCORDING TO OUR LONDON EXPERT ANDREW MAGUIRE IS THAT THESE EFP'S ARE BEING TRANSFERRED TO WHAT ARE CALLED SERIAL FORWARD CONTRACT OBLIGATIONS AND THESE CONTRACTS ARE LESS THAN 14 DAYS.  ANYTHING GREATER THAN 14 DAYS, THESE MUST BE RECORDED AND SENT TO THE COMPTROLLER, GREAT BRITAIN TO MONITOR RISK TO THE BANKING SYSTEM.  IF THIS IS INDEED TRUE, THEN THIS IS A MASSIVE CONSPIRACY TO DEFRAUD AS WE NOW WITNESS A MONSTROUS TOTAL EFP'S ISSUANCE AS IT HEADS INTO THE STRATOSPHERE. 
Result: A STRONG SIZED INCREASE IN OI AT THE COMEX OF 4284 WITH THE STRONG PRICING GAIN THAT GOLD UNDERTOOK YESTERDAY($11.65)) //.WE ALSO HAD  A CONSIDERABLE SIZED NUMBER OF COMEX LONG TRANSFERRING TO LONDON THROUGH THE EFP ROUTE: 5978 CONTRACTS AS THESE HAVE ALREADY BEEN NEGOTIATED AND CONFIRMED.   THERE OBVIOUSLY DOES NOT SEEM TO BE MUCH PHYSICAL GOLD AT THE COMEX.  I GUESS IT EXPLAINS THE HUGE ISSUANCE OF EFP'S…THERE IS HARDLY ANY GOLD PRESENT AT THE GOLD COMEX FOR DELIVERY PURPOSES. IF YOU TAKE INTO ACCOUNT THE 5978 EFP CONTRACTS ISSUED, WE  HAD A HUMONGOUS AND CRIMINALLY SIZED GAIN OF 10,262 CONTRACTS IN TOTAL OPEN INTEREST  ON THE TWO EXCHANGES:
5978 CONTRACTS MOVE TO LONDON AND 4284 CONTRACTS INCREASED AT THE COMEX. (IN TONNES, THE GAIN IN TOTAL OI EQUATES TO 31.92 TONNES). ..AND THIS HUGE INCREASE OF  DEMAND OCCURRED ACCOMPANYING THE STRONG GAIN IN PRICE OF $11.65 WITH RESPECT TO YESTERDAY'S TRADING AT THE COMEX. WE HAVE ALREADY COMMENCED WITH SPREADING ACCUMULATION IN GOLD AND IT WILL CONTINUE AS THE MONTH PROCEEDS/
we had:  57 notice(s) filed upon for 5700 oz of gold at the comex.
xxxxxxxxxxxxxxxxxxxxxxxxxxxxxxxxxxxxxxxxxxxxxxxxxxxxxxxxxxx
With respect to our two criminal funds, the GLD and the SLV:
GLD...
WITH GOLD DOWN  $5.25 TODAY//
NO CHANGES IN GOLD INVENTORY AT THE GLD
INVENTORY RESTS AT 800.54 TONNES
TO ALL INVESTORS THINKING OF BUYING GOLD THROUGH THE GLD ROUTE: YOU ARE MAKING A TERRIBLE MISTAKE AS THE CROOKS ARE USING WHATEVER GOLD COMES IN TO ATTACK BY SELLING THAT GOLD.  IT SURE SEEMS TO ME THAT THE GOLD OBLIGATIONS AT THE GLD EXCEED THEIR INVENTORY
SLV/
WITH SILVER DOWN 9 CENTS TODAY:
NO CHANGES WITH RESPECT TO SILVER INVENTORY  AT THE SILVER SLV:
/INVENTORY RESTS AT 332.518 MILLION OZ.
OUTLINE OF TOPICS TONIGHT
First, here is an outline of what will be discussed tonight:
1. Today, we had the open interest in SILVER ROSE BY A CONSIDERABLE SIZED 1047 CONTRACTS from 218,493 UP TO 219540 AND CLOSER TO THE NEW COMEX RECORD SET LAST IN AUG.2018 AT 244,196 WITH A SILVER PRICE OF $14.78/(AUGUST 22/2018)..THE PREVIOUS RECORD WAS SET ON APRIL 9/2018 AT 243,411 OPEN INTEREST CONTRACTS WITH THE SILVER PRICE AT THAT DAY: $16.53). AND PREVIOUS TO THAT, THE RECORD  WAS ESTABLISHED AT: 234,787 CONTRACTS, SET ON APRIL 21.2017 OVER  1 1/3 YEARS AGO.  THE PRICE OF SILVER ON THAT DAY: $17.89.  AS YOU CAN SEE, WE HAVE RECORD HIGH OPEN INTERESTS IN SILVER  ACCOMPANIED BY A CONTINUAL LOWER PRICE WHEN THAT RECORD WAS SET…..THE SPREADERS HAVE COMMENCED THEIR ACCUMULATION OF OPEN INTEREST CONTRACTS IN SILVER AND STOPPED THE LIQUIDATION OF THE SPREADERS IN GOLD
OUR CUSTOMARY MIGRATION OF COMEX LONGS CONTINUE TO MORPH INTO LONDON FORWARDS  AS OUR BANKERS USED THEIR EMERGENCY PROCEDURE TO ISSUE:
FOR JULY: 0 CONTRACTS FOR AUGUST: 0, FOR SEPT. 551  AND ALL OTHER MONTHS: ZERO. TOTAL EFP ISSUANCE: 551 CONTRACTS. EFP'S GIVE OUR COMEX LONGS A FIAT BONUS PLUS A DELIVERABLE PRODUCT OVER IN LONDON.  IF WE TAKE THE OI GAIN AT THE COMEX OF 1047  CONTRACTS TO THE 551 OI TRANSFERRED TO LONDON THROUGH EFP'S,  WE OBTAIN A STRONG GAIN OF 1598 OPEN INTEREST CONTRACTS. THUS IN OUNCES, THE GAIN ON THE TWO EXCHANGES: 7.99 MILLION OZ!!! AND YET WE ALSO HAVE A STRONG DEMAND FOR PHYSICAL AS WE WITNESSED A FINAL STANDING OF GREATER THAN 30 MILLION OZ FOR JULY, A STRONG 7.475 MILLION OZ FOR AUGUST..  A HUGE 39.505  MILLION OZ  STANDING FOR SILVER IN SEPTEMBER… OVER 2 million  OZ STANDING FOR THE NON ACTIVE MONTH OF OCTOBER.,  7.440 MILLION OZ FINALLY STANDING IN NOVEMBER.  21.925 MILLION OZ STANDING IN DECEMBER , 5.845 MILLION OZ STANDING IN JANUARY. 2.955 MILLION OZ STANDING IN FEBRUARY,  27.120 MILLION OZ FOR MARCH., 3.875 MILLION OZ FOR APRIL  18.765 MILLION OZ FOR MAY  NOW 2.660 MILLION OZ FOR JUNE WITH JULY AT 20.775 MILLION OZ STANDING SO FAR.
RESULT: A CONSIDERABLE SIZED INCREASE IN SILVER OI AT THE COMEX DESPITE THE 9 CENT GAIN IN PRICING THAT SILVER UNDERTOOK IN PRICING// YESTERDAY. WE ALSO HAD A STRONG SIZED 551 EFP'S ISSUED TRANSFERRING COMEX LONGS OVER TO LONDON. TOGETHER WITH THE STRONG  SIZED AMOUNT OF SILVER OUNCES STANDING FOR THIS MONTH, DEMAND FOR PHYSICAL SILVER CONTINUES TO INTENSIFY AS WE WITNESS SEVERE BACKWARDATION IN SILVER IN LONDON.
BOTH THE SILVER COMEX AND THE GOLD COMEX ARE IN STRESS AS THE BANKERS SCOUR THE BOWELS OF THE EXCHANGE FOR METAL
2 ) Gold/silver trading overnight Europe, Goldcore
(Mark O'Byrne/zerohedge
and in NY: Bloomberg
3. ASIAN AFFAIRS
I)THURSDAY MORNING/ WEDNESDAY NIGHT: 
SHANGHAI CLOSED UP 2.46 POINTS OR 0.08%  //Hang Sang CLOSED UP 227.11 POINTS OR 0.81%   /The Nikkei closed UP 110.05 POINTS OR 0.51%//Australia's all ordinaires CLOSED UP .42%
/Chinese yuan (ONSHORE) closed UP  at 6.8659 /Oil UP TO 57.82 dollars per barrel for WTI and 65.36 for Brent. Stocks in Europe OPENED GREEN//  ONSHORE YUAN CLOSED UP // LAST AT 6.8659 AGAINST THE DOLLAR. OFFSHORE YUAN CLOSED UP ON THE DOLLAR AT 6.8700 TRADE TALKS STALL//YUAN LEVELS GETTING DANGEROUSLY CLOSE TO 7:1//TRUMP INITIATES A NEW 25% TARIFFS FRIDAY/MAY 10/MAJOR PROBLEMS AT HUAWEI /CFO ARRESTED  : /ONSHORE YUAN TRADING ABOVE LEVEL OF OFFSHORE YUAN/ONSHORE YUAN TRADING STRONGER AGAINST USA DOLLAR/OFFSHORE YUAN TRADING STRONGER AGAINST THE DOLLAR /TRADE DEAL NOW DEAD..TRUMP  RAISED RATES TO 25%
3A

/

/NORTH KOREA/ SOUTH KOREA
3 China/Chinese affairs
This does not looks good for China as these Chinese security camera are now banned for spying. They are nearly impossible to identify and remove
( zerohedge)
ii)AN EXCELLENT COMMENTARY ON THE FADING CHINA TRADE DEAL
(courtesy Global Macro Monitor)
iii)Is the ceasefire over?:  Trump now demands new sanctions on Beijing over its importing of Iranian crude
(courtesy zerohedge)
4/EUROPEAN AFFAIRS
When it rains it pours for our good friends over at Deutsche bank.  It seems that Tim Leissner is cooperating with the authorities and it ready to throw both Goldman Sachs and Deutsche bank under the bus for money laundering
(courtesy zerohedge)
ii)In a nutshell Snider explains Deutsche banks' dilemma and why it needs a bad bank. Although it has huge derivative problems it's real problem occurs if interest rates continue to fall to zero (which I think will happen)> Then their derivative exposure rises exponentially
(Jeffrey Snider
iii)Your humour story of the day courtesy of Deutsche bank(ZEROHEDGE)
iv)
UK
This is laughable..in order to stop \Brexit some remainers are planning an alternate parliament?
(Mish Shedlock/Mishtalk)
5. RUSSIAN AND MIDDLE EASTERN AFFAIRS
Cholera is ripping through war torn Yemen; wow! a whopping 500,000 cases in 2019 alone\\
(courtesy zerohedge)
This is in continuation of yesterday where Bill Blain discusses the fact that lower rates will not help if there is no growth. He discusses the poor growth prospects coming from China as well as the hardships facing Boeing
(/Bill BLAIN// zerohedge)
10. USA stories which will influence the price of gold/silver)
a)Market trading/LAST NIGHT/USA
II)MARKET TRADING/USA//late morning
We knew that this was going to happen:   stocks tumble as Trump states that China is letting us down. He is happy with Mexico at the border but not China
( zerohedge)
We warned you that China tariffs were hugely inflationary…and this is now becoming a reality as core inflation is very hot and now a huge headache for Jerome Powell
(zerohedge)
iii)USA ECONOMIC/GENERAL STORIES
a)Another huge inflationary signal:  big pharma as always are raising drug prices and some of them by 879% on 3400 drugs.  They miss Canadian prices.
( Mac Slavo/SHFTPlan.com)
b)My goodness PG and E routinely failed to replace very old lines and that they knew it would fail and eventually cause massive wildfires..Such crooks
( zerohedge)
a)Re Jeffrey Epstein: Now state attorney Barry Krischer disputes Acosta's account on the plea deal in 208 where Epstein basically walks out free.
(zerohedge)
b)How Epstein got his wealth
(courtesy zerohedge)
E)SWAMP STORIES/MAJOR STORIES//THE KING REPORT
end
LET US BEGIN:
Let us head over to the comex:
THE TOTAL COMEX GOLD OPEN INTEREST ROSE BY A CONSIDERABLE SIZED 4284 CONTRACTS TO A LEVEL OF 603,261 ACCOMPANYING THE STRONG GAIN OF $11.65 IN GOLD PRICING WITH RESPECT TO YESTERDAY'S // COMEX TRADING)
WE ARE NOW IN THE ACTIVE DELIVERY MONTH OF JULY..  THE CME REPORTS THAT THE BANKERS ISSUED A STRONG SIZED  TRANSFER THROUGH THE EFP ROUTE AS THESE LONGS RECEIVED A DELIVERABLE LONDON FORWARD TOGETHER WITH A FIAT BONUS., THAT IS 5978 EFP CONTRACTS WERE ISSUED:
 FOR AUGUST; 5940 CONTRACTS: DEC: 38   AND  ZERO FOR ALL OTHER MONTHS:
TOTAL EFP ISSUANCE:  5978 CONTRACTS.
THE OBLIGATION STILL RESTS WITH THE BANKERS ON THESE TRANSFERS. ALSO REMEMBER THAT THERE IS NO DOUBT A HUGE DELAY IN THE ISSUANCE OF EFP'S AND IT PROBABLY TAKES AT LEAST  48 HRS AFTER OUR LONGS GIVE UP THEIR COMEX CONTRACTS FOR THEM TO RECEIVE THEIR EFP'S AS THEY ARE NEGOTIATING THIS CONTRACT WITH THE BANKS FOR A FIAT BONUS PLUS THEIR TRANSFER TO A LONDON BASED FORWARD.
ON A NET BASIS IN OPEN INTEREST WE GAINED THE FOLLOWING TODAY ON OUR TWO EXCHANGES: 10,262 TOTAL CONTRACTS IN THAT 5978 LONGS WERE TRANSFERRED AS FORWARDS TO LONDON AND WE GAINED A CONSIDERABLE SIZED 4284 COMEX CONTRACTS.  THE BANKERS SUPPLIED THE NECESSARY AND INFINITE AMOUNT OF SHORT PAPER IN GOLD TO CONTAIN THE PRICE RISE. 
NET GAIN ON THE TWO EXCHANGES ::  10,262 CONTRACTS OR 1,026,200 OZ OR 31.92 TONNES.
We are now in the NON  active contract month of JULY and here the open interest stands at 77 CONTRACTS as we GAINED 27 contracts.  We had  22 notices filed yesterday so we surprisingly gained 49 contracts or 4900 oz of gold that will stand for delivery as there appears to be some gold at the comex  as they will now try their luck on finding the fast vanishing supplies of physical gold over here. We usually witness queue jumping in silver immediately after first day notice but not gold.  That changed again today and for that matter for each and every trading day in July, we witnessed queue jumping. The next big active month for deliverable gold is August and here the OI FELL by a strong 14,879 contracts DOWN to 362,474. The next non active contract month is September and here the OI jumped by 6 contracts up to 185.  The next active contract month is October and here the OI rose by 753 contracts up to 17,684.
TODAY'S NOTICES FILED:
WE HAD 57 NOTICES FILED TODAY AT THE COMEX FOR  5700 OZ. (0.1772 TONNES)
xxxxxxxxxxxxxxxxxxxxxxxxxxxxxxxxxxxxxxxxxxxxxxxxxxxxxxxxxxxxxxxxx
And now for the wild silver comex results.
Total COMEX silver OI ROSE BY A CONSIDERABLE SIZED 1047 CONTRACTS FROM 218,587 UP TO 219,540 (AND CLOSER T0 THE NEW RECORD OI FOR SILVER SET ON AUGUST 22.2018.  THE PREVIOUS RECORD WAS SET APRIL 9.2018/ 243,411 CONTRACTS) AND TODAY'S CONSIDERABLE  OI COMEX GAIN OCCURRED WITH A 9 CENT GAIN IN PRICING.//YESTERDAY.
WE ARE NOW INTO THE ACTIVE DELIVERY MONTH OF JULY.  HERE WE HAVE 541 OPEN INTEREST STAND FOR DELIVERY WITH A LOSS OF 13 CONTRACTS.  WE HAD 13 NOTICES FILED YESTERDAY SO WE GAINED 0 CONTRACTS OR AN ADDITIONAL NIL OZ OF SILVER WILL ATTEMPT TO STAND AT THE COMEX…. AND THESE GUYS REFUSED TO MORPH INTO A LONDON BASED FORWARD AS WELL AS NEGATING A FIAT BONUS. LET US WAIT AND SEE IF SUCCESSFUL IN OBTAINING PHYSICAL METAL ON THIS SIDE OF THE POND. AFTER JULY WE HAVE THE NON ACTIVE MONTH OF AUGUST AND HERE WE LOST 15 CONTRACTS DOWN TO 1140.  THE NEXT BIG ACTIVE DELIVERY MONTH AFTER AUGUST IS SEPT AND HERE THE OI FELL BY 419 CONTRACTS DOWN TO 152,985 CONTRACTS.
TODAY'S NUMBER OF NOTICES FILED:
We, today, had 3 notice(s) filed for 15,000 OZ for the JUNE, 2019 COMEX contract for silver
Trading Volumes on the COMEX TODAY: 423,402 

CONTRACTS 
CONFIRMED COMEX VOL. FOR YESTERDAY

:  517,030  contracts
INITIAL standings for  JULY/GOLD
Gold
Ounces
Withdrawals from Dealers Inventory in oz
nil oz
Withdrawals from Customer Inventory in oz

424.184 oz

MANFRA

Deposits to the Dealer Inventory in oz

nil

Deposits to the Customer Inventory, in oz

nil

No of oz served (contracts) today

57 notice(s)

 5700 OZ

(0.1772 TONNES)

No of oz to be served (notices)

20 contracts

(2000 oz)

0.0622 TONNES

Total monthly oz gold served (contracts) so far this month

828 notices

82800 OZ

2.5754 TONNES

Total accumulative withdrawals of gold from the Dealers inventory this month
NIL oz
Total accumulative withdrawal of gold from the Customer inventory this month
xxx oz
total dealer deposits: nil oz
total dealer withdrawals: nil oz
we had 0 deposit into the customer account
i) Into JPMorgan:  nil oz
ii) Into Everybody else: nil  oz
total gold deposits: nil  oz
very little gold arrives from outside/ NO amount  arrived   today
we had 1 gold withdrawal from the customer account:
i ) out of Manfra:  424.184 oz
total gold withdrawals; 424.184   oz
i) we had 0 adjustment today
FOR THE JULY 2019 CONTRACT MONTH)Today, 0 notice(s) were issued from JPMorgan dealer account and 0 notices were issued from their client or customer account. The total of all issuance by all participants equates to 57 contract(s) of which 33 notices were stopped (received) by j.P. Morgan dealer and 10 notice(s) was (were) stopped/ Received) by j.P.Morgan customer account and 0 notices by the squid  (Goldman Sachs)
xxxxxxxxxxxxxxxxxxxxxxxxxxxxxxxxxxxxxxxxxxxxxxxxxxxxxxxxxxxxxxxxxxxxxxxxxx
To calculate the INITIAL total number of gold ounces standing for the JULY /2019. contract month, we take the total number of notices filed so far for the month (828) x 100 oz , to which we add the difference between the open interest for the front month of  JULY. (77 contract) minus the number of notices served upon today (57 x 100 oz per contract) equals 84800 OZ OR 2.6376 TONNES) the number of ounces standing in this NON active month of JULY
Thus the INITIAL standings for gold for the JULY/2019 contract month:
No of notices served (828 x 100 oz)  + (77)OI for the front month minus the number of notices served upon today (57 x 100 oz )which equals 84,800 oz standing OR 2.6376 TONNES in this  active delivery month of JUNE.
We GAINED 49  contracts or an additional 4900 oz will stand as these guys refused to morph into London based forwards as well as negating a fiat bonus. Somebody was in need of physical gold badly on this side of the pond…VERY UNUSUAL TO SEE QUEUE JUMPING THIS EARLY IN THE UP FRONT JULY CONTRACT MONTH.
SURPRISINGLY LITTLE TO NO  GOLD HAS BEEN ENTERING THE COMEX VAULTS AND WE HAVE WITNESSED THIS FOR THE PAST YEAR!!  WE HAVE ONLY 10.047 TONNES OF REGISTERED (  GOLD OFFERED FOR SALE) VS 2.6376  TONNES OF GOLD STANDING// THEY SEEM TO BE USING CONSIDERABLE GOLD VAPOUR TO SETTLE UPON UNSUSPECTING LONGS.
total registered or dealer gold:  323,026/893 oz or  10.047 tonnes 
total registered and eligible (customer) gold;   7,696,026.969 oz
239.37
 tonnes
IN THE LAST 32 MONTHS 117 NET TONNES HAS LEFT THE COMEX.
THE GOLD COMEX IS NOW IN STRESS AS
1. GOLD IS LEAVING THE COMEX 
2. GOLD IS LEAVING THE REGISTERED CATEGORY OF THE COMEX.
end
And now for silver
AND NOW THE  DELIVERY MONTH OF JULY
INITIAL  standings/SILVER
IN TOTAL CONTRAST TO GOLD, HUGE ACTIVITY IN SILVER TODAY.
JULY 11 2019
Silver
Ounces
Withdrawals from Dealers Inventory
NIL oz
Withdrawals from Customer Inventory

 16,507.965 oz

Int. Delaware

Delaware

Deposits to the Dealer Inventory

NIL oz

Deposits to the Customer Inventory

nil oz

No of oz served today (contracts)

3

CONTRACT(S)

(15,000 OZ)

No of oz to be served (notices)

538 contracts

 2,690,000 oz)

Total monthly oz silver served (contracts)
3617 contracts

18,085,000 oz)

Total accumulative withdrawal of silver from the Dealers inventory this month
NIL oz
Total accumulative withdrawal of silver from the Customer inventory this month
**
we had 0 inventory movement at the dealer side of things
total dealer deposits: NIL  oz
total dealer withdrawals: nil oz
we had  0 deposits into the customer account
into JPMorgan:  nil  oz
ii)into everybody else: nil
*** JPMorgan for most of 2017 and in 2018 has adding to its inventory almost every single day.
JPMorgan now has 153.4 million oz of  total silver inventory or 50.36% of all official comex silver. (153.4 million/304.6 million
total customer deposits today:  nil  oz
we had 2 withdrawals out of the customer account:
i) out of Delaware  1015.100 oz
ii) Out of Int. Delaware; 15,492.865 oz
we had 1 adjustments : out of BNS
1,367,432.078 oz was adjusted out of the dealer of Bank of Nova Scotia and this landed into the customer account of Scotia
total dealer silver:  91.993 million
total dealer + customer silver:  306.922 million oz
The total number of notices filed today for the JULY 2019. contract month is represented by 3 contract(s) FOR 15,000 oz
To calculate the number of silver ounces that will stand for delivery in JULY, we take the total number of notices filed for the month so far at 3617 x 5,000 oz = 18,085,000 oz to which we add the difference between the open interest for the front month of JULY. (541) and the number of notices served upon today (3 x 5000 oz) equals the number of ounces standing.
.
Thus the INITIAL standings for silver for the JULY/2019 contract month: 3617(notices served so far)x 5000 oz + OI for front month of JULY( 541) number of notices served upon today (3)x 5000 oz equals 20,775,000 oz of silver standing for the JULY contract month.
WE GAINED 0 CONTRACTS OR AN ADDITIONAL NIL OZ WILL STAND AT THE COMEX AS THESE GUYS REFUSED TO MORPH INTO A LONDON BASED FORWARDS AND AS WELL THEY ALSO NEGATED A FIAT BONUS.  IT SEEMS THAT SOMEBODY WAS BADLY IN NEED OF PHYSICAL SILVER ON THIS SIDE OF THE POND JOINING GOLD!.
TODAY'S NUMBER OF NOTICES FILED:
We, today, had 13 notice(s) filed for 65,000 OZ for the JULY, 2019 COMEX contract for silver
xxxxxxxxxxxxxxxxxxxxxxxxxxxxxxxxxxxxxxxxxxxxxxxxxxxxxxxxxxx
TODAY'S ESTIMATED SILVER VOLUME:  60,348 CONTRACTS (we had considerable spreading activity..accumulation
CONFIRMED VOLUME FOR YESTERDAY: 81,495 CONTRACTS..(we no doubt had considerable spreading activity as they are now starting to accumulate in silver)
YESTERDAY'S CONFIRMED VOLUME OF 81,495 CONTRACTS EQUATES to 407 million  OZ 58.2% OF ANNUAL GLOBAL PRODUCTION OF SILVER..makes sense!!
COMMODITY LAW SUGGESTS THAT OPEN INTEREST SHOULD NOT BE MORE THAN 3% OF ANNUAL GLOBAL PRODUCTION. THE CROOKS ARE SUPPLYING MASSIVE PAPER TRYING TO KEEP SILVER IN CHECK.
The record level of silver open interest is 234,787 contracts set on April 21./2017 with the price at that day at $18.42
The previous record was 224,540 contracts with the price at that time of $20.44
xxxxxxxxxxxxxxxxxxxxxxxxxxxxxxxxxxxxxxxxxxxxxxxxxxxxxxxxxxxxxxxxxxxxxxxxxx
NPV for Sprott 
1. Sprott silver fund (PSLV): NAV FALLS TO -0.87% JULY 11/2019)
2. Sprott gold fund (PHYS): premium to NAV RISES TO -0.21% to NAV (JULY 11/2019 )
Note: Sprott silver trust back into NEGATIVE territory at -0.87%-/Sprott physical gold trust is back into NEGATIVE/
(courtesy Sprott/GATA)
3.SPROTT CEF.A FUND (FORMERLY CENTRAL FUND OF CANADA):
NAV 13.68 TRADING 13.15/DISCOUNT 3.87
END
And now the Gold inventory at the GLD/
JULY 11.WITH GOLD DOWN $5.25: NO CHANGES IN GOLD INVENTORY AT THE GLD/INVENTORY RESTS AT 800.54 TONNES
JULY 10//WITH GOLD UP $11.65 A HUGE CHANGE IN GOLD INVENTORY AT THE GLD: A PAPER GOLD DEPOSIT OF 6.46 TONNES/INVENTORY RESTS AT 800.54 TONNES
JULY 9/WITH GOLD UP 70 CENTS, A HUGE PAPER WITHDRAWAL OF 2.89 TONNES WHICH WAS USED IN THE FUTILE RAID ON GOLD AND SILVER THIS MORNING//INVENTORY RESTS AT 794.08 TONNES
JULY 8/ WITH GOLD DOWN 35 CENTS A HUGE WITHDRAWAL OF 1.47 TONNES FROM THE GLD/INVENTORY FALLS TO 796.97 TONNES
JULY 5TH/WITH GOLD DOWN $19.50/NO CHANGES IN GOLD INVENTORY AT THE GLD//INV RESTS AT 798.44 TONNES
JULY 3// WITH GOLD UP $12.60 TODAY A SURPRISE WITHDRAWAL OF 1.76 TONNES FROM THE GLD//INVENTORY RESTS AT  798.44
JULY 2. WITH GOLD UP $18.90 A HUGE "PAPER" DEPOSIT OF 6.16 TONNES INTO THE GLD/INVENTORY RESTS AT 800.20 TONNES
JULY 1: WITH GOLD DOWN $24.70 A HUGE "PAPER GOLD" WITHDRAWAL OF 1.76 TONNES FROM THE GLD/INVENTORY RESTS TONIGHT AT 794.04 TONNES
JUNE 28/WITH GOLD UP $.90 TODAY: ANOTHER 2.05 TONNES OF PAPER GOLD REMOVED AND THIS GOLD WAS USED IN ATTACKING GOLD AT THE COMEX/INVENTORY RESTS AT 795.80 TONNES
JUNE 27/WITH GOLD DOWN $6.10: ANOTHER HUGE WITHDRAWAL OF 1.76 PAPER TONNES FROM THE GLD INVENTORY/INVENTORY RESTS AT 797.61 TONNES
JUNE 26/WITH GOLD DOWN $3.00: WE HAD A HUGE WITHDRAWAL OF 2.37 TONNES FROM THE GLD/INVENTORY RESTS AT 799.61 TONNES
JUNE 25/WITH GOLD UP $1.30 (AND WAY UP BEFORE THE BANKERS WHACKED) WE WITNESSED ANOTHER 1.95 TONNES OF PAPER GOLD ADDED TO THE GLD INVENTORY//INVENTORY RESTS AT 801.98 TONNES
JUNE 24/WITH GOLD UP $18.00 A MONSTROUS PAPER DEPOSIT OF 34.93 TONNES/INVENTORY RESTS AT 799.03 TONNES
JUNE 21/WITH GOLD UP $  2.90, NO CHANGE IN GOLD INVENTORY: INVENTORY RESTS AT: 764.10 TONNES
June 20/WITH GOLD UP $47.95, NO CHANGE IN GOLD INVENTORY AT THE GLD/INVENTORY RESTS AT 764.10 TONNES
JUNE 19 WITH GOLD DOWN $1.65: NO CHANGE IN GOLD INVENTORY AT THE GLD/INVENTORY RESTS AT 764.10 TONES
JUNE 18/JUNE 18/WITH GOLD UP $7.60: NO CHANGE IN GOLD INVENTORY AT THE GLD/INVENTORY RESTS AT 764.10 TONNES
JUNE 17/WITH GOLD DOWN $1.65 TODAY: NO CHANGE IN GOLD INVENTORY AT THE GLD//INVENTORY RESTS AT 764.10 TONNES
JUNE 14/ WITH GOLD UP $1.05 TODAY: A HUGE CHANGE IN GOLD INVENTORY AT THE GLD: A DEPOSIT OF 4.40 TONNES OF PAPER GOLD INTO THE GLD///INVENTORY RESTS AT 764.10 TONNES
june 13/WITH GOLD UP $6.60 TODAY: A BIG CHANGE IN GOLD INVENTORY AT THE GLD: A DEPOSIT OF 3.52 TONNES INTO THE GLD INVENTORY/INVENTORY RESTS AT 759.70 TONNES
JUNE 12/WITH GOLD UP $7.50 TODAY: NO CHANGES IN GOLD INVENTORY AT THE GLD/INVENTORY RESTS AT 756.18 TONNES
JUNE 11/WITH GOLD UP $1.65 CENTS TODAY: A TINY CHANGES IN GOLD INVENTORY AT THE GLD: A WITHDRAWAL OF .24 TONNES AND THIS IS TO PAY FOR FEES/INVENTORY RESTS AT 756.18 TONNES
JUNE 10/WITH GOLD DOWN $16.40 TODAY: A BIG  CHANGE IN GOLD INVENTORY AT THE GLD: A WITHDRAWAL OF 1.17 TONNES/INVENTORY RESTS AT 756.42 TONNES
xxxxxxxxxxxxxxxxxxxxxxxxxxxxxxxxxx
JULY 10/2019/ Inventory rests tonight at 800.54 tonnes
*IN LAST 621 TRADING DAYS: 134/22 NET TONNES HAVE BEEN REMOVED FROM THE GLD
*LAST 521 TRADING DAYS: A NET 31.46 TONNES HAVE NOW BEEN ADDED INTO  THE GLD INVENTORY.
end
Now the SLV Inventory/
JULY 12/WITH SILVER DOWN 9 CENTS TODAY: NO CHANGES IN SILVER INVENTORY AT THE SLV/INVENTORY RESTS AT 332.518 MILLION OZ/
JULY 10/WITH SILVER UP 9 CENTS TODAY: NO CHANGES IN SILVER INVENTORY AT THE SLV/INVENTORY RESTS AT 332.518 MILLION OZ//
JULY 9/WITH SILVER UP A SMALL 7 CENTS A GIGANTIC INVENTORY GAIN OF 4.026 MILLION OZ/ INVENTORY RESTS AT 332.518 MILLION OZ AND NOW IT SHOULD BE QUITE CLEAR THAT THE SLV ( AND GLD ARE FRAUDS)
JULY 8/WITH SILVER UP 7 CENTS: NO CHANGE IN SILVER INVENTORY AT THE SLV/INVENTORY RESTS AT 328,492 MILLION OZ
JULY 5/WITH SILVER DOWN 32 CENTS WE STRANGELY HAD A HUGE INVENTORY GAIN OF 2,234 MILLION OZ//INVENTORY RESTS AT 328.492 MILLION OZ
JULY 3 WITH SILVER UP 10 CENTS A HUGE INCREASE IN INVENTORY..INVENTORY RESTS AT 326.151 MILLION OZ
JULY 2/WITH SILVER UP 4 CENTS TODAY: NO CHANGES IN SILVER INVENTORY/INVENTORY RESTS AT 323.330 MILLION OZ//
JULY 1/ WITH SILVER DOWN 16 CENTS: A SURPRISING DEPOSIT OF 936,000 OZ INTO THE SLV/INVENTORY RESTS TONIGHT AT 323.330 MILLION OZ/
JUNE 28/WITH SILVER UP 6 CENTS: NO CHANGE IN SILVER INVENTORY AT THE SLV/INVENTORY REMAINS AT 322.394 MILLION OZ//
JUNE 27/WITH SILVER DOWN 7 CENTS: A HUGE CHANGE IN SILVER INVENTORY AT THE SLV: A DEPOSIT OF 2.575 MILLION OZ INTO THE SLV/INVENTORY RESTS AT 322.394 MILLION OZ//
JUNE 26/WITH SILVER UP 17 CENTS: NO CHANGE IN SILVER INVENTORY AT THE SLV/INVENTORY RESTS AT 319.819 MILLION OZ/
JUNE 25/WITH SILVER DOWN 25 CENTS TODAY; NO CHANGES IN SILVER INVENTORY AT THE SLV/INVENTORY RESTS AT 319.819 MILLION OZ.
JUNE 24/WITH SILVER UP 11 CENTS: NO CHANGES IN SILVER INVENTORY AT THE SLV/INVENTORY RESTS AT 319.819 MILLION OZ//
JUNE 21/WITH SILVER DOWN 22 CENTS: NO CHANGES IN SILVER INVENTORY AT THE SLV/INVENTORY RESTS AT 319.819 MILLION OZ//
JUNE 20/WITH SILVER UP 53 CENTS TODAY: NO CHANGES IN SILVER INVENTORY AT THE SLV/INVENTORY RESTS AT 319.819 MILLION OZ/
JUNE 19/WITH SILVER DOWN 3 CENTS TODAY: NO CHANGES IN SILVER INVENTORY AT THE SLV//INVENTORY RESTS AT 319.070 MILLION OZ/
JUNE 18 WITH SILVER UP 18 CENTS TODAY: NO CHANGES IN SILVER INVENTORY AT THE SLV//INVENTORY RESTS AT 319.070 MILLION OZ
JUNE 17/WITH SILVER UP XXX CENTS TODAY: NO CHANGES IN SILVER INVENTORY AT THE SLV/INVENTORY RESTS AT 316.775 MILLION OZ//
JUNE 14/WITH SILVER DOWN 9  CENTS TODAY: NO CHANGES IN SILVER INVENTORY AT THE SLV/INVENTORY RESTS AT 316.775 MILLION OZ/
JUNE 13/WITH SILVER UP 11 CENTS TODAY: NO CHANGES IN SILVER INVENTORY AT THE SLV/INVENTORY RESTS AT 316.775 MILLION OZ/
JUNE 12/WITH SILVER UP 4 CENTS TODAY: A BIG CHANGE IN SILVER INVENTORY AT THE SLV: A DEPOSIT OF 1.413 MILLION OZ INTO THE SLV INVENTORY/INVENTORY RESTS AT 316.775 MILLION OZ/
JUNE 11/WITH SILVER UP 10 CENTS TODAY: NO CHANGE IN SILVER INVENTORY AT THE SLV//INVENTORY RESTS AT 315.652 MILLION OZ//
JUNE 10/WITH SILVER DOWN 38 CENTS TODAY: NO CHANGE IN SILVER INVENTORY AT THE SLV/INVENTORY RESTS AT 315.652 MILLION OZ//
Inventory 332.518 MILLION OZ
LIBOR SCHEDULE AND GOFO RATES:
YOUR DATA…..
6 Month MM GOFO 2.21/ and libor 6 month duration 2.26
Indicative gold forward offer rate for a 6 month duration/calculation:
G0LD LENDING RATE: + .05
XXXXXXXX
12 Month MM GOFO
+ 2.17%
LIBOR FOR 12 MONTH DURATION: 2.29
GOFO = LIBOR – GOLD LENDING RATE
GOLD LENDING RATE  = +.12
end
PHYSICAL GOLD/SILVER STORIES
i) GOLDCORE BLOG/Mark O'Byrne
Fed's Powell explains why a return to the gold standard would be so damaging to the economy
"If you assigned us [to] stabilize the dollar price of gold, monetary policy could do that, but the other things would fluctuate, and we wouldn't care," Powell says.
Though Powell distanced himself from the Fed nomination process, his comments put him at odds with the writings of Judy Shelton, a current nominee to the central bank.
Federal Reserve Chairman Jerome Powell told Congress on Wednesday that he doesn't think a return to the gold standard in the U.S. would be a good idea.
Full article via CNBC here
GOLDNOMICS PODCAST (Episode 12)
Watch Podcast Here or Listen on Apple Podcasts, SoundCloud or Blubrry
News and Commentary
LBMA Gold Prices (AM/ PM Fix – USD, GBP & EUR)
10-Jul-19 1395.45 1408.30, 1117.34 1126.78 & 1243.35 1252.68
09-Jul-19 1387.90 1391.55, 1113.51 1115.61 & 1239.39 1241.54
08-Jul-19 1404.90 1400.10, 1121.11 1119.38 & 1251.20 1248.19
05-Jul-19 1414.40 1388.65, 1126.43 1110.92 & 1255.99 1237.70
04-Jul-19 1415.25 1414.90, 1125.41 1125.55 & 1254.19 1254.59
03-Jul-19 1425.10 1413.50, 1133.52 1123.31 & 1262.78 1251.65
02-Jul-19 1393.10 1391.05, 1105.01 1101.02 & 1233.59 1231.77
01-Jul-19 1390.05 1390.10, 1099.81 1099.99 & 1227.41 1227.74
Buy, Transfer & Store Gold and Silver in Zurich, Switzerland – Six Months Free Storage & Complimentary Silver Eagle – Info Here
Receive Our Free Daily or Weekly Updates by Signing Up Here
ii) Physical stories courtesy of GATA/Chris Powell
This is a major development..the entire scam of the bullion banks has been revealed in the UK parliament. UK parliamentary member jeremy Lefroy read into the House of Commons the manipulation of gold and silver and is asking for the FCA and BOE to investigation…the fun begins
(courtesy zerohedge)
Member of Parliament urges investigation of gold-market manipulation in UK
Submitted by cpowell on Thu, 2019-07-11 04:44. Section: Daily Dispatches
12:49a ET Thursday, July 11, 2019
Dear Friend of GATA and Gold:
Citing a confession to gold market manipulation in the United States, a member of Parliament this week urged the British government to investigate possible manipulation of the gold market in London.
The member, Jeremy Lefroy, Conservative for Stafford, prompted a discussion of manipulation during a speech Monday in the House of Commons. Lefroy questioned the economic secretary to the U.K. Treasury, John Glen, Conservative member for Salisbury, as to whether the government was able to prevent gold market manipulation.
Glen responded that the U.K.'s Financial Conduct Authority has "the right tools" and the jurisdiction to "detect and respond" to attempts at market manipulation. But he did not directly respond to Lefroy's request for an investigation.
… 
Lefroy's statement, much of which is appended, showed detailed knowledge of the gold market and the recent increase in gold reserves by various nations. Lefroy not only cited the conviction for gold market manipulation of a former trader for JPMorganChase in the United States but also expressed concern about the trustworthiness of gold derivatives and paper gold, as well as the possibility that impoverished commodity-producing countries are being cheated by market manipulation.
He also related the complaint of a constituent who accused Deutsche Bank of manipulating the gold and silver markets. Litigation brought by his constituent in Germany and the U.K. was unsuccessful, Lefroy said, but soon afterward Deutsche Bank confessed to such manipulation in regulatory proceedings in the United States.
CHRIS POWELL, Secretary/Treasurer
Gold Anti-Trust Action Committee Inc.
CPowell@GATA.org
* * *
From Hansard, the journal of Parliament, for Monday, July 8, 2019.
https://hansard.parliament.uk/Commons/2019-07-08/debates/A6D6620D-4A27-4…
Statement by Jeremy Lefroy, Conservative member for Stafford:
My first reason for raising the subject is the importance of gold and silver as a store of value internationally.
There are those who say that gold in particular is a relic of the past with little relevance to the modern financial system, but many countries do not seem to agree. Russia is steadily building up its gold reserves, which, 20 years ago, were well below those of the UK; now they are seven times as high. China rapidly increased its gold reserves in 2015. Several European countries, notably Germany and France, hold more than 60% of their reserves in gold.
The United States — the owner of the world's main reserve currency, which would perhaps have the least reason to hold gold reserves — still believes in gold, which comprises some 73% of its official reserves.
And what of the UK? With just 310 tonnes — pretty much the same quantity for more than 15 years — we hold 8.5% of our official reserves in gold. However, this debate is not about the merits of the UK's policy on official reserves, although I will refer to that briefly at the end of my speech.
If gold plays such an important role in nations' reserves, it is vital that the means of trading it and establishing its price on the exchanges be fair and transparent. …
That is what I want to talk about: trust in the markets — and I am asking questions, not giving answers, because I do not have them.
We should note that gold and silver both act as currency crosses, trading as components of the $5-trillion-a-day foreign exchange marketplace. That is an astonishing figure.
Clearly gold and silver are a very small part of the crosses market, but nevertheless they form part of it, and I have to say personally that I get increasingly worried by the huge volumes of daily trades on international ​markets and the vast amounts of derivatives that are outstanding at any one time. The last report I saw from the United States, I think from the last quarter, showed that something like $200 trillion-worth of derivatives were open at that time.
My second reason for raising the subject is that considerable quantities of gold and silver — and indeed the other precious metals, palladium and platinum — are mined in low- and middle-income countries. As with other commodities — such as coffee and cocoa, with which I worked for many years, and still do a little bit — the price has a major impact on the economies of the producers; it has an impact on those who work in the mining industry, and on the taxation revenues of the countries.
The third reason is that London is at the heart of the global trade in precious metals and has been since the late 17th century. At a time when institutions and businesses are under intense scrutiny, it is vital that we in this country uphold the highest standards, and I am sure my honorable friend the minister entirely agrees with that.
Just last year, a former vice president of a major U.S. bank pleaded guilty in the U.S. to spoofing precious metals markets "hundreds of times with the knowledge and consent of his immediate supervisors."
Sentencing has been delayed. The implication is that the person is assisting the U.S. Department of Justice's investigation into others, possibly both within and outside the bank. Spoofing is a technical term, defined in the USA's Dodd-Frank Act 2010 as "the illegal practice of bidding or offering with intent to cancel before execution," or, in other words, to deceive the market.
In another case, in January 2018, Deutsche Bank, UBS, and HSBC paid $46.6 million in the U.S. to settle Commodity Futures Trading Commission charges relating to spoofing in the precious metals markets.
I was first alerted to this subject by a constituent who had bought limited quantities of silver as an investment from Deutsche Bank while he was resident in Germany. Over the period in which he purchased the silver, the price peaked at $48 an ounce in 2011 and declined to below $20 by the end of 2014.
It is always very difficult to determine the precise causes of a market's movement. This was at a time of global uncertainty, financial stress in Europe and North America, and increasing demand for physical silver in electronics and other industrial purposes. My constituent stated in courts in both Germany and Birmingham in the UK that the bank had been manipulating the precious metals market. His cases were dismissed. Nevertheless, shortly afterwards, in 2016, Deutsche Bank and others confirmed that market manipulation had indeed been taking place, and they paid penalties in the U.S.A.
My constituent's contention, with which I have considerable sympathy, is that it is the small retail investor who pays the price for such illegal behaviour of traders and the banks for which they work. The regulators, and hence the governments, receive the fines, but investors find it almost impossible to prove a loss directly, because a number of factors affect market prices, not simply the illegal activity.​
My intention in calling for this debate is not to seek any conclusions at this stage, or to go into the details of precious metals trading — still less of the complexities of derivatives contracts that piggyback on the metals — but rather to ask the minister and the government some questions and to call for action.
My reasoning is that our country depends, more than any other major economy, on the stability of and trust in our financial services sector. The sector provides much well-paid employment, not just in London. Here I should express my regret at the job losses announced today in Deutsche Bank.
At least 2 million people are employed in financial services throughout the UK, not just in London, and the sector contributes up to 10% of government revenue. It also includes our heavy responsibility for and stewardship of the precious metals that we store and trade on behalf of most of the countries in the world.
I wish to ask the minister a number of questions.
First, have the Treasury, the Financial Conduct Authority, or the Bank of England made an assessment of the result of the recent J.P. Morgan case involving the rigging of precious metals markets and its potential impact on the UK? After all, we are talking about financial institutions with a global reach.
Secondly, do the UK authorities believe that any similar activity could take place, or has already taken place, in the UK, or by a bank domiciled here?
Thirdly, if there is evidence that the manipulation of bullion markets by banks over a period has resulted in lower prices than would otherwise have been the case — that is clearly something to be proven — what recourse do producers and retail investors have against banks for that manipulation?
Fourthly, it is estimated that the quantity of so-called paper gold — that is, delivery contracts for gold — is approximately 100 times the quantity of available physical gold. That is not peculiar to the precious metals market; it happens with other commodities as well, but it is nevertheless a noteworthy situation.
I accept that it is unlikely that most such contracts will end up requiring the delivery of physical gold, but what assessment have the authorities made of the risk that if delivery is required, those requirements might not be met? We have to take into account the steady increase in demand for gold — and, indeed, all precious metals — by states as well as by industry.
I suggest that, in addition to answering these questions, the government commission an independent inquiry or review into the bullion market, particularly in the UK.
Gold and silver are not simply commodities like coffee, cocoa, sugar, or copper, vital as those are. They are a bulwark of the global financial system, the importance of which is possibly increasing.
The UK is a relatively minor holder of gold as part of our reserves, but gold constitutes the majority of the reserves of many other countries. We have a significant role in the stewardship of the reserves of others, both physically and in their valuation. The trust that others place in our country and our institutions in this area matters enormously.
An independent inquiry or review at this time would underline the fact that we value that trust greatly, and that we will strengthen controls wherever necessary. Indeed, I believe that some controls have already been strengthened in the recent past. Such a review or inquiry would also flag up risky or illegal activity and ensure that those responsible were brought to book, including by being required to compensate those who have suffered from it.​
As I said at the beginning, my aim in this debate is to see whether there has been any activity in these markets in the United Kingdom that we should be taking a closer look at on behalf of investors, particularly the small retail investors who put some of their savings into these commodities. But it is also about the trust in our system in the United Kingdom. There is a huge amount of trust in the UK and its institutions. I believe that that trust is almost always well placed, but it can only continue to be well placed if we constantly scrutinise the system, and check instances where we have an indication that things have not always gone well, or perhaps are not going well now, and take action quickly.

* * *
Join GATA here:
New Orleans Investment Conference
Hilton New Orleans Riverside Hotel
Friday-Monday, November 1-4, 2019
https://neworleansconference.com/

* * *
Help keep GATA going:
GATA is a civil rights and educational organization based in the United States and tax-exempt under the U.S. Internal Revenue Code. Its e-mail dispatches are free, and you can subscribe at:
end
Doorknob Powell explains to the world foolishly by the gold standard is damaging to the economy?
(courtesy CNBC/GATA)
Fed's Powell explains why gold standard would be damaging to economy
Submitted by cpowell on Wed, 2019-07-10 17:40. Section: Daily Dispatches
By Thomas Franck
CNBC, New York
Wednesday, July 10, 2019
Federal Reserve Chairman Jerome Powell today told Congress he doesn't think a return to the gold standard in the U.S. would be a good idea.
"You've assigned us the job of two direct, real-economy objectives: maximum employment, stable prices. If you assigned us [to] stabilize the dollar price of gold, monetary policy could do that, but the other things would fluctuate and we wouldn't care," Powell said from Capitol Hill. "We wouldn't care if unemployment went up or down. That wouldn't be our job anymore."
… 
There have been plenty of times in the fairly recently history where the price of gold has sent signals that would be quite negative for either of those goals," he added. "No other country uses it," he added. The Fed is tasked and overseen by Congress to maximize employment and keep prices stable.
Though Powell was quick to distance himself from the Fed nomination process, his comments on the gold standard put him at odds with the writings of Judy Shelton, a current Fed nominee and advocate for monetary policy reforms. …
… For the remainder of the report:
https://www.cnbc.com/2019/07/10/feds-powell-explains-why-a-return-to-the…
end
Hugo explains the real money, silver and gold
\(courtesy zerohedge)
Hugo Salinas Price: Bitcoin is just a big distraction from gold
Submitted by cpowell on Thu, 2019-07-11 01:53. Section: Daily Dispatches
9:54p ET Wednesday, July 10, 2019
Dear Friend of GATA and Gold:
Bitcoin, Hugo Salinas Price of the Mexican Civic Association for Silver writes today, protects the U.S. dollar by diverting investment from gold. The cryptocurrency, Salinas Price argues, is a big distraction. His commentary is headlined "About Bitcoin" and it's posted at the association's internet site, Plata.com.mx, here:
http://plata.com.mx/enUS/More/380?idioma=2
CHRIS POWELL, Secretary/Treasurer
Gold Anti-Trust Action Committee Inc.
CPowell@GATA.org
end
iii) Other physical stories:
The data seems to suggest a huge entity is picking up silver and in Macleod's opinion it is sovereign China
(Alasdair Macleod)
A Whale Is Accumulating Silver Futures
Authored by Alasdair Macleod via GoldMoney.com,
Silver's recent price performance has been disappointing. Normally, it is almost twice as volatile as gold, so when the gold price rises 11%, as it has since last December, you would expect silver to rise about 20%. Instead it has fallen marginally.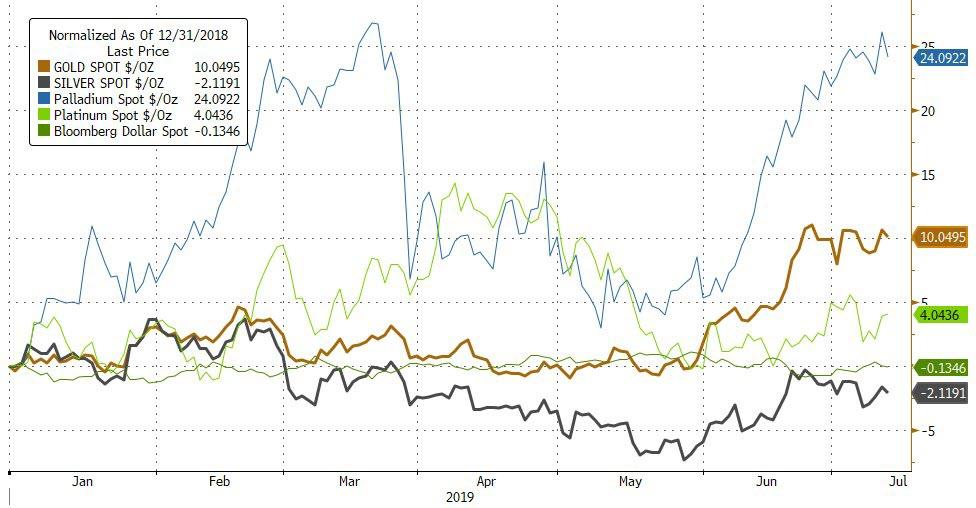 When we dig into the weekly Commitment of Traders' Reports covering Comex futures, we see something very odd indeed.
The largest four traders, normally bullion banks or major producers hedging future output, almost always run short positions against speculators' longs. The more bullish speculators are, the more shorts are carried by the big four to accommodate them. Equally, they only go net long when the speculators are extremely bearish and are collectively marginally long or exceptionally net short. Not now, as the following chart of the Largest Four Traders net positions shows.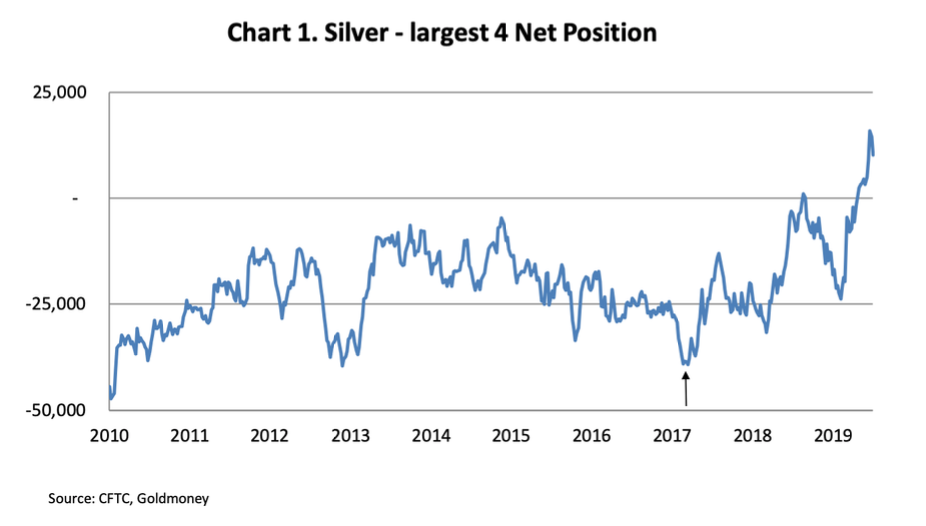 The number of contracts either net long or net short are derived from the concentration ratios in the weekly COT releases. The net long position is standing at a record high, a move that started in March 2017, marked by the arrow.
With respect to the concentration ratios, the CFTC's explanatory notes state the following:
"The report shows the per cents of open interest held by the largest four and eight reportable traders, without regard to whether they are classified as commercial or non-commercial. The concentration ratios are shown with trader positions computed on a gross long and gross short basis and on a net long or net short basis. The "Net Position" ratios are computed after offsetting each trader's equal long and short positions. A reportable trader with relatively large, balanced long and short positions in a single market, therefore, may be among the four and eight largest traders in both the gross long and gross short categories, but will probably not be included among the four and eight largest traders on a net basis."
So, anyone can be a large reportable trader. Gross positions include straddles and swaps between different silver futures, and do not concern us. It is the net position ratios that are relevant. Chart 1 above is of the four largest traders net positions in the markets calculated on this basis.
The next largest 4 traders can also be calculated by taking the concentration ratios of the eight largest and subtracting the four largest. It turns out, as one would expect when gold is very overbought, the silver positions of the next largest four at net short 40,305 contracts are close to a record short. The second four see prices have hardly moved, and the speculators in the Managed Money category are only moderately long. Despite their individual short positions, they don't realise they are in acute danger of being victims of a major bear squeeze.
They appear to be blissfully unaware that they are as a group short to a very larger buyer in their own ranks. It is certainly possible no one has done the analysis covered in this article, because analysts and traders rarely look at the concentration figures. Furthermore, the correlation of the positions between the four largest and next four have not closely followed each other for some time as Chart 2 shows, which perhaps also encourages complacency.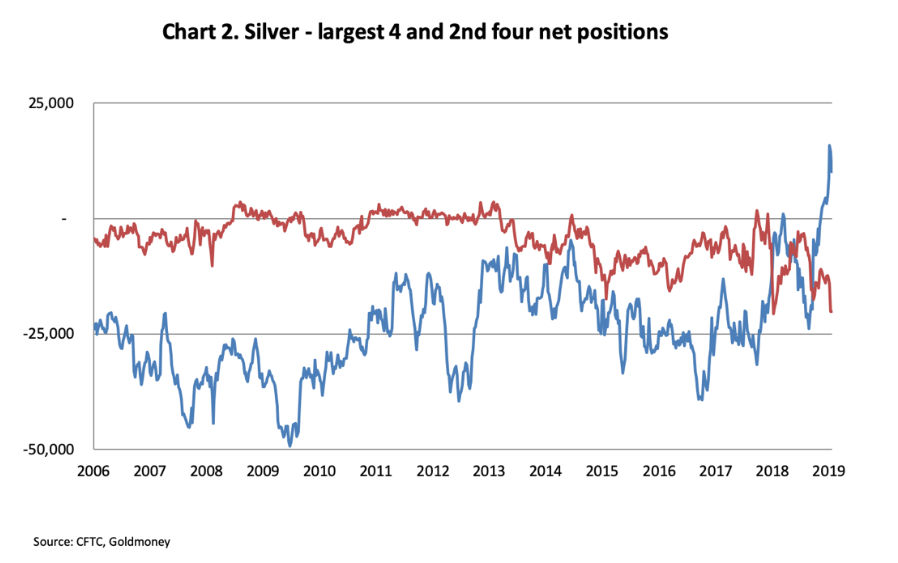 We will return to that point later. However, it is only recently that the second largest four's net shorts have exceeded those of the first largest four, and now we see the largest four traders are record long while the second largest four are record short.
This is the first time this has happened. It seems unlikely that in normal circumstances any of the largest eight would be running a diametrically opposed trading position to the other seven. Comex doesn't work like that, con­­­­sisting of distinct groupings: producers and merchants hedging their future deliveries, bullion banks acting as market-makers, and speculators, who take on the price risk by going long. They all tend to stick within their group motivations.
Given these normally clear distinctions we can probably rule out a collaboration between more than one large trader. If two or more large traders were involved, it would be known by insiders and the other large traders would not risk being short.
Therefore, it is likely to be only one long position, far larger than the charts above indicate, given the largest four traders will include three other large shorts. We can only guesstimate its size. However, if we assume that the other three largest trades are short in tune with the others, our long trader, our whale, is very long indeed. The long position probably began in March 2017, when collectively the large four were net short 39,215 contracts. This is marked by the up arrow in Chart 1, where the trend reversed. If we take that as our starting point, we can see that as of 2 July (the most recent COT figures) the swing is nearly 50,000 contracts. That is an indication of the long position of our large trader, accounting for over 20% of silver's open interest. Since each contract is for 5,000 ounces, it represents as much as 7,775 tonnes, which is 28% of 2018's global mine production of 27,550 tonnes.
In the context of the silver futures market it is huge. But it seems unlikely to be an attempt to corner the silver market, because Comex-registered vaults have about 9,500 tonnes of silver bullion and LBMA vaults at the end of March had 36,195 tonnes. In other words, there is 1.66 times annual mine supply in these two vaulting systems alone. Given healthy vaulting supply, someone attempting a repeat of the Bunker-Hunts' attempt to corner the market in 1979 has a massive hill to climb, particularly when such an attempt might be thwarted by the regulators changing the rules.
Putting cornering the market aside, we can also rule out a large speculator taking a punt on silver. A look at the Managed Money category net position tells us our whale is not there. Nor does a whale this size show up in the Non-Reportable category either.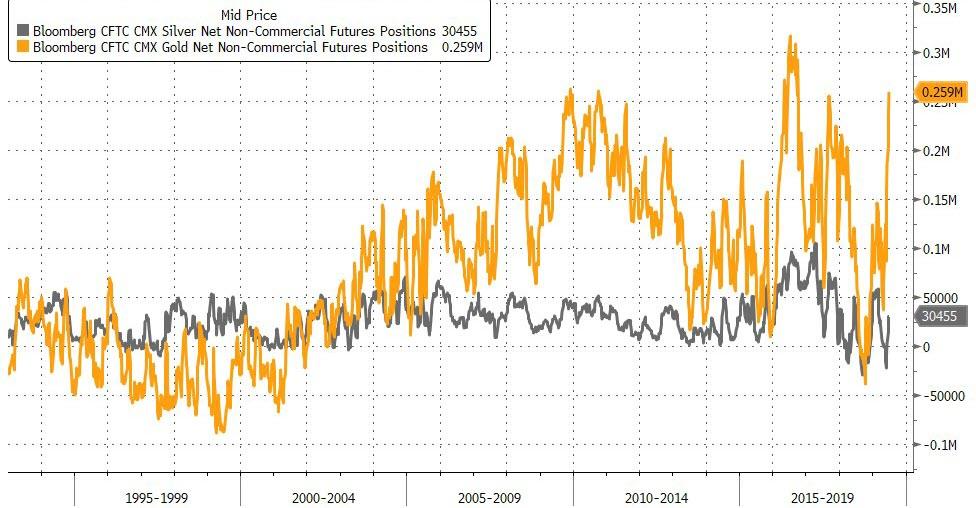 By a process of elimination, it looks like a commercial entity, which uses silver for manufacturing purposes and is a continuing buyer of the metal. It would make sense that such a buyer would wish to hedge against future price rises by going long of futures. This being the case, it is a behemoth, larger than any individual processor. And that leads to one conclusion: it is probably the Peoples' Bank of China, the state institution charged with managing all China's silver distribution. But with a purely circumstantial case, we need more evidence.
Why the trail of evidence leads to China
In 2012, I was speaking at a conference in New York at which a number of silver mining minnows had stands in the hope of attracting investors. I visited all of them to establish the answer to a simple question: how did they ship their silver out, who paid them, and when?
The reason for asking this question was there were allegations going the rounds about the dark deeds of JPMorgan manipulating the silver futures market. That the silver market was open to manipulation by the big banks there was little doubt, and JPMorgan was definitely a major force in the silver market. By not appearing to take credible allegations seriously, Comex and the CFTC as regulator gave the impression they were colluding with JPMorgan, giving the whole story an extra spin.
The assumption that JPMorgan could simply ride roughshod over the CFTC and Comex rulebook was really the weakness in the conspiracy theories. We are all aware of the crony capitalism between banks and regulators, but there are limits. Bending the interpretation of the rules is one thing. Flagrantly breaking them to create false markets is another.
However, there was little doubt JPMorgan dominated trading in Comex silver futures, and my feeling was they were acting for a legitimate client instead of its own trading book. This was confirmed when Blythe Masters, then head of global commodities at JPMorgan and a hate-figure for silver conspiracy theorists, a month earlier than the New York conference gave an interview where she clearly stated that JPMorgan acted only for clients and did not run directional positions as principal.
The outcry from conspiracy theorists was predictable, but I found it impossible to believe that Masters would give an interview, which appeared to be for the main purpose of refuting the rumours, and then tell a barefaced lie. When an interviewee says before answering, "that is a great question" you can be reasonably sure it was pre-agreed, so is an important and considered revelation. The recording of the interview confirms this is what happened.
The question then was what role was JPMorgan playing in the market? They had inherited their silver business from the acquisition of Bear Sterns in 2008 and continued to develop it. And there was no doubt that such a large investment bank had greater clout than Bear Sterns to manage silver positions. Given Blythe Master's unequivocal denial that JPMorgan was running a trading position on its own book, it must have been acting for one very large client, and that was the evidence I was looking for at the New York conference.
The silver miners all told the same story. When they had enough doré to ship, a specialist from Glencore would assess and certify the value of the silver content and arrange for it to be shipped to a refiner. Glencore was working with JPMorgan, and the silver miner would be paid as soon as the doré was being shipped, enabling the miner to cover its day-to-day costs. Using the doré as collateral, JPMorgan would cover the price risk by selling Comex silver futures or possibly by selling silver on the LBMA for forward delivery. This was why Masters could truthfully say JPMorgan did not take a directional position.
We should bear in mind that Glencore's assessors would also be assessing the silver content of base metal ores, because more than half of silver mine production is a by-product of base metal processing, and in total involves very large amounts of silver. The sale of large amounts of futures contracts would follow to offset price risk.
This is not the whole story, raising the question as to the doré's destination. At the New York conference, there was no consensus among the silver miners. But at that time, as it still does today, China had a major position in the global silver market. Furthermore, China had invested in processing and refining facilities when environmental factors led to the closure of rival facilities in western nations, such as Canada. It was therefore almost certain that a big slug of the doré was bound for China, which not only had ample low-cost silver refining capacity, but had also invested heavily in base metal refining for the extraction of silver as well.
All purchases of silver imported into China are the responsibility of the Peoples' Bank of China, and that would be JPMorgan's underlying client, not Glencore. Given the standing and resources of the Peoples Bank, and the leading positions of JPMorgan and Glencore in their respective industries, it is easy to envisage the existence of this high-level partnership and the importance of confidentiality.
I could then conclude my own conspiracy theory, which seemed far more likely than the others swirling around: JPMorgan extended the miners credit against the collateral of doré shipments, the price risk being covered by selling futures on Comex and forwards on the LBMA. This was not JPMorgan as a principal, but on behalf of China's central bank. China had a vested interest in keeping the price as low as possible, which is the natural consequence of this hedging activity.
In their conspiracy theories, frustrated silver bulls were missing the one obvious conclusion confirmed by the Blythe Masters interview, that JPMorgan was, and probably still is, working for the Chinese central bank as their client. China is the whale in the market, which explains why, in Chart 2 above, we see the lack of correlation between the largest four traders and the second four going back over a decade. Bear in mind also that the commitment of trader's reports covering Comex are not the whole story. Forward trades in London on the LBMA are a significantly larger market and JPMorgan operates its own vaults in London as well.
Switching dealings between OTC forwards and regulated futures makes it very difficult to analyse silver markets. Analysing Comex is like observing the dog's tail and not seeing the dog. The result is China has managed to import over half her silver needs at suppressed prices. By using both markets it appears that JPMorgan has discharged this role skilfully for the Peoples' Bank, and it also explains why the regulators were unable to bring them to account, despite evidence that JPMorgan's actions may have been suppressing the silver price: strictly speaking, there was no wrongdoing within Comex's rules.
The change from bear to bull
Price management at the behest of the Peoples' Bank, within certain limits, is a reasonable objective and the bedrock of all large client/broker relationships. In that context, the broker is often given a degree of discretion. Regular liaison between JPMorgan's dealers and those of the client would be normal, perhaps monthly or quarterly to review both progress and objectives. This allows the broker to act on the clients' behalf on a semi-discretionary basis within agreed guidelines.
In this case, the client (i.e. the Peoples' Bank) would be an ongoing buyer of physical silver. In the past, silver prices have been suppressed in the futures market by selling enough futures to cover doré and silver-bearing base metal ore shipments. Doing business this way would have been a significant benefit to China.
None of this explains why a substantial long position appears to have now materialised on Comex. Instead of selling futures to suppress the price, our market whale appears to have turned buyer; buying enough to cover China's annual silver imports, the equivalent of about 43,000 Comex contracts. Clearly, the new strategy is to hedge against rising prices instead of suppressing the silver price. Given this new development, one would have thought that the other seven large traders would have tried to limit their silver shorts and at least keep an even book. There are several reasons why they may not have not felt the need to do so:
There are ample quantities of bullion in the vaults in London and Comex depositories, currently totalling 1.66 years' worth of mine supply, unlike gold where the underlying bullion stock is very small relative to the paper contracts based upon them.
They appear to be unaware of China's actions and motives. They may not even be aware of the existence of this long position. If they are aware of it, they may think it is just a technical long, against a short in London's OTC market.
With global commercial demand declining due to the economic slow-down, they probably feel relaxed about the price outlook for silver, which they will regard as an industrial metal. Base metals show little sign of entering a bull market.
Therefore, with the Swaps category only moderately oversold (net short 12,735 contracts) and the Managed Money category only average overbought (net long 21,923 contracts), the other seven largest traders are likely to feel individually comfortable with their short positions, unaware of the extent to which their fellow traders are also short. What they fail to realise is that they are the shorts against the one largest trader who is long.
Why is China now buying futures?
If I am correct in thinking the whale in the market is the Peoples Bank of China, then instead of suppressing the silver price, she is now hedging approximately one year's silver imports against future price rises. Having pinpointed the switch from price suppression to futures accumulation to approximately March 2017, we can now say that courtesy of JPMorgan's dealing skills, no one was aware of the Peoples Bank's change in price strategy.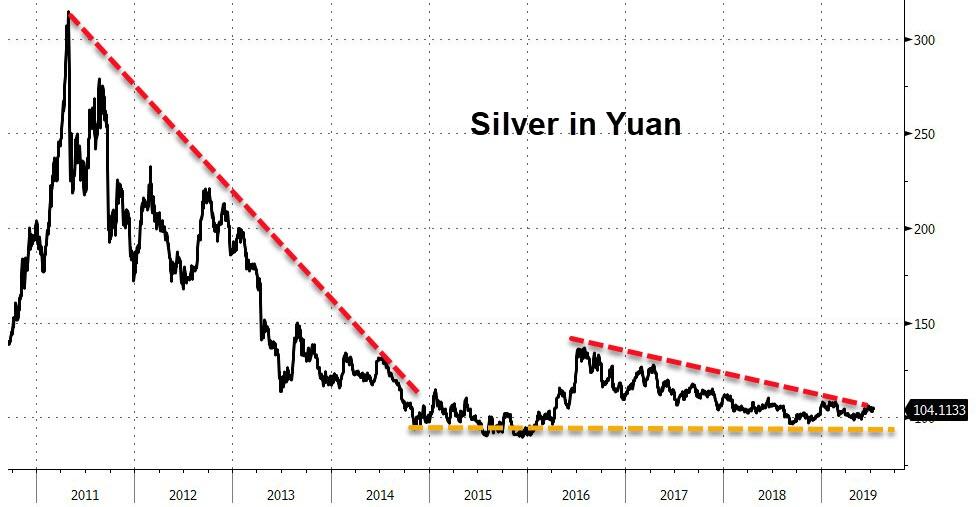 This was shortly after President Trump was elected and assumed office, which could have had a bearing. From China's point of view, the geopolitical outlook had become very unstable, with its Washington sources reporting the Deep State's conflict with Trump and its attempts to destabilise his administration. At the same time, the global economic outlook was improving, which would have led to greater global demand for silver, making it difficult for China to continue to suppress the price. These are good enough reasons to change price strategy and lock in silver prices by buying futures to cover future shipments.
More recently, China has begun to declare monthly additions of monetary gold reserves, a trend led by Russia and copied by other Eurasian central banks. Gold has suddenly caught a bid and having risen sharply become dangerously overbought. This is in sharp contrast to silver, which on the surface appears to have been side-lined.
The traders at the Peoples Bank now appear to have protected themselves against an increase in the silver price, which normally rises nearly twice as much as gold. Since the Peoples Bank also controls the nation's gold, the silver desk could have known about the plans to announce monthly increases in China's monetary gold reserves in advance. It would have been an added incentive for the desk to buy silver futures from the beginning of this year.
It will be interesting to see if this move, combined with China's increasing gold reserves, results in a significant jump in the silver price. If the silver whale is China, then it's a reasonable supposition that China is signalling by its actions that it expects dollar prices for gold, and therefore silver, to continue higher over time. An advantage of taking up a silver position is if things cut up rough in the gold market, China will not be implicated so far as Comex futures are concerned. Unlike large-scale dealings in Comex gold futures (which China appears to have studiously avoided), protecting prices on her silver imports is what the futures market is for and is unlikely to be politically contentious.
The message for silver investors is seven of the eight largest traders appear to have become complacent. If China is the whale in the market, then discovery could be a very painful process for them. Its unfolding could be dramatic, likely to coincide with the next move upwards in the gold price.
end
Due to the criminal conviction of trader Edmonds, the USA prosecution is seeking to halt the civil lawsuit. I was misinformed: all discoveries in a civil suit are public and because of that, the prosecution gives the defendants the right to plead the 5th if their testimony incriminates them
(courtesy zerohedge/Chris Powell)
US seeks halt in civil lawsuit accusing JP Morgan of manipulating metals market, citing criminal case
The U.S. wants a federal judge to halt a civil lawsuit accusing J. P. Morgan of manipulating precious metals markets. The Justice Department cited an ongoing criminal case as its reason for the request.
A former J. P. Morgan trader pleaded guilty in Connecticut last month to manipulation charges.
In the guilty plea, the trader said he had learned to make bogus trade orders from senior traders at the bank and that he used the strategy hundreds of times with the knowledge and consent of his immediate supervisors.
CNBC.com
The Justice Department is asking a judge to put the brakes on a civil lawsuit against J. P. Morgan Chase, citing an ongoing probe into a "related criminal case" that involves alleged manipulation of precious metals markets.
The department wants a six-month postponement in the proceedings of the civil lawsuit, which was filed in 2015 by hedge fund manager Daniel Shak and two commodity traders. The government also says it could ask for a longer delay in the case, according to a court filing on Monday.
The move comes days after Shak's lawyer, David Kovel, sought permission to reopen questioning of two former J. P. Morgan traders and the bank's current global head of base and precious metals trading.
Kovel, in making the request with the Manhattan federal judge in the civil case, cited last month's guilty plea by one of those former traders, John Edmonds, in federal court in Connecticut.
Edmonds admitted making bogus bids on precious metals contracts while working at the bank from 2009 to 2015.
Neither J. P. Morgan Chase nor Kovel's clients have opposed the Justice Department's request.
In arguing for a delay, the Justice Department said Shak's lawsuit is "related" to Edmonds' criminal case and that Edmonds has "pleaded guilty and acknowledged his own participation in such conduct, as well as that of other traders."
"Edmonds awaits sentencing, but the broader investigation is ongoing," the Justice Department said. The U.S. wants to delay the civil case "to protect the integrity of its ongoing criminal investigation," it said.
J. P. Morgan did not respond to a request for comment by CNBC. Kovel declined to comment.
Tuesday night, after this story first was published, Judge Paul Engelmayer ordered the federal prosecutors to explain in detail by Monday why postponing proceedings in the civil lawsuit would not harm those involved, and why reopening questioning "would be detrimental to the Government's ongoing criminal investigation."
Englemayer also wrote that he regards Edmonds' guilty plea "as potentially highly consequential" to the civil case.
In his guilty plea, the 36-year-old Edmonds said he had learned to make bogus trade orders from senior traders at the bank and that he used the strategy hundreds of times with the knowledge and consent of his immediate supervisors. He admitted to working with "unnamed co-conspirators" at J. P. Morgan, according to the Justice Department.
Kovel wants to question Edmonds again as well as Michael Nowak, the bank's global head of base and precious metal trading, and former J. P. Morgan Chase Managing Director Robert Gottlieb. The three had previously answered questions under oath in the civil case.
Kovel said in court filings that Nowak was the immediate supervisor of Edmonds, while Gottlieb was Edmonds' mentor.
In his prior deposition, Edmonds said that Gottlieb sat only a "couple feet" away from him for about five years, and that he was "somebody [he] looked up to in the business," who helped guide and train him.
Nowak is described by Edmonds as his direct supervisor, with whom he would sometimes discuss trading strategies. Nowak was also the person responsible for overseeing the performance and risk of Edmonds' portfolio, according to the deposition.
Edmonds also stated in his prior deposition that he would enter precious metals trades for both Nowak and Gottlieb, among others.
The civil lawsuit claims Shak and his fellow plaintiffs lost tens of millions of dollars as a result of actions by J. P. Morgan's traders.
A federal judge tells traders that they can combine cases (with the other 6 banks) as they accused JPMorgan of rigging the precious metals market
(courtesy CNBC)
Federal judge tells traders they can combine cases accusing JP Morgan of rigging metals market
Litigation in a separate civil case has been put on hold until at least May at the behest of the Justice Department, which is investigating a "related criminal case" that involves alleged market manipulation by precious metals traders at J. P. Morgan.

Judge John Koeltl of the Southern District of New York appointed the White Plains, N.Y., law firm Lowey Dannenberg as interim lead counsel for the proposed class action.
A group of traders from across the U.S. who allege that J. P. Morgan Chase manipulated precious metals markets for years are one step closer to bringing a class action suit against the nation's largest bank.
Earlier this month, a federal judge said five separate lawsuits making similar allegations against the bank could be combined, potentially including thousands of people who traded in the precious metals market from Jan. 2009 through Dec. 2015.
Litigation in a separate civil case has been put on hold until at least May at the behest of the Justice Department, which is investigating a "related criminal case" that involves alleged market manipulation by precious metals traders at J. P. Morgan.
J. P. Morgan declined to comment on this story.
Judge John Koeltl of the Southern District of New York appointed the White Plains, N.Y., law firm Lowey Dannenberg as interim lead counsel for the proposed class action.
Vincent Briganti, a partner at the firm, filed the first suit seeking class action status in November on behalf of Dominick Cognata, a trader who alleges he suffered losses due to J.P. Morgan's illegal trading conduct in the silver and gold futures and options markets.
That was after the federal court in Connecticut unsealed a criminal plea agreement by John Edmonds, a former J.P. Morgan metals trader. In his guilty plea, Edmonds, who is 36-years old, admitted that he and other "unnamed co-conspirators" fraudulently manipulated the precious metals markets while they were employed at J. P. Morgan from 2009 to 2015.
Edmonds said he had learned the illegal trading tactics from senior traders, and then used them hundreds of times with the knowledge of and consent of his immediate supervisors.
Briganti's lawsuit also names John Edmonds and a group of yet-to-be-identified precious metals traders and the bank as defendants.
On Wednesday, the lawyers sent a letter to Judge Koeltl saying they were having difficulty locating Edmonds to serve him legal papers and requested a 30-day extension to do so, which the judge granted on Thursday. Briganti noted that they have been in contact with Edmonds' attorney in the criminal case. Edmonds' attorney and Briganti could not be reached for comment.
"We are hopeful that this extension will result in completing service on Mr. Edmonds without formal motion practice and a request for alternative means of service," Briganti said in the letter.
The next step in the civil case is for the plaintiffs to file an amended class action complaint and set a schedule for defendants to respond.
In addition to the proposed class action, J. P. Morgan also faces a separate civil suit which also accuses the bank of rigging precious metals markets.
end
Your early THURSDAY morning currency, Asian stock market results,  important USA/Asian currency crosses, gold/silver pricing overnight along with the price of oil Major stories overnight/7 AM EST
i) Chinese yuan vs USA dollar/CLOSED / LAST AT: 6.8659/ GETTING VERY DANGEROUSLY CLOSE TO 7:1
//OFFSHORE YUAN:  6.8700   /shanghai bourse CLOSED UP 2.46 POINTS OR 0.08%
HANG SANG CLOSED UP 227.11 POINTS OR 0.81%
2. Nikkei closed UP 110.05 POINTS OR 0.51%
3. Europe stocks OPENED ALL MIXED
USA dollar index UP TO 96.88/Euro RISES TO 1.1272
3b Japan 10 year bond yield: FALLS TO. –.14/ !!!!(Japan buying 100% of bond issuance)/Japanese yen vs usa cross now at 108.13/ THIS IS TROUBLESOME AS BANK OF JAPAN IS RUNNING OUT OF BONDS TO BUY./JAPAN 10 YR YIELD IS NOW TARGETED AT .11%/JAPAN LOSING CONTROL OF THEIR BOND MARKET//CARRY TRADERS GETTING KILLED
3c Nikkei now JUST BELOW 17,000
3d USA/Yen rate now well below the important 120 barrier this morning
3e WTI:: 60.59 and Brent: 67.19
3f Gold UP/JAPANESE Yen UP CHINESE YUAN:   ON -SHORE UP/OFF- SHORE: UP
3g Japan is to buy the equivalent of 108 billion uSA dollars worth of bond per month or $1.3 trillion. Japan's GDP equals 5 trillion usa./"HELICOPTER MONEY" OFF THE TABLE FOR NOW /REVERSE OPERATION TWIST ON THE BONDS: PURCHASE OF LONG BONDS AND SELLING THE SHORT END
Japan to buy 100% of all new Japanese debt and by 2018 they will have 25% of all Japanese debt. Fifty percent of Japanese budget financed with debt.
3h Oil UP for WTI and UP FOR Brent this morning
3i European bond buying continues to push yields lower on all fronts in the EMU. German 10yr bund RISES TO -.24%/Italian 10 yr bond yield UP to 1.67% /SPAIN 10 YR BOND YIELD UP TO 0.43%…ITALIAN 10 YR BOND YIELD/GERMAN BUND: 1.91: DANGEROUS FOR THE ITALIAN BANKING SYSTEM
3j Greek 10 year bond yield FALLS TO : 2.25
3k Gold at $1419.70 silver at: 14.28   7 am est) SILVER NEXT RESISTANCE LEVEL AT $18.50
3l USA vs Russian rouble; (Russian rouble UP 17/100 in roubles/dollar) 62.99
3m oil into the 60 dollar handle for WTI and 67 handle for Brent/
3n Higher foreign deposits out of China sees huge risk of outflows and a currency depreciation. This can spell financial disaster for the rest of the world/
JAPAN ON JAN 29.2016 INITIATES NIRP. THIS MORNING THEY SIGNAL THEY MAY END NIRP. TODAY THE USA/YEN TRADES TO 108.13 DESTROYING JAPANESE CITIZENS WITH HIGHER FOOD INFLATION
30 SNB (Swiss National Bank) still intervening again in the markets driving down the SF. It is not working: USA/SF this morning .9858 as the Swiss Franc is still rising against most currencies. Euro vs SF is 1.1112 well above the floor set by the Swiss Finance Minister. Thomas Jordan, chief of the Swiss National Bank continues to purchase euros trying to lower value of the Swiss Franc.
3p BRITAIN VOTES AFFIRMATIVE BREXIT/LOWER PARLIAMENT APPROVES BREXIT COMMENCEMENT/ARTICLE 50 COMMENCES MARCH 29/2017
3r the 10 Year German bund now NEGATIVE territory with the 10 year RISING to –0.24%
The bank withdrawals were causing massive hardship to the Greek bank. the Greek referendum voted overwhelming "NO". Next step for Greece will be the recapitalization of the banks and that will be difficult.
4. USA 10 year treasury bond at 2.07% early this morning. Thirty year rate at 2.59%
5. Details Ransquawk, Bloomberg, Deutsche bank/Jim Reid.
6.  TURKISH LIRA:  UP  TO 5.6658..
S&P Futures Above 3,000 After Powell "Gives Traders License To Buy Everything"
There is a Bloomberg headline this morning which best summarizes the market mood on the day after Powell's 1st day of Congressional testimony: "Traders Take Fed Message as License to Buy Everything", and it's pretty much spot on, with S&P futures storming back over 3,000, following Asian stock higher amid certainty that the Fed will cut rates at least by 25-50bps in the immediate future, even as an early European rally fizzled as investors didn't get the memo, and grew skeptical by the relentless dovish flood. Meanwhile, Treasuries dropped and the dollar edged lower.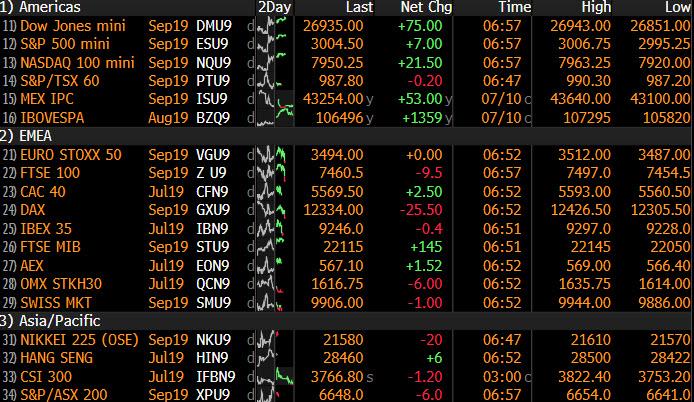 The S&P was set to open back over 3,000 as it briefly topped the key psychological level for the first time Wednesday after the Fed Chair made it abundantly clear he is willing to lower rates, citing a slowing global economy and trade issues.  In his first day of testimony before Congress on Wednesday, Powell confirmed the U.S. economy was still under threat from disappointing factory activity, tame inflation and a simmering trade war, and said the Fed stood ready to "act as appropriate".
A strong June U.S. jobs report last Friday heightened expectations the Fed was more likely to cut by 25 basis points than by 50. But Powell's cautious stance helped fuel bets of two rate cuts at its next policy meeting on July 30-31, and the odds of a 50 bps cut rose to 27.6% from 3.3% on Tuesday, after minutes from the Fed's last meeting showed many policymakers felt there was not yet a strong case for easing.
"Powell's statement confirmed we are going in the direction of a cutting cycle," said Charles Zerah, a fund manager at Carmignac. "The main question now is, are investors pricing too much in terms of rate cuts by year end? The way you see equity markets behaving, risk is that what markets are pricing could lead to disappointment."
The European Stoxx 600 Index was headed for the first advance in five days, spurred by energy companies, though it came off its highs for the session, climbing 0.1% after losing 1.4% over the past four sessions; carmakers were the worst performers on broader benchmark, falling for a fifth day while energy shares and utilities lead gains, tempering losses from cyclical sectors. Germany's DAX dipped after opening higher, while Britain's FTSE 100 erased a gain of as much as 0.4% as Bank of England Governor Mark Carney spoke at a press conference in London, noting that risks of a no-deal Brexit have increased and such an outcome could hurt the pound, government bonds and house prices.
Earlier in the session, shares rose across most of Asia as MSCI's index of Asia-Pacific shares ex-Japan rose 1% with the South Korean and Hong Kong markets outperforming and stocks in China edging higher. Asian stocks climbed for a second day, led by energy and technology firms. Japan's Nikkei and Topix both closed 0.5% higher, snapping a three-day losing streak, even as Japan's worst dispute in decades with South Korea dragged on. Nintendo helped bolster the gauge after introducing a cheaper version of its Switch gaming machine. The Shanghai Composite Index added 0.1%, supported by large banks and insurers. China's Finance Minister Liu Kun expressed confidence that the country's economic growth will remain in a range of 6% to 6.5%. The S&P BSE Sensex Index advanced 0.8%, with Housing Development Finance, HDFC Bank and IndusInd Bank among the biggest boosts.
As usual, some questioned how much momentum there was behind the latest rally.
"We are in the camp and have been all year, and arguably wrongly, that the Fed becoming more dovish and cutting rates is not good for risk assets," said Neil Dwane, global strategist and portfolio manager at Allianz Global Investors. Nine of 12 Fed rate cutting cycles had not stopped a recession, he noted. "Given we are in the longest expansion and have only had rates lifted to 2.5%, for me it begs the question, is a soft landing possible?"
The rate cut prospects also weighed on the dollar. The dollar index against a basket of six major currencies slipped 0.2% to 96.929, extending losses for a second straight session after reaching a three-week peak on Tuesday. The dollar was down 0.4% at 108.03 yen, forced off a six-week high of 108.990 the previous day. It was still some distance from a six-month trough of 106.780 set on June 25. The euro nudged up 0.23% to $1.1275, as German core inflation for June was revised higher.
In fixed-income markets, the 10-year U.S. Treasury yield fell to 2.037% after dropping on Wednesday from a three-week high of 2.113%. In Europe, Italian bonds pared earlier gains after a debt sale, while bunds decline as gilts underperform.  BTPs trimmed gains and curve flattens after sale of EU5.5b 3- and 7-year bonds, while Bunds fell as core debt underperforms semi-core and curves steepen. Germany's 10-year government bond yield dropped to minus 0.32% on expectations that monetary easing in the euro zone will not be far behind the Fed.
In commodities, U.S. crude oil futures climbed to a six-week high as oil rigs in the Gulf of Mexico were evacuated before a storm, while an incident with a British tanker in the Middle East highlighted ongoing tensions in the region. WTI futures gained 42 cents to trade at $60.84 per barrel, while Brent rose 47 cents to $67.48. Spot gold gained to $1,426 an ounce, its highest since July 3, on the reinforced expectations for a Fed rate cut, while cryptocurrencies slumped after Powell voiced substantial skepticism that Facebook's Libra fiat-backed stablecoin will be greenlighted.
Looking ahead, highlights include US CPI, weekly jobs, OPEC monthly report, Fed Chair Powell's testimony to the Senate, ECB's Coeure, supply from the US.
Market Snapshot
S&P 500 futures up 0.2% to 3,002.75
STOXX Europe 600 up 0.2% to 388.01
MXAP up 0.8% to 160.48
MXAPJ up 0.7% to 526.05
Nikkei up 0.5% to 21,643.53
Topix up 0.5% to 1,578.63
Hang Seng Index up 0.8% to 28,431.80
Shanghai Composite up 0.08% to 2,917.76
Sensex up 0.6% to 38,770.18
Australia S&P/ASX 200 up 0.4% to 6,716.14
Kospi up 1.1% to 2,080.58
German 10Y yield rose 3.5 bps to -0.272%
Euro up 0.2% to $1.1273
Brent Futures up 0.7% to $67.47/bbl
Italian 10Y yield rose 0.3 bps to 1.381%
Spanish 10Y yield fell 3.2 bps to 0.406%
Brent Futures up 0.7% to $67.47/bbl
Gold spot up 0.3% to $1,422.57
U.S. Dollar Index down 0.2% to 96.89
Top Overnight News
The British navy intervened to stop Iran from blocking a commercial oil tanker leaving the Persian Gulf, heightening friction just as European nations scramble to salvage a landmark nuclear accord with the Islamic Republic
The U.S. Department of Justice is investigating Deutsche Bank AG as part of a broadened probe of Malaysia's scandal-plagued 1MDB investment fund, according to a person with knowledge of the matter
Federal Reserve Chairman Jerome Powell says uncertainties around trade tensions and global growth have continued to weigh on the U.S. economic outlook since policy makers met in June. Fed minutes show many saw stronger rate-cut case as risks grew
Bank of England policy maker Silvana Tenreyro says she's unlikely to support raising interest rates in the next few months as slower growth keeps inflation in check.
European leaders have made clear they'll give Britain's new prime minister a hearing over Brexit, and may be prepared to make concessions, according to David Lidington, Prime Minister Theresa May's de-facto deputy. They would first want to know a revised deal could pass the House of Commons, he said
The U.S. will investigate a French plan to impose taxes on technology companies, a move that has been a prelude to new U.S. tariffs under the Trump administration
The Bank of Japan needs to extend its pledge to keep extremely low rates and there's a good chance it will tweak the time frame as soon as the July meeting, ahead of an expected Federal Reserve rate cut, according to Kazuo Momma, a former executive director at the BOJ
Oil extended gains after closing at a seven-week high as around a third of the Gulf of Mexico's crude output was cut before a potential hurricane and U.S. crude inventories shrunk more than expected.
Australia's prudential regulator has ordered three of the nation's largest banks to increase their capital holdings after finding weaknesses in risk management akin to those at Commonwealth Bank of Australia
Trump administration officials signaled support for pro-democracy protesters in Hong Kong — and defiance toward the Chinese government — by granting a series of high-level meetings this week to a Hong Kong bookseller who has drawn Beijing's ire
In the crowded 2020 Democratic presidential field, campaign bank accounts are beginning to separate the contenders from the also-rans. candidates report their second-quarter fundraising totals to the Federal Election Commission on Monday
A surprise win for underdog Jeremy Hunt in the contest to become U.K. prime minister would cause the pound to rally — but not for long. While he is seen averting a no-deal Brexit, he would still have to face the same problems the previous PM did — negotiating a deal
The U.K. is stepping up its review of open-ended funds to prevent the growing industry becoming a threat to financial stability and the economy
Asian equity markets traded positively as the region took advantage of the tailwind from the US where a dovish testimony by Fed Chair Powell kept the door open for a July rate cut, which lifted all major US indices to all-time highs and the S&P 500 to briefly above the monumental 3000 level for the first time ever. ASX 200 (+0.4%) was led higher by commodity-related sectors after gold surged back above the USD 1400/oz level and oil prices rallied around 4% on bullish inventory data, but with the gains limited by initial weakness in financials after APRA advised an increase in minimum capital requirements of AUD 500mln each for 3 of the Big 4 banks and as Westpac faces legal proceedings in New Zealand for allegedly breaching the Credit Contracts Act. Nikkei 225 (+0.5%) were marginal as the upbeat momentum was partially offset by a firmer currency, while Hang Seng (+0.8%) and Shanghai Comp. (U/C) advanced with energy names frontrunning the outperformance in Hong Kong and as sentiment was also underpinned after China announced to take measures to stabilize trade as well as lower import tariff levels. Finally, 10yr JGBs were higher as they tracked the moves in T-notes in the aftermath of Powell's dovish testimony, but with upside limited amid gains in stocks and weaker demand at the enhanced liquidity auction for longer-dated JGBs.
Top Asian News
No Easy Exit in Sight From Worst Japan-South Korea Spat in Years
Reliance Infra Lenders Sign Debt Resolution Pact; Shares Rise
How Malaysia's 1MDB Scandal Shook the Financial World: QuickTake
China Hopes U.S. Removes Huawei Restrictions ASAP, Gao Says
China's Movie Business Takes a Hit — From Its Own Government
Major European indices opened in positive territory though have drifted into negative territory recently [Euro Stoxx 50 U/C]. Sectors are somewhat mixed and unsurprisingly Energy names outperform as the broader complex gains support from the ongoing weather situation in the Gulf of Mexico, which has led to multiple platform shutdowns. Other notable movers include, Indivior (+26.0%) who are topping the Stoxx 600 after raising their FY19 guidance after experiencing a stronger than expected H1. Separately, Deutsche Banks (-0.7%) woes are continuing as reports indicate that the US Justice Department is investigating the Co. in relation to the 1MDB funds. Elsewhere, sources indicate that Ab InBev (-0.8%) are to guide pricing for their Hong Kong Budweiser unit towards the bottom end of its indicative range; which implies a price of USD 8.3bln vs. the USD 9.8bln at the top of the scale. Finally, off of the back of a broker downgrade at UBS, Sika (-4.0%) are lagging the SMI; for reference, the Co. was downgraded to sell from neutral.
Top European News
Woodford Loses Second Long-Time Ally as Fund Freeze Bites
Norwegian Air Chief Steps Down as Turnaround Plan Takes Form
U.K. Labour Figures 'Interfered' on Antisemitism Cases
Outperformance of Growth Stocks Is a Structural Trend: Goldman
In FX, dovish FOMC minutes have prompted another recalibration of market pricing for the July meeting and a further resurgence in expectations for a 50 bp rate cut to over 25% from as little as 2.5% at one stage post-NFP. Hence, the Greenback has pulled back further ahead of US CPI data that has assumed even more importance given Fed chair Powell's growing concern about persistently weak inflation, in contrast to transitory factors that were deemed to be depressing prices not that long ago. Amidst widespread declines, the DXY has retreated below 97.000 towards 96.800 and not far from the 200 DMA (96.767) that was reclaimed on the back of last Friday's stellar 200k+ payrolls count.
JPY/NZD/CHF/GBP – The major beneficiaries of the Buck's demise as the Yen rebounds through 108.00 and gets close to decent option expiry interest layered from 107.80 (1.2 bn) to 107.70-65 (1 bn) before losing some momentum, while the Kiwi is consolidating strong recovery gains above 0.6650 after yesterday's overnight stop or error trade induced spill and now eyeing NZ manufacturing PMI for independent inspiration. Elsewhere, the Franc is not far from 0.9850 and the Pound has reclaimed 1.2500+ status with more conviction, though could be hampered by 500 mn expiries at the strike.
AUD/CAD/EUR – The Aussie has also bounced firmly from lows and a probe under key Fib support with the aid of diverging RBA/Fed policy outlooks, as the former shifts to neutral or wait-and-see mode following back-to-back 25 bp eases. Aud/Usd is hovering around 0.6975 and seeking further guidance/direction from RBA's Debelle later today. Similar story for the Loonie following Wednesday's BoC meeting that revealed more caution and downside risks to base-line assessments and forecasts, but ultimately maintained an on hold stance, with Usd/Cad settling lower after knee-jerk moves and currently pivoting 1.3050. Continuing the Central Bank theme, ECB minutes could undermine the single currency if dovish enough, as Eur/Usd stalls ahead of 1.1300 having breached 1.1250 and the 200 DMA (1.1255), while decent option expiries lying between 1.1290-1.1300 (1.3 bn) may also prove tough to overcome.
In commodities, WTI and Brent have remained modestly firmer in what has been a quiet session thus far. The complex continues to derive support from the weather situation in the Gulf of Mexico where most recently the NHC are expecting the disturbance to become a tropical depression today; in terms of the impact, yesterday it was reported that 32% of the Gulf's production has been halted, with the Gulf representing around 15% of the US' total production. Additionally, the OPEC monthly report is scheduled for release today (12:10 BST) and for reference on Tuesday the EIA cut 2019 oil demand growth view to 1.07mln BPD, -150k BPD. NHC say the distrubance is expected to become a tropical depression later on today; storm surge, heavy rains and hurricane conditions are possible across the North/Central Gulf Coast in a few days Gold (+0.3%) is continuing to benefit from the softer post-Powell dollar, with the yellow metal now firmly above the USD 1400/oz level having printed a session high of USD 1427/oz. This mornings dollar drive strength from gold is likely being derived from market pricing now indicating around a 25% chance of a 50bp cut at July's FOMC meeting, as such today's inflation metrics and the second set of comments from Chair Powell may well prove pertinent for the yellow metal. Elsewhere, copper prices are little changed after yesterdays dollar driven rally.
US Event Calendar
8:30am: US CPI MoM, est. 0.0%, prior 0.1%; YoY, est. 1.6%, prior 1.8%
8:30am: US CPI Ex Food and Energy MoM, est. 0.2%, prior 0.1%; YoY, est. 2.0%, prior 2.0%
8:30am: Initial Jobless Claims, est. 221,000, prior 221,000; Continuing Claims, est. 1.68m, prior 1.69m
8:30am: Real Avg Hourly Earning YoY, prior 1.3%; Real Avg Weekly Earnings YoY, prior 1.0%
9:45am: Bloomberg Consumer Comfort, prior 62.6
2pm: Monthly Budget Statement, est. $7.85b deficit, prior $207.8b deficit
DB's Jim Reid concludes the overnight wrap
Just to make sure everyone is up to speed we'll continue this message about DB Research at the top for today and tomorrow. After some difficult decisions were announced over the weekend about the firm's direction, we want to reiterate that DB Research will remain at the forefront of the firm with strong backing from senior management. As well as FIC, Macro, QIS, Data Science, and Thematic research, DB is still committed to providing extensive and top-quality Company Research coverage in Europe and the US. DB will combine Equity Research and Research Sales into a newly formed Company Research and Advisory Group to strengthen ongoing connectivity with institutional clients. So if you are a consumer of any of our research and have any questions, please let me know and we can try to answer them.
One publication we will continue to publish is our flagship Thematic magazine "Konzept" where we take a big picture theme and use our expertise across research to delve deeper into the relevant issue. The latest edition was out yesterday and was entitled "How 5G will change your life" ( link ). In this we look behind the hype of the 5G roll-out and examine the unexpected impact on everything from smartphones to factories to politics and Smart Cities. But a deluge of data can have a real economic cost. In one piece we note that too much information and interruption could cost the US economy $1tn each year. In fact, when employees work without email they collaborate more and feel more productive. But before you strive to be more productive please don't stop reading this email… just ignore all the others instead!
From 5G to 3K as the S&P 500 briefly crossed that landmark for the first time intra-day yesterday, on a dovish interpretation of Mr. Powell's testimony, before closing a bit below that landmark. A week before the 50th anniversary of the first man on the moon (my Dad to his final breath was totally convinced it was a Hollywood creation), I wonder whether people will equally remember where they were the moment the S&P went through 3000. Probably not, but for me it was Starbucks. Lunar forces seemed to be in operation in bond markets yesterday as they waxed and waned sharply after an initial Europe-led selloff was quickly reversed by the text release of Powell's testimony. The Q&A with Powell more or less affirmed the rally is back for rates while the FOMC minutes in the evening did nothing to change the narrative.
As discussed, the biggest market moves came with the pre-release of Powell's statement in early afternoon London time. The key snippet from the statement concerned the dovish reference to "in our June meeting statement, we indicated that, in light of increased uncertainties about the economic outlook and muted inflation pressures, we would closely monitor the implications of incoming information for the economic outlook and would act as appropriate to sustain the expansion. Many FOMC participants saw that the case for a somewhat more accommodative monetary policy had strengthened. Since then, based on incoming data and other developments, it appears that uncertainties around trade tensions and concerns about the strength of the global economy continue to weigh on the U.S. economic outlook. Inflation pressures remain muted."
The questioning at the hearing itself wasn't hugely eventful, with Powell sending a strong but not completely explicit signal in favour of a rate cut this month. He cited trade uncertainty, global growth, and low inflation as the major issues facing the Fed, saying "crosscurrents have reemerged," while simultaneously downplaying the recent bits of news that could have sparked a hawkish shift. Powell didn't mention the positive outcome of the G20 in his remarks and downplayed the robust June jobs report, saying that while it was "positive," it "did not shift our policy outlook." He did say that incoming labour market, retail sales, and GDP data will be important for deciding about future policy, but it feels like the outlooks for global growth and US inflation will in fact be the key variables to watch. Our US econ team has a full write-up on their takeaways and their Fed forecasts available here .
As for markets, 10y Treasuries were trading as high as 2.112% before the Powell text was released (+4.7bps on the day at that point) only to then rally to 2.037% in a matter of minutes. They traded in a couple of basis points' range thereafter as Powell answered questions and the Fed released the June meeting minutes, before ending the session a touch higher at 2.062% (-0.4bps on the day) however they have dropped another -2.1bps to 2.041% this morning. Two-year yields rallied more steeply, with yields dropping -8.0bps (and a further -1.6bps this morning). That encouragingly helped the 2y10y yield curve to steepen to 22.7bps at the time of writing, bringing it back more in the May-June c.20-30bp range.
Powell's message was supported by the subsequent release of the June FOMC minutes, which admittedly were already a bit stale. While the baseline forecast remains solid, "many participants noted that the economy appeared to have lost some momentum," and accordingly "many participants indicated that the case for somewhat more accommodative policy had strengthened." "Many" is the FOMC's strongest language before "most" or "a majority," so it seems highly likely that a few members shift over to the dovish side to deliver a rate cut this month, as we expect.
One other interesting aspect with regards to inflation from the minutes was the assertion that "a number of participants anticipated that the return to 2 percent would take longer than previously projected," which would be consistent with a more prolonged easing cycle rather than a one-and-done. However, before we get to that, we'll have to see if the Fed delivers 25bps or 50bps of cuts this month. On that, we're back to now pricing in 32bps of cuts for the meeting this month after starting the day at 27bps. So we've actually swung back to a more aggressive pricing of around a ~25% chance of a 50bps cut. This came despite further comments from St. Louis Fed President Bullard, who reiterated his recent comments that, while he supports an "insurance" rate cut, he doesn't think the situation calls for a 50bps cut. It is pretty surprising to see the market getting so far ahead of the FOMC's most dovish member.
Over in equities it had looked like normal service might have resumed as the S&P 500 broke 3000 for the first time ever, however markets did pare back slightly from their opening highs. The S&P 500 eventually closed below that key level albeit still up +0.45% on the day and just 0.10% away from its all-time peak. The NASDAQ closed up +0.75% at a fresh all-time high, while the DOW gained +0.29% to within 0.39% of its highest-ever level. Meanwhile, HY credit spreads were flat and the USD weakened -0.39%. Oil advanced +4.50%, boosted by strong inventory data that showed a 9.5mn reduction in US crude stockpiles, plus further confrontational rhetoric from President Trump directed at Iran. Storms in the Gulf of Mexico also reportedly derailed some drilling operations.
Looking ahead the next test for the market and perhaps the last possible hurdle for a rate cut this month is likely to be the June CPI report this afternoon in the US. The consensus expects a +0.2% mom core reading which should be enough to keep the annual rate at +2.0% yoy. Our economists forecast an unrounded +0.19% mom reading and note that this would help shorter-term inflation trends to firm with their forecast for the three-month annualized rate being a 17bp increase to +1.78%. That data is due out at 1.30pm BST and our team's full forecast is available here .
This morning in Asia markets are following Wall Street's lead with the Nikkei (+0.40%), Hang Seng (+1.19%), Shanghai Comp (+0.33%) and Kospi (+1.21%) all posting healthy gains while futures on the S&P 500 are also up +0.28% and trading back above the 3000 mark. There hasn't been much fresh news however Bloomberg did report that President Trump has asked aides to find a way to weaken the US dollar in an effort to boost the economy ahead of the 2020 presidential election while adding that Trump's chief economic advisor, Larry Kudlow, and Treasury Secretary Steven Mnuchin disapprove of the idea of government tampering to weaken the dollar.
Back to yesterday where there were also big moves for European bonds. The moves were initially driven by a combination of better-than-expected industrial production data in France and Italy – more on that below – and what was perceived to be a bit of a disappointing Bund auction given the drop in oversubscription. That said, the bund auction did result in a new record low yield for fresh issuance and was the first time that German issued a bond with a zero coupon since 2016. Thereafter, European yields eased off their highs as the Treasury rally carried over to Europe. In the end, 10y Bund yields rose +4.7bps to -0.309% which was the biggest one-day climb since April. Similar maturity yields in France, Netherlands, Spain and Portugal were also +3.3bps, +4.5bps, +1.9bps and +2.9bps higher respectively while Greece rose +7.4bps and which therefore puts the two-day move at +19.7bps after yields had edged to within a whisker of similar maturity Treasuries. Italian BTPs outperformed, with yields rising only +0.2bps, with most of the gains coinciding with Powell's remarks, as Italy stands to be one of the top beneficiaries of easier monetary policy.
Equity markets in Europe finished a touch weaker, despite a pop alongside US equities when Powell's testimony hit the wires, with the STOXX 600 ending -0.20%. The only bright spots were in the energy and materials sectors, which were helped by the global rally in oil prices mentioned above. Just on the data, May industrial production in France rose +2.1% mom and far exceeded expectations for +0.3% while Italy printed at +0.9% mom (vs. +0.2% expected).
Here in the UK industrial production was reported as rising +1.4% mom which was a little a bit less than the +1.5% expected while manufacturing production was much weaker than expected (+1.4% mom vs. +2.2% expected) however the focus was instead on the May GDP print which was in line with expectations at +0.3% mom. The 3M/3M reading also rose +0.3% which was a little ahead of expectations. Finally in the US the only noteworthy data were the final May wholesale inventories numbers which were confirmed at 0.4% mom as expected.
Looking at the day ahead, the big focus will be the June CPI report in the US. Prior to that we are also due to get final June CPI revisions out of Germany and France. Other US data include jobless claims and the June monthly budget statement. Away from the data we're due to get the BoE's financial stability report while the ECB minutes are also out around lunchtime. It's also a packed day for Fedspeak with Powell again testifying before the Senate – which is unlikely to be a lot different to yesterday's comments – while Williams, Bostic, Barkin, Quarles, Williams and Kashkari are also due to speak. The ECB's Coeure is also due to speak this morning.
END
I)THURSDAY MORNING/ WEDNESDAY NIGHT: 
SHANGHAI CLOSED UP 2.46 POINTS OR 0.08%  //Hang Sang CLOSED UP 227.11 POINTS OR 0.81%   /The Nikkei closed UP 110.05 POINTS OR 0.51%//Australia's all ordinaires CLOSED UP .42%
/Chinese yuan (ONSHORE) closed UP  at 6.8659 /Oil UP TO 57.82 dollars per barrel for WTI and 65.36 for Brent. Stocks in Europe OPENED GREEN//  ONSHORE YUAN CLOSED UP // LAST AT 6.8659 AGAINST THE DOLLAR. OFFSHORE YUAN CLOSED UP ON THE DOLLAR AT 6.8700 TRADE TALKS STALL//YUAN LEVELS GETTING DANGEROUSLY CLOSE TO 7:1//TRUMP INITIATES A NEW 25% TARIFFS FRIDAY/MAY 10/MAJOR PROBLEMS AT HUAWEI /CFO ARRESTED  : /ONSHORE YUAN TRADING ABOVE LEVEL OF OFFSHORE YUAN/ONSHORE YUAN TRADING STRONGER AGAINST USA DOLLAR/OFFSHORE YUAN TRADING STRONGER AGAINST THE DOLLAR /TRADE DEAL NOW DEAD..TRUMP  RAISED RATES TO 25%
3 a./NORTH KOREA/ SOUTH KOREA
3c China/Chinese affairs
This does not looks good for China as these Chinese security camera are now banned for spying. They are nearly impossible to identify and remove
(courtesy zerohedge)
Chinese Security Cameras Banned For Spying Are Nearly Impossible To Identify And Remove
Federal agencies are rushing to meet a deadline to rip out Chinese made surveillance cameras in order to comply with a congressional ban, but as Bloomberg  reports, the task isn't quite as easy as it seems: thousands of the devices are still in place and it's looking as though most won't be removed before the August 13 deadline. A complicated supply chain is making it difficult for authorities to understand whether security cameras are actually made in China or contain components that would violate US rules.
The National Defense Authorization Act included an amendment for fiscal 2019 that would ensure federal agencies don't purchase Chinese made surveillance cameras. Zhejiang Dahua Technology and Hikvision are two companies named specifically because they have both raised security concerns in the US. Hikvision is 42% controlled by the Chinese government and Dahua was found in 2017 to have cameras with software backdoors that allowed unauthorized people to view them and send information back to China.
Despite Dahua saying they fixed the issue, the US government is still considering imposing further restrictions by banning both companies from purchasing American technology.
Representative Vicky Hartzler, a Republican from Missouri said: "Video surveillance and security equipment sold by Chinese companies exposes the U.S. government to significant vulnerabilities. Removing the cameras will ensure that China cannot create a video surveillance network within federal agencies."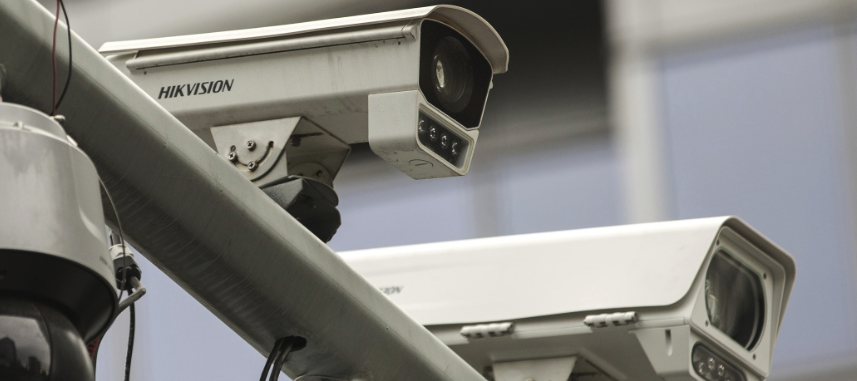 Dahua didn't comment on the ban and Hikvision said it complies with all applicable laws and regulations. A company spokesperson also said the Chinese government isn't involved in day-to-day operations of the company. "The company is independent in business, management, assets, organization and finance from it's controlling shareholders," the spokesman said.
Of course it is.
And despite the coming deadline, there's at least 1,700 of these cameras still operating in places where they have been banned. According to Katherine Gronberg, vice president of government affairs at Forescout, the actual number could be higher because only a small percentage of government offices know what cameras they're operating.
"The real issue is for organizations that don't have the tools in place to detect the banned devices," she said.
A couple of years ago, the Department of Homeland Security tried to force federal agencies to secure their networks but, as of December, only 35% of required agencies had fully complied with the mandate. As a result, US federal agencies still don't know how many, or what type of devices, are connected to their networks. This means they're left to try and identify the cameras manually – one by one.
Those charged with complying with the ban have discovered that it is more complicated than just switching off the cameras. Not only can Chinese cameras come with US labels, but many of them might also contain parts from Huawei.
Peter Kusnic, a technology writer at business research firm The Freedonia Group said: "There are all kinds of shadowy licensing agreements that prevent us from knowing the true scope of China's foothold in this market. I'm not sure it will even be possible to ever fully identify all of these cameras, let alone remove them. The sheer number is insurmountable."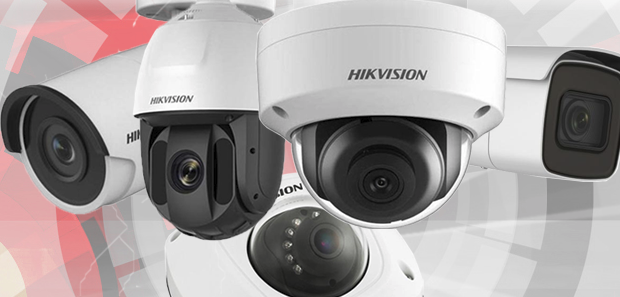 Sales of security video cameras are expected to climb to $705 million in 2021 from $570 million in 2016. Hikvision is the world's largest video surveillance provider and has cameras installed in places like US businesses, banks, airports, schools, army bases and government offices. The cameras produce sharp images and use artificial intelligence and 3-D imaging to power facial recognition systems.
These cameras can also be sold under brands like Panasonic and Honeywell. They are bought by intermediaries, like security firms, who then go on to sell them to government agencies and private businesses. The NDAA covers the companies' extensive agreements with original equipment manufacturers, which sweeps up any vendor who resells the devices.
Theoretically, two cameras running identical Hikvision firmware could carry two completely different labels and packaging. This means it is nearly impossible to figure out which cameras installed across the country are relabeled Chinese devices. Honeywell said they couldn't track these re-labeled products and Panasonic didn't respond to questions.
This convoluted supply chain web is making it difficult for government agencies to actually obey the law. Hikvision has about 50,000 installation companies and integrated partners.
A worker at the Department of Energy said: "We've been trying to get our arms around how big the problem is. I don't think we have the full picture on how many of these cameras are really out there."
The article closes by noting that if somebody is routinely tapping into cameras to spy on federal agencies, they could likely easily determine identities of those who work in government departments… such as CIA.
AN EXCELLENT COMMENTARY ON THE FADING CHINA TRADE DEAL
(courtesy Global Macro Monitor)
Fading A China Trade Deal
Trump is going to have to cave on some major issues as it appears China is gearing up to play hardball and is ready to rumble in the next round of negotiations.  The Ministry of Commerce announced this morning the "talks will be held in the spirit of equality and mutual respect, and that China's core issues must be resolved."
But even the doves in the Trump administration seem to be growing increasingly pessimistic and lowering expectations.
Kudlow: U.S. may never reach trade deal with China

"When you get down to the last 10 percent, seven-yard line, it's tough," he added, referring to the negotiations.– Larry Kudlow, Politico
China is sensing that patience is running thin in America over Trump's trade war.
While rural Americans were some of Trump's biggest supporters, they are losing patience with a year long trade war that the Trump administration has reached an impasse without closing a deal with China. – Global Times
China can play the long game and Xi is also probably studying U.S. political polls, smells blood, and sees a president growing desperate for a deal.  Moreover, the polls in the states that matter most for re-election continue to get worse for the President.
This story just broke tonight in the Washington Post,
The Trump administration is increasingly concerned about prospects for a trade deal with China, amid an unexpected reshuffling of the Chinese negotiating team and a lack of progress on core issues since the Group of 20 summit in Japan, according to U.S. officials and senior Republicans briefed on the discussions.

…"This has to be seen as a loss of confidence in Liu He and the desire of the leadership to bring in someone more politically savvy," said Dennis Wilder, a former China analyst at the Central Intelligence Agency. "I am sure his instructions are to get tougher with the U.S."  –Washington Post
Can Trump afford to cave now going into the campaign?
The only thing predictable about the President is he doesn't like to appear weak.  But, then again, he has the ability to convince himself that weakness is strength in the classic Orwellian sense.
North Korea
Go no further than taking a few steps north of the 38th parallel if you need confirmation. Bloomberg now reports that the Trump administration is mulling over suspending some sanctions on North Korea,
The U.S. is considering suspending some sanctions on North Korea for 12 to 18 months in exchange for a freeze on the country's nuclear weapons program, the Yonhap News Agency reported. = Bloomberg
That is a big concession and far cry from total denuclearization,
President Trump said late Saturday that North Korea must "denuke" before any talks with the U.S.. – The Hill, March 4, 2018
It is clear, at least to us, politics is driving President Trump to make concessions in order to announce another Potemkin deal and declare victory.  You can't entirely rule out the same with a China deal but the President will likely be hammered from both sides for caving on trade.
Get Shorty
We are getting very close to sequel time, folks  – Get Shorty 2.0   Everyone is lathered up over the Fed and very few realize the extreme valuations levels of the major macro metrics.
It's also unprecedented for the Fed to begin cutting rates so close to an all-time high in the stock market.  The exception was July 1995 but we don't sense the economy is on the eve of another 1990's economic and technological boom.
Give them a little more room to run, set your entry and stop levels, and place your finger on the trigger.  Let the market then tell you when it's time to fire.
Finally, if you need more comfort for the bear view, we advise never betting against the hedge fund great, Paul Singer.
Is the ceasefire over?:  trump now demands new sanctions on Beijing over its importing of Iranian crude
(courtesy zerohedge)
Ceasefire Over? Trump Demands New Sanctions On Beijing Over Iranian Oil Imports
Once again, it appears Robert Lighthizer and the Trump Administration's trade hawk faction have won over the more moderate advisors. Only a week ago, reports surfaced claiming the US might exempt China from Iran sanctions, for fear that the US would have no choice but to crack down otherwise (since Beijing has made clear exactly how it feels about Washington dictating which countries it can trade with).
Now, that idea, which was being pushed by senior State Department officials, has been abandoned, according to a Politico report. Instead, senior administration officials believe there's no avoiding the fact that Beijing has repeatedly violated the ban on importing Iranian crude.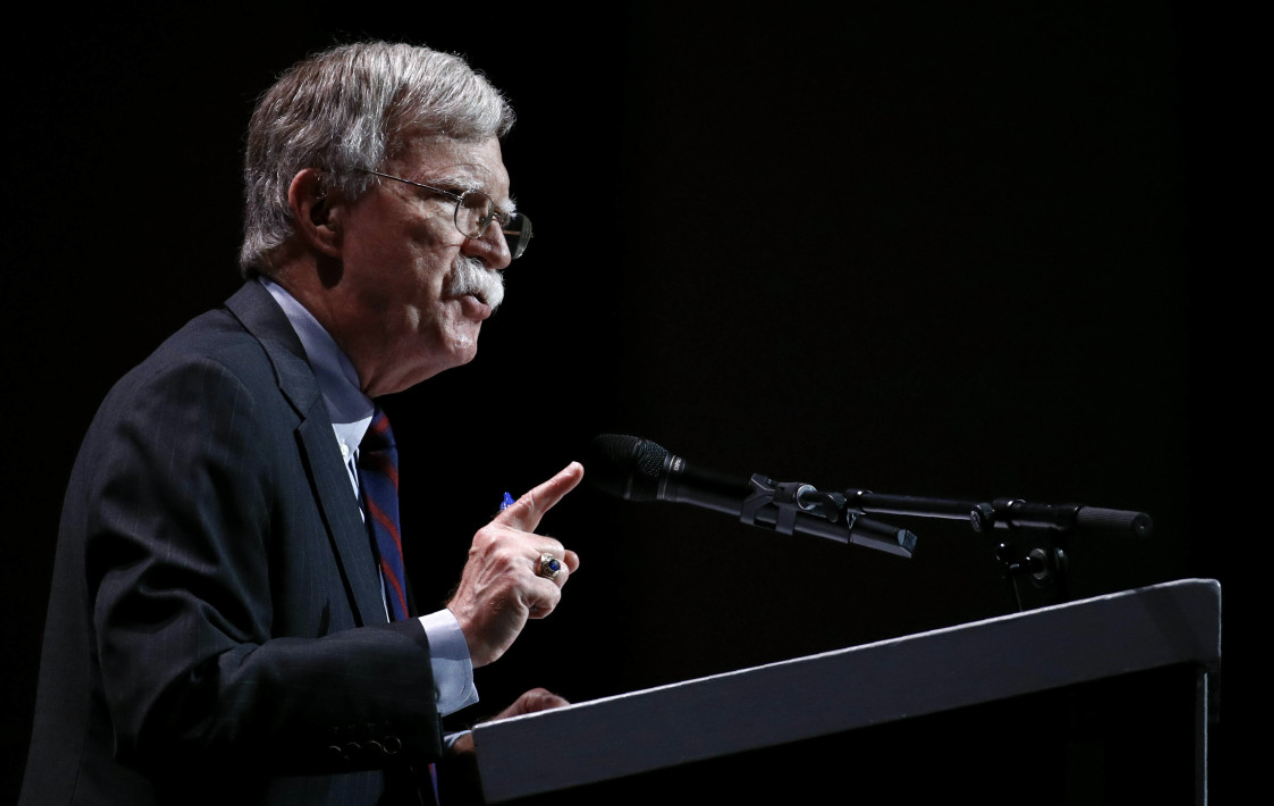 Because of this, a group of China hawks on the National Security Council are now pushing for the US to slap secondary sanctions on Chinese businesses. Aggressive tactics like this would almost certainly sink the recently revived and still extremely delicate 'trade truce' brokered between Trump and Xi in Osaka.
You might remember the exact violation in question. In June, a tanker carrying up to a million barrels of Iranian oil docked near the Chinese port city of Qingdao. Republican lawmakers complained, demanding that the Trump Administration pressure Beijing to stop these purchases. China later welcomed a second batch of Iranian oil since the waiver expired in May.
The problem is Beijing's defiance is undermining the administration's efforts to drive Iranian exports to zero, the explicit goal of National Security Advisor John Bolton and the other Iran hawks.
So here we are, with the Iran hawks and the trade hawks likely both in agreement, and President Trump likely resisting to avoid pissing off Xi and ending the talks. After all, Beijing is still waiting for concrete action from the US on Huawei.
The internal debate also comes at a precarious moment for Iran. The Islamic Republic was just accused of trying to seize a UK oil tanker in retribution for the seizure of two tankers carrying Iranian crude. And the Islamic Republic's threats to enrich its growing uranium stockpile beyond the 20% threshold, taking it closer to weapons grade (though still far from the 90%+ needed to build a bomb),certainly aren't helping.
US officials slammed Iran for "nuclear extortion" at a meeting of the IAEA on Wednesday. And later, Trump tweeted that "sanctions will soon be increased substantially."
As far as the relationship with China goes, contact was made via phone between negotiating teams earlier this week, but the date of an in person meeting remains unclear, and some in the president's orbit are already predicting that negotiations will drag on until next year at least.
That is, unless Trump does decide to try and punish Beijing over its Iranian crude imports.
But hey – at this point, trashing the trade deal might be the only way to ensure the Fed delivers a 50 bp rate cute this month. At this point, anybody who has been watching markets over the past few days probably understands that a rate cut has superseded the trade war as the only thing markets care about.
end
4/EUROPEAN AFFAIRS
DEUTSCHE BANK/GERMANY
When it rains it pours for our good friends over at Deutsche bank.  It seems that Tim Leissner is cooperating with the authorities and it ready to throw both Goldman Sachs and Deutsche bank under the bus for money laundering
(courtesy zerohedge)
US Probing Deutsche Bank's Dealings With Malaysia's 1MDB After Goldman Throws It Under The Bus
When it rains inside the halls of Deutsche Bank, the flood is biblical.
Just when it seemed that the biggest (if not for long) German bank, already reeling from the biggest mass layoffs since Lehman, couldn't possibly bear any more bad news, along comes the US government with yet another potentially criminal investigation, this time over Deutsche Bank's involvement with the sprawling, multibillion-dollar Malaysian development fraud scandal that toppled a prime minister, crippled Goldman Sachs stock and stretched from Hollywood to Wall Street.
According to the WSJ, the DOJ is investigating whether the German bank violated foreign corruption or anti-money-laundering laws in its work for the 1Malaysia Development Bhd. fund, or 1MDB, which included helping the fund raise $1.2 billion in 2014 as concerns about the fund's management and financials had begun to circulate.
So how did Deutsche Bank get thrown into yet another scandal? It turns out that DB was snitched out by former Goldman banker, Tim Leissner, the man who was ground zero in the original 1MDB scandal, and who ended up costing Goldman billions in dollar in market cap as its stock tumbled last year as its role in the biggest Malaysian corruption scandal got exposed, and according to some, cost Lloyd Blankfein his job. As it turns out, Leissner is now cooperating with authorities, and among his "good Samaritan" duties decided to throw the one bank that has more dirt on it than Goldman: Deutsche Bank. As we have reported extensively in the past, prosecutors have been investigating similar issues at Goldman, where Leissner, a former managing director, pleaded guilty last year and admitted to earlier helping siphon off billions of dollars from the fund.
For those who are unfamiliar, a quick rundown of events: 1MDB, a sovereign wealth fund, turned into a major global scandal after billions of dollars were drained from it between 2009 and 2014, leading to multiple government investigations and the downfall of former Malaysian Prime Minister Najib Razak who was especially close with former US president, Barak Obama.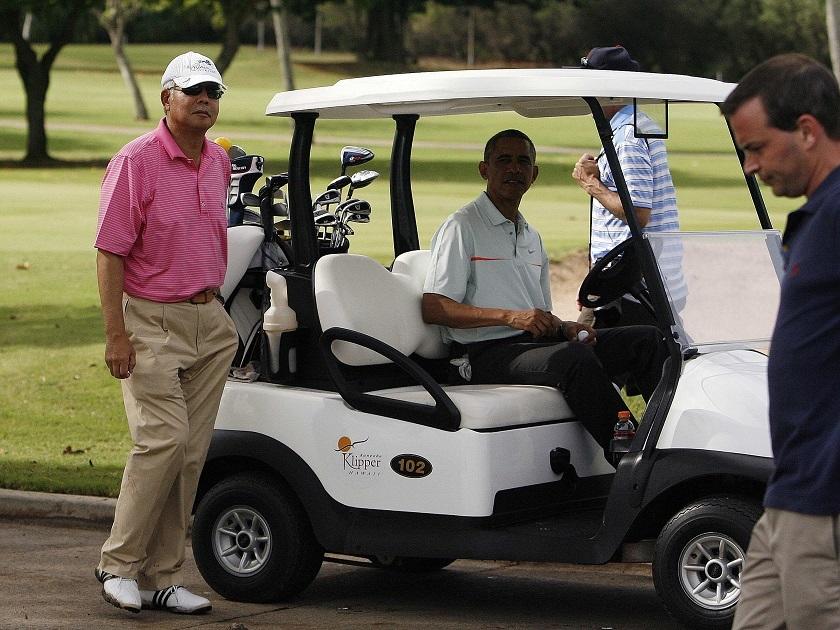 The DOJ has said the stolen money totals at least $4.5 billion and that it was used to pay bribes to government officials, pad a slush fund controlled by the former prime minister and purchase hundreds of millions of dollars in luxury goods including jewelry, artwork and real estate.
So yes, one should have probably expected Deutsche Bank to be involved.
But what does Goldman, and Leissner, get in exchange? Apparently a settelment. From the WSJ:
Meanwhile, the Justice Department is set to begin negotiations with Goldman soon to try to resolve allegations through a possible criminal settlement, a senior official said. "We do anticipate getting into active discussions with Goldman, at this point, in the near future," Assistant Attorney General Brian Benczkowski, who runs the agency's criminal division, said in an interview. He declined to comment on any other aspect of the 1MDB investigation.
As the Journal further notes, prosecutors are focused, in particular, on the role of one of Leissner's former colleagues, Tan Boon-Kee, who worked with Mr. Leissner on 1MDB-related business. She then left Goldman to become Asia Pacific head of banking for financial-institutions clients at Deutsche Bank, "where she was involved with further 1MDB dealings."
Ms. Tan left Deutsche Bank last year, after the bank discovered communications between her and Jho Low, the Malaysian financier described by the Justice Department as the central player in the 1MDB scandal, according to a person familiar with her exit. Neither she nor the bank have commented publicly about the reason for her departure.
"Deutsche Bank has cooperated fully with all regulatory and law-enforcement agencies that have made inquiries relating to 1MDB," a spokesman for the bank said. He cited Justice Department documents saying 1MDB made "material misrepresentations and omissions to Deutsche Bank officials" in connection with 1MDB's transactions with the bank. "This is consistent with the bank's own findings in this matter," he added.
What is notable is that whereas Goldman Sachs received the most for its involvement in the 1MDB scandal and for helping the Malaysian fund raise $6.5 billion of bonds and the role of Leissner as a key co-conspirator in the scheme to steal money, the German bank had so far managed to avoid the spotlight.
But, as we now learn, Deutsche Bank, too, played a large role in a variety of transactions related to 1MDB. In fact, DB's role may even be greater than that of Goldman: in the most recent version of the Justice Department's civil asset-forfeiture complaint, in which it details the 1MDB scheme at length, Deutsche Bank is mentioned 167 times. Goldman Sachs is mentioned 56 times.
The complaint says Deutsche Bank was involved with 1MDB from its earliest days in 2009 as the bank facilitating financial transfers related to 1MDB's first big deal, a joint venture with a little-known Swiss company called PetroSaudi. The Justice Department alleges that a group of conspirators led by Mr. Low, the Malaysian financier, stole some $1 billion from the $1.8 billion contribution by 1MDB, but it doesn't describe any failing of Deutsche Bank in the complaint. PetroSaudi has denied any wrongdoing.

Deutsche Bank also arranged emergency loans for 1MDB in 2014 totaling $1.2 billion. The Justice Department said that money was also mostly stolen by Mr. Low and his co-conspirators. The bank called in the loan early, however, when it realized 1MDB's collateral was impossible to verify, and 1MDB got an Abu Dhabi sovereign-wealth fund it often worked with to extend a $1 billion loan to replace Deutsche Bank, according to the complaint and Malaysian investigative documents.
The bottom line is that whereas Deutsche Bank probably did not engage in outright criminal fraud, its anti-money laundering process and "Know Your Client" protocols will be closely scrutinized, even if the banker(s) who were in charge of these activities are likely long gone.
But wait, there's more!
Because roughly at the same time as DB's potential role in the 1MDB scandal was exposed by the WSJ, both the NYT and Bloomberg reported that the German bank had extended relations with yet another, even more scandalous figure: Jeffrey Epstein.
According to NYT, Epstein "appears to have been doing business and trading currencies through Deutsche Bank until just a few months ago."  But as the possibility of federal charges loomed, the bank ended its client relationship with Epstein. It is not clear what the value of those accounts were at the time they were closed.
Bloomberg confirms, reporting that "Deutsche Bank severed business ties with Jeffrey Epstein earlier this year, just as federal authorities were preparing to charge the financier with operating a sex-trafficking ring of underage girls out of his opulent homes in Manhattan and Palm Beach."
The German bank, itself a subject of unrelated government investigations, closed Epstein's accounts over several months, according to a person familiar with the situation, who asked not to be identified discussing private matters.
It's unclear how much money was involved or how long Epstein was a customer of Deutsche Bank, which maintained the accounts long after he was convicted of sex crimes more than a decade ago.
The fact that DB has a connection not only with president Trump, for which it has become the subject of numerous subpoenas, but also with the scandalous, if mysterious, Epstein, assures that even more attention will befall on Deutsche Bank. And speaking of Epstein's mystery, Bloomberg reports that his Financial Trust Co. "had a $121 million investment in hedge fund firm DB Zwirn & Co., which shut down in 2008. Financial Trust also was also a major investor in Bear Stearns's High-Grade Structured Credit Strategies Enhanced Leverage Fund, whose collapse helped ignite the global financial crisis."
But back to Deutsche Bank, which after its biggest corporate restructuring announcement in decades, one which will see roughly one in five of its employees be terminated, it now appears that the Frankfurt-based bank will be in the spotlight for even more unpleasant reasons, likely assuring that thousands more of DB workers are summarily and quietly let go in the coming months, as the barrage of non-stop bad news makes one wonder: maybe it's time for the bank to just turn off the lights…
In a nutshell Snider explains Deutsche banks' dilemma and why it needs a bad bank. Although it has huge derivative problems it's real problem occurs if interest rates continue to fall to zero (which I think will happen)> Then their derivative exposure rises exponentially
(Jeffrey Snider)
Dexia & Deutsche Bank – A Tale Of Two "Bad" Banks
Authored by Jeffrey Snider via Alhambra Investments,
In October 2011, the bank's Chairman bristled at the characterization. His was not going to be a "bad bank" as many in the financial media had been saying. Pierre Mariani, chief executive of Belgium's Dexia, preferred instead to call it the "residual bank."
No matter the label, the firm was being bailed out for the second time by the Belgian government in combination with French authorities. Any assets which could be sold at a reasonable (meaning not terrible) price would be. There were already investors lined up for the pieces of Dexia's balance sheet unencumbered by stupidity.
It's always a complex story with these things; in this case a little less so at least from an overview. What someone might call "reach for yield" in later years, banks across Europe not just Dexia came out of 2008 seeking to grow their way back to glory. The combination of a zero-risk weight on sovereign debt, applied at that time also to bonds issued by Greece, Portugal or Italy, plus higher returns drew these already-troubled firms like moths to flames.
Desk managers in them knew these exposures were risky, and therefore had to be hedged. That wasn't the stupid part. No, the really mind-boggling part of the story was how: Dexia, in particular, used longer-dated derivatives. Called total return swaps, the bank sought, essentially, to short German bunds (as the swap benchmark) as protection against a rise in interest rates.
A lot of times these are marked and priced against the US dollar exchange value – which is always expected to fall in most baseline recovery models.
The bank's strategists (read: econometric models) never conceived or at least downplayed the scenario where Greek bonds would fall in price, the scenario requiring the hedges, but that German bunds would go in the other direction. Surely the near-omniscient and all-powerful ECB would never "allow" that to happen (again, actually).
The primary risks, as almost everyone saw them, were how if interest rates rose (and bond prices fell) it would be because of economic recovery, in combination with higher inflation and eventually short-term rates as the world would surely normalize following the Global Financial Crisis.
In that case, the swap hedging would've worked flawlessly.
But that's not what happened, obviously. Therefore, what were cash-flow positive long-dated derivatives marked in-the-money suddenly became money pits. Once the bank was downgraded in March 2011, because of its PIIGS holdings, funding problems were greatly amplified by these "hedges" turning dead set against the bank at the worst possible time.
It is never losses which kill you. It is liquidity or the lack of it. Once the collateral calls pile in, that's it. Unless your buffer or margin is enormous, there's no stopping the downward spiral. At the start of 2011, Dexia held only €21.8 billion in PIIGS bonds, mostly Italian. Didn't matter.
Despite cutting its balance sheet following 2008, despite reducing its reliance on short-term wholesale funding (a lot of it in dollars, of course) after its first bailout, it was forced to post an additional €15 billion in margin and collateral up to October 2011 on its total return swaps. The more German yields plummeted, the more the collateral calls, the closer to the end.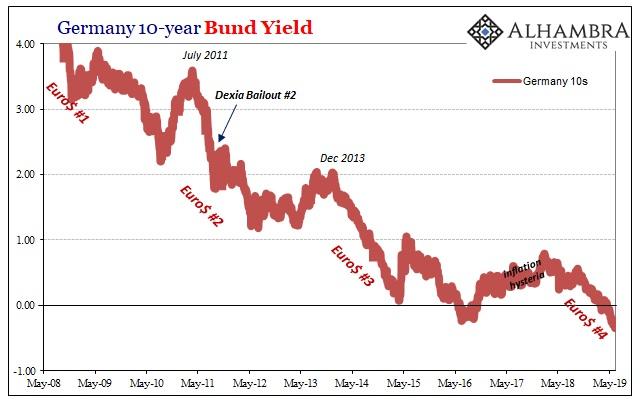 Mr. Mariani's "residual bank" would consist largely of those obligations. It's not that the investments proved to be bad ones, necessarily; in rough terms because of the way they were structured they cost more to fund than they yielded in returns. That's what volatility and/or modeled uncertainty will do to pricing
It should be pointed out the role of gain-on-sale-accounting here; the profits of these trades are booked at inception, leaving the bank to write down, if necessary, any other-than-temporary charges if either the market prices or the modeledassumptions change substantially. That's one reason why volatility is such a killer in terms of funding; a profitable trade booked years before suddenly requires billions in collateral and an increasingly unknown probability of write-downs.
That's also why the "bad bank." Move that uncertainty, funding and pricing, over to a relatively healthy balance sheet which can withstand those huge negative pressures. In Dexia's case, the bad bank balance sheet came too late and consisted of whatever was left of Dexia after everything else had been sold off – this residual bank supported by its existing shareholders, by that time mostly governments in Belgium and France.
The situation with Deutsche Bank in 2019 is a bit different, maybe even totally different. We don't know because nobody is going to say much. What we can speculate about, though, is a situation with similar outlines maybe proportions.
To be perfectly clear, I'm not using Dexia as a template nor am I saying that DB will follow in its dubious footsteps. What's similar is mostly the predicament; what we know so far about how this later "bad bank" is shaping up.
More importantly, why now?
What DB's management has said to this point is that the assets marked for the "bad bank" are longer-dated derivatives which are (currently) cash-flow positive and whose profits were likewise booked up front (gain-on-sale). Red flags already.
To begin with, the revised estimate of €74 billion intended for the bad bank is only the level of risk-weighted assets. This raises the question of just how much notional there is involved here; if all the assets are 100% RWA, then the bank would just refer to the gross amount of assets rather than their combined risk weighted calculations. In other words, the bank is intentionally downplaying the scale of its problem (which started out at €50 billion RWA just a few weeks ago).
Two other things we know: first, DB starting in 2013 but really in 2014 (at the worst possible time) began investing purposefully in a recovery scenario. This wasn't a secret, the bank's very own investment presentation from May 2014 spelled out just that intended course. Like Dexia, DB intended to grow its way back to behemoth status by betting on money dealing capacities and investments in EM markets, US$ leveraged loans or junk, and the like. Risky stuff that would pay off (handsomely) should the global economy normalize in 2015 and beyond like everyone (Janet Yellen and Mario Draghi) said it would.
It never did; and despite 2017's inflation hysteria, as 2019 wears on it doesn't look like it ever will.
Which brings us to the second fact: bond yields, especially those of German bunds, have been dropping precipitously since last October. In other words, we don't know how DB has hedged (or how it might have increased its hedges following 2015) its 2013-14 Reflation #2 exposures – but we can sure guess by the timing of all this.
Thus, risky assets which pay off in a recovery scenario likely hedged by instruments which follow that expected(read: modeled) course only to confront instead another liquidity driven event erasing the profit window and leaving the bank exposed as especially safety yields tumble yet again.
What we do know about the actual assets is very little, but instructive nonetheless:
The German bank believes it can divest the assets without taking large hits to its profit or capital because the long-dated interest rate derivatives are not toxic and have a predefined run-off plan, one of the people said.
It's that last part which should grab your attention. As of right now, the bank is saying that its "bad bank" stuff almost certainly wildly in excess of the claimed €74 billion RWA is cash positive but capital intensive following a predefined run-off plan; that's the key word here.
Except, worldwide financial conditions and probabilities are all moving very hard against that predefined run-off plan. Not only might that endanger the funding situation for the specific assets, and therefore increase the strain on the bank, it also induces credit problems and risk as (modeled) valuations must change to incorporate actual conditions – desirable or not.
To oversimplify, the more safety yields fall the greater the likelihood these longer-dated derivatives detour from their predefined run-off plan and then become "toxic" in a manner similar to what we'd observed within that troubled bank in Belgium.
What I believe is behind everything is how DB's managers, and government authorities, may be concerned about probabilities changing so unfavorably. That what are capital-intensive but stable hedges start becoming something more nefarious as things continue to go the wrong way. Not toxicity but toxicity potential. The more bond yields fall, the more toxicity potential rises (defined also in liquidity terms in the form of collateral calls and the like).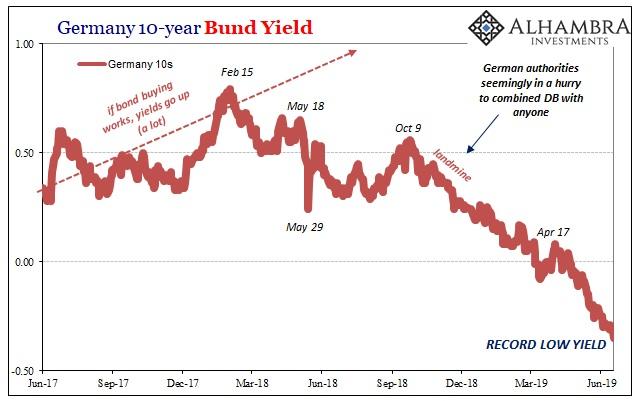 This might explain why German authorities were in such a rush (and whenthey became in such a rush) to combine DB with any other balance sheet they could find. And it would simultaneously explain why there were no takers.
Without some other balance sheet to absorb these risks through combination, DB is left only to isolate the problem assets via a "bad bank" hoping that whomever ultimately absorbs them (with assistance?) can be able to dispose of them in a way Deutsche cannot, not on its own.
In a way DB cannot. I think that's one piece of what is spooking funding markets right now. Not only does it mean systemic risks are perceived to be greater, therefore increasing liquidity pressures that much more in a feedback loop, how many more lesser problems with similar (and similarly rising) "toxicity" potential are out there? The "bad bank" makes these things real, a confirmation of what might merely be suspected.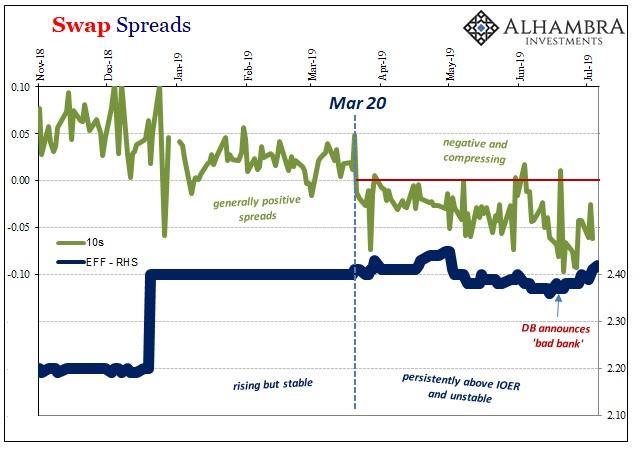 Deutsche Bank will not have been the only one especially in 2017 loading up and hedging only for globally synchronized growth – to find instead Euro$ #4 waiting for the backwards hedged into globally synchronized downturn.
Dexia's final demise wasn't its own stupidity. This is a common one, unfortunately. While most had come to terms with the lesson of Bear Stearns, some bankers hadn't completely given up on the good 'ol days (taking big risks and believing they can be comprehensively and effectively managed especially via derivatives), very much willing (as we've all been taught) to give central bankers and their monetary policies the benefit of the doubt.
In this fragile monetary system, there's not much room for margin – even though the bank today claims otherwise:
Now that the bank is sitting on €260bn of cash and similarly liquid securities, it no longer relies on these assets for cashflow and can attempt to run them down or sell them to other banks with lower funding costs and capital pressures, or to private equity investors eager to scoop them up at a discount, one of the people said.
DB has tons of liquidity margin and doesn't need these assets. OK, then why the haphazard plan thrown together at the last minute in lieu of DB being sold altogether? Are we really going to believe private equity investors are salivating over these assets?
They might be, if the discount is big enough. That, in a nutshell, is what has likely changed and it would be directly related to the same shifting probabilities that Dexia once faced. The key difference between them can still be: move them off DB's balance sheet before the required discount becomes too big.
What maybe unites Dexia and DB isn't potential failure, it is this lesson: don't bet on Economists and central bankers. They really have no idea what they are doing. It doesn't lead anywhere good.
Your humour story of the day courtesy of Deutsche bank
(ZEROHEDGE)
Deutsche Bank MDs Fitted For $1,900 Suits As Thousands Of Employees Lost Jobs
Earlier this week, we drew attention to a photo of what we (and much of the Internet) assumed were freshly fired Deutsche Bank employeesheading for the exits after cleaning out their desks.
At the time, we felt the photo was notable, if for no other reason than one of the men pictured was carrying a 'Bitcoin' bag, which allowed us to joke about junior DB bankers inundating crypto startups with resumes.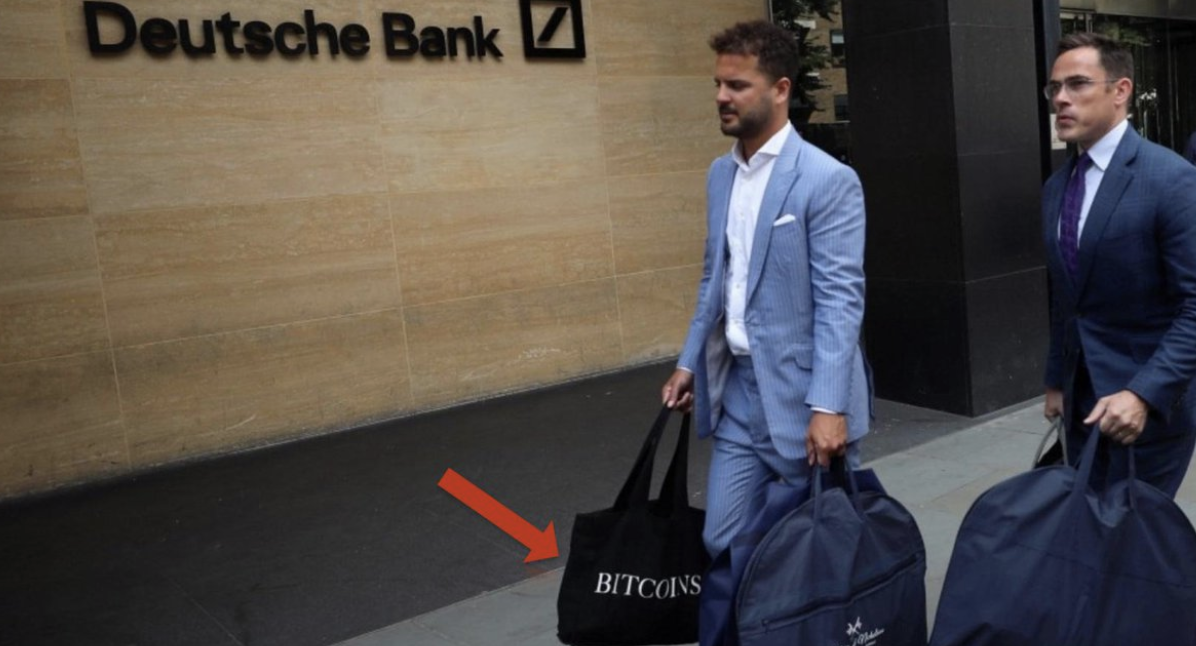 But as we learned on Wednesday, the story behind the photo is much more complex – and a much worse look for the bank's managers, who accidentally stumbled into an embarrassing PR blunder.
As Financial News reports, on the morning that DB was beginning the process of laying off 18,000 employees, some MDs (Medical doctors) in its London office were getting fitted for suits that cost £1,500 ($1,875).
The two men pictured above? They're not traders or analysts – they're tailors. Those are garment bags they're carrying. Their names were Ian Fielding-Calcutt and Alex Riley, and they work for Fielding & Nicholson Tailoring.
"It was just a coincidence that we were snapped coming out of the building at the time others were being sacked," Fielding-Calcutt, the owner of the tailoring firm, told Financial News.
On Sunday, DB unveiled its $8.3 billion restructuring plan, which involves suspending its dividend, shuttering its global equities business, and dramatically reducing its headcount, and will likely result in the bank booking a net loss this year. The layoffs began on Monday at the bank's offices in Asia, then continued throughout the global day.
And the layoffs were telegraphed well in advance, meaning that the MDs knew they would be getting fitted for suits as thousands of employees were being let go. They just didn't care.
END
UK
This is laughable..in order to stop \brexit some remainers are planning an alternate parliament?\give me a break\(Mish Shedlock/Mishtalk)
'Remainer' Fantasy: "Alternate Parliament" To Stop Brexit
Authored by Mike Shedlock via MishTalk,
The tactics of the Remainer crowd in the UK are downright laughable.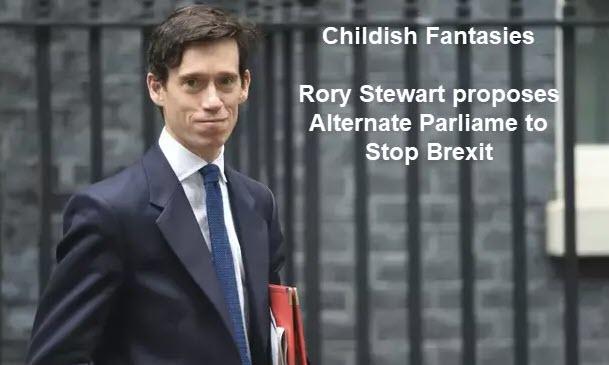 The Guardian reports Rory Stewart Outlines 'Alternative Parliament' to Stop No-Deal Brexit.
Rory Stewart, the surprise star of the Tory leadership election, has said he would help organise an "alternative parliament" in order to stop a no-deal Brexit if the new prime minister tried to prorogue parliament in order to bypass MPs' wishes.

Stewart said a former Speaker, such as Betty Boothroyd, could be enlisted to oversee a parliament continuing to sit in defiance of Boris Johnson if he presses ahead with a no-deal Brexit by seeking to prorogue the Commons, or to use some other "constitutional manoeuvre which means whatever legislation parliament tries to pass does not bind his hands". He said any plan to prorogue parliament, an option still entertained by Johnson, would be a constitutional outrage.
Constitutional Outrage
What a hoot.
Setting up an alternate Parliament with no legal authority to do so would be the "constitutional outrage".
In other laughable maneuvers, Stewart says he will restart his "Rory walks" tours around the country. He admits, with his trademark candour: "I am still thinking this through."
Eurointelligence Comments
Rory Stewart, the much-hyped Tory leadership contender, plans to counter a hypothetical prorogation of parliament by setting up an alternative parliament – essentially in a pub down the street. We don't think that prorogation is likely in any case, and so we don't feel we need to think this through to the end. But we are wondering whether Stewart and other Remainers in the Tory party are well-advised to indulge schoolboy fantasies of staging a rebellion, instead of focusing on the options that are available to them under EU law. The treaties allow for ratification of the withdrawal agreement or unilateral revocation as the only tools to stop a no-deal Brexit. They need to choose. The Remainers' leap into the procedural fog benefits the Brexiters.

The problem is that the Remainers disagree both on what they want – some want revocation, other don't – and on how to achieve it. The 30 or so Tory rebels are not all going to support a no-confidence vote brought by Jeremy Corbyn. So it is not clear to us how they can proceed. If the government were to lose its majority, then surely there will be elections at some point in the autumn.

From a strategic point of view, we much prefer the approach suggested by Will Hutton in his Observer column. He is calling on Labour not only to endorse a second referendum but to seek an electoral alliance with the LibDems so that voters have a single pro-Remain candidate on the ticket. We don't support a second referendum ourselves, and believe the EU has no interest in another year of uncertainty that such a process would produce.
Strategic Point of View
From a strategic pint of view, it might equally be wise for the Tories to form an alliance with the Brexit Parrt.
Johnson ruled it out, but he could easily rule it back in.
UK Election Polls

Remainer Coalition
Even if one believe the jump in the most recent poll for Labour, it was at the expense of the Liberal Democrats.
In terms of a coalition, the last three polls put a coalition at 40%, 38%, and 39% respectively. And there is a huge block of Labour voters in favor of Brexit. Put another referendum on the ballot and the coalition would likely get crushed.
Leave Coalition
A leave coalition would get 45%, 47%, and 44% of the vote respectively.
All those in the Brexit Party would certainly vote against another referendum. Nearly all the Tories would as well.
Some Tories might shift, but Labour would lose more.
Brexit is a Done Deal
Brexit is a done deal.
Eurointelligence commented:
"We would not rule out that Boris Johnson returns with an amended deal. If he does, Remainers should vote in favour of it. We have argued before that they should accept the withdrawal treaty and then begin a long campaign for re-entry."
Eurointelligence needs to look at polling math to see how ridiculous their idea of starting another campaign to get back in really is.
A coalition to do so right away would get crucified. If they wait, the UK will have made other treaties, and the chance long gone.
Either way, Brexit is a done deal.
Binary Choice
The binary choice is not to leave or remain, but to leave with No Deal or leave with a deal.
The UK parliament has little say in the outcome.
The EU will offer a deal or it won't. And if it won't, the EU may still agree on a long interim trade deal coupled with a temporary arrangement on the backstop. The latter is what I expect.
end
5. RUSSIAN AND MIDDLE EASTERN AFFAIRS
YEMEN
Cholera is ripping through war torn Yemen; wow! a whopping 500,000 cases in 2019 alone\\
(courtesy zerohedge)
Cholera Rips Through War-Torn Yemen: Nears 500,000 Cases In 2019
As the UAE announced this week it would withdraw its forces from Yemen as a longtime lead country in the Saudi coalition which has fought Houthi rebels since 2015, the United Nations issued a damning report on what it previously dubbed the "world's worst humanitarian crisis" and what many analysts have described as the "forgotten war," due to the little coverage it receives in the mainstream media.
War-ravaged Yemen has seen more than than 460,000 suspected cholera cases so far this year, which is significantly higher that the total number for all of 2018, at 380,000 — the UN stated early this week.
This as the over four-year long war is has reached casualty numbers on par with the opening half of the Syrian war, expected to reach an estimated 233,000 deaths by the end of 2019, according to a previous UN report issued in May.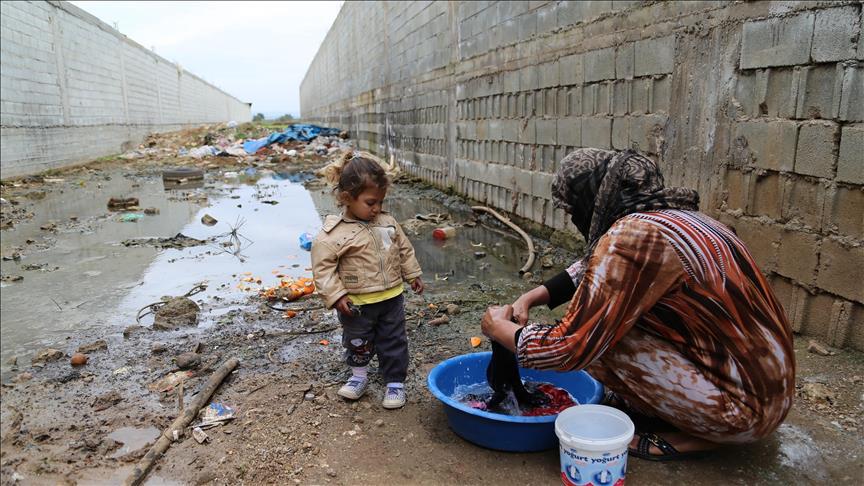 In addition to famine, malnutrition, cholera, and other diseases, the new UN statements noted lack of access to clean drinking water for vast segments of the population, which has facilitated the rapid spread of diseases uncommon in much of the rest of the world, specifically cholera.
The AP cited UN deputy spokesman Farhan Haq as noting that the "increased number of cases has led to 705 apparent cholera deaths since January, dramatically higher than the 75 deaths in the same period last year."
The UN also estimated that some 10 million Yemenis currently rely on food aid to survive – a figure that's 50% higher compared to pre-war assessments. The UN also confirmed "pockets of famine-like conditions in dozens of places across Yemen."
Despite the UAE pulling out, the situation is expected to deteriorate further, given the Saudi coalition – which has long included key US military support – sees itself in a zero-sum proxy war against Iran inside Yemen.
The US House and Senate have of late been attempting to stymie a White House initiative to sell $8.1 billion worth of precision-guided munitions and other weapons to Saudi Arabia on the basis of executive order, something thus far proving unsuccessful.
In a tragically ironic bit of logic, the White House and Pentagon position on weapons sales to the Saudis as they continually bomb civilian areas of Yemen has been to say more advanced and precision weapons in Riyadh's arsenal will actually help reduce civilian casualties.
This is in continuation of yesterday where Bill Blain discusses the fact that lower rates will not help if there is no growth. He discusses the poor growth prospects coming from China as well as the hardships facing Boeing
(courtesy/Bill BLAIN// zerohedge)
Blain: "When Markets Grasp That Lower Rates Won't Be Supported By Growth, Get Your Hard Hats Ready"
Blain's Morning Porridge, submitted by Bill Blain
"The Sky is not the limit – there are footprints on the Moon."
So many choices for this morning's quote. The classic Armstrong "One Step" was too obvious. I did think about "To infinity and beyond". But the one I chose is perhaps the best. Points if you can name who said it. Only four of the 12 men who walked on the Moon are still with us. It was a long time ago, but last night my wife, son and I were out to dinner in the West End. As we walked back past the Lego Store inn Leicester Square – look what was in the window! I'm going back to buy it later today!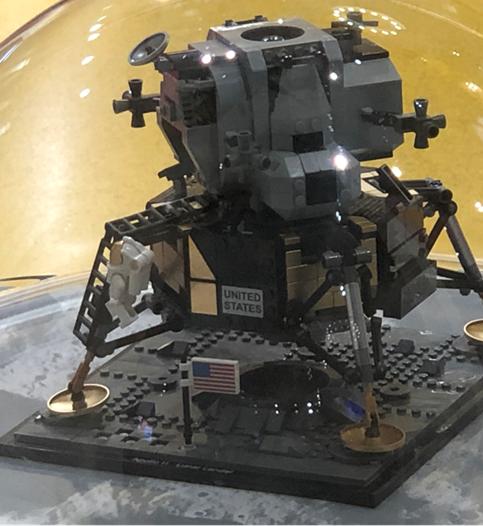 It took me back 50 years – July 11 1969. I was in the back garden in Fox Covert, Edinburgh, staring excited at the moon, asking Dad where the spaceship was. He tried to explain how far away it was and since it was only the size of a car, I'd not be able to see it. It was a terribly exciting day – the BBC showed the film of HG Well's First Men on the Moon. Then came the iconic music; Also Sprach Zarathustra, which defined the whole Apollo era. Patrick Moore and James Burke explained what was going on. James Burke is still making sense today! We waited and waited and then the words. At some point I must have fallen asleep because I woke up in bed with my Action man lying on the floor in his (Gemini) spacesuit.
It would be a terrible pity if we don't go back to the Moon. Does it make commercial sense for us to go further? I'd like to think so, but the scale, the sheer immensity of space, the rules of orbital gravity and radiation mean we're not going to travel to Jupiter in a few hours any time soon. A few years perhaps, and few years to come back with what? Minerals, raw materials? Or maybe not – 200 years ago it took a year to get to Australia and back. Today I've been there and back in a week. It took Magellan's fleet 3 years to circumnavigate the globe – 18 men out of 270 made it.
Back to the present…
The big theme this morning is Jerome Powell's comments y'day – 25-50 bp ease from the Fed looks nailed on for later this month. We're expecting similar directional guidance from the ECB and Bank of England today. The markets will breathe a sigh of relief – and party on. The Fed dismissed the strong jobs report, reckons inflation is easy, and is willing to pander to Trump ease rates to counter signs of a slowing global economy and ongoing trade risks.  Dollar took a bit of a spanking – but that's another thing El Presidente will love.
Yesterday I was talking about how Boeing might be the canary in the coal mine that crushes the on-going stock optimism. Folk generally agreed with my analysis the company management has made serious mistakes that aren't reflected in a lower stock price, and that price has been artificially held up by dint of the plane-maker being the largest component of the Dow-Jones. Everyone has to hold Boeing to match the index – that could change dramatically if the market shifts and everyone wants to go short!
Another new factor my chums in aviation finance have noted is potential stress in the aircraft finance market when the Boeing 737 Max finally gets recertified. We reckon there are about 150 undelivered unpaid MAXes sitting at Boeing – including some parked in the employee car parking spaces!! They cost about $2000 each per month – and nots just the parking tickets! They are adding about 10 planes each week. When the aircraft are recertified Boeing will be in rush to deliver – but financing what could be up 370 new aircraft in November (if that is when they get permission to fly) could be a nightmare. It could be a shock to markets. (And I'm trying to think how we arb it! A chat with Boeing might be on the cards – if some of the big funds wants to lend me $10 bln I can promise a very asset based secured attractive return!)
Boeing is a crisis because of the mistakes its management have made. (And they won't like me saying it.)
Potentially even more dangerous for Markets is BASF, the German Chemical giant. Earlier this week it missed expected numbers massively and has shocked complacent markets. BASF confirms the genuine damage US / China trade has had on the global economy. This is a company that has seen its stock whapped, and EBITDA expected to plummet down 30%, because of the global economy rather than management cluster-failure. If it's happened at BASF, it is going to happen elsewhere else. BASF is down 21% since April and crashed 7.5% on the news before wobbling back up a bit y'day.
All this should get investors thinking about what's really going on in the corridors of power. We've got Central Banks around the world being overly accommodative, pumping money into Financial Assets on the hope and a prayer of avoiding a massive and destabilising stock market crash. If it happens global sentiment will be crushed, and you can bet the next stage will be folk talking about over-indebted Sovereigns and slide in bonds as well. I've been warning for so long about the scale of bubbles in Financial Assets – bonds and stocks – I'm beginning to bore even myself.
The first reality is BASF. It shows corporate earnings in a global supply-chain based economy are critical. If the next couple of weeks US Earnings confirm spreading pain, then the optimism to buy the FED crack-ease is going to flop.
The second reality is China. Forget what anyone is telling you about the USA being the most important Economy. Its not. Its been China and its' associated growth that's been driving global growth for the last 10 years. When the Chinese economy was growing 7-8% annually, it was a rising tide lifting all boats.
Now the Chinese are transforming their economy. The plan is a consumer led and consumption based  happy state-loving economy – and it sure has problems. Which country doesn't? But its also engaged in a cut-throat political/trade war with its biggest market – The USA. Look at the news of China graduates now struggling to find good jobs, the clampdown on conspicuous consumption by the wealthy, unsold houses, a domestic debt crisis, companies defaulting. Welcome to a China we recognise from our own experience.
China Growth is likely to slow to more like 4% as it continues to mature. And if China is 4%, the shocking global reality is global growth is much much lower than the Central Bank geniuses expected. They've been juicing asset markets for the last 8 years with lower-for-longer rates and QE – with the effect of creating massive asset bubbles in both. They've been hoping rising growth (fuelled by China) will justify the levels financial assets have reached. But it won't – global growth is slowing because China is maturing. Which means financial assets are, and will remain, a bubble.
Pop.
When the market finally grasps the fact lower interest rates are not going to be supported by growth, that's when you really want your hard hat handy.
Your early morning currency/gold and silver pricing/Asian and European bourse movements/ and interest rate settings THURSDAY morning 7:00 AM….
Euro/USA 1.1272 UP .0013 REACTING TO MERKEL'S FAILED COALITION/ REACTING TO +GERMAN ELECTION WHERE ALT RIGHT PARTY ENTERS THE BUNDESTAG/ huge Deutsche bank problems ///ITALIAN CHAOS /AND NOW ECB TAPERING BOND PURCHASES/JAPAN TAPERING BOND PURCHASES /USA RISING INTEREST RATES /FLOODING/EUROPE BOURSES /MIXED
USA/JAPAN YEN 108.13 DOWN 0.202 (Abe's new negative interest rate (NIRP), a total DISASTER/NOW TARGETS INTEREST RATE AT .11% AS IT WILL BUY UNLIMITED BONDS TO GETS TO THAT LEVEL…
GBP/USA 1.2562   UP   0.0056  (Brexit March 29/ 2019/ARTICLE 50 SIGNED/BREXIT FEES WILL BE CAPPED/BREXIT EXTENDED TO OCT 31/2019//
USA/CAN 1.3053 DOWN .0053 CANADA WORRIED ABOUT TRADE WITH THE USA WITH TRUMP ELECTION/ITALIAN EXIT AND GREXIT FROM EU/(TRUMP INITIATES LUMBER TARIFFS ON CANADA/CANADA HAS A HUGE HOUSEHOLD DEBT/GDP PROBLEM)
Early THIS  THURSDAY morning in Europe, the Euro ROSE BY 13 basis points, trading now ABOVE the important 1.08 level RISING to 1.1307 Last night Shanghai COMPOSITE CLOSED UP 2.46 POINTS OR 0.08% 
//Hang Sang CLOSED UP 227.11 POINTS OR 0.81%
/AUSTRALIA CLOSED UP 0,64%// EUROPEAN BOURSES ALL MIXED
Trading from Europe and Asia
EUROPEAN BOURSES ALL MIXED 
2/ CHINESE BOURSES / :Hang Sang CLOSED UP 227.11 POINTS OR 0.81%
/SHANGHAI CLOSED UP 2.46 POINTS OR 0.08%
Australia BOURSE CLOSED UP. 64% 
Nikkei (Japan) CLOSED UP 110.05  POINTS OR 0.51%
INDIA'S SENSEX  IN THE RED
Gold very early morning trading: 1418.90
silver:$15.27-
Early THURSDAY morning USA 10 year bond yield: 2.07% !!! UP 1 IN POINTS from WEDNESDAY'S night in basis points and it is trading WELL BELOW resistance at 2.27-2.32%.
The 30 yr bond yield 2.59 UP 1  IN BASIS POINTS from WEDNESDAY night.
USA dollar index early THURSDAY morning: 96.88 DOWN 22 CENT(S) from  WEDNESDAY's close.
This ends early morning numbers THURSDAY MORNING
xxxxxxxxxxxxxxxxxxxxxxxxxxxxxxxxxxxxxxxxxxxxxxxxxxxxxxxxxxxxxxxxxxxxxxxxxxxxxxxxxxxxxxxxxxxxxxxxxxxxxxxxxxxxxx6
And now your closing THURSDAY NUMBERS \1: 00 PM
Portuguese 10 year bond yield: 0.57% UP 7 in basis point(s) yield from YESTERDAY/
JAPANESE BOND YIELD: -.14%  DOWN 2   BASIS POINTS from YESTERDAY/JAPAN losing control of its yield curve/56
SPANISH 10 YR BOND YIELD: 0.48%//DOWN 4 in basis point yield from yesterday.
ITALIAN 10 YR BOND YIELD: 1.70 DOWN 8 points in basis points yield from yesterday./
the Italian 10 yr bond yield is trading 171 points higher than Spain.
GERMAN 10 YR BOND YIELD: FALLS TO –.24% IN BASIS POINTS ON THE DAY//
THE IMPORTANT SPREAD BETWEEN ITALIAN 10 YR BOND AND GERMAN 10 YEAR BOND IS 1.93% AND NOW ABOVE THE  THE 3.00% LEVEL WHICH WILL IMPLODE THE ENTIRE ITALIAN BANKING SYSTEM. AT 4% SPREAD THERE WILL BE A HUGE BANK RUN…
END
IMPORTANT CURRENCY CLOSES FOR THURSDAY
Closing currency crosses for THURSDAY night/USA DOLLAR INDEX/USA 10 YR BOND YIELD/1:00 PM
Euro/USA 1.1257  DOWN     .0006 or 6 basis points
USA/Japan: 108.20 DOWN .050 OR YEN UP 5  basis points/
Great Britain/USA 1.2549 UP .0044 POUND UP44  BASIS POINTS)
Canadian dollar DOWN 3 basis points to 1.3076
xxxxxxxxxxxxxxxxxxxxxxxxxxxxxxxxxxxxxxxxxxxxxxxxxxxxxxxxxxxxxxxxxxxxxxxxxxxxxxxx
The USA/Yuan,CNY: AT 6.8702    0N SHORE  (DOWN)..GETTING DANGEROUS
THE USA/YUAN OFFSHORE:  6.8730  (YUAN DOWN)..GETTING REALLY DANGEROUS
TURKISH LIRA:  5.6616 EXTREMELY DANGEROUS LEVEL/DEATH WISH.
the 10 yr Japanese bond yield closed at -.14%
Your closing 10 yr US bond yield UP 2 IN basis points from THURSDAY at 2.09 % //trading well ABOVE the resistance level of 2.27-2.32%) very problematic USA 30 yr bond yield: 2.60 UP 2 in basis points on the day
Your closing USA dollar index, 96.99 DOWN 12  CENT(S) ON THE DAY/1.00 PM/
Your closing bourses for Europe and the Dow along with the USA dollar index closing and interest rates for THURSDAY: 12:00 PM
London: CLOSED DOWN 20.87  0.28%
German Dax :  CLOSED DOWN 41.29 POINTS OR .33%
Paris Cac CLOSED DOWN 15.64 POINTS 0.28%
Spain IBEX CLOSED UP 27.40 POINTS or 0.20%
Italian MIB: CLOSED UP 124.46 POINTS OR 0.56%
WTI Oil price; 60.68 12:00  PM  EST
Brent Oil: 67.02 12:00 EST
USA /RUSSIAN /   ROUBLE RISES:    62.81  THE CROSS LOWER BY 0.34 ROUBLES/DOLLAR (ROUBLE HIGHER BY 34 BASIS PTS)
TODAY THE GERMAN YIELD RISES  TO –.23 FOR THE 10 YR BOND 1.00 PM EST EST
This ends the stock indices, oil price, currency crosses and interest rate closes for today 4:30 PM
Closing Price for Oil, 4:00 pm/and 10 year USA interest rate:
WTI CRUDE OIL PRICE 4:30 PM :  60.40//
BRENT :  66.69
USA 10 YR BOND YIELD: … 2.14…
USA 30 YR BOND YIELD: 2.66..
EURO/USA 1.1253 ( UP 5   BASIS POINTS)
USA/JAPANESE YEN:108.47 UP .138 (YEN DOWN 14 BASIS POINTS/..
USA DOLLAR INDEX: 97.07 DOWN 3 cent(s)/
The British pound at 4 pm   Britain Pound/USA:1.2519 UP 14  POINTS
the Turkish lira close: 5.6824
the Russian rouble 62.82   DOWN 0.02 Roubles against the uSA dollar.( DOWN 2 BASIS POINTS)
Canadian dollar:  1.3069 UP 4 BASIS pts
USA/CHINESE YUAN (CNY) :  6.8703  (ONSHORE)/we need to watch these levels/anything greater than 6.95 will be deadly./
USA/CHINESE YUAN(CNH): 6.8765 (OFFSHORE) we need to watch these levels/anything greater than 6.95 will be deadly/
German 10 yr bond yield at 5 pm: ,-0.23%
The Dow closed  UP 277.88 POINTS OR 0.85%
NASDAQ closed UP 25.46 POINTS OR 0.19%

VOLATILITY INDEX:  12.93 CLOSED DOWN .10
LIBOR 3 MONTH DURATION: 2.339%//libor dropping like a stone
And now your more important USA stories which will influence the price of gold/silver
TRADING IN GRAPH FORM FOR THE DAY//
Disastrous Bond Auction Sparks Rate-Rout Selloff In Stocks
Bond bulls just had a 'Cliffhanger' moment…
Payrolls, Powell, and Panic at the Auction have sparked the biggest bond bloodbath since Trump was elected in Nov 2016…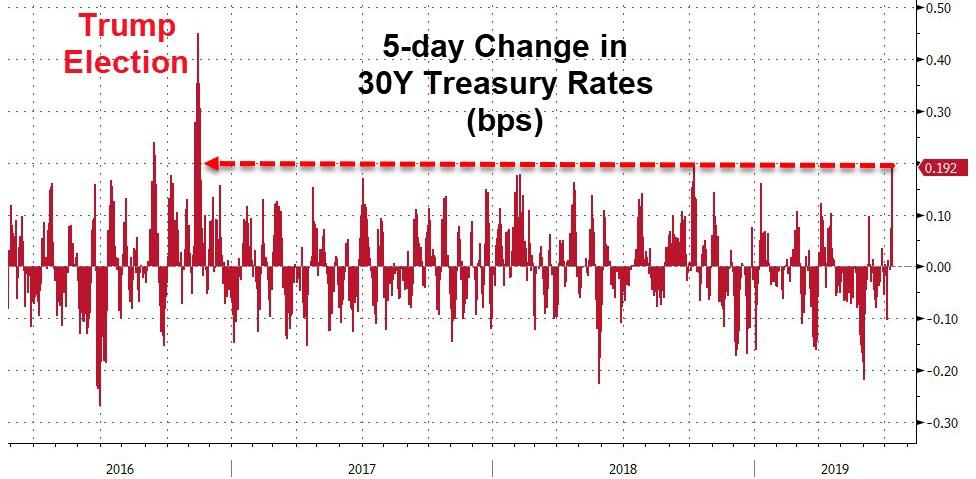 And as bond yields exploded higher, something odd happened… stocks dumped too…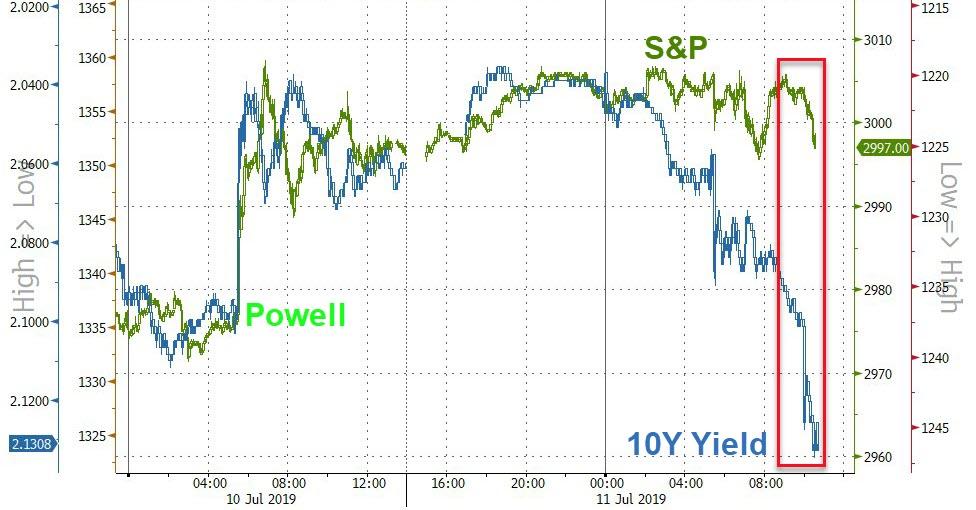 Suggesting Risk-Parity funds forced to delever/rebalance as the bond legs blow up.
30Y Yields exploded to 6-week highs…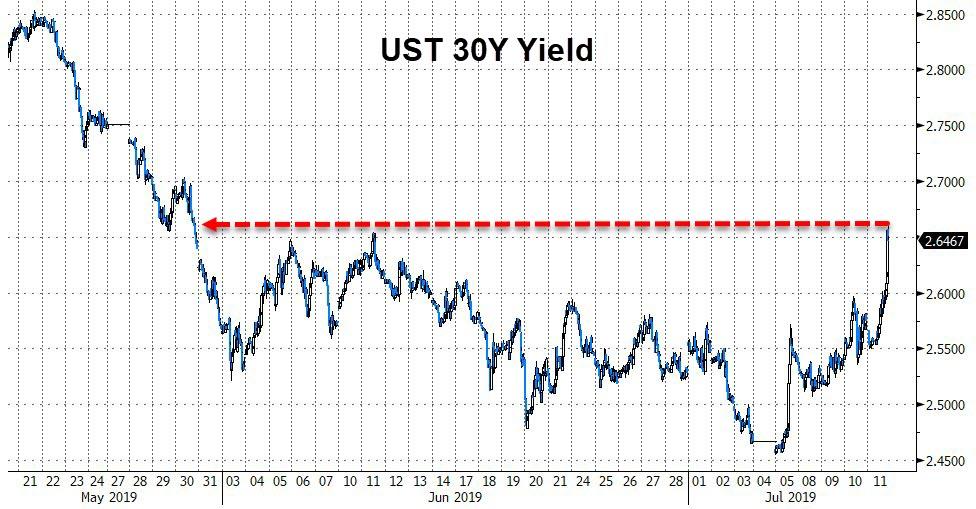 The Dow managed to hold gains (thanks to United Health jumping on Trump's backdown) and S&P limped back into the green but Nasdag ended red. Small Caps were worst on the day with Trannies best…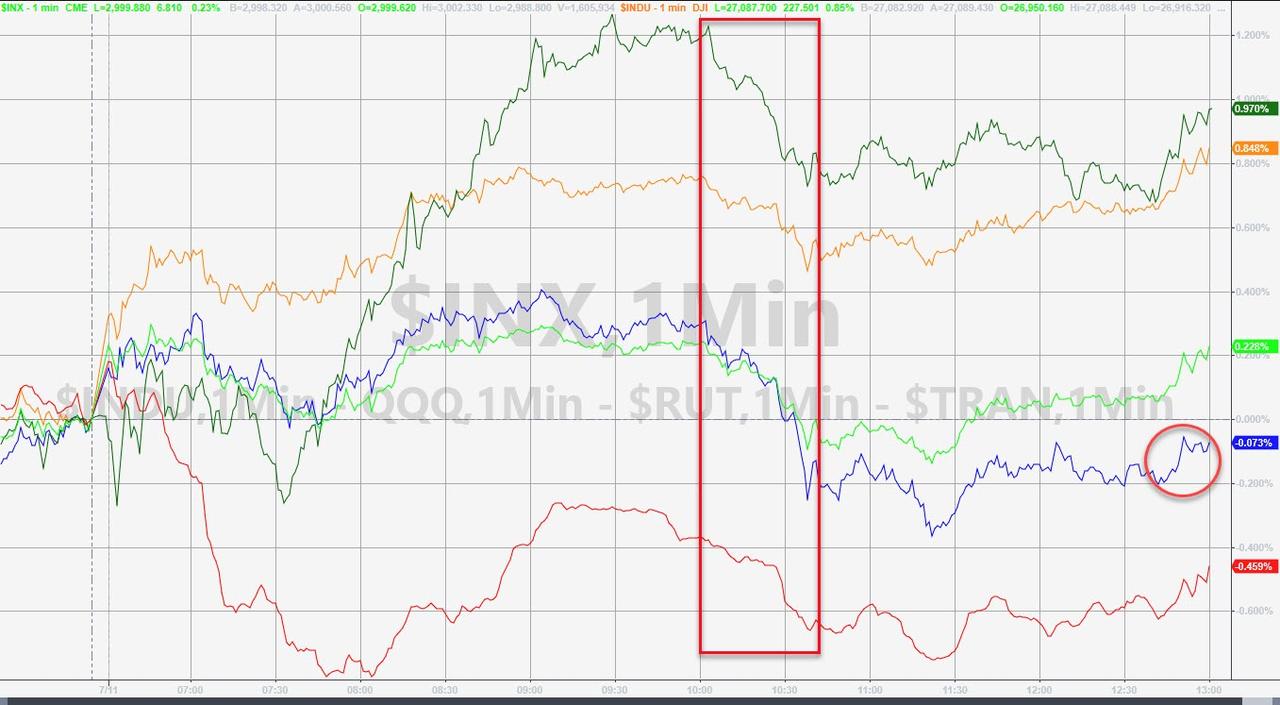 NOTE – around 1300ET, Trump tweeted about China disappointment and sparked selling.
Trannies and Small Caps remain red on the week.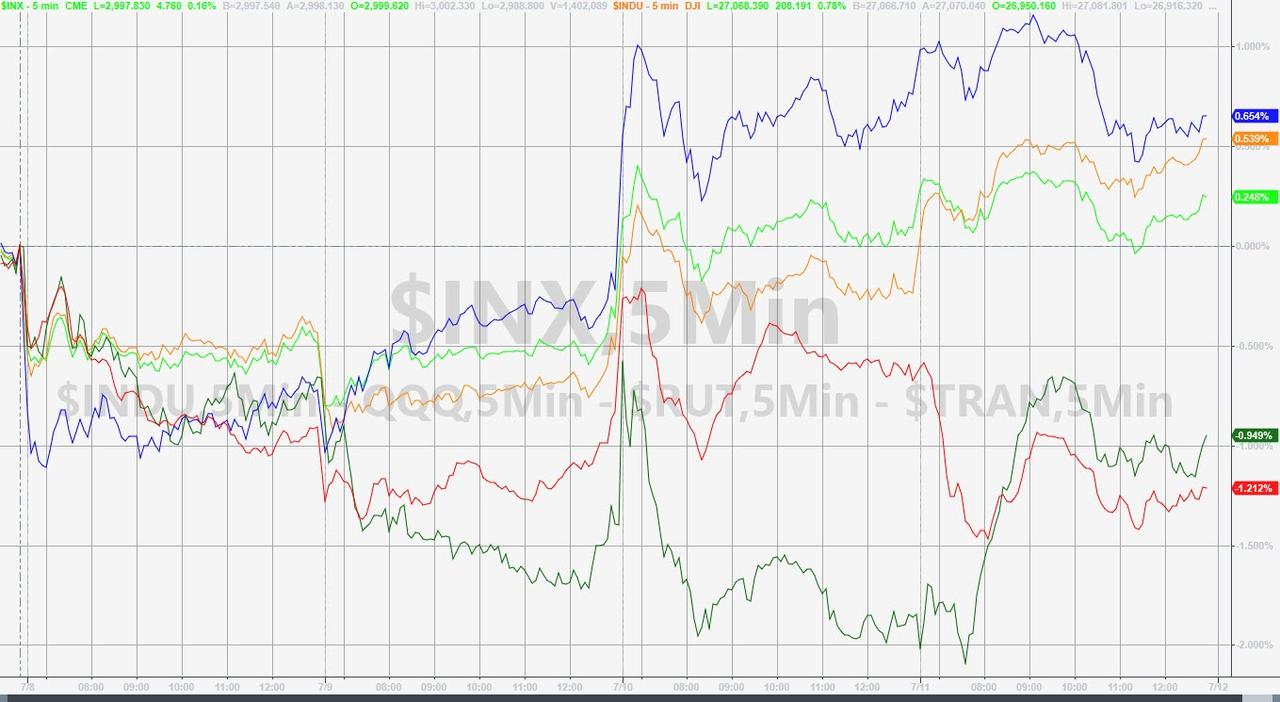 Dow topped 27k for the first time…
And President Trump loved it…
The S&P closed at 2999.89!! As one veteran trader noted "this is all gamma trap!"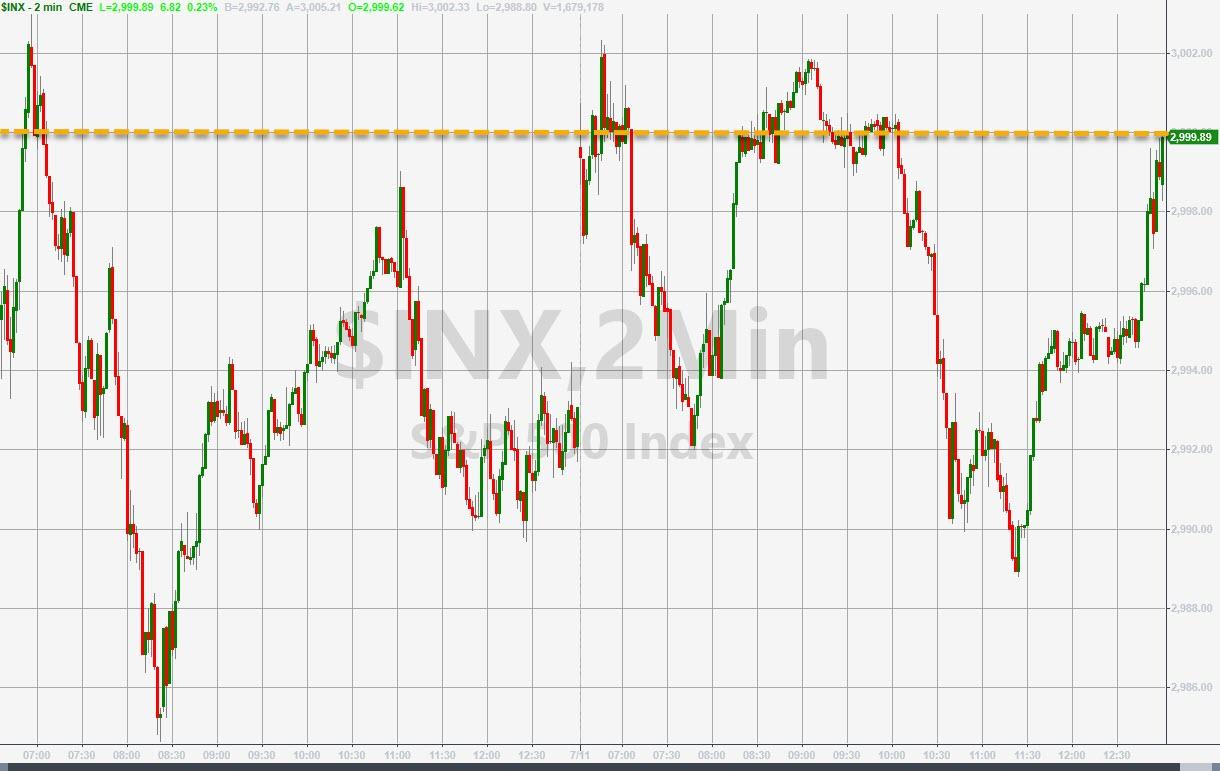 Defensive stocks were pummeled (interestingly catching down to unch for the week with Cyclicals)…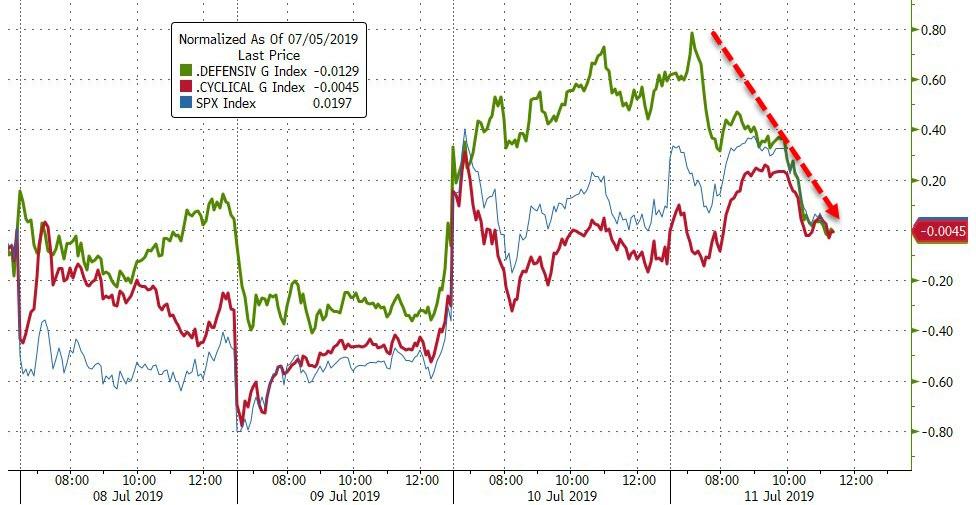 Bonds weren't the only bloodbath of the day; Bed, Bath, & Beyond was battered…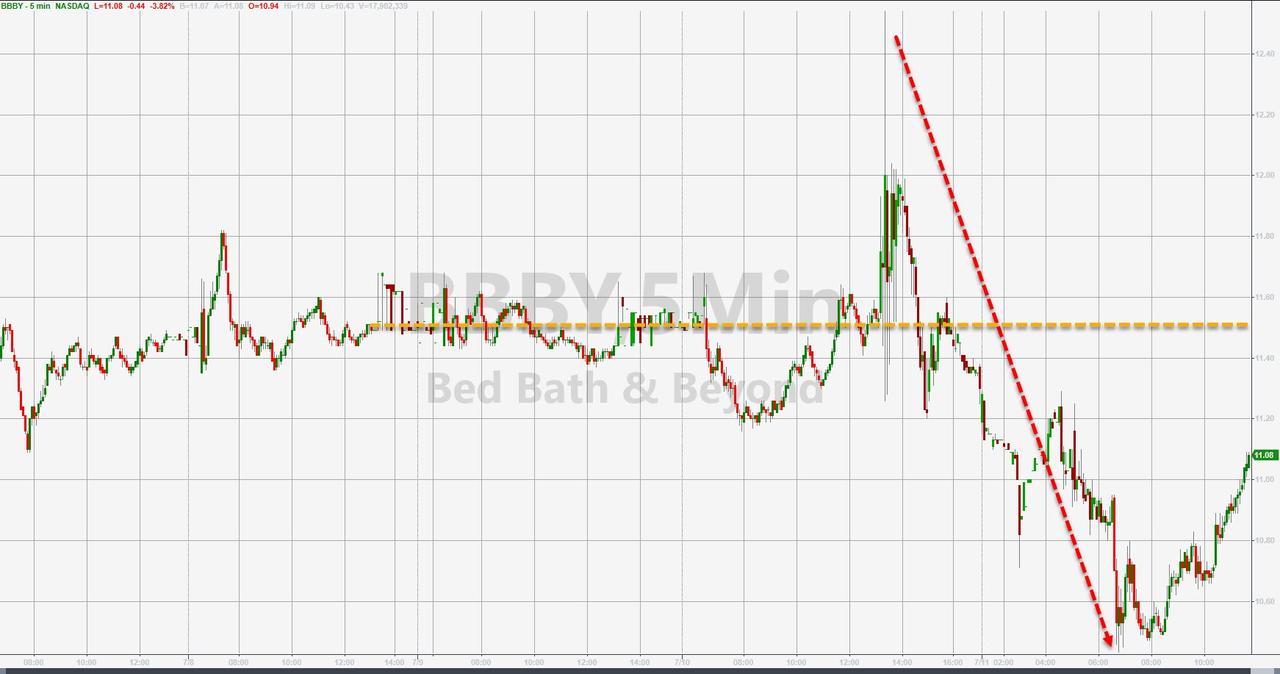 UnitedHealth surged on the White House backpedal…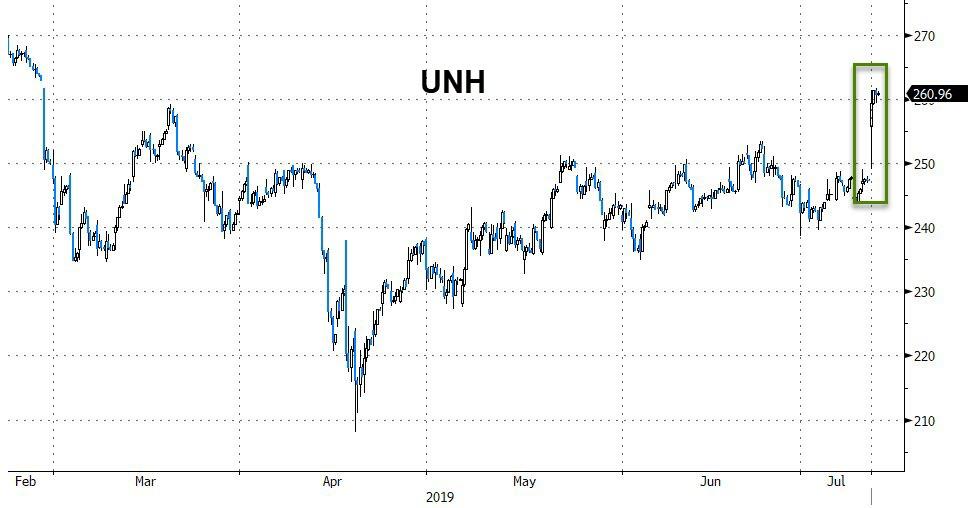 Chinese stocks have gone nowhere since Monday's dump…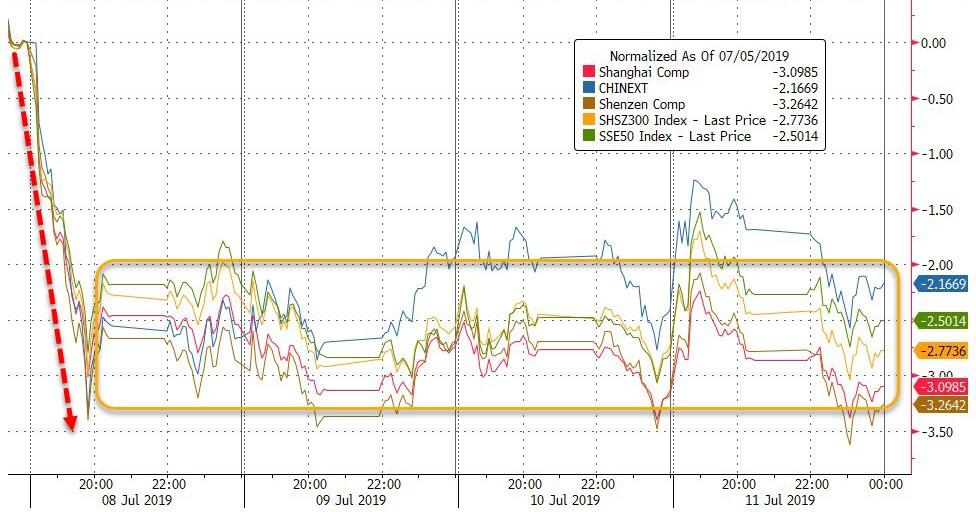 European markets continued to diverge dramatically with Germany slammed and Italy bid…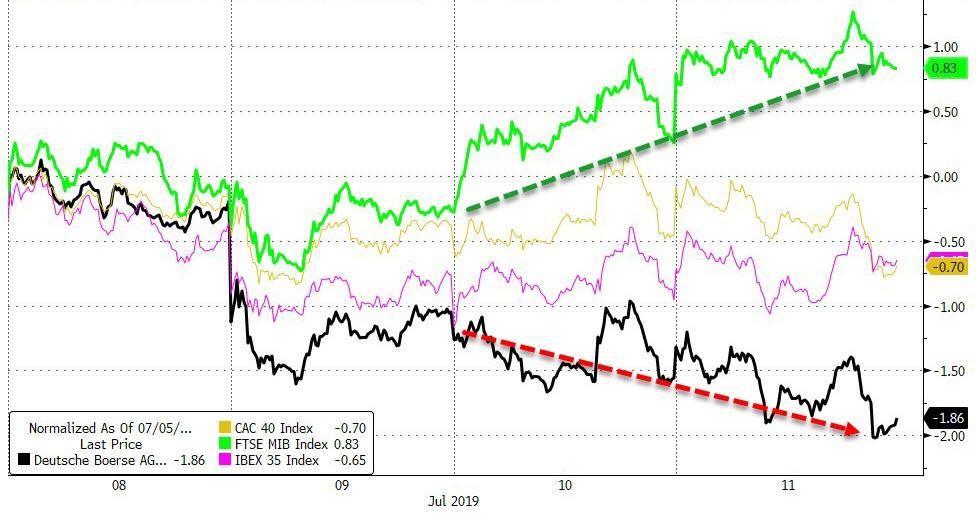 Banks and the yield curve…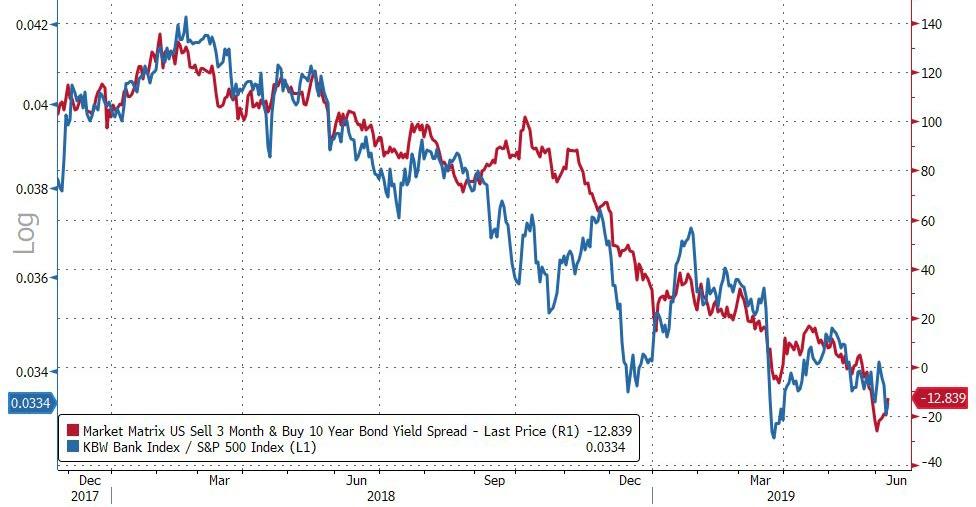 Treasury yields exploded higher on the day with the long-end dramatically underperforming…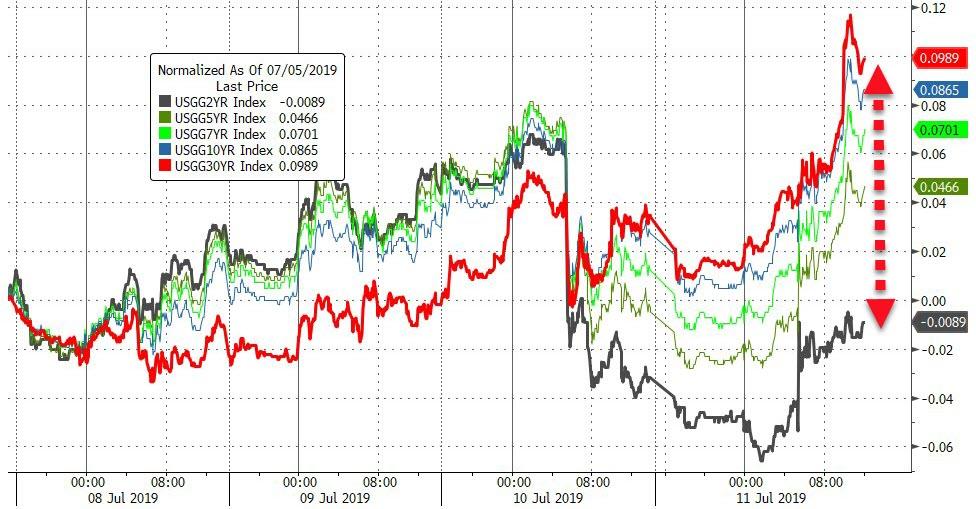 The yield curve (3m10Y) remains inverted… just…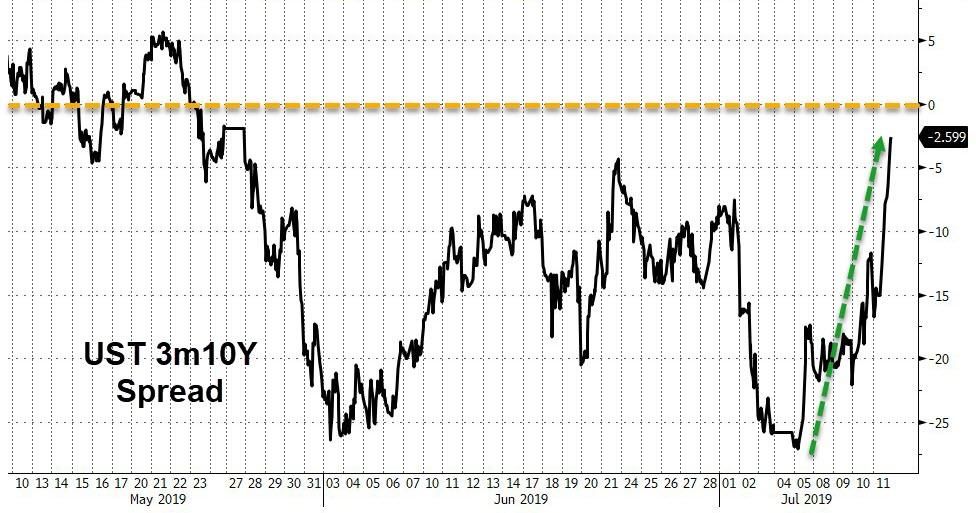 T
he dollar ended marginally lower after scrambling up to unch after a weak overnight session…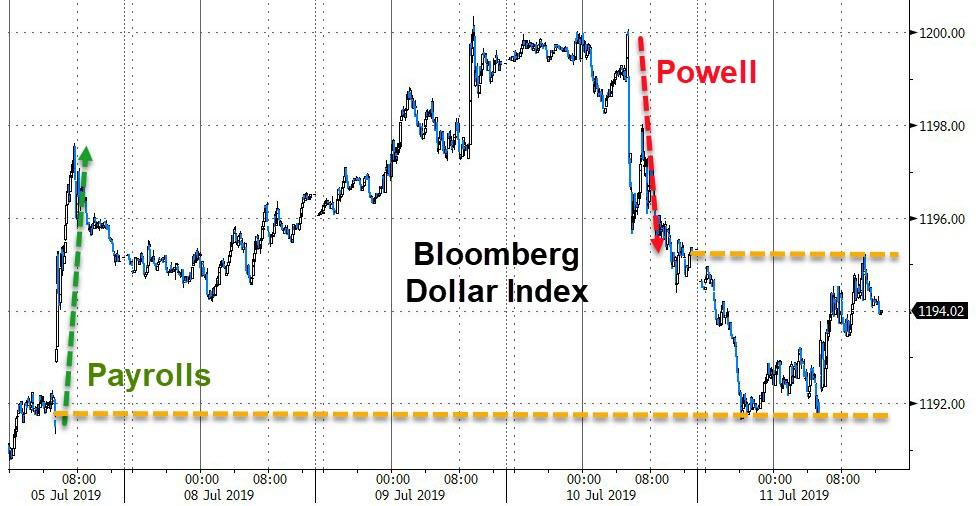 Cryptos were down modestly on the day with Bitcoin the only major that remains green on the week…
With Bitcoin unable to scramble back above $12k for now…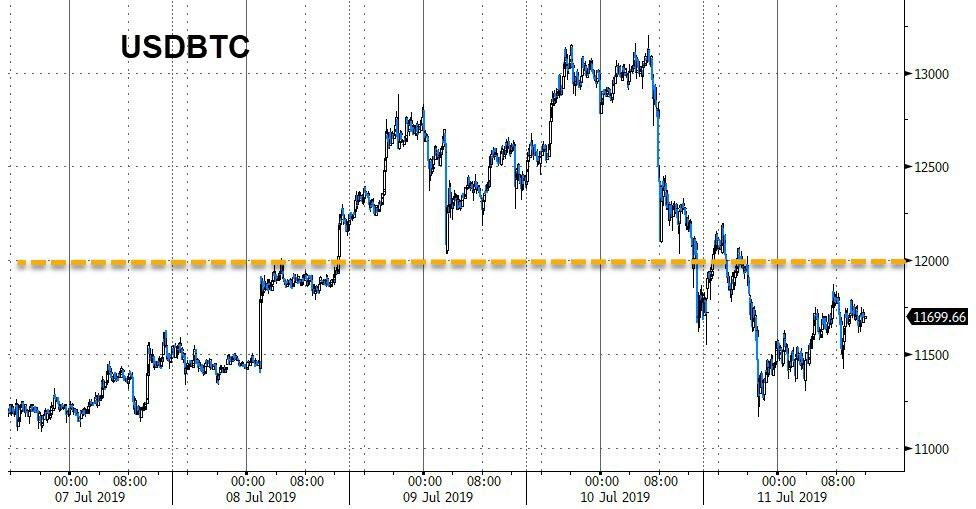 Commodities rolled over today as the dollar recovered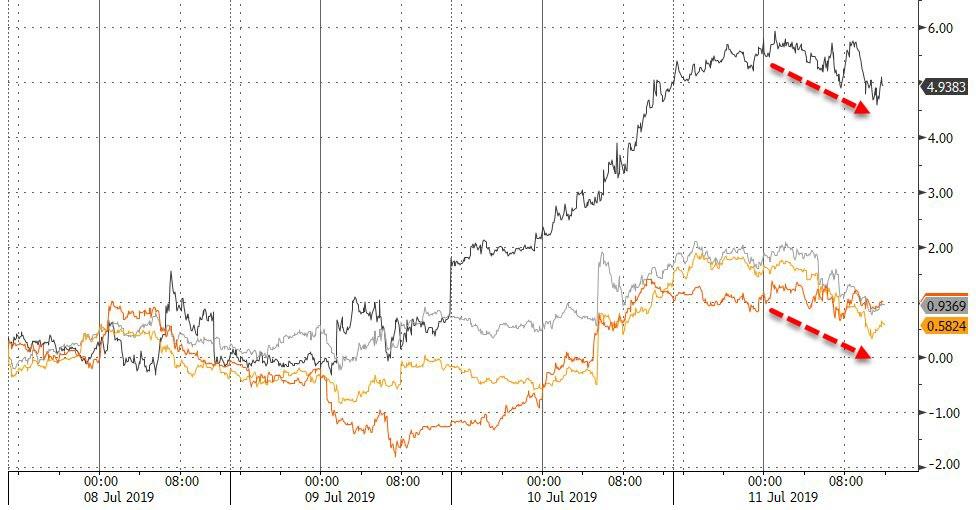 Silver marginally outperformed gold today…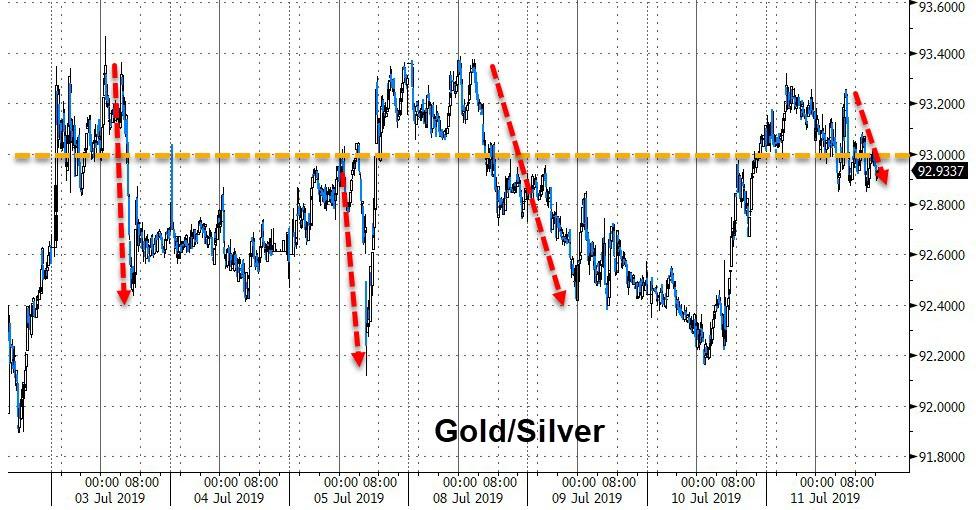 But gold held above $1400..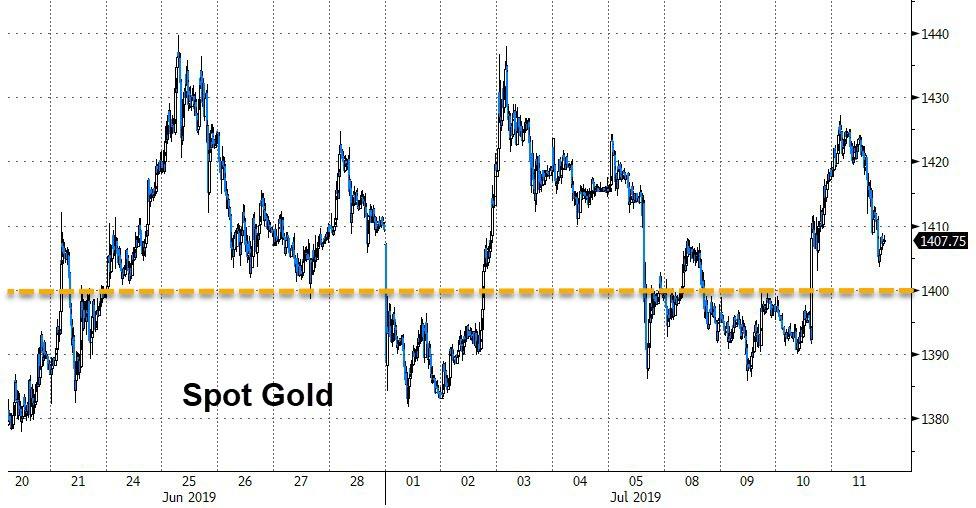 Finally, we note the following from Strategas:
"nearly all of the incremental news on China since the G-20 has been negative. There is no trade meeting set; China is questioning what the US said was agreed to .. The China hardliners seem to be taking over and trying to wait Trump out past the 2020 election."
And this tweet from China's current twitter mouthpiece:
"Congrats to American investors. But watch your President and don't let him trigger recession with the trade war."
As we have noted numerous times, it's not the economy, or trade, or earnings, or sentiment… it's central bank liquidity, stupid!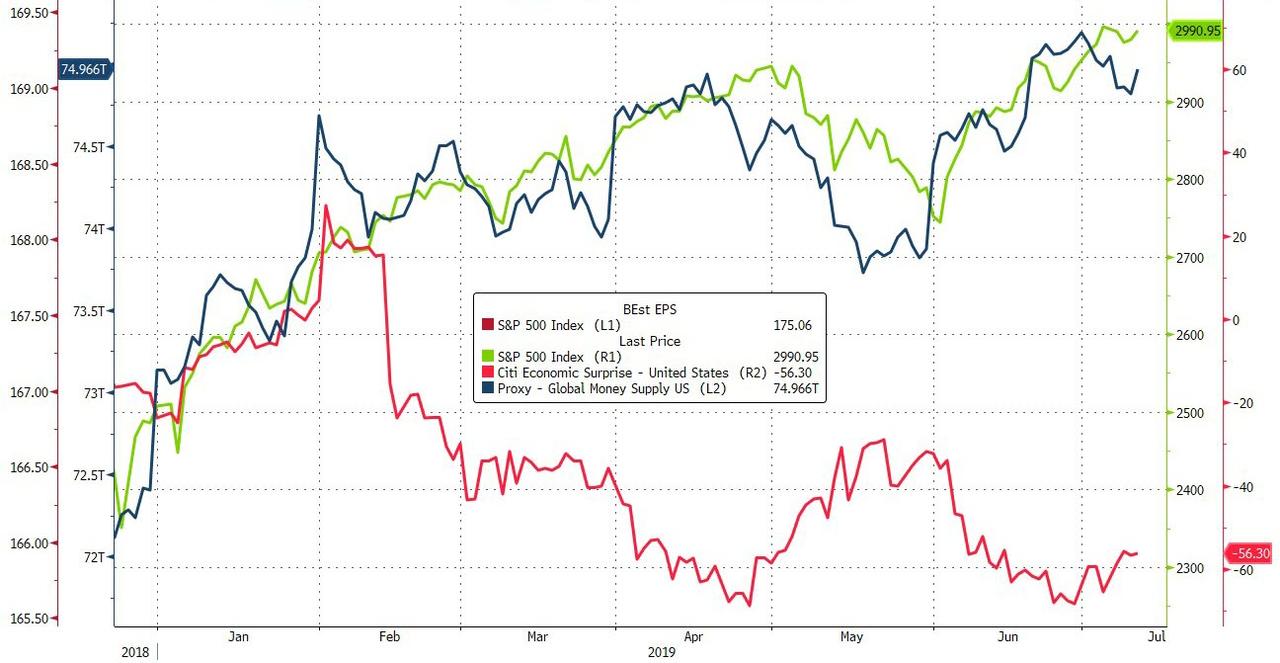 i) Market trading/
Dow Tops 27,000 For First Time Ever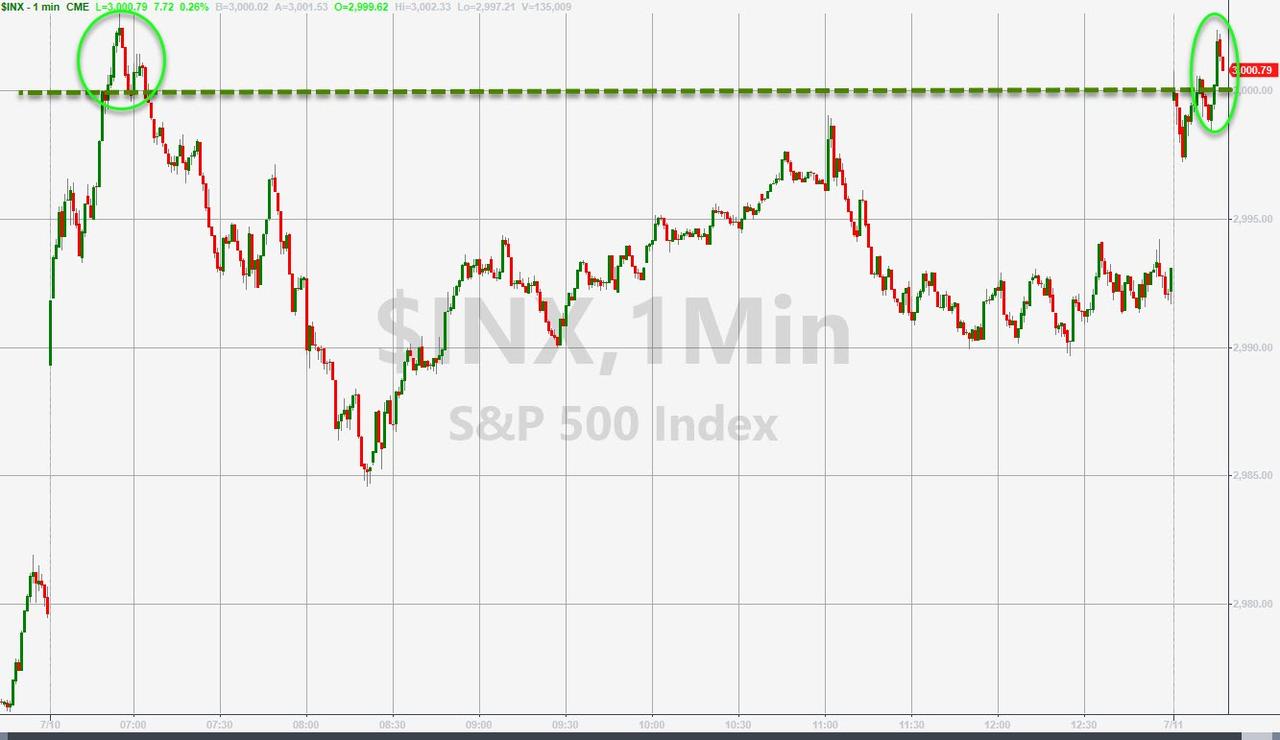 END
MARKET TRADING/LATE MORNING
We knew that this was going to happen:   stocks tumble as Trump states that China is letting us down. He is happy with Mexico at the border but not China
(courtesy zerohedge)
Stocks Stumble As Trump Says "China Is Letting Us Down"
Stocks Slump Into Red After Disastrous 30Y Bond Auction
end
We warned you that China tariffs were hugely inflationary…and this is now becoming a reality as core inflation is very hot and now a huge headache for Jerome Powell
(zerohedge)
Here Come The China Tariffs: Core Inflation Hotter Than Expected, Headache For Powell
Having slowed and disappointed for the last two months, all eyes are on US consumer price index growth (which was expected to slow once again in June) this morning as the next Fed rate-cut narrative confirmation.
The problem for rate-cut-hopers is that the picture is mixed at best. Headline CPI slowed to +1.6% YoY (exactly as expected) – below The Fed's mandated 2.0% 'stability' level; but core CPI rose 2.1% YoY (hotter than the expected 2.0%) and above The Fed's 2 handle…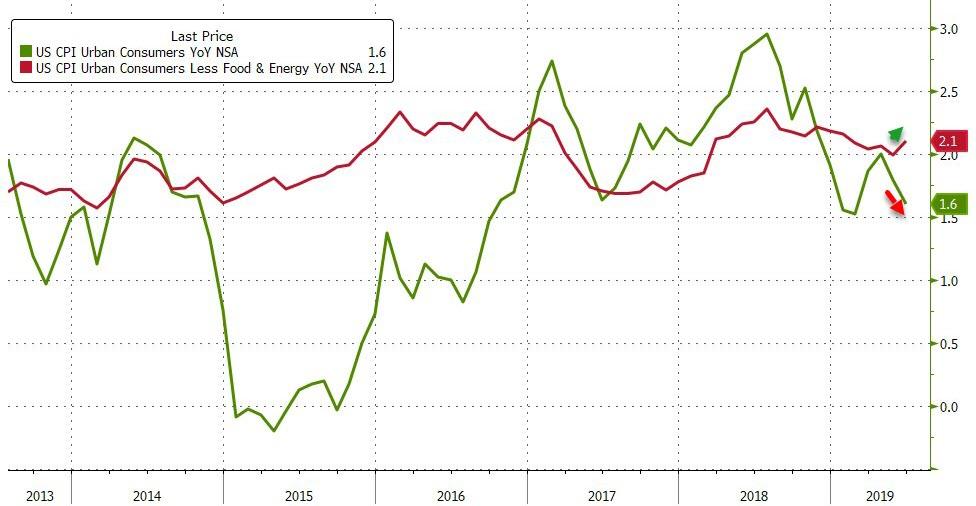 The 12-month change for Core CPI has been in the range of 2.0 to 2.2% for 11 months in a row. Transitory?
end
Under the hood, weakness in energy prices dominated the downside while used car prices rose more than expected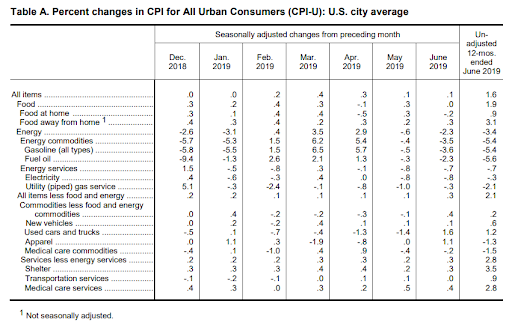 The tariff effect is beginning to hit perhaps – The index for household furnishings and operations rose 0.8 percent in June, its largest increase since February 1991, as the index for gardening and lawncare services rose 6.1 percent.
Rent and shelter costs are re-accelerating – rent inflation highest since August 2017, shelter inflation highest since July 2018…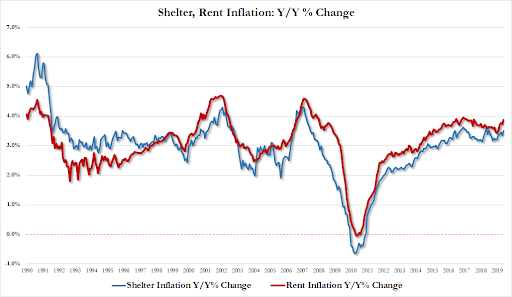 Both Goods and Services prices picked up in June (with Goods back into positive territory YoY) and Services rise 2.8% YoY…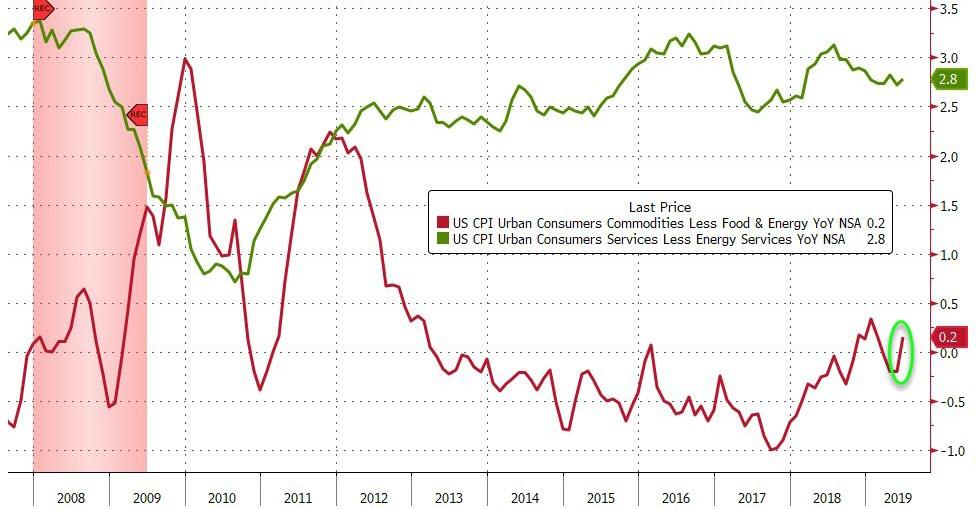 The firmer inflation readings follow Fed Chairman Jerome Powell's testimony to lawmakers Wednesday that there's "a risk that weak inflation will be even more persistent than we currently anticipate.''
iii)USA ECONOMIC/GENERAL STORIES
Another huge inflationary signal:  big pharma as always are raising drug prices and some of them by 879% on 3400 drugs.  They miss Canadian prices.
(courtesy Mac Slavo/SHFTPlan.com)
Big Pharma Hikes Drug Price 879% And That's Just One Of 3,400 So Far This Year
Authored by Mac Slavo via SHTFplan.com,
Big Pharma continues to jack up the prices on the drugs they peddle. The price of one drug was hiked 879%, and that's only ONE of the 3,400 price increases that have occurred so far this year.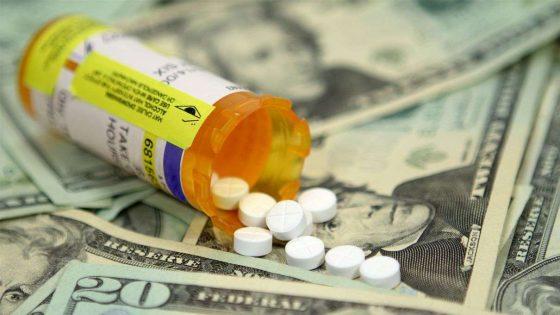 Pharmaceutical companies raised the prices of more than 3,400 drugs in the first half of 2019, surpassing the number of drug hikes they imposed during the same period last year, according to an analysis first reported by NBC News. While the average price increase per drug was 10.5%, a rate around five times that of inflation, about 40 of the drugs saw triple-digit increases. That includes a generic version of the antidepressant Prozac, which saw a price increase of 879%.
ARS Technica reported that the surge in price hikes comes amid ongoing public and political pressure to drag down the sky-rocketing price of drugs and healthcare costs overall. In May of 2018, President Donald Trump boldly announced that drug companies would unveil "voluntary massive drops in prices" within weeks, however, Big Pharma didn't announce any big drops or actually reduce their prices. Trump then went on to publicly shame Pfizer for continuing to raise drug prices. The company responded with a short-lived pause on drug price increases mid-way through last year, but it resumed increasing prices in January along with dozens of other pharmaceutical companies.
"Requests and public shaming haven't worked," Michael Rea, chief executive of RX Savings Solutions, told Reuters last December. His company helps health plans and employers seek lower-cost prescription medicines. It also conducted a new analysis of some drug prices.
It really isn't a surprise that people are losing faith in western medicine in record numbers in favor of a more natural and holistic approach. Cost is certainly one problem, but many experience debilitating side effects from Big Pharma's drugs – and they then seek relief from those side effects by using other drugs laced with different synthetic chemicals.  It's a vicious cycle, and no one should be surprised by the rise in things like herbal tinctures, medicinal teas, and CBD oil.
The more than 3,400 drug price increases in the first half of 2019 is a 17% increase over the number of drug price hikes in the first half of 2018. So price increases are skyrocketing instead of going down. In addition to the Prozac generic, the drugs that saw triple-digit increases included the topical steroid Mometasone, which had a price increase of 381%. A pain reliever and cough medication (Promethazine/Codeine) saw a 326% hike while the ADHD treatment Guanfacine 2mg saw its price rise 118%.
The Trump administration has finalized a new rule that goes into effect this summer, and it states that drug companies must include the prices of their product in advertisements on TV.  At that point, when the general public understands just how much these companies are ripping them off, they may make a more permanent turn away from Western medicine's chemical treatments.
It's difficult to say if the Trump administration's rule will have any effect on drug prices or no.
end
My goodness PG and E routinely failed to replace very old lines and that they knew it would fail and eventually cause massive wildfires..Such crooks
(courtesy zerohedge)
They Waited For Failure': Report Exposes PG&E's Inability To Replace Equipment That Sparked Deadly Wildfire
The now-bankrupt PG&E has put together a contingency plan that would plunge millions of unsuspecting Californians into rolling blackouts reminiscent of the early 2000s (when the utility was last pushed into bankruptcy protection thanks to the market-manipulation hijinx of Enron and other electricity brokers), but as WSJ revealed in an explosive report published Wednesday – a report that was probably the result of months of battles between the paper's lawyers and California's Freedom of Information Commission – PG&E's long history of deterring maintenance on its lines and towers, a practice that directly contributed to causing the deadliest forest fire in California history.
The utility knew for years that hundreds of miles of high-voltage lines running in high-risk fire areas were at risk of failing and sparking a fire. And instead of acting swiftly to make the necessary upgrades, it appears the company routinely failed to identify the infrastructure most in need of maintenance.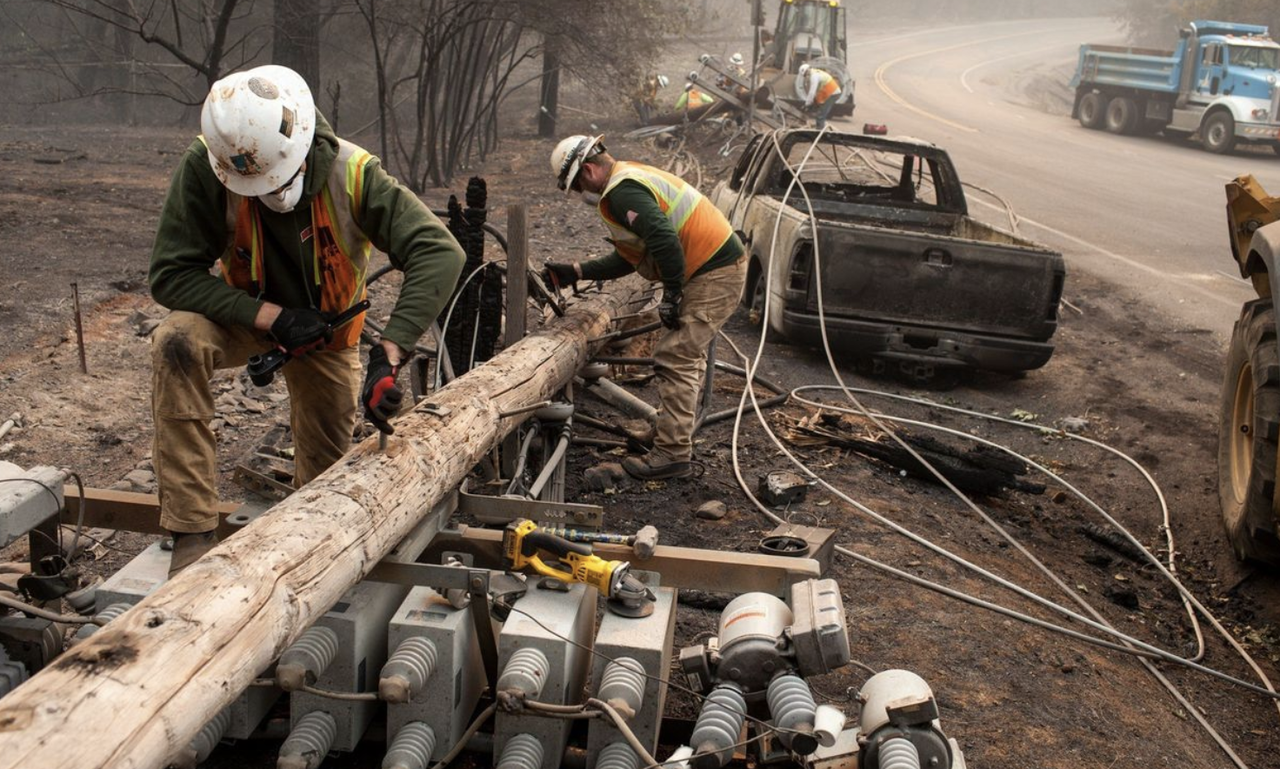 Last year, a 100-year old line failed and sparked the Camp Fire, which eventually caused the deaths of 85 people. Documents obtained by WSJ – mostly internal emails and reports – revealed that the utility knew that 49 of the steel towers that carry the electrical line that failed needed to be replaced entirely.
For years, PG&E, which operates one of the oldest long-distance electricity transmission systems in the world, much of it having been built in the early 1900s, was able to get away with neglecting its lines and towers. But that changed in 2013, when California entered a punishing and prolonged drought.
It dried out much of the state, exponentially amplifying the risk of wildfires. In a 2017 internal presentation, PG&E said it needed a plan to replace towers and better manage lines to prevent "structure failure resulting [in] conductor on ground causing fire." But inscrutably, the company opted instead to focus its efforts (and billions in capital) on upgrading substations, and instead labeled many of its transmission lines as low-risk projects.
Now, let's look at the Caribou-Palermo line, the line that failed and caused the Camp Fire. PG&E delayed work on that line for more than five years, despite acknowledging that it, and dozens of aluminum lines and towers, needed urgent work "due to age."
Similarly, PG&E's regulators did nothing to change the company's plans because no regulator keeps a close eye on these projects. PG&E told federal regulators it planned to overhaul the Caribou-Palermo line in 2013, yet no improvements had been made when a piece of hardware holding a high-voltage line failed last November, sending sparks into nearby dry grass and sparking the fire.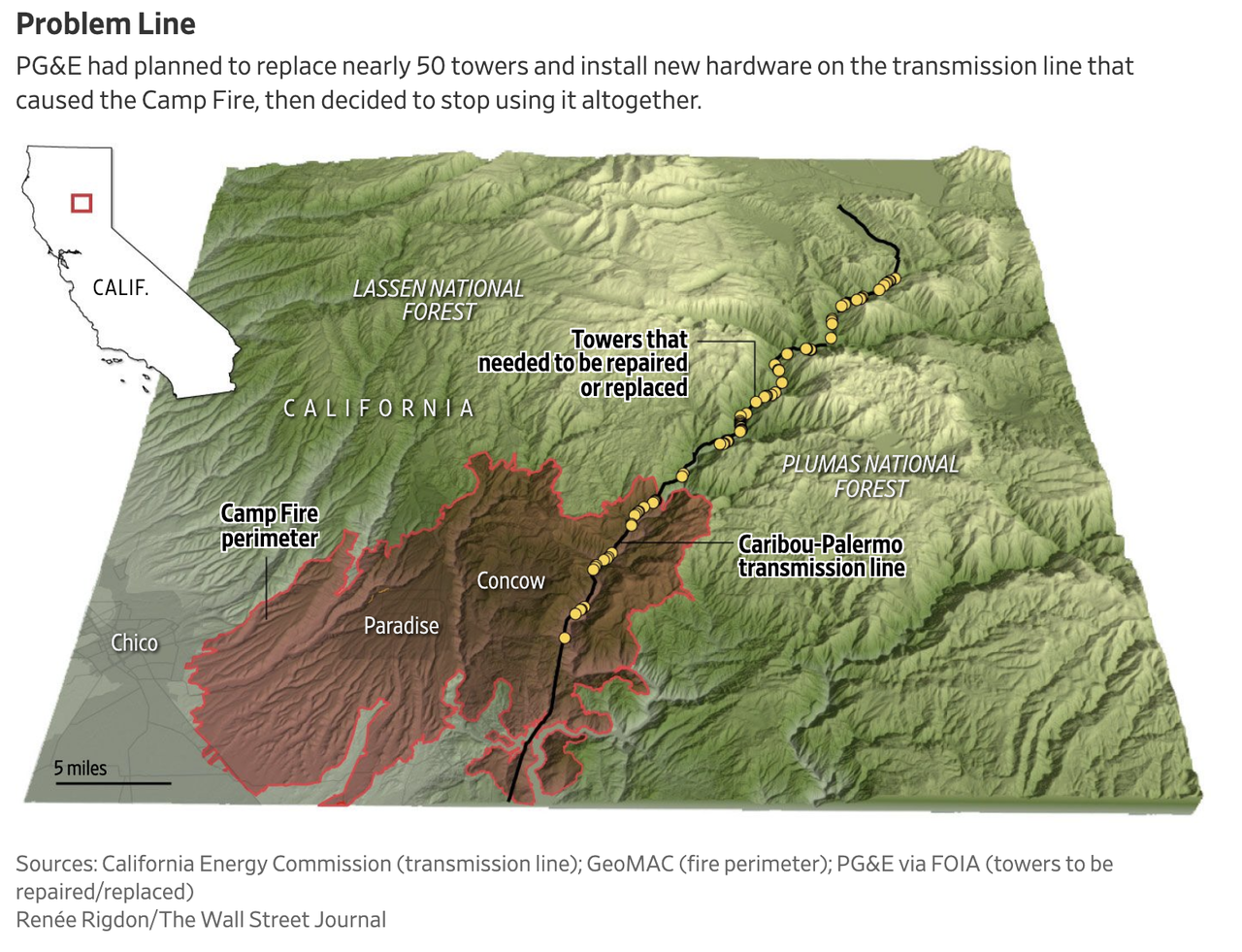 What's worse, the company appears poised to make these same mistakes again as wildfire season progresses. PG&E has delayed maintenance work on several lines in Northern California's highest-threat fire areas, including at least one near the Plumas National Forest, according to documents obtained by WSJ.
The company hasn't detailed the scope of the work needed for each line, but it has disclosed that some require upgrades similar to those needed on the Caribou-Palermo line. Across northern California, WSJ able to identify dozens of lines in high-risk fire areas that were as old or older than Caribou-Palermo, and need similar types of maintenance.
One researcher at the University of Pittsburgh offered a damning assessment of their business model: "We have known for a long time that we are dealing with aging and antiquated infrastructure," he said. "In a lot of cases, the business model was to wait for a failure and then respond."
Unfortunately, forcing the company to make these repairs can be difficult without intense public scrutiny, given that none of the agency's regulators has authority over the utility's projects and maintenance work.
Whether this WSJ report spurs the state to act remains to be seen.
end
Is the big quake coming?\
(courtesy Michael Snyder)
The Shaking Won't Stop: More Than 10,000 Quakes Strike California, Nevada In Last 7 Days
Authored by Michael Snyder via The End of The American Dream blog,
The ground is constantly shaking in southern California right now, and this has many concerned that another large earthquake may be coming.  I have been keeping my eye on Cal Tech's recent earthquake map, and as I write this article it says that there have been 10,053 earthquakes in California and Nevada over the past 7 days.  I have never seen that number so high, and southern California is being hit by yet another new earthquake every few moments. 
Most of the earthquakes are happening out in the Ridgecrest area where we witnessed the magnitude 6.4 earthquake that hit on July 4th and the magnitude 7.1 earthquake that hit on July 5th.  But as you can see from Cal Tech's map, there has been a tremendous amount of seismic activity along the San Andreas fault as well.  As I discussed the other day, the San Andreas fault is "locked and loaded" and it is way overdue for "the Big One".  Could it be possible that all of this earthquake activity is leading up to something really big?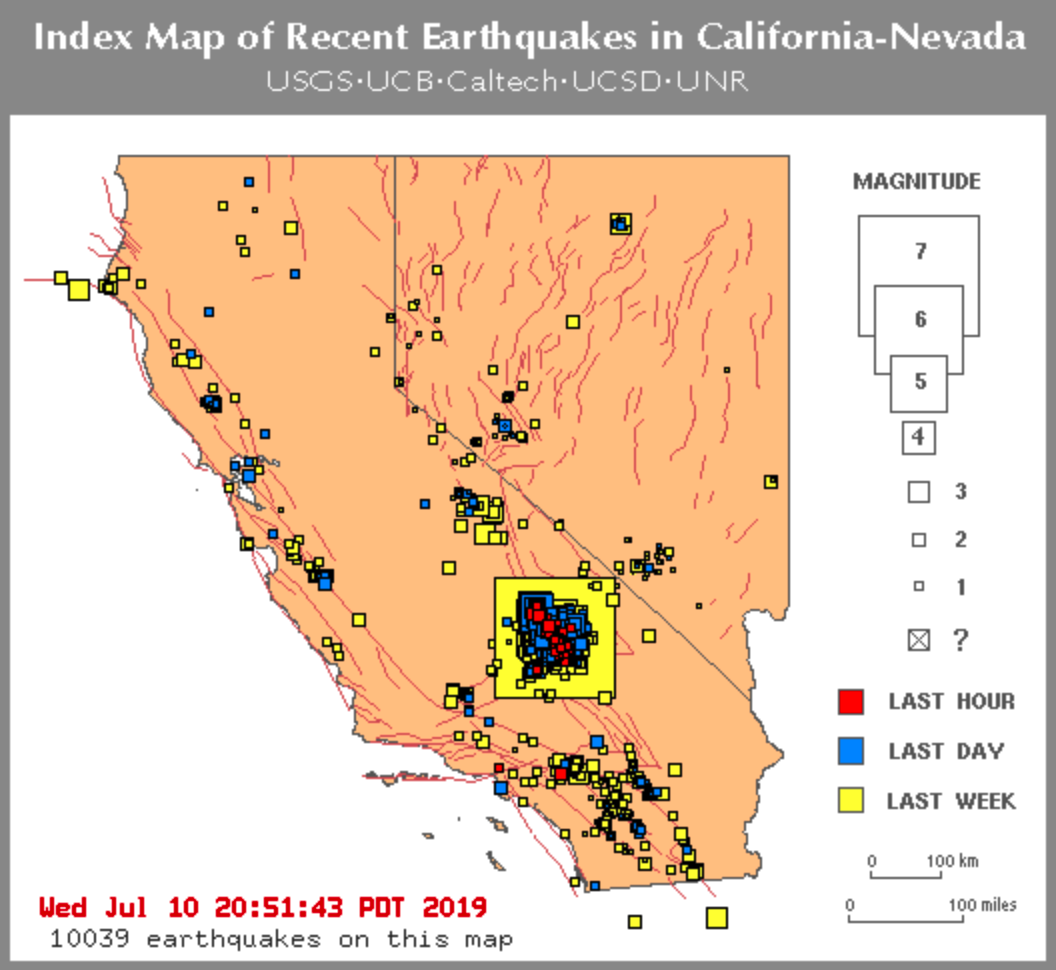 And it isn't just earthquakes that we need to be concerned about.  According to Fox News, "geologists are nervously eyeing eight nearby volcanoes"…
California's uncanny "earthquake pause" is over. It should have already had several "big ones" by now. All that pressure has to go somewhere. Now geologists are nervously eyeing eight nearby volcanoes. And why has Yellowstone supervolcano been acting so weird?

The U.S. Geological Survey (USGS) has warned Southern California to expect more big earthquakes to come. Some, they say, may even be more powerful than those experienced in the past few days.

"(These quakes do) not make (the Big One) less likely," local seismologist Lucy Jones told The Los Angeles Times. "There is about a one in 20 chance that this location will be having an even bigger earthquake in the next few days, that we have not yet seen the biggest earthquake of the sequence."
Could you imagine the chaos that would ensue if a volcano suddenly erupted in California?
For the record, I am personally far more concerned about Mt. Rainier and the other volcanoes in the Northwest.  But that is a topic for another article.
One angle that hasn't really been talked about much is what would happen to California's nuclear reactors if "the Big One" suddenly hit the San Andreas fault.
According to Natural News, there are currently five nuclear reactors right along the San Andreas fault and another one that is located directly along the coast…
A Natural News investigation into the geolocation of nuclear power facilities in California reveals that five nuclear facilities were built in close proximity to the San Andreas fault line, with some constructed right in the middle of earthquake zones that have up to a 50% chance of a severe earthquake every 30 years.

One nuclear power plant – the Diablo Canyon Nuclear Power Plant which produces 2,160 megawatts — was constructed on the coast, making it extremely vulnerable to the very same kind of ocean water surge that destroyed the Fukushima-Daiichi facility which suffered a 2011 meltdown in Japan.
Who was the genius that decided to build those reactors near the San Andreas fault?
The potential for an unprecedented nightmare is definitely there.  If a magnitude 9.0 earthquake were to hit the San Andreas fault, it would be 707 times more powerful than the magnitude 7.1 earthquake that we just witnessed.
And we live at a time when our planet just continues to become even more unstable.  According to NBC News, the number of "great" earthquakes between 2004 and 2014 was 265 percent higher than during the preceding ten year period…
The annual number of "great" earthquakes nearly tripled over the last decade, providing a reminder to Americans that unruptured faults like those in the northwest United States might be due for a Big One.

Between 2004 and 2014, 18 earthquakes with magnitudes of 8.0 or more rattled subduction zones around the globe. That's an increase of 265 percent over the average rate of the previous century, which saw 71 great quakes, according to a report to the annual meeting of the Geological Society of America this week in Vancouver, British Columbia.
But despite all of the unusual shaking that we have witnessed so far this century, the state of California hasn't seen anything remotely close to the shaking that we have witnessed over the last 7 days.
Of course seismic activity is just one element of "the perfect storm" that is starting to unfold.  According to the NOAA, the 12 month period ending in June was the wettest 12 month period in all of U.S. history.  In fact, for three months in a row "the past 12-month precipitation record has hit an all-time high".  We just keep setting record after record, and the flooding in the middle of the country seems like it will never end.  Millions of acres of prime farmland will not be used at all this year, and tens of millions of acres of crops are in extremely poor condition right now.
Meanwhile, a monster storm is heading directly for New Orleans, and on Wednesday it dumped "7 inches of rain within a three-hour period" on the city…
Lines of thunderstorms associated with a weather system that is predicted to develop into a hurricane by Friday struck New Orleans with as much as 7 inches of rain within a three-hour period Wednesday morning, forecasters said.

The city was engulfed with water, leaving residents to contend with swampy streets, overturned garbage cans and flooded vehicles. Some even paddled their way down the street in kayaks.
But the worst is still yet to come.  The storm may become a hurricane before it makes landfall, and it is going to push the Mississippi River to one of the highest levels ever…
The deluge may have just been a preview of more serious flooding situation from Tropical Storm or Hurricane Barry, which could affect the area into the weekend.

On Saturday, the Mississippi River is projected to see one of its highest crests on record in New Orleans, or the highest in seven decades.
A state of emergency has already been declared in Louisiana, and this could turn out to be the biggest disaster for the state since Hurricane Katrina.
Why is disaster after disaster suddenly pummeling the United States?
And could it be possible that this is just the beginning of our problems?
A time of great change is now upon us, and I have a feeling that what we have experienced so far is just the tip of the iceberg.
Re Jeffrey Epstein: Now state attorney Barry Krischer disputes Acosta's account on the plea deal in 208 where Epstein basically walks out free.
(zerohedge)
Acosta Scrapped 53-Page Epstein Indictment In 2008 "After Secret Negotiations": Fmr State's Attorney
Former Palm Beach County state's attorney, Barry Krischer, says that Labor Secretary Alexander Acosta's account of a 2008 plea arrangement his office cut with pedophile financier Jeffrey Epstein is "completely wrong," and that Acosta "should not be allowed to rewrite history," according to a Wednesday statement by Krischer.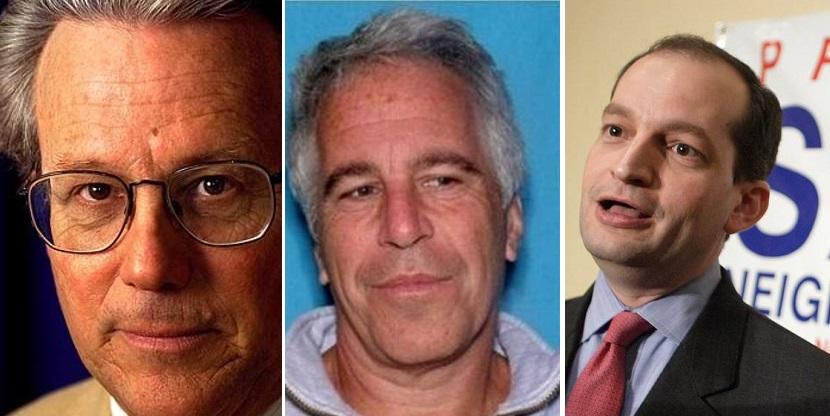 Earlier in the day Acosta held a press conference in which he vehemently defended the deal to serve just 13 months in county jail – saying that Krischer would have let Epstein walk otherwise.
"Simply put, the Palm Beach State Attorney's Office was willing to let Epstein walk free. No jail time. Nothing," said Acosta. "Prosecutors in my former office found this to be completely unacceptable, and we became involved."
Not true says Krischer – who said that Acosta abandoned a 53-page federal indictment "after secret negotiations between Mr. Epstein's lawyers and Mr. Acosta," according to The Hill. 
The Miami U.S. Attorney's Office had prepared a federal indictment against Epstein, but it was never filed. Acosta has also faced criticism for failing to disclose the plea deal to Epstein's victims, something he said would have jeopardized the agreement.

Krischer downplayed his office's role in the eventual plea deal, and alleged the U.S. Attorney's Office abandoned its federal indictment after "secret negotiations between Mr. Epstein's lawyers and Mr. Acosta."

"If Mr. Acosta was truly concerned with the State's case and felt he had to rescue the matter, he would have moved forward with the 53-page indictment that his own office drafted," Krischer said. –The Hill
That said, Palm Beach police told the Miami Herald that they felt pressured by Krischer to downgrade Epstein's case to a misdemeanor or to drop it entirely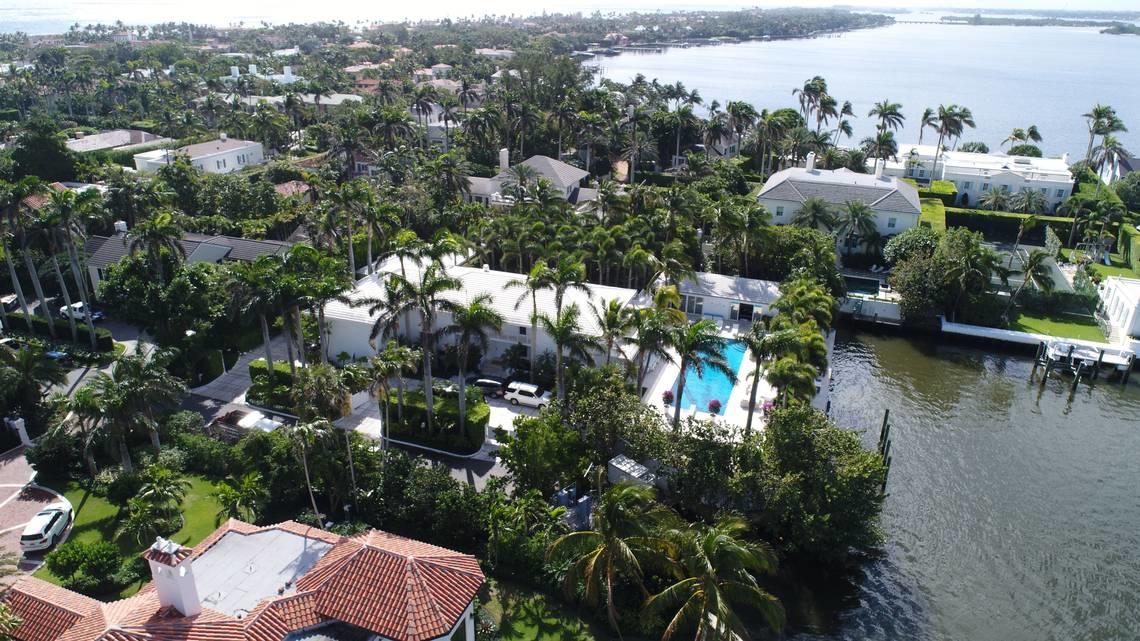 While Epstein has allegedly victimized up to 60 girls, many of them underage according to the Miami Herald, his sweetheart deal for just two counts of solocitation of prostitution (one with a minor), and included working from his West Palm Beach office for as much as 12 hours a day for up to six days a week. He was also required to register as a sex offender, and was given immunity from federal prosecution.
Acosta avoided mentioning Krischer by name on Wednesday, referring only to the Palm Beach County state's attorney.
"Everything that the victims have gone through in these cases is horrific, and their response is entirely justified," said Acosta. "At the same time, I think it's important to stand up for the prosecutors of my former office and make clear that what they were trying to do was help these victims. They should not be portrayed as individuals that just didn't care."
E)SWAMP STORIES/MAJOR STORIES//THE KING REPORT
The King Report July 11, 2019 Issue 6046                                                                                  
An hour before the NYSE opened on Wednesday, ESUs and gold surged when Powell's dovish prepared comments to the House Finance Committee leaked.  'Dovish' really isn't accurate.  Powell believes the US economy is teetering and Brexit is a concern.
Jerome Powell Signals Openness to Rate Cut as Uncertainty Dims Outlook
Fed view didn't shift with June jobs report, he tells Congress
Powell cites trade tension impact on business, weak inflation
    "Uncertainties about the outlook have increased in recent months," Powell said in the text of his remarks. "Economic momentum appears to have slowed in some major foreign economies, and that weakness could affect the U.S. economy. Moreover, a number of government policy issues have yet to be resolved, including trade developments, the federal debt ceiling, and Brexit."
https://www.bloomberg.com/news/articles/2019-07-10/powell-signals-openness-to-rate-cut-as-uncertainty-dims-outlook
Powell: 'Crosscurrents' are weighing on the economy, so Fed will 'act as appropriate'
Business investments across the U.S. have slowed recently as uncertainties over the economic outlook linger, Federal Reserve Chair Jerome Powell said Wednesday in prepared testimony to the House Financial Services Committee… "There is a risk that weak inflation will be even more persistent than we currently anticipate," Powell added, further bolstering the case for a rate cut…
    "Overall growth in the second quarter appears to have moderated," Powell said in the prepared remarks. "Many FOMC participants saw that the case for a somewhat more accommodative monetary policy had strengthened. Since then, based on incoming data and other developments, it appears that uncertainties around trade tensions and concerns about the strength of the global economy continue to weigh on the U.S. economic outlook."… [Do you mean Deutsche Bank, Jerry?]
https://www.cnbc.com/2019/07/10/powell-crosscurrents-are-weighing-on-the-economic-outlook-so-fed-will-act-as-appropriate.html
Powell asserted that housing and manufacturing have weakened in Q2.
@NorthmanTrader: Powell is telling markets that every single outlook he's given in the past year has been wrong and things keep getting worse. Yet investors cheer at the prospect of cheap money.
The less generous view of Powell's comments: Jerry caved in to Trump.
Peter Boockvar @pboockvar: I'm wondering if the White House wrote Powell's speech today.
    @NorthmanTrader Replying to @pboockvar: He's turned into a total shill.
Jerome Powell had one last chance to go against a rate cut, and he didn't
https://www.bloomberg.com/news/articles/2019-07-10/powell-had-one-last-chance-to-go-against-rate-cut-and-he-didn-t
Powell threw a bone to fiscal hawks when he said he is "concerned about the longer-term effects of high and rising federal debt."
Jerry paid homage to Democrats when he averred: "The relative stagnation of middle and lower incomes and low levels of upward mobility for lower-income families are also ongoing concerns."
The most important reactions to Powell's comments
1)      Bonds declined.  This should distress Jerry and his playmates.  Bonds don't like that the dollar might decline smartly.  On a global standpoint, a 2% decline wipes out your coupon.
2)      The DJTA was in the red early.  Economic fears weighed on the transports.
3)      FANGs & Nasdaq were the strongest actors, a sign of trader euphoria
4)      Oil & gasoline surged.  This should also distress Jerry & his enablers.
5)      ESUs and stocks fell steadily after Powell began his presentation.  Bonds rebound.
6)      Traders 'shot for' and surpassed 3000 on the S&P 500 Index; but it could not hold
Highlights from Powell's Q&A
Powell said it is NOT good if monetary policy is the only game in town
Fiscal policy is very powerful
Corporate leverage requires serious monitoring, could be macro risk
Trump has not tried to fire him
The Fed's balance sheet does NOT limit the Fed's ability to do more QE
Facebook's Libra cryptocurrency raises 'many serious concerns' over money laundering
Lost in the hoopla over Powell: EU Cuts Growth and Inflation Forecasts for Next Year
The EU's executive arm trimmed its 2020 euro-area GDP projection to 1.4% from 1.5% amid what it said were increased downside risks. On inflation, both this year and next were lowered modestly to 1.3%. The ECB aims for inflation of just below 2% over the medium term…
       "The rebound anticipated later in the year now looks weaker, as the global manufacturing cycle has yet to bottom out and the outlook for trade and investment continues to be clouded by protectionism and uncertainty," the commission said. "This adds to concerns about the medium-term outlook in China and the recent intensification of geopolitical tensions in the Middle East."
https://www.bloomberg.com/news/articles/2019-07-10/eu-sees-euro-area-weakness-persisting-as-outlook-for-2020-cut
Fed's Bullard expects a total of a half-point 'insurance' rate cut by year end, largely owed to trade jitters – "The global picture more generally is impacting my decision-making," said Bullard. "European data has been disappointing during the second half of 2018 and first half of 2019… Germany has been affected by global trade war, in particular."…
https://www.marketwatch.com/story/feds-bullard-expects-a-total-of-a-half-point-insurance-rate-cut-by-year-end-largely-owed-to-trade-jitters-2019-07-10
@realDonaldTrump: The Fed's pumping is great news in the short term but it can't last forever.  Be prudent in your market investing.  1:22 PM – 18 Jul 2013
New Records Show the Bidens Have Earned $15 MILLION since Leaving Office
The majority of the income was made through speaking fees, book deals, and other work…
   The massive income is a sharp departure from Biden's image as a hometown her from Scranton, Pennsylvania and working-class neighborhoods in Delaware…
https://hannity.com/media-room/bidens-big-bucks-new-records-show-the-bidens-have-earned-15-million-since-leaving-office/
Coulter: Get Acosta! But Get the Right Guy, Too
Trump's Labor secretary, Alex Acosta, accepted a disreputable plea deal with Epstein while serving as a U.S. attorney under President Bush… But just between us, Acosta's not the real villain… the local prosecutor in this case was a sleazebag, activist Democrat named Barry Krischer…
    When Krischer, then Palm Beach state attorney, found out the target was Epstein, a big Democratic donor, he refused to prosecute. It was only because of Krischer's active obstruction of the case that the Palm Beach chief of police, Michael Reiter, begged the FBI to intervene…
https://www.breitbart.com/politics/2019/07/10/coulter-get-acosta-but-get-the-right-guy-too/
OAN's @jennfranconews: The Former Palm Beach State Attorney Barry Krischer responds to Labor Secretary Alex Acosta's handling of the Epstein case, saying Acosta's account is "completely wrong" and "the U.S. Attorney's Office always had the ability to file its own federal charges."