GOLD: $1398.10  DOWN  $0.35 (COMEX TO COMEX CLOSING)
Silver:  $15.05  UP 7 CENTS  (COMEX TO COMEX CLOSING)//
Closing access prices:
Gold : $1395.50
silver:  $15.03
YOUR DATA…
JPMorgan has been receiving gold with reckless abandon and sometimes supplying (stopping)
today RECEIVING 2/6
EXCHANGE: COMEX
CONTRACT: JULY 2019 COMEX 100 GOLD FUTURES
SETTLEMENT: 1,396.700000000 USD
INTENT DATE: 07/05/2019 DELIVERY DATE: 07/09/2019
FIRM ORG FIRM NAME ISSUED STOPPED
____________________________________________________________________________________________
661 C JP MORGAN 1 2
737 C ADVANTAGE 5 4
____________________________________________________________________________________________
TOTAL: 6 6
MONTH TO DATE: 706
NUMBER OF NOTICES FILED TODAY FOR  JULY CONTRACT: 6 NOTICE(S) FOR 600 OZ (0.0186 tonnes)
TOTAL NUMBER OF NOTICES FILED SO FAR:  706 NOTICES FOR 70600 OZ  (2.1959 TONNES)
FOR JULY
30 NOTICE(S)

FILED TODAY FOR 150,000

  OZ/
total number of notices filed so far this month: 3425 for   17,125,000 oz
XXXXXXXXXXXXXXXXXXXXXXXXXXXXXX
Bitcoin: OPENING MORNING TRADE : 

$ n/a 
Bitcoin: FINAL EVENING TRADE:

$ n/a
end
Let us have a look at the data for today
xxxxxxxxxxxxxxxxxxxxxxxxxxxxxxxxxxxxxxxxxxxxxxxxxxxxxxxxxxxxxxxxxxxxxxxxxx
IN SILVER THE COMEX OI FELL A SMALL SIZED 120 CONTRACTS FROM 222,167 DOWN TO 222,047 DESPITE THE HUGE 32 CENT LOSS IN SILVER PRICING AT THE COMEX.
TODAY WE ARRIVED FURTHER FROM AUGUST'S 2018  RECORD SETTING OPEN INTEREST OF 244,196 CONTRACTS.
WE HAVE ALSO WITNESSED A LARGE AMOUNT OF PHYSICAL METAL STAND FOR COMEX DELIVERY AS WELL WE ARE WITNESSING CONSIDERABLE LONGS PACKING THEIR BAGS AND MIGRATING OVER TO LONDON IN GREATER NUMBERS IN THE FORM OF EFP'S.  WE WERE  NOTIFIED  THAT WE HAD A HUGE SIZED NUMBER OF COMEX LONGS TRANSFERRING THEIR CONTRACTS TO LONDON THROUGH THE EFP:,
0 FOR JULY. 0 FOR AUGUST, 3107 FOR SEPT, AND ZERO FOR ALL  OTHER MONTHS  AND THEREFORE TOTAL ISSUANCE  3107 CONTRACTS. WITH THE TRANSFER OF 3107 CONTRACTS, WHAT THE CME IS STATING IS THAT THERE IS NO SILVER (OR GOLD) TO BE DELIVERED UPON AT THE COMEX AS THEY MUST EXPORT THEIR OBLIGATION TO LONDON. ALSO KEEP IN MIND THAT THERE CAN BE A DELAY OF 24-48 HRS IN THE ISSUING OF EFP'S. THE 3107 EFP CONTRACTS TRANSLATES INTO 15.54 MILLION OZ  ACCOMPANYING:
1.THE 32 CENT LOSS IN SILVER PRICE AT THE COMEX AND
2. THE STRONG AMOUNT OF SILVER OUNCES WHICH STOOD FOR DELIVERY IN THE LAST 12 MONTHS:
JUNE/2018. (5.420 MILLION OZ);
FOR JULY: 30.370 MILLION OZ
FOR AUG., 6.065 MILLION OZ
FOR SEPT. 39.505 MILLION  OZ S
FOR OCT.2.525 MILLION OZ.
FOR NOV:  A HUGE 7.440 MILLION OZ STANDING  AND
21.925 MILLION OZ FINALLY STAND FOR DECEMBER.
5.845 MILLION OZ STAND IN JANUARY.
2.955 MILLION OZ STANDING FOR FEBRUARY.:
27.120 MILLION OZ STANDING IN MARCH.
3.875 MILLION OZ STANDING FOR SILVER IN APRIL.
18.845 MILLION OZ STANDING FOR SILVER IN MAY.
2.660 MILLION OZ STANDING FOR SILVER IN JUNE//
20.600 MILLION OZ INITIAL STANDING FOR JULY
WE HAD CONSIDERABLE SHORT COVERING AT THE SILVER COMEX LAST NIGHT..AND ZERO SPREADING ACCUMULATION.
ACCUMULATION FOR EFP'S/SILVER/J.P.MORGAN'S HOUSE OF BRIBES, / STARTING FROM FIRST DAY NOTICE/FOR MONTH OF JULY:
8308 CONTRACTS (FOR 5 TRADING DAY TOTAL 8308 CONTRACTS) OR 41.54 MILLION OZ: (AVERAGE PER DAY: 1661 CONTRACTS OR 8.305 MILLION OZ/DAY)
TO GIVE YOU AN IDEA AS TO THE HUGE SUPPLY THIS MONTH IN SILVER:  SO FAR THIS MONTH OF JULY:  41.54 MILLION PAPER OZ HAVE MORPHED OVER TO LONDON. THIS REPRESENTS AROUND 5.93% OF ANNUAL GLOBAL PRODUCTION (EX CHINA EX RUSSIA)*  JUNE'S 345.43 MILLION OZ IS THE SECOND HIGHEST RECORDED ISSUANCE OF EFP'S AND IT FOLLOWED THE RECORD SET IN APRIL 2018 OF 385.75 MILLION OZ.
ACCUMULATION IN YEAR 2019 TO DATE SILVER EFP'S:          1199.14   MILLION OZ.
JANUARY 2019 EFP TOTALS:                                                      217.455. MILLION OZ
FEB 2019 TOTALS:                                                                       147.4     MILLION OZ/
MARCH 2019 TOTAL EFP ISSUANCE:                                          207.835 MILLION OZ
APRIL 2019 TOTAL EFP ISSUANCE:                                              182.87  MILLION OZ.
MAY 2019: TOTAL EFP ISSUANCE:                                                136.55 MILLION OZ
JUNE 2019 , TOTAL EFP ISSUANCE:                                               265.38 MILLION OZ
RESULT: WE HAD A CONSIDERABLE SIZED INCREASE IN COMEX OI SILVER COMEX CONTRACTS OF 120 DESPITE THE 32 CENT LOSS IN SILVER PRICING AT THE COMEX /YESTERDAY... THE CME NOTIFIED US THAT WE HAD A  HUGE SIZED EFP ISSUANCE OF 3885 CONTRACTS WHICH EXITED OUT OF THE SILVER COMEX AND TRANSFERRED THEIR OI TO LONDON AS FORWARDS. SPECULATORS CONTINUED THEIR INTEREST IN ATTACKING THE SILVER COMEX FOR PHYSICAL SILVER (SEE COMEX DATA) .
TODAY WE GAINED A HUGE SIZED: 2987 TOTAL OI CONTRACTS ON THE TWO EXCHANGES: 
i.e 3107 OPEN INTEREST CONTRACTS HEADED FOR LONDON  (EFP's) TOGETHER WITH DECREASE OF 120  OI COMEX CONTRACTS. AND ALL OF THIS  DEMAND HAPPENED WITH A  32 CENT LOSS IN PRICE OF SILVER AND A CLOSING PRICE OF $14.98 WITH RESPECT TO YESTERDAY'S TRADING. YET WE STILL HAVE A STRONG AMOUNT OF SILVER STANDING AT THE COMEX FOR DELIVERY!! 
In ounces AT THE COMEX, the OI is still represented by JUST OVER 1 BILLION oz i.e. 1.187 BILLION OZ TO BE EXACT or 169% of annual global silver production (ex Russia & ex China).
FOR THE NEW FRONT MARCH MONTH/ THEY FILED AT THE COMEX: 30 NOTICE(S) FOR 150,000, OZ OF SILVER
IN SILVER,PRIOR TO TODAY, WE  SET THE NEW COMEX RECORD OF OPEN INTEREST AT 243,411 CONTRACTS ON APRIL 9.2018.  AND AGAIN THIS HAS BEEN SET WITH A LOW PRICE OF $16.51.  
AND NOW WE RECORD FOR POSTERITY ANOTHER ALL TIME RECORD OPEN INTEREST AT THE COMEX OF 244,196 CONTRACTS ON AUGUST 22/2018 AND AGAIN WHEN THIS RECORD WAS SET, THE PRICE OF SILVER WAS $14.78 AND LOWER IN PRICE THAN PREVIOUS RECORDS.
ON THE DEMAND SIDE WE HAVE THE FOLLOWING:
HUGE AMOUNTS OF SILVER STANDING FOR DELIVERY  (MARCH/2018: 27 MILLION OZ , APRIL/2018 : 

2.485 MILLION OZ

  MAY: 

36.285 MILLION

OZ ; JUNE/2018  (

5.420 MILLION

OZ) , JULY 2018 FINAL AMOUNT STANDING:

30.370

 MILLION OZ   )

 FOR AUGUST

6.065

 MILLION OZ. , SEPT:  A HUGE

39.505

 MILLION OZ./ OCTOBER: 2,520,000 oz

 NOV

AT 7.440 MILLION OZ.

/ DEC

. AT 21.925 MILLION OZ   JANUARY AT  5.825 MILLION OZ.AND FEB 2019:  2.955 MILLION OZ/ MARCH:

27.120

MILLION OZ/  APRIL AT

3.875

MILLION OZ/ A MAY: 

18.845 MILLION OZ

..JUNE 2.660 MILLION OZ//JULY 20.600 MILLION OZ
HUGE RECORD OPEN INTEREST IN SILVER 

243,411 CONTRACTS

 (OR 1.217 BILLION OZ/ SET APRIL 9/2018) AND NOW AUGUST 22/2018:  244,196 CONTRACTS,  WITH A SILVER PRICE OF $14.78.
HUGE ANNUAL EFP'S ISSUANCE EQUAL TO 2.9 BILLION OZ OR 400% OF SILVER ANNUAL PRODUCTION/2017
RECORD SETTING EFP ISSUANCE FOR ANY MONTH IN SILVER; APRIL/2018/ 

385.75 MILLION

OZ/  AND THE SECOND HIGHEST RECORDED EFP ISSUANCE JUNE 2018

345.43

MILLION OZ
AND YET, WITH THE EXTREMELY HIGH EFP ISSUANCE, WE HAVE A CONTINUAL LOW PRICE OF SILVER DESPITE THE ABOVE HUGE DEMAND.  TO ME THE ONLY ANSWER IS THAT WE HAVE SOVEREIGN  (CHINA) WHO IS ENDEAVOURING TO GOBBLE UP ALL AVAILABLE PHYSICAL SILVER NO MATTER WHERE, EXACTLY WHAT J.P.MORGAN IS DOING. AND IT IS MY BELIEF THAT J.P.MORGAN IS HOLDING ITS SILVER FOR ITS BENEFICIAL OWNER..THE USA GOVERNMENT WHO IN TURN IS HOLDING THAT SILVER FOR CHINA.(FOR A SILVER LOAN REPAYMENT)
.
WITH RESPECT TO SPREADING:  WE WILL WITNESS THE MORPHING OF OUR SPREADERS OUT OF SILVER AND INTO GOLD AS THE JULY MONTH PROCEEDS INTO THE ACTIVE DELIVERY MONTH OF AUGUST. 
. 
FOR NEWCOMERS, HERE IS THE MODUS OPERANDI OF THE CORRUPT BANKERS WITH RESPECT TO THEIR SPREAD/TRADING.
AS I HAVE MENTIONED IN PREVIOUS COMMENTARIES:
"AS YOU WILL SEE, THE CROOKS WILL NOW SWITCHED TO SILVER AS THEY INCREASE THE OPEN INTEREST FOR THE SPREADERS. THE TOTAL COMEX GOLD OPEN INTEREST WILL RISE FROM NOW ON UNTIL ONE WEEK PRIOR TO FIRST DAY NOTICE AND THAT IS WHEN THEY START THEIR CRIMINAL LIQUIDATION.
HERE IS HOW THE CROOKS USED SPREADING AS WE ARE NO INTO THE NON ACTIVE DELIVERY MONTH OF JULY HEADING TOWARDS THE VERY ACTIVE DELIVERY MONTH OF AUGUST.
AS I HAVE MENTIONED IN PREVIOUS COMMENTARIES, HERE IS THE BANKERS MODUS OPERANDI:
YOU WILL ALSO NOTICE THAT THE COMEX OPEN INTEREST IS STARTING TO RISE IN THIS NON ACTIVE MONTH OF JULY BUT SO IS THE OPEN INTEREST OF SPREADERS. THE OPEN INTEREST IN SILVER WILL CONTINUE TO RISE UNTIL ONE WEEK BEFORE FIRST DAY NOTICE OF AN UPCOMING ACTIVE DELIVERY MONTH (JULY), AND THAT IS WHEN THE CROOKS SELL THEIR SPREAD POSITIONS BUT NOT AT THE SAME TIME OF THE DAY.  THEY WILL USE THE SELL SIDE OF THE EQUATION TO CREATE THE CASCADE (ALONG WITH THEIR COLLUSIVE FRIENDS) AND THEN COVER ON THE BUY SIDE OF THE SPREAD SITUATION AT THE END  OF THE DAY. THEY DO THIS TO AVOID POSITION LIMIT DETECTION. THE LIQUIDATION OF THE SPREADING FORMATION CONTINUES FOR EXACTLY ONE WEEK AND ENDS ON FIRST DAY NOTICE." 
IN GOLD, THE OPEN INTEREST FELL BY A GOOD 5285 CONTRACTS, TO 5994,55 WITH THE HUGE $19.15 LOSS WITH RESPECT TO COMEX GOLD PRICING FRIDAY// /THE SPREADING LIQUIDATION WILL NOW COMMENCE FOR GOLD….
THE CME RELEASED THE DATA FOR EFP ISSUANCE AND IT TOTALED A HUMONGOUS SIZED 17,683 CONTRACTS:
APRIL 0 CONTRACTS,JUNE: 0 CONTRACTS, AUGUST 2019: 17,683 CONTRACTS, DEC>  0 CONTRACTS AND ALL OTHER MONTHS ZERO.  The NEW COMEX OI for the gold complex rests at 599,455.  ALSO REMEMBER THAT THERE WILL BE A DELAY IN THE ISSUANCE OF EFP'S.  THE BANKERS REMOVE LONG POSITIONS OF COMEX GOLD IMMEDIATELY.  THEN THEY ORCHESTRATE THEIR PRIVATE EFP DEAL WITH THE LONGS AND THAT COULD TAKE AN ADDITIONAL, 48 HRS SO WE GENERALLY DO NOT GET A MATCH WITH RESPECT TO DEPARTING COMEX LONGS AND NEW EFP LONG TRANSFERS. . EVEN THOUGH THE BANKERS ISSUED THESE MONSTROUS EFPS, THE OBLIGATION STILL RESTS WITH THE BANKERS TO SUPPLY METAL BUT IT TRANSFERS THE RISK TO A LONDON BANKER OBLIGATION AND NOT A NEW YORK COMEX OBLIGATION. LONGS RECEIVE A FIAT BONUS TOGETHER WITH A LONG LONDON FORWARD. THUS, BY THESE ACTIONS, THE BANKERS AT THE COMEX HAVE JUST STATED THAT THEY HAVE NO APPRECIABLE METAL!! THIS IS A MASSIVE FRAUD: THEY CANNOT SUPPLY ANY METAL TO OUR COMEX LONGS BUT THEY ARE QUITE WILLING TO SUPPLY MASSIVE NON BACKED GOLD (AND SILVER) PAPER KNOWING THAT THEY HAVE NO METAL TO SATISFY OUR LONGS. LONDON IS NOW SEVERELY BACKWARD IN BOTH GOLD AND SILVER  AND WE ARE WITNESSING DELAYS IN ACTUAL DELIVERIES.
IN ESSENCE WE HAVE A STRONG SIZED GAIN IN TOTAL CONTRACTS ON THE TWO EXCHANGES OF 12,452 CONTRACTS: 5232 CONTRACTS DECREASED AT THE COMEX  AND 17,683 EFP OI CONTRACTS WHICH NAVIGATED OVER TO LONDON. THUS  TOTAL OI GAIN OF 12,452 CONTRACTS OR 1,245,200 OR 38.72 TONNES.  YESTERDAY WE HAD A HUGE LOSS OF $19.10 IN GOLD TRADING.…AND WITH THAT HUGE LOSS IN  PRICE, WE  HAD A HUMONGOUS GAIN IN GOLD TONNAGE OF 38.72  TONNES!!!!!! THE BANKERS WERE SUPPLYING INFINITE SUPPLIES OF SHORT GOLD COMEX PAPER AND I SURE LOOKS LIKE SOMEBODY BIG WAS PICKING UP THAT PAPER.  IT IS QUITE CONCEIVABLE THEY ARE TAKING ON THE BANKERS BY TURNING THAT PAPER INTO PHYSICAL GOLD .
ACCUMULATION OF EFP'S GOLD AT J.P. MORGAN'S HOUSE OF BRIBES: (EXCHANGE FOR PHYSICAL) FOR THE MONTH OF JULY : 43,927 CONTRACTS OR 4,392,700 oz OR 136.63 TONNES (5 TRADING DAY AND THUS AVERAGING: 8786 EFP CONTRACTS PER TRADING DAY
TO GIVE YOU AN IDEA AS TO THE STRONG SIZE OF THESE EFP TRANSFERS :  THIS MONTH IN 5 TRADING DAY IN  TONNES: 136.63 TONNES
TOTAL ANNUAL GOLD PRODUCTION, 2018, THROUGHOUT THE WORLD EX CHINA EX RUSSIA: 3555 TONNES
THUS EFP TRANSFERS REPRESENTS 136.63/3550 x 100% TONNES =3.84% OF GLOBAL ANNUAL PRODUCTION
ACCUMULATION OF GOLD EFP'S YEAR 2019 TO DATE:     3056.5 TONNES
JANUARY 2019 TOTAL EFP ISSUANCE;   531.20 TONNES
FEB 2019 TOTAL EFP ISSUANCE:             344.36 TONNES
MARCH 2019 TOTAL EFP ISSUANCE:       497.16 TONNES
APRIL 2019 TOTAL ISSUANCE:                 456.10 TONNES
MAY 2019 TOTAL ISSUANCE:                    449.10 TONNES
JUNE 2019 TOTAL ISSUANCE:                   642.22 TONNES
WHAT IS ALARMING TO ME, ACCORDING TO OUR LONDON EXPERT ANDREW MAGUIRE IS THAT THESE EFP'S ARE BEING TRANSFERRED TO WHAT ARE CALLED SERIAL FORWARD CONTRACT OBLIGATIONS AND THESE CONTRACTS ARE LESS THAN 14 DAYS.  ANYTHING GREATER THAN 14 DAYS, THESE MUST BE RECORDED AND SENT TO THE COMPTROLLER, GREAT BRITAIN TO MONITOR RISK TO THE BANKING SYSTEM.  IF THIS IS INDEED TRUE, THEN THIS IS A MASSIVE CONSPIRACY TO DEFRAUD AS WE NOW WITNESS A MONSTROUS TOTAL EFP'S ISSUANCE AS IT HEADS INTO THE STRATOSPHERE. 
Result: A GOOD SIZED DECREASE IN OI AT THE COMEX OF 5232 WITH THE HUGE PRICING LOSS THAT GOLD UNDERTOOK ON FRIDAY($19.10)) //.WE ALSO HAD  A HUMONGOUS SIZED NUMBER OF COMEX LONG TRANSFERRING TO LONDON THROUGH THE EFP ROUTE: 17,683 CONTRACTS AS THESE HAVE ALREADY BEEN NEGOTIATED AND CONFIRMED.   THERE OBVIOUSLY DOES NOT SEEM TO BE MUCH PHYSICAL GOLD AT THE COMEX.  I GUESS IT EXPLAINS THE HUGE ISSUANCE OF EFP'S…THERE IS HARDLY ANY GOLD PRESENT AT THE GOLD COMEX FOR DELIVERY PURPOSES. IF YOU TAKE INTO ACCOUNT THE 17,683 EFP CONTRACTS ISSUED, WE  HAD A STRONG AND CRIMINALLY SIZED GAIN OF 12,452 CONTRACTS IN TOTAL OPEN INTEREST  ON THE TWO EXCHANGES:
17,683 CONTRACTS MOVE TO LONDON AND 5232 CONTRACTS DECREASED AT THE COMEX. (IN TONNES, THE GAIN IN TOTAL OI EQUATES TO 38.72TONNES). ..AND THIS GIGANTIC INCREASE OF  DEMAND OCCURRED DESPITE THE HUGE LOSS IN PRICE OF $19.15 WITH RESPECT TO FRIDAY'S TRADING AT THE COMEX.  WE WILL HAVE INCREASE SPREADING ACCUMULATION IN GOLD AS  THE MONTH PROCEEDS/
THE IS BECOMING QUITE ALARMING:  FOR THE PAST 10 TRADING DAYS, WE HAVE WITNESSED AT LEAST A 6,000 CONTRACT DIFFERENTIAL BETWEEN THE PRELIMINARY OI NUMBER AND THE FINAL OI NUMBER OF GOLD. TODAY IT WAS IN EXCESS OF 8,000 CONTRACTS. ALL OF THE DIFFERENCE OCCURS IN THE FRONT MONTH OF AUGUST . THIS IS HIGHLY MANIPULATIVE AND FRAUDULENT.  THE CFC REFUSES TO SUPPLY ANY ANSWER TO THIS.
we had: 6 notice(s) filed upon for 600 oz of gold at the comex.
xxxxxxxxxxxxxxxxxxxxxxxxxxxxxxxxxxxxxxxxxxxxxxxxxxxxxxxxxxx
With respect to our two criminal funds, the GLD and the SLV:
GLD...
WITH GOLD DOWN $0.35 TODAY//
A HUGE CHANGE SIN GOLD INVENTORY AT THE GLD:
A WITHDRAWAL OF 1.47 TONNES FROM THE GLD
INVENTORY RESTS AT 796.97 TONNES
TO ALL INVESTORS THINKING OF BUYING GOLD THROUGH THE GLD ROUTE: YOU ARE MAKING A TERRIBLE MISTAKE AS THE CROOKS ARE USING WHATEVER GOLD COMES IN TO ATTACK BY SELLING THAT GOLD.  IT SURE SEEMS TO ME THAT THE GOLD OBLIGATIONS AT THE GLD EXCEED THEIR INVENTORY
WITH SILVER UP 7 CENTS TODAY:
A HUGE DEPOSIT OF 2,341 MILLION OZ?????????
/INVENTORY RESTS AT 328.482 MILLION OZ.
OUTLINE OF TOPICS TONIGHT
First, here is an outline of what will be discussed tonight:
1. Today, we had the open interest in SILVER FELL BY A TINY SIZED 120 CONTRACTS from 222,167 DOWN TO 222,047 AND FURTHER FROM THE NEW COMEX RECORD SET LAST IN AUG.2018 AT 244,196 WITH A SILVER PRICE OF $14.78/(AUGUST 22/2018)..THE PREVIOUS RECORD WAS SET ON APRIL 9/2018 AT 243,411 OPEN INTEREST CONTRACTS WITH THE SILVER PRICE AT THAT DAY: $16.53). AND PREVIOUS TO THAT, THE RECORD  WAS ESTABLISHED AT: 234,787 CONTRACTS, SET ON APRIL 21.2017 OVER  1 1/3 YEARS AGO.  THE PRICE OF SILVER ON THAT DAY: $17.89.  AS YOU CAN SEE, WE HAVE RECORD HIGH OPEN INTERESTS IN SILVER  ACCOMPANIED BY A CONTINUAL LOWER PRICE WHEN THAT RECORD WAS SET…..THE SPREADERS HAVE COMMENCED THEIR ACCUMULATION OF OPEN INTEREST CONTRACTS IN SILVER AND STOPPED THE LIQUIDATION OF THE SPREADERS IN GOLD
OUR CUSTOMARY MIGRATION OF COMEX LONGS CONTINUE TO MORPH INTO LONDON FORWARDS  AS OUR BANKERS USED THEIR EMERGENCY PROCEDURE TO ISSUE:
FOR JULY: 0 CONTRACTS FOR AUGUST: 0, FOR SEPT. 3107  AND ALL OTHER MONTHS: ZERO. TOTAL EFP ISSUANCE: 3107 CONTRACTS. EFP'S GIVE OUR COMEX LONGS A FIAT BONUS PLUS A DELIVERABLE PRODUCT OVER IN LONDON.  IF WE TAKE THE OI GAIN AT THE COMEX OF 120 CONTRACTS TO THE 3107 OI TRANSFERRED TO LONDON THROUGH EFP'S,  WE OBTAIN A HUGE GAIN OF 2987 OPEN INTEREST CONTRACTS. THUS IN OUNCES, THE GAIN ON THE TWO EXCHANGES: 14.44 MILLION OZ!!! AND YET WE ALSO HAVE A STRONG DEMAND FOR PHYSICAL AS WE WITNESSED A FINAL STANDING OF GREATER THAN 30 MILLION OZ FOR JULY, A STRONG 7.475 MILLION OZ FOR AUGUST..  A HUGE 39.505  MILLION OZ  STANDING FOR SILVER IN SEPTEMBER… OVER 2 million  OZ STANDING FOR THE NON ACTIVE MONTH OF OCTOBER.,  7.440 MILLION OZ FINALLY STANDING IN NOVEMBER.  21.925 MILLION OZ STANDING IN DECEMBER , 5.845 MILLION OZ STANDING IN JANUARY. 2.955 MILLION OZ STANDING IN FEBRUARY,  27.120 MILLION OZ FOR MARCH., 3.875 MILLION OZ FOR APRIL  18.765 MILLION OZ FOR MAY  NOW 2.660 MILLION OZ FOR JUNE WITH JULY AT 20.760 MILLION OZ STANDING SO FAR.
RESULT: A TINY SIZED DECREASE IN SILVER OI AT THE COMEX DESPITE THE 32 CENT LOSS IN PRICING THAT SILVER UNDERTOOK IN PRICING// FRIDAY. WE ALSO HAD A STRONG SIZED 3107 EFP'S ISSUED TRANSFERRING COMEX LONGS OVER TO LONDON. TOGETHER WITH THE STRONG  SIZED AMOUNT OF SILVER OUNCES STANDING FOR THIS MONTH, DEMAND FOR PHYSICAL SILVER CONTINUES TO INTENSIFY AS WE WITNESS SEVERE BACKWARDATION IN SILVER IN LONDON.
BOTH THE SILVER COMEX AND THE GOLD COMEX ARE IN STRESS AS THE BANKERS SCOUR THE BOWELS OF THE EXCHANGE FOR METAL
2 ) Gold/silver trading overnight Europe, Goldcore
(Mark O'Byrne/zerohedge
and in NY: Bloomberg
3. ASIAN AFFAIRS
I)MONDAY MORNING/ SUNDAY NIGHT: 
SHANGHAI CLOSED DOWN 77.70 POINTS OR 0250%  //Hang Sang CLOSED DOWN 443.19 POINTS OR 1.59%   /The Nikkei closed DOWN 212.03 POINTS OR 0.98%//Australia's all ordinaires CLOSED DOWN 1.04%
/Chinese yuan (ONSHORE) closed DOWN  at 6.8827 /Oil UP TO 57.82 dollars per barrel for WTI and 64.53 for Brent. Stocks in Europe OPENED GREEN//  ONSHORE YUAN CLOSED DOWN // LAST AT 6.8827 AGAINST THE DOLLAR. OFFSHORE YUAN CLOSED DOWN ON THE DOLLAR AT 6.8859 TRADE TALKS STALL//YUAN LEVELS GETTING DANGEROUSLY CLOSE TO 7:1//TRUMP INITIATES A NEW 25% TARIFFS FRIDAY/MAY 10/MAJOR PROBLEMS AT HUAWEI /CFO ARRESTED  : /ONSHORE YUAN TRADING ABOVE LEVEL OF OFFSHORE YUAN/ONSHORE YUAN TRADING WEAKER AGAINST USA DOLLAR/OFFSHORE YUAN TRADING WEAKER AGAINST THE DOLLAR /TRADE DEAL NOW DEAD..TRUMP  RAISED RATES TO 25%
3A

/

/NORTH KOREA/ SOUTH KOREA
3 China/Chinese affairs
5. RUSSIAN AND MIDDLE EASTERN AFFAIRS
10. USA stories which will influence the price of gold/silver)
a)Market trading/LAST NIGHT/USA
II)MARKET TRADING/USA
iii)USA ECONOMIC/GENERAL STORIES
E)SWAMP STORIES/MAJOR STORIES//THE KING REPORT
end
LET US BEGIN:
Let us head over to the comex:
THE TOTAL COMEX GOLD OPEN INTEREST FELL BY A GOOD SIZED 5232 CONTRACTS TO A LEVEL OF 599,455 DESPITE THE HUGE LOSS OF $19.15 IN GOLD PRICING WITH RESPECT TO FRIDAY'S // COMEX TRADING)
WE ARE NOW IN THE ACTIVE DELIVERY MONTH OF JULY..  THE CME REPORTS THAT THE BANKERS ISSUED A  GIGANTIC SIZED  TRANSFER THROUGH THE EFP ROUTE AS THESE LONGS RECEIVED A DELIVERABLE LONDON FORWARD TOGETHER WITH A FIAT BONUS., THAT IS 17,683 EFP CONTRACTS WERE ISSUED:
 FOR AUGUST; 17,653 CONTRACTS: DEC: 0   AND  ZERO FOR ALL OTHER MONTHS:
TOTAL EFP ISSUANCE:  17,653 CONTRACTS.
THE OBLIGATION STILL RESTS WITH THE BANKERS ON THESE TRANSFERS. ALSO REMEMBER THAT THERE IS NO DOUBT A HUGE DELAY IN THE ISSUANCE OF EFP'S AND IT PROBABLY TAKES AT LEAST  48 HRS AFTER OUR LONGS GIVE UP THEIR COMEX CONTRACTS FOR THEM TO RECEIVE THEIR EFP'S AS THEY ARE NEGOTIATING THIS CONTRACT WITH THE BANKS FOR A FIAT BONUS PLUS THEIR TRANSFER TO A LONDON BASED FORWARD.
ON A NET BASIS IN OPEN INTEREST WE GAINED THE FOLLOWING TODAY ON OUR TWO EXCHANGES: 12,457 TOTAL CONTRACTS IN THAT 17,683 LONGS WERE TRANSFERRED AS FORWARDS TO LONDON AND WE LOST A GOOD SIZED 5232 COMEX CONTRACTS.  THE BANKERS SUPPLIED THE NECESSARY AND INFINITE AMOUNT OF SHORT PAPER IN GOLD TO CONTAIN THE PRICE RISE. 
NET GAIN ON THE TWO EXCHANGES ::  12,457 CONTRACTS OR 1,245,700 OZ OR 38.72 TONNES.
We are now in the NON  active contract month of JULY and here the open interest stands at 80 CONTRACTS as we LOST 8 contracts.  We had  21 notices filed yesterday so we surprisingly  gained  13 contracts or 1300 oz of gold that will stand for delivery as there appears to be some gold at the Comex  as they will now try their luck on finding the fast vanishing supplies of physical gold over here. We usually witness queue jumping in silver immediately after first day notice but not gold.  That changed again today as queue jumping is becoming the norm.. The next big active month for deliverable gold is August and here the OI fell by a strong 11,729 contracts down to 407,864. The next contract month is September and here the Oi lost 3 contracts down to 104. October sees a good gain if 840 contracts up to 15,188.
TODAY'S NOTICES FILED:
WE HAD 6 NOTICES FILED TODAY AT THE COMEX FOR  600 OZ. (0.6003 TONNES)
xxxxxxxxxxxxxxxxxxxxxxxxxxxxxxxxxxxxxxxxxxxxxxxxxxxxxxxxxxxxxxxxx
And now for the wild silver comex results.
Total COMEX silver OI FELL BY A TINY SIZED 120 CONTRACTS FROM 222,167 DOWN TO 222,047 (AND CLOSER TO THE NEW RECORD OI FOR SILVER SET ON AUGUST 22.2018.  THE PREVIOUS RECORD WAS SET APRIL 9.2018/ 243,411 CONTRACTS) AND TODAY'S TINY OI COMEX GAIN OCCURRED DESPITE A 32 CENT FALL IN PRICING.//FRIDAY.
WE ARE NOW INTO THE ACTIVE DELIVERY MONTH OF JULY.  HERE WE HAVE 754 OPEN INTEREST STAND FOR DELIVERY WITH A GAIN OF 27 CONTRACTS.  WE HAD 2 NOTICES FILED FRIDAY SO WE GAINED 29 CONTRACTS OR AN ADDITIONAL 145,000 OZ OF SILVER WILL ATTEMPT TO STAND AT THE COMEX…. AND THESE GUYS REFUSED TO MORPH INTO A LONDON BASED FORWARD AS WELL AS NEGATING A FIAT BONUS. LET US WAIT AND SEE IF SUCCESSFUL IN OBTAINING PHYSICAL METAL ON THIS SIDE OF THE POND. AFTER JULY WE HAVE THE NON ACTIVE MONTH OF AUGUST AND HERE WE GAINED 20 CONTRACTS UP TO 1136.  THE NEXT BIG ACTIVE DELIVERY MONTH AFTER AUGUST IS SEPT AND HERE THE OI FELL BY 1570 DOWN TO 159,448 CONTRACTS.
TODAY'S NUMBER OF NOTICES FILED:
We, today, had 30 notice(s) filed for 150,000 OZ for the JUNE, 2019 COMEX contract for silver
Trading Volumes on the COMEX TODAY: 496,456 

CONTRACTS 
CONFIRMED COMEX VOL. FOR YESTERDAY

:  569,408  contracts
INITIAL standings for  JULY/GOLD
Gold
Ounces
Withdrawals from Dealers Inventory in oz
nil oz
Withdrawals from Customer Inventory in oz

5373 oz

HSBC

Deposits to the Dealer Inventory in oz

nil

Deposits to the Customer Inventory, in oz

nil

No of oz served (contracts) today

6 notice(s)

 600 OZ

(0.0186TONNES)

No of oz to be served (notices)

74 contracts

(7400 oz)

0.2301 TONNES

Total monthly oz gold served (contracts) so far this month

706 notices

70600 OZ

2.1959 TONNES

Total accumulative withdrawals of gold from the Dealers inventory this month
NIL oz
Total accumulative withdrawal of gold from the Customer inventory this month
xxx oz
total dealer deposits: nil oz
total dealer withdrawals: nil oz
we had 0 deposit into the customer account
i) Into JPMorgan:  nil oz
ii) Into Everybody else: nil  oz
total gold deposits: nil  oz
very little gold arrives from outside/ NO amount  arrived   today
we had 1 gold withdrawal from the customer account:
i ) out of HSBC:  5373.958 oz
total gold withdrawals; 5,373.958   oz
i) we had 0 adjustment today
FOR THE JULY 2019 CONTRACT MONTH)Today, 0 notice(s) were issued from JPMorgan dealer account and 0 notices were issued from their client or customer account. The total of all issuance by all participants equates to 6 contract(s) of which 2 notices were stopped (received) by j.P. Morgan dealer and 0 notice(s) was (were) stopped/ Received) by j.P.Morgan customer account and 0 notices by the squid  (Goldman Sachs)
xxxxxxxxxxxxxxxxxxxxxxxxxxxxxxxxxxxxxxxxxxxxxxxxxxxxxxxxxxxxxxxxxxxxxxxxxx
To calculate the INITIAL total number of gold ounces standing for the JULY /2019. contract month, we take the total number of notices filed so far for the month (706) x 100 oz , to which we add the difference between the open interest for the front month of  JULY. (80 contract) minus the number of notices served upon today (6 x 100 oz per contract) equals 78,000 OZ OR 2.426 TONNES) the number of ounces standing in this NON active month of JULY
Thus the INITIAL standings for gold for the JULY/2019 contract month:
No of notices served (706 x 100 oz)  + (80 OI for the front month minus the number of notices served upon today (6 x 100 oz )which equals 78,000 oz standing OR 2.426 TONNES in this  active delivery month of JUNE.
We GAINED 13 contracts or an additional  1300 oz will stand as these guys refused to morph into London based forwards as well as negating a fiat bonus. Somebody was in need of physical gold badly on this side of the pond…VERY UNUSUAL TO SEE QUEUE JUMPING CONTINUE THIS EARLY IN THE UP FRONT JULY GOLD CONTRACT MONTH.
SURPRISINGLY LITTLE TO NO  GOLD HAS BEEN ENTERING THE COMEX VAULTS AND WE HAVE WITNESSED THIS FOR THE PAST YEAR!!  WE HAVE ONLY 10.043 TONNES OF REGISTERED (  GOLD OFFERED FOR SALE) VS 2.426  TONNES OF GOLD STANDING// THEY SEEM TO BE USING CONSIDERABLE GOLD VAPOUR TO SETTLE UPON UNSUSPECTING LONGS.
total registered or dealer gold:  322,910.634 oz or  10.047 tonnes 
total registered and eligible (customer) gold; 7,696,679.533 oz 239.39 tonnes
IN THE LAST 32 MONTHS 117 NET TONNES HAS LEFT THE COMEX.
THE GOLD COMEX IS NOW IN STRESS AS
1. GOLD IS LEAVING THE COMEX 
2. GOLD IS LEAVING THE REGISTERED CATEGORY OF THE COMEX.
end
And now for silver
AND NOW THE  DELIVERY MONTH OF JULY
INITIAL  standings/SILVER
IN TOTAL CONTRAST TO GOLD, HUGE ACTIVITY IN SILVER TODAY.
JULY 8 2019
Silver
Ounces
Withdrawals from Dealers Inventory
NIL oz
Withdrawals from Customer Inventory

 84,501.786 oz

Brinks

Delaware

HSBC

Deposits to the Dealer Inventory

NIL oz

Deposits to the Customer Inventory

6942.400 oz

Brinks

No of oz served today (contracts)

30

CONTRACT(S)

(150,000 OZ)

No of oz to be served (notices)

727 contracts

 3,635,000 oz)

Total monthly oz silver served (contracts)
3425 contracts

17,125,000 oz)

Total accumulative withdrawal of silver from the Dealers inventory this month
NIL oz
Total accumulative withdrawal of silver from the Customer inventory this month
**
we had 0 inventory movement at the dealer side of things
total dealer deposits: NIL  oz
total dealer withdrawals: nil oz
we had  1 deposits into the customer account
into JPMorgan:  nil  oz
ii)into brinks:  6942.400 oz
*** JPMorgan for most of 2017 and in 2018 has adding to its inventory almost every single day.
JPMorgan now has 153.4 million oz of  total silver inventory or 50.36% of all official comex silver. (153.4 million/304.6 million
total customer deposits today:  6,042.400  oz
we had 3 withdrawals out of the customer account:
i) out of Delaware  5960.366 oz
ii) Out of Brinks: 16,670.500 oz
iii) Out of HSBC:  61,870.920 oz
total dealer silver:  87.119 million
total dealer + customer silver:  304.604 million oz
The total number of notices filed today for the JULY 2019. contract month is represented by 30 contract(s) FOR 150,000 oz
To calculate the number of silver ounces that will stand for delivery in JULY, we take the total number of notices filed for the month so far at 3425 x 5,000 oz = 17,125,000 oz to which we add the difference between the open interest for the front month of JULY. (757) and the number of notices served upon today (30 x 5000 oz) equals the number of ounces standing.
.
Thus the INITIAL standings for silver for the JULY/2019 contract month: 3425(notices served so far)x 5000 oz + OI for front month of JULY( 757) number of notices served upon today (30)x 5000 oz equals 20,760,000 oz of silver standing for the JULY contract month.
WE GAINED 29 CONTRACTS OR AN ADDITIONAL 145,000 OZ WILL STAND AT THE COMEX AS THESE GUYS REFUSED TO MORPH INTO A LONDON BASED FORWARDS AND AS WELL THEY ALSO NEGATED A FIAT BONUS.  IT SEEMS THAT SOMEBODY WAS BADLY IN NEED OF PHYSICAL SILVER ON THIS SIDE OF THE POND JOINING GOLD!.
TODAY'S NUMBER OF NOTICES FILED:
We, today, had 30 notice(s) filed for 150,000 OZ for the JUNE, 2019 COMEX contract for silver
xxxxxxxxxxxxxxxxxxxxxxxxxxxxxxxxxxxxxxxxxxxxxxxxxxxxxxxxxxx
TODAY'S ESTIMATED SILVER VOLUME:  179,985 CONTRACTS (we had considerable spreading activity..accumulation
CONFIRMED VOLUME FOR YESTERDAY: 236,657 CONTRACTS..(we no doubt had considerable spreading activity as they are now starting to accumulate in silver)
YESTERDAY'S CONFIRMED VOLUME OF 236,657 CONTRACTS EQUATES to 1,118 million  OZ 169%% OF ANNUAL GLOBAL PRODUCTION OF SILVER..makes sense!!
COMMODITY LAW SUGGESTS THAT OPEN INTEREST SHOULD NOT BE MORE THAN 3% OF ANNUAL GLOBAL PRODUCTION. THE CROOKS ARE SUPPLYING MASSIVE PAPER TRYING TO KEEP SILVER IN CHECK.
The record level of silver open interest is 234,787 contracts set on April 21./2017 with the price at that day at $18.42
The previous record was 224,540 contracts with the price at that time of $20.44
xxxxxxxxxxxxxxxxxxxxxxxxxxxxxxxxxxxxxxxxxxxxxxxxxxxxxxxxxxxxxxxxxxxxxxxxxx
NPV for Sprott 
1. Sprott silver fund (PSLV): NAV RISES TO -0.34% June 27/2019)
2. Sprott gold fund (PHYS): premium to NAV RISES TO -1.10% to NAV (JUNE 27/2019 )
Note: Sprott silver trust back into NEGATIVE territory at -0.34%-/Sprott physical gold trust is back into NEGATIVE/
(courtesy Sprott/GATA)
3.SPROTT CEF.A FUND (FORMERLY CENTRAL FUND OF CANADA):
NAV 13.77 TRADING 13.23/DISCOUNT 3.96
END
And now the Gold inventory at the GLD/
JULY 8/ WITH GOLD DOWN 35 CENTS A HUGE WITHDRAWAL OF 1.47 TONNES FROM THE GLD/INVENTORY FALLS TO 796.97 TONNES
JULY 5TH/WITH GOLD DOWN $19.50/NO CHANGES IN GOLD INVENTORY AT THE GLD//INV RESTS AT 798.44 TONNES
JULY 3// WITH GOLD UP $12.60 TODAY A SURPRISE WITHDRAWAL OF 1.76 TONNES FROM THE GLD//INVENTORY RESTS AT  798.44
JULY 2. WITH GOLD UP $18.90 A HUGE "PAPER" DEPOSIT OF 6.16 TONNES INTO THE GLD/INVENTORY RESTS AT 800.20 TONNES
JULY 1: WITH GOLD DOWN $24.70 A HUGE "PAPER GOLD" WITHDRAWAL OF 1.76 TONNES FROM THE GLD/INVENTORY RESTS TONIGHT AT 794.04 TONNES
JUNE 28/WITH GOLD UP $.90 TODAY: ANOTHER 2.05 TONNES OF PAPER GOLD REMOVED AND THIS GOLD WAS USED IN ATTACKING GOLD AT THE COMEX/INVENTORY RESTS AT 795.80 TONNES
JUNE 27/WITH GOLD DOWN $6.10: ANOTHER HUGE WITHDRAWAL OF 1.76 PAPER TONNES FROM THE GLD INVENTORY/INVENTORY RESTS AT 797.61 TONNES
JUNE 26/WITH GOLD DOWN $3.00: WE HAD A HUGE WITHDRAWAL OF 2.37 TONNES FROM THE GLD/INVENTORY RESTS AT 799.61 TONNES
JUNE 25/WITH GOLD UP $1.30 (AND WAY UP BEFORE THE BANKERS WHACKED) WE WITNESSED ANOTHER 1.95 TONNES OF PAPER GOLD ADDED TO THE GLD INVENTORY//INVENTORY RESTS AT 801.98 TONNES
JUNE 24/WITH GOLD UP $18.00 A MONSTROUS PAPER DEPOSIT OF 34.93 TONNES/INVENTORY RESTS AT 799.03 TONNES
JUNE 21/WITH GOLD UP $  2.90, NO CHANGE IN GOLD INVENTORY: INVENTORY RESTS AT: 764.10 TONNES
June 20/WITH GOLD UP $47.95, NO CHANGE IN GOLD INVENTORY AT THE GLD/INVENTORY RESTS AT 764.10 TONNES
JUNE 19 WITH GOLD DOWN $1.65: NO CHANGE IN GOLD INVENTORY AT THE GLD/INVENTORY RESTS AT 764.10 TONES
JUNE 18/JUNE 18/WITH GOLD UP $7.60: NO CHANGE IN GOLD INVENTORY AT THE GLD/INVENTORY RESTS AT 764.10 TONNES
JUNE 17/WITH GOLD DOWN $1.65 TODAY: NO CHANGE IN GOLD INVENTORY AT THE GLD//INVENTORY RESTS AT 764.10 TONNES
JUNE 14/ WITH GOLD UP $1.05 TODAY: A HUGE CHANGE IN GOLD INVENTORY AT THE GLD: A DEPOSIT OF 4.40 TONNES OF PAPER GOLD INTO THE GLD///INVENTORY RESTS AT 764.10 TONNES
june 13/WITH GOLD UP $6.60 TODAY: A BIG CHANGE IN GOLD INVENTORY AT THE GLD: A DEPOSIT OF 3.52 TONNES INTO THE GLD INVENTORY/INVENTORY RESTS AT 759.70 TONNES
JUNE 12/WITH GOLD UP $7.50 TODAY: NO CHANGES IN GOLD INVENTORY AT THE GLD/INVENTORY RESTS AT 756.18 TONNES
JUNE 11/WITH GOLD UP $1.65 CENTS TODAY: A TINY CHANGES IN GOLD INVENTORY AT THE GLD: A WITHDRAWAL OF .24 TONNES AND THIS IS TO PAY FOR FEES/INVENTORY RESTS AT 756.18 TONNES
JUNE 10/WITH GOLD DOWN $16.40 TODAY: A BIG  CHANGE IN GOLD INVENTORY AT THE GLD: A WITHDRAWAL OF 1.17 TONNES/INVENTORY RESTS AT 756.42 TONNES
june 7/WITH GOLD UP $3.50 TODAY: NO CHANGES IN GOLD INVENTORY AT THE GLD/INVENTORY RESTS AT 757.59 TONNES
jUNE 6/WITH GOLD UP  $8.40 TODAY/NO CHANGES IN GOLD INVENTORY AT THE GLD/INVENTORY RESTS AT 757.59 TONNES
JUNE 5 WITH GOLD UP $6.00 TODAY/STRANGE: A WITHDRAWAL OF 2.06 TONNES FROM THE GLD/INVENTORY RESTS AT 757.59 TONNES
JUNE 4/WITH GOLD UP 0.85 TODAY: A MONSTROUS PAPER GAIN OF 16.44 TONNES/GLD INVENTORY RESTS AT 759.65 TONNES
JUNE 3/WITH GOLD UP $17.50 TODAY: ANOTHER BIG CHANGE, A DEPOSIT OF 2.35 TONNES OF GOLD INTO THE GLD//
MAY 31/WITH GOLD UP $17.10 TODAY: NO CHANGES  IN GOLD INVENTORY AT THE GLD/GLD INVENTORY RESTS AT 740.86 TONNES
MAY 30: WI6H GOLD UP $6.40 TODAY: A BIG CHANGE IN GOLD INVENTORY AT THE GLD: A DEPOSIT OF 3.52 TONNES/INVENTORY RESTS AT 740.86 TONNES
MAY 29/WITH GOLD UP $3.90 TODAY: NO CHANGES IN GOLD INVENTORY AT THE GLD/INVENTORY RESTS AT 737.34 TONNES
MAY 28/WITH GOLD DOWN $6.50 TODAY: A BIG  CHANGE IN GOLD INVENTORY AT THE GLD> A WITHDRAWAL OF 1.47 TONNES/INVENTORY RESTS AT 737.34 TONNES
MAY 24/WITH GOLD DOWN $1.60 TODAY: NO CHANGE IN GOLD INVENTORY AT THE GLD/INVENTORY RESTS AT 738.81 TONNES
MAY 23/WITH GOLD UP $11.10 TODAY: A STRANGE WITHDRAWAL OF .88 TONNES FORM THE GLD/INVENTORY RESTS AT 738,81 TONNES
MAY 22//WITH GOLD FLAT TODAY: WE HAD A GOOD 1.52 TONNES OF GOLD DEPOSIT INTO THE GLD/INVENTORY RESTS TONIGHT AT 739.69 TONNES
xxxxxxxxxxxxxxxxxxxxxxxxxxxxxxxxxx
JULY 8/2019/ Inventory rests tonight at 796.97 tonnes
*IN LAST 620 TRADING DAYS: 137.79 NET TONNES HAVE BEEN REMOVED FROM THE GLD
*LAST 520 TRADING DAYS: A NET 27.89 TONNES HAVE NOW BEEN ADDED INTO  THE GLD INVENTORY.
end
Now the SLV Inventory/
JULY 8/WITH SILVER UP 7 CENTS: NO CHANGE IN SILVER INVENTORY AT THE SLV/INVENTORY RESTS AT 328,492 MILLION OZ
JULY 5/WITH SILVER DOWN 32 CENTS WE STRANGELY HAD A HUGE INVENTORY GAIN OF 2,234 MILLION OZ//INVENTORY RESTS AT 328.492 MILLION OZ
JULY 3 WITH SILVER UP 10 CENTS A HUGE INCREASE IN INVENTORY..INVENTORY RESTS AT 326.151 MILLION OZ
JULY 2/WITH SILVER UP 4 CENTS TODAY: NO CHANGES IN SILVER INVENTORY/INVENTORY RESTS AT 323.330 MILLION OZ//
JULY 1/ WITH SILVER DOWN 16 CENTS: A SURPRISING DEPOSIT OF 936,000 OZ INTO THE SLV/INVENTORY RESTS TONIGHT AT 323.330 MILLION OZ/
JUNE 28/WITH SILVER UP 6 CENTS: NO CHANGE IN SILVER INVENTORY AT THE SLV/INVENTORY REMAINS AT 322.394 MILLION OZ//
JUNE 27/WITH SILVER DOWN 7 CENTS: A HUGE CHANGE IN SILVER INVENTORY AT THE SLV: A DEPOSIT OF 2.575 MILLION OZ INTO THE SLV/INVENTORY RESTS AT 322.394 MILLION OZ//
JUNE 26/WITH SILVER UP 17 CENTS: NO CHANGE IN SILVER INVENTORY AT THE SLV/INVENTORY RESTS AT 319.819 MILLION OZ/
JUNE 25/WITH SILVER DOWN 25 CENTS TODAY; NO CHANGES IN SILVER INVENTORY AT THE SLV/INVENTORY RESTS AT 319.819 MILLION OZ.
JUNE 24/WITH SILVER UP 11 CENTS: NO CHANGES IN SILVER INVENTORY AT THE SLV/INVENTORY RESTS AT 319.819 MILLION OZ//
JUNE 21/WITH SILVER DOWN 22 CENTS: NO CHANGES IN SILVER INVENTORY AT THE SLV/INVENTORY RESTS AT 319.819 MILLION OZ//
JUNE 20/WITH SILVER UP 53 CENTS TODAY: NO CHANGES IN SILVER INVENTORY AT THE SLV/INVENTORY RESTS AT 319.819 MILLION OZ/
JUNE 19/WITH SILVER DOWN 3 CENTS TODAY: NO CHANGES IN SILVER INVENTORY AT THE SLV//INVENTORY RESTS AT 319.070 MILLION OZ/
JUNE 18 WITH SILVER UP 18 CENTS TODAY: NO CHANGES IN SILVER INVENTORY AT THE SLV//INVENTORY RESTS AT 319.070 MILLION OZ
JUNE 17/WITH SILVER UP XXX CENTS TODAY: NO CHANGES IN SILVER INVENTORY AT THE SLV/INVENTORY RESTS AT 316.775 MILLION OZ//
JUNE 14/WITH SILVER DOWN 9  CENTS TODAY: NO CHANGES IN SILVER INVENTORY AT THE SLV/INVENTORY RESTS AT 316.775 MILLION OZ/
JUNE 13/WITH SILVER UP 11 CENTS TODAY: NO CHANGES IN SILVER INVENTORY AT THE SLV/INVENTORY RESTS AT 316.775 MILLION OZ/
JUNE 12/WITH SILVER UP 4 CENTS TODAY: A BIG CHANGE IN SILVER INVENTORY AT THE SLV: A DEPOSIT OF 1.413 MILLION OZ INTO THE SLV INVENTORY/INVENTORY RESTS AT 316.775 MILLION OZ/
JUNE 11/WITH SILVER UP 10 CENTS TODAY: NO CHANGE IN SILVER INVENTORY AT THE SLV//INVENTORY RESTS AT 315.652 MILLION OZ//
JUNE 10/WITH SILVER DOWN 38 CENTS TODAY: NO CHANGE IN SILVER INVENTORY AT THE SLV/INVENTORY RESTS AT 315.652 MILLION OZ//
JUNE 7/WITH SILVER UP ANOTHER 12 CENTS, NO CHANGE IN SILVER INVENTORY AT THE SLV/INVENTORY RESTS AT 315.652 MILLION OZ//
JUNE 6/WITH SILVER UP ANOTHER 9 CENTS TODAY: A FAIR SIZE DEPOSIT OF 630,087 OZ//INVENTORY RESTS AT 315.652 MILLION OZ//
JUNE 5/WITH SILVER UP 4 CENTS TODAY: A HUGE PAPER DEPOSIT OF 2.396 MILLION OZ OF SILVER INTO THE SLV/INVENTORY RESTS AT 314.434 MILLION OZ//
JUNE 4/WITH SILVER UP 1 CENT TODAY: NO CHANGE IN SILVER INVENTORY AT THE SLV/INVENTORY RESTS AT 312.038 MILLION OZ//
JUNE 3/WITH SILVER UP 19 CENTS TODAY: NO CHANGE IN SILVER INVENTORY AT THE SLV/INVENTORY RESTS AT 312.038 MILLION OZ//
MAY 31/WITH SILVER UP 6 CENTS TODAY: A DEPOSIT OF 422,000 OZ INTO THE SLV INVENTORY//INVENTORY RESTS AT 312.038 MILLION OZ/
May 30/WITH SILVER UP 19 CENTS TODAY: NO CHANGES IN SILVER INVENTORY AT THE SLV/INVENTORY RESTS AT 311.616 MILLION OZ///
MAY 29/WITH SILVER UP 11 CENTS TODAY: NO CHANGES IN SILVER INVENTORY AT THE SLV/INVENTORY RESTS AT 311.616 MILLION OZ//
MAY 28/WITH SILVER DOWN 23 CENTS TODAY: NO CHANGES IN SILVER INVENTORY AT THE SLV/INVENTORY RESTS AT 311.616 MILLION OZ//
MAY 24/WITH SILVER DOWN 6 CENTS TODAY: NO CHANGES IN SILVER INVENTORY AT THE SLV/INVENTORY RESTS AT 311.616 MILLION OZ/
MAY 23/WITH SILVER UP 16 CENTS TODAY: NO CHANGES IN SILVER INVENTORY AT THE SLV/INVENTORY RESTS AT 311.616 MILLION OZ//
MAY 22/WITH SILVER UP 3 CENTS TODAY: NO CHANGES IN SILVER INVENTORY AT THE SLV/INVENTORY RESTS TONIGHT AT 311.616 MILLION OZ
MAY 21: WITH SILVER DOWN 3 CENTS TODAY: A SMALL CHANGE IN SILVER INVENTORY AT THE SLV; A WITHDRAWAL OF 750,000 OZ///INVENTORY RESTS AT 311.616 MILLION OZ//
MAY 20/WITH SILVER UP 6 CENTS:NO CHANGE IN SILVER INVENTORY AT THE SLV/INVENTORY RESTS AT 312.366 MILLION OZ
Inventory 328.492 MILLION OZ
LIBOR SCHEDULE AND GOFO RATES:
YOUR DATA…..
6 Month MM GOFO 2.15/ and libor 6 month duration 2.21
Indicative gold forward offer rate for a 6 month duration/calculation:
G0LD LENDING RATE: + .16
XXXXXXXX
12 Month MM GOFO
+ 2.03%
LIBOR FOR 12 MONTH DURATION: 2.19
GOFO = LIBOR – GOLD LENDING RATE
GOLD LENDING RATE  = +.16
end
PHYSICAL GOLD/SILVER STORIES
i) GOLDCORE BLOG/Mark O'Byrne
Global Gold Alert: Is Your Gold S.A.F.E. ?
GOLDNOMICS PODCAST (Episode 12)
Watch Podcast Here or Listen on Apple Podcasts, SoundCloud or Blubrry
It is now time to move to own actual physical gold coins and bars
Become your own central bank and avoid ETF and online gold
Take delivery and own gold and silver bullion the S.A.F.E. way
Gold ETFs, online gold and paper or electronic gold may not be liquid or cashed in or physically redeemed in a crisis
Some 80% of gold and silver investments (our estimation) or proxy precious metals are not fit for purpose in a systemic or monetary crisis
Is Your Gold S.A.F.E. ?
Are your precious metals Segregated, Actionable, Flexible and what are the total Expenses?
Are your precious metals FULLY SEGREGATED & Allocated?
Are your gold and silver investments ACTIONABLE, accessible, portable & directional?
Do you have real FLEXIBILITY, liquidity and competitive prices with your gold and silver bullion and the ability to take delivery, transfer to third parties and sell easily to the global market?
What are the EXPENSES and total costs to buy, sell, fabricate, segregate, take delivery or move to another provider? Are the expenses clear and transparent or have the expenses changed over the years or are they hidden in the small print? Can the provider arbitrarily change the pricing to buy, sell, store and take deliver?
Test Your Gold Exit and Be Sure It Is SAFE
Test your provider by selling some of your holding for cash and by taking delivery of or transferring to a third party some of your gold and silver bars.
Call your provider today and test if you can take delivery or transfer some of your holding in a test transfer. Take note of all limitations, time delays and unexpected costs.
Watch Podcast Here or Listen on Apple Podcasts, SoundCloud or Blubrry
News and Commentary
Poland's Central Bank Increases Gold Reserves by Over 125 Tonnes
Poland Central Bank Gold Reserves Rise Sharply in the Month of June
Gold Prices Drop, Log a Loss of 1% for the Week but Close Over $1,400
Deutsche Bank Will Exit Global Equities Business and Slash 18,000 Jobs in Sweeping Overhaul
Domestic Gold Discounts in India at Three-year Peak After Import Duty Increase
Why Gold Prices Have Climbed to Their Highest Since 2013
Traders "Used the Better-than-expected Jobs Number to Push Gold Prices Lower" – Goldcore
USD's Reserve Currency Role at Risk as Nations Turn to Domestic Currencies, Gold – Ex-Reagan Official
'Never Has a Big Down Day Looked Better' – GATA
This (Completely Reasonable) Change in Investor Behavior Would Send Gold to the Moon
LBMA Gold Prices (AM/ PM Fix – USD, GBP & EUR)
05-Jul-19 1414.40 1388.65, 1126.43 1110.92 & 1255.99 1237.70
04-Jul-19 1415.25 1414.90, 1125.41 1125.55 & 1254.19 1254.59
03-Jul-19 1425.10 1413.50, 1133.52 1123.31 & 1262.78 1251.65
02-Jul-19 1393.10 1391.05, 1105.01 1101.02 & 1233.59 1231.77
01-Jul-19 1390.05 1390.10, 1099.81 1099.99 & 1227.41 1227.74
28-Jun-19 1413.20 1409.00, 1114.87 1108.18 & 1241.07 1237.81
27-Jun-19 1402.25 1402.50, 1103.71 1105.87 & 1233.14 1234.76
26-Jun-19 1406.75 1403.95, 1109.22 1106.73 & 1238.501236.32
Buy, Transfer & Store Gold and Silver in Zurich, Switzerland – Six Months Free Storage & Complimentary Silver Eagle – Info Here
Receive Our Free Daily or Weekly Updates by Signing Up Here
ii) Physical stories courtesy of GATA/Chris Powell
At KWN von Greyerz notes that gold hasn't kept up with inflation, so will anyone ever ask why?
Submitted by cpowell on Mon, 2019-07-08 00:03. Section: Daily Dispatches
8p ET Sunday, July 7, 2019
Dear Friend of GATA and Gold:
At King World News tonight, Swiss gold fund manager Egon von Greyerz writes that adjusted for inflation the gold price high in 1980 would be more than $18,000 today. That gold has not come close to keeping up with inflation since then is both the powerful disparagement of gold and evidence of gold price suppression via the government-inspired and underwritten creation of a vast imaginary derivative supply, about which no one in mainstream financial journalism and even the gold mining industry itself dares to ask.
Von Greyerz's commentary is headlined "The Road To $18,160 Gold and the Wisdom Of Jesse Livermore," the renowned investor of the last century who in 1940 declared himself a failure and committed suicide long before the era of gold price suppression. Insofar as GATA has not yet defeated central banking's comprehensive market rigging, we too can be considered a failure so far, but there's still beer, wine, and spite, so we aim to press on in the morning anyway.
Von Greyerz's commentary is posted at KWN here:
https://kingworldnews.com/greyerz-the-road-to-18160-gold-and-the-wisdom-…
CHRIS POWELL, Secretary/Treasurer
Gold Anti-Trust Action Committee Inc.
CPowell@GATA.org
END
New York Sun: The debate over the Fed begins
Submitted by cpowell on Sun, 2019-07-07 21:41. Section: Daily Dispatches
From the New York Sun
Sunday, July 7, 2019
It can't be entirely a coincidence that the first move by a major newspaper against the confirmation of Judy Shelton as a governor of the Federal Reserve should come from the Washington Post. It is, after all, the only newspaper in America to have been launched to glory by, in Eugene Meyer, a just-retired chairman of our central bank. Yet the Post gets into none of that history in its editorial this morning in respect of Ms. Shelton:
https://www.washingtonpost.com/opinions/one-of-trumps-latest-fed-board-n…
It's not hard to see why.
The Post's beef against Ms. Shelton is not that she lacks for credentials. It calls her academic credentials "strong" and acknowledges that she has held public positions in what we would call two non-political agencies, the National Endowment for Democracy, which she chaired, and the European Bank for Reconstruction and Development, to which she is currently America's representative. What the Post objects to, for starters, is that she's had an "eminently political career." …
… For the remainder of the commentary:
https://www.nysun.com/editorials/the-debate-over-the-fed-begins/90754/
END
Ronan Manly: Poland joins Hungary with huge gold purchase and repatriation
Submitted by cpowell on Mon, 2019-07-08 01:54. Section: Daily Dispatches
9:54p ET Sunday, July 7, 2019
Dear Friend of GATA and Gold:
Poland has vastly increased its gold reserves in the last year and is repatriating at least 100 tonnes of them from the Bank of England, Bullion Star gold researcher Ronan Manly reports tonight.
Of special interest, Manly writes, the Polish central bank's explanation for repatriating its gold reserves from London included "political risk," perhaps an acknowledgment that the Bank of England effectively confiscated Venezuela's gold reserves this year.
Manly's commentary is headlined "Poland joins Hungary with Huge Gold Purchase and Repatriation" and it's posted at Bullion Star here:
https://www.bullionstar.com/blogs/ronan-manly/poland-joins-hungary-with-…
CHRIS POWELL, Secretary/Treasurer
Gold Anti-Trust Action Committee Inc.
CPowell@GATA.org
END
Never has a big down day looked better,' but the mainstream media won't tell you
Submitted by cpowell on Sat, 2019-07-06 03:27. Section: Daily Dispatches
10:23a ET Saturday, July 6, 2019
Dear Friend of GATA and Gold:
At mid-morning Friday your secretary/treasurer noticed that despite the market opening's $30 pounding in the gold price, gold and the gold mining shares were turning upward, and by the end of the day your secretary/treasurer was nearly amazed that the gold price had clawed back to $1,400 and the shares had finished down only 1%.
It was almost like Tuesday's remarkable recovery after Monday's pounding.
A few years ago the gold price and the shares would have required months to recover from such poundings, even a pounding inflicted from such a distorted and misleading federal jobs report as was announced Friday.
But as far as your secretary/treasurer can tell, there was no commentary Friday night about the remarkable recovery of gold and the shares except in GATA Chairman Bill Murphy's daily "Midas" commentary at LeMetropoleCafe.com.
Murphy concluded: "What a day — very positive in some regards. Gold has clawed its way back to $1,400, proving once again that major dips are to be bought. Even pitiful silver has recovered so close to $15.
"The best news was the shares, which stood their ground like champs. The XAU lost only 0.87 to 83.18 and the HUI fell only 1.69 to 193.01.
"We know the Gold Cartel is going to throw the kitchen sink at the gold and silver markets. This is what they do. Gold is very much rebelling against the totalitarians. Should the gold price take out $1,440, it is very likely to change the cabal's game plan.
"Fingers crossed that they are in as much trouble as it appears, after all these revolting, manipulative years.
"Supporting the trouble the bums might be in is the share action of the HUI and how it has refused to close its distinguished gap several times.
"Never has a big down day looked better."
In his Gold & Silver Digest letter for Saturday, GATA board member Ed Steer concurred: "That the precious metal equities came very close to finishing the Friday session unchanged, though their respective underlying metals were crushed, has to been seen as a huge positive. It certainly indicates, at least to me, that gold and silver stocks continue to be under serious accumulation by the strongest of hands, because everything that was sold in a panic at the 9:30 a.m. ET open was bought, plus a whole bunch more as the Friday trading session progressed."
Your secretary/treasurer avoids making predictions, except for sometimes respecting Orwell's vision of the future: "A boot stamping on a human face — forever." That's what GATA is working against.
Our work would be easier if most of the people in the monetary metals mining industry cared about anything besides their own salaries and if mainstream financial news organizations had any journalistic integrity. But they don't, so, as Lee Strasburg's Hyman Roth scolds Al Pacino's Michael Corleone in "The Godfather, Part II": "This is the business we've chosen":
https://www.youtube.com/watch?v=VsbyvuO_AqM
As always one must play the hand one is dealt.
But while GATA, Murphy's LeMetropoleCafe.com and Steer's Gold & Silver Digest letter are separate operations, the latter two being proprietary to Murphy and Steer, it is simply a matter of fact for your secretary/treasurer to acknowledge that there is seldom much daily commentary on the gold "market" that comes as close to what is really happening as those publications do.
Murphy's "cafe" offers a free two-week trial subscription here:
http://lemetropolecafe.com/Guests.cfm
Steer's digest can be subscribed to here:
https://edsteergoldsilver.com/
If you haven't checked them out already, please do it now. You're not likely to approach the truth about the "markets" through The Wall Street Journal or the Financial Times. Those news organizations know the "markets" are rigged and have been given the most compelling documentation but won't report it. They are bought and paid for by the people and institutions they purportedly are covering.
The real news is elsewhere.
CHRIS POWELL, Secretary/Treasurer
Gold Anti-Trust Action Committee Inc.
CPowell@GATA.org

* * *
Join GATA here:
New Orleans Investment Conference
Hilton New Orleans Riverside Hotel
Friday-Monday, November 1-4, 2019
https://neworleansconference.com/
* * *
Help keep GATA going:
GATA is a civil rights and educational organization based in the United States and tax-exempt under the U.S. Internal Revenue Code. Its e-mail dispatches are free, and you can subscribe at:
To contribute to GATA, please visit:
Alasdair Macleod: Broken markets and fragile currencies
Submitted by cpowell on Fri, 2019-07-05 15:53. Section: Daily Dispatches
By Alasdair Macleod
GoldMoney, St. Helier, Jersey, Channel Islands
Friday, July 5, 2019
There are growing signs that the global economic slowdown is for real.
As was the case in 1929, the combination of the peak of the credit cycle coupled with trade protectionism in the Smoot-Hawley Tariff Act are similar conditions to those of today and potentially pose a serious economic challenge to the post-Bretton Woods fiat currency system.
Therefore, we must consider the consequences if monetary policy fails to contain the developing recession and it turns into a full-blown slump.
Complacency over broken markets is no longer an option, with rising prices for gold and bitcoin signalling the prospect of a new round of currency debasement to avoid market distortions unwinding. This article shows why this outcome could undermine fiat currencies entirely and looks at the alternatives of bitcoin and gold in this context. …
… For the remainder of the commentary:
https://www.goldmoney.com/research/goldmoney-insights/broken-markets-and…
END
Trump tweet puts him at odds with his Fed nominee, Judy Shelton
Submitted by cpowell on Wed, 2019-07-03 21:46. Section: Daily Dispatches
By Victoria Guida
Politico, Washington, D.C.
Wednesday, July 3, 2019
President Donald Trump's call today for the United States to manipulate its currency to boost exports is in direct conflict with the long-held view of at least one key scholar: his newest pick for the Federal Reserve board, Judy Shelton.
Shelton, who advised Trump's presidential campaign and is now U.S. executive director for the European Bank for Reconstruction and Development, has spent decades calling for a more stable, predictable dollar value.
…
She wants central banks to do as little as possible to interfere with markets. As part of that, she thinks the Fed should more aggressively reduce the massive portfolio of bonds that it purchased to prop up the economy after the financial crisis.
But Trump wants the Fed to buy more bonds to inject additional cash into the economy.
… For the remainder of the report:
https://www.politico.com/story/2019/07/03/federal-reserve-judy-shelton-1…
iii) Other physical stories:
Due to the criminal conviction of trader Edmonds, the USA prosecution is seeking to halt the civil lawsuit. I was misinformed: all discoveries in a civil suit are public and because of that, the prosecution gives the defendants the right to plead the 5th if their testimony incriminates them
(courtesy zerohedge/Chris Powell)
US seeks halt in civil lawsuit accusing JP Morgan of manipulating metals market, citing criminal case
The U.S. wants a federal judge to halt a civil lawsuit accusing J. P. Morgan of manipulating precious metals markets. The Justice Department cited an ongoing criminal case as its reason for the request.
A former J. P. Morgan trader pleaded guilty in Connecticut last month to manipulation charges.
In the guilty plea, the trader said he had learned to make bogus trade orders from senior traders at the bank and that he used the strategy hundreds of times with the knowledge and consent of his immediate supervisors.
CNBC.com
The Justice Department is asking a judge to put the brakes on a civil lawsuit against J. P. Morgan Chase, citing an ongoing probe into a "related criminal case" that involves alleged manipulation of precious metals markets.
The department wants a six-month postponement in the proceedings of the civil lawsuit, which was filed in 2015 by hedge fund manager Daniel Shak and two commodity traders. The government also says it could ask for a longer delay in the case, according to a court filing on Monday.
The move comes days after Shak's lawyer, David Kovel, sought permission to reopen questioning of two former J. P. Morgan traders and the bank's current global head of base and precious metals trading.
Kovel, in making the request with the Manhattan federal judge in the civil case, cited last month's guilty plea by one of those former traders, John Edmonds, in federal court in Connecticut.
Edmonds admitted making bogus bids on precious metals contracts while working at the bank from 2009 to 2015.
Neither J. P. Morgan Chase nor Kovel's clients have opposed the Justice Department's request.
In arguing for a delay, the Justice Department said Shak's lawsuit is "related" to Edmonds' criminal case and that Edmonds has "pleaded guilty and acknowledged his own participation in such conduct, as well as that of other traders."
"Edmonds awaits sentencing, but the broader investigation is ongoing," the Justice Department said. The U.S. wants to delay the civil case "to protect the integrity of its ongoing criminal investigation," it said.
J. P. Morgan did not respond to a request for comment by CNBC. Kovel declined to comment.
Tuesday night, after this story first was published, Judge Paul Engelmayer ordered the federal prosecutors to explain in detail by Monday why postponing proceedings in the civil lawsuit would not harm those involved, and why reopening questioning "would be detrimental to the Government's ongoing criminal investigation."
Englemayer also wrote that he regards Edmonds' guilty plea "as potentially highly consequential" to the civil case.
In his guilty plea, the 36-year-old Edmonds said he had learned to make bogus trade orders from senior traders at the bank and that he used the strategy hundreds of times with the knowledge and consent of his immediate supervisors. He admitted to working with "unnamed co-conspirators" at J. P. Morgan, according to the Justice Department.
Kovel wants to question Edmonds again as well as Michael Nowak, the bank's global head of base and precious metal trading, and former J. P. Morgan Chase Managing Director Robert Gottlieb. The three had previously answered questions under oath in the civil case.
Kovel said in court filings that Nowak was the immediate supervisor of Edmonds, while Gottlieb was Edmonds' mentor.
In his prior deposition, Edmonds said that Gottlieb sat only a "couple feet" away from him for about five years, and that he was "somebody [he] looked up to in the business," who helped guide and train him.
Nowak is described by Edmonds as his direct supervisor, with whom he would sometimes discuss trading strategies. Nowak was also the person responsible for overseeing the performance and risk of Edmonds' portfolio, according to the deposition.
Edmonds also stated in his prior deposition that he would enter precious metals trades for both Nowak and Gottlieb, among others.
The civil lawsuit claims Shak and his fellow plaintiffs lost tens of millions of dollars as a result of actions by J. P. Morgan's traders.
A federal judge tells traders that they can combine cases (with the other 6 banks) as they accused JPMorgan of rigging the precious metals market
(courtesy CNBC)
Federal judge tells traders they can combine cases accusing JP Morgan of rigging metals market
Litigation in a separate civil case has been put on hold until at least May at the behest of the Justice Department, which is investigating a "related criminal case" that involves alleged market manipulation by precious metals traders at J. P. Morgan.

Judge John Koeltl of the Southern District of New York appointed the White Plains, N.Y., law firm Lowey Dannenberg as interim lead counsel for the proposed class action.
A group of traders from across the U.S. who allege that J. P. Morgan Chase manipulated precious metals markets for years are one step closer to bringing a class action suit against the nation's largest bank.
Earlier this month, a federal judge said five separate lawsuits making similar allegations against the bank could be combined, potentially including thousands of people who traded in the precious metals market from Jan. 2009 through Dec. 2015.
Litigation in a separate civil case has been put on hold until at least May at the behest of the Justice Department, which is investigating a "related criminal case" that involves alleged market manipulation by precious metals traders at J. P. Morgan.
J. P. Morgan declined to comment on this story.
Judge John Koeltl of the Southern District of New York appointed the White Plains, N.Y., law firm Lowey Dannenberg as interim lead counsel for the proposed class action.
Vincent Briganti, a partner at the firm, filed the first suit seeking class action status in November on behalf of Dominick Cognata, a trader who alleges he suffered losses due to J.P. Morgan's illegal trading conduct in the silver and gold futures and options markets.
That was after the federal court in Connecticut unsealed a criminal plea agreement by John Edmonds, a former J.P. Morgan metals trader. In his guilty plea, Edmonds, who is 36-years old, admitted that he and other "unnamed co-conspirators" fraudulently manipulated the precious metals markets while they were employed at J. P. Morgan from 2009 to 2015.
Edmonds said he had learned the illegal trading tactics from senior traders, and then used them hundreds of times with the knowledge of and consent of his immediate supervisors.
Briganti's lawsuit also names John Edmonds and a group of yet-to-be-identified precious metals traders and the bank as defendants.
On Wednesday, the lawyers sent a letter to Judge Koeltl saying they were having difficulty locating Edmonds to serve him legal papers and requested a 30-day extension to do so, which the judge granted on Thursday. Briganti noted that they have been in contact with Edmonds' attorney in the criminal case. Edmonds' attorney and Briganti could not be reached for comment.
"We are hopeful that this extension will result in completing service on Mr. Edmonds without formal motion practice and a request for alternative means of service," Briganti said in the letter.
The next step in the civil case is for the plaintiffs to file an amended class action complaint and set a schedule for defendants to respond.
In addition to the proposed class action, J. P. Morgan also faces a separate civil suit which also accuses the bank of rigging precious metals markets.
end
Your early MONDAY morning currency, Asian stock market results,  important USA/Asian currency crosses, gold/silver pricing overnight along with the price of oil Major stories overnight/7 AM EST
i) Chinese yuan vs USA dollar/CLOSED / LAST AT: 6.8827/ GETTING VERY DANGEROUSLY CLOSE TO 7:1
//OFFSHORE YUAN:  6.8859   /shanghai bourse CLOSED DOWN 77.70 POINTS OR 2.50%
HANG SANG CLOSED DOWN 443.19 POINTS OR 1.54%
2. Nikkei closed DOWN 212.03 POINTS OR 0.98%
3. Europe stocks OPENED ALL RED
USA dollar index UP TO 97.17/Euro RISES TO 1.1203
3b Japan 10 year bond yield: RISES TO. –.15/ !!!!(Japan buying 100% of bond issuance)/Japanese yen vs usa cross now at 107/51/ THIS IS TROUBLESOME AS BANK OF JAPAN IS RUNNING OUT OF BONDS TO BUY./JAPAN 10 YR YIELD IS NOW TARGETED AT .11%/JAPAN LOSING CONTROL OF THEIR BOND MARKET//CARRY TRADERS GETTING KILLED
3c Nikkei now JUST BELOW 17,000
3d USA/Yen rate now well below the important 120 barrier this morning
3e WTI:: 57.82 and Brent: 64.53
3f Gold UP/JAPANESE Yen UP CHINESE YUAN:   ON -SHORE DOWN/OFF- SHORE: DOWN
3g Japan is to buy the equivalent of 108 billion uSA dollars worth of bond per month or $1.3 trillion. Japan's GDP equals 5 trillion usa./"HELICOPTER MONEY" OFF THE TABLE FOR NOW /REVERSE OPERATION TWIST ON THE BONDS: PURCHASE OF LONG BONDS AND SELLING THE SHORT END
Japan to buy 100% of all new Japanese debt and by 2018 they will have 25% of all Japanese debt. Fifty percent of Japanese budget financed with debt.
3h Oil UP for WTI and UP FOR Brent this morning
3i European bond buying continues to push yields lower on all fronts in the EMU. German 10yr bund FALLS TO -.38%/Italian 10 yr bond yield DOWN to 1.74% /SPAIN 10 YR BOND YIELD UP TO 0.39%…ITALIAN 10 YR BOND YIELD/GERMAN BUND: 2.12: DANGEROUS FOR THE ITALIAN BANKING SYSTEM
3j Greek 10 year bond yield FALLS TO : 2.11
3k Gold at $1405.50 silver at: 14.06   7 am est) SILVER NEXT RESISTANCE LEVEL AT $18.50
3l USA vs Russian rouble; (Russian rouble DOWN 1/100 in roubles/dollar) 63.82
3m oil into the 57 dollar handle for WTI and 64 handle for Brent/
3n Higher foreign deposits out of China sees huge risk of outflows and a currency depreciation. This can spell financial disaster for the rest of the world/
JAPAN ON JAN 29.2016 INITIATES NIRP. THIS MORNING THEY SIGNAL THEY MAY END NIRP. TODAY THE USA/YEN TRADES TO 108.37 DESTROYING JAPANESE CITIZENS WITH HIGHER FOOD INFLATION
30 SNB (Swiss National Bank) still intervening again in the markets driving down the SF. It is not working: USA/SF this morning .9910 as the Swiss Franc is still rising against most currencies. Euro vs SF is 1.1127 well above the floor set by the Swiss Finance Minister. Thomas Jordan, chief of the Swiss National Bank continues to purchase euros trying to lower value of the Swiss Franc.
3p BRITAIN VOTES AFFIRMATIVE BREXIT/LOWER PARLIAMENT APPROVES BREXIT COMMENCEMENT/ARTICLE 50 COMMENCES MARCH 29/2017
3r the 10 Year German bund now NEGATIVE territory with the 10 year FALLING to –0.38%
The bank withdrawals were causing massive hardship to the Greek bank. the Greek referendum voted overwhelming "NO". Next step for Greece will be the recapitalization of the banks and that will be difficult.
4. USA 10 year treasury bond at 2.02% early this morning. Thirty year rate at 2.53%
5. Details Ransquawk, Bloomberg, Deutsche bank/Jim Reid.
6.  TURKISH LIRA:  UP  TO 5.7383..
US Futures Slide, Asia Tumbles In Post-Payroll Revulsion As Powell Looms
In delayed response to Friday's stellar June payrolls report which saw rate cut odds slashed across the board, with a 50bps cut by the FOMC in three weeks no longer a possibility, global shares slumped on Monday, with Asian shares tumbling the most in two months, European stocks broadly lower and US equity index futures well in the red.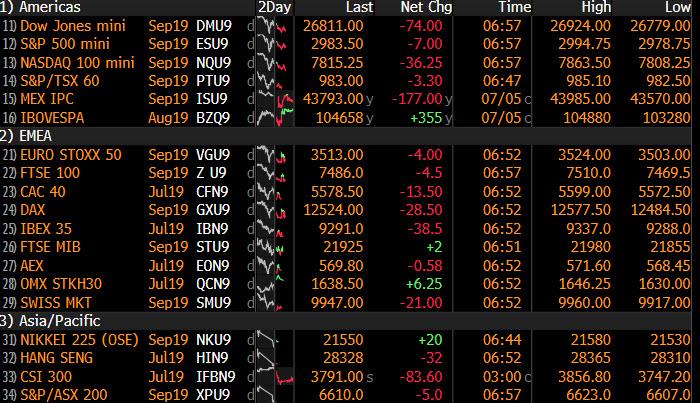 The overnight weakness in equity markets can be explained simply: since the start of 2019, global equities have been bolstered by expectations that central banks will keep interest rates at or near record lows to boost economic growth. Those expectations were hammered Friday's payrolls report which showed that nonfarm payrolls jumped 224,000 in June, beating forecasts for 160,000, in a sign the world's largest economy still had some fire. Given the strength shown in that data, investors now expect U.S. Federal Reserve Chairman Jerome Powell to go slow on rate cuts this year.
"The re-adjustment in expectations did push the dollar higher and had a negative effect on Asia but Europe has been supported by investors saying 'whatever the Fed does, the ECB [European Central Bank] will still cut'," said Andrew Milligan, head of global strategy at Aberdeen Standard Investments.
Sentiment was also hit by Morgan Stanley's decision – first reported here – to cut its exposure to global equities to "Underweight" due to growing doubt about the ability of policy easing to offset weaker economic data. "We are lowering our exposure to global equities to the range we consider 'underweight'," Morgan Stanley's London-based strategist Andrew Sheets said in a note. The previous range was 'neutral'.
Expensive valuations and pressure on earnings were among the reasons for the downgrade, Sheets said, while the bank increased its exposure to emerging markets sovereign credit and safe haven Japanese government bonds.
The session started on the back foot when Asian stocks suffered their biggest slide in two months, led by health care and communications firms as MSCI's index of Asia-Pacific shares outside Japan tumbled 1.4%. Markets in China, South Korea and India led declines in the region. Strong U.S. payroll data weakened expectations for aggressive rate cuts, sending Japan's Topix index 0.9% lower, with pharmaceutical companies among the biggest drags after news that the U.S. was devising a "favored nations" plan to buy drugs based on the lowest prices paid by other countries.
China's Shanghai Composite Index slumped 2.6%,  pulling back further away from 3,000, and its biggest drop since May 6, as traders fear a flood of new listings will overload the market and drain demand for existing stocks. Heavyweights China Shenhua Energy and Ping An Insurance helped drag the benchmark down. The S&P BSE Sensex Index fell as much as 2%, heading for its biggest loss in seven months, as disappointment over a lack of broad stimulus in India's budget weighed on equities for a second day. In South Korea, the benchmark index was dragged lower by Samsung Electronics and SK Hynix as concerns mount over political tensions with Japan. The Kospi extended its loss in afternoon trading and closed 2.2% lower.
The drop in European stocks was more muted but still widespread as bonds were little changed; the Euro Stoxx 50 dropped -0.1%, tracking the 0.2% drop in the e-mini S&P futures. Deutsche Bank shares initially surged, rising to their highest level since early May as investors welcomed the bank's move to cut 18,000 jobs around the world as part of a restructuring plan that will cost 7.4 billion euros; the surge helped lift shares in other European investment banks UBS, Credit Suisse and Societe Generale were up more than 1%, while Barclays is up 0.3% and HSBC is down around 1%.
However, it didn't take long for traders to realize that amid the massive cuts, DBK will have problems boosting profits as it slashes revenue, and the shares quickly reversed their gain, sliding as much as 1.7% shortly after the open.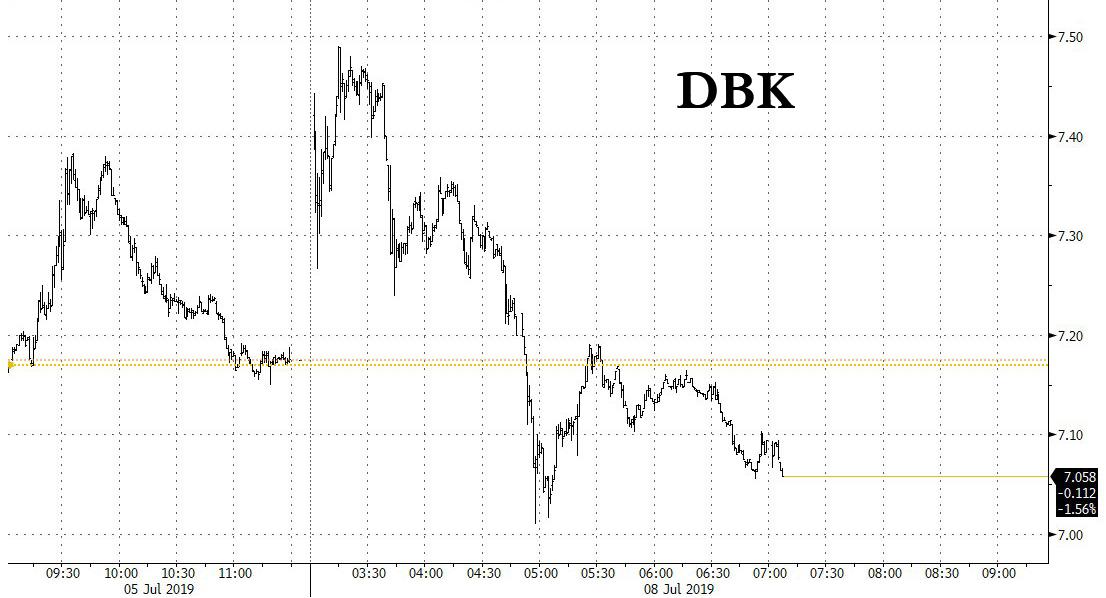 The big outlier in what has otherwise been a relatively quiet session was Turkey, where the lira, stocks and government dollar bonds all tumbled after President Erdogan dismissed the central bank governor, a move that fueled worries about monetary policy independence. Erdogan sacked Cetinkaya for refusing the government's repeated demands for rate cuts, laying bare differences between them over the timing of interest rate cuts to revive the recession-hit economy.  The turkish lira traded down 1.7% versus the dollar, off weakest levels in the session.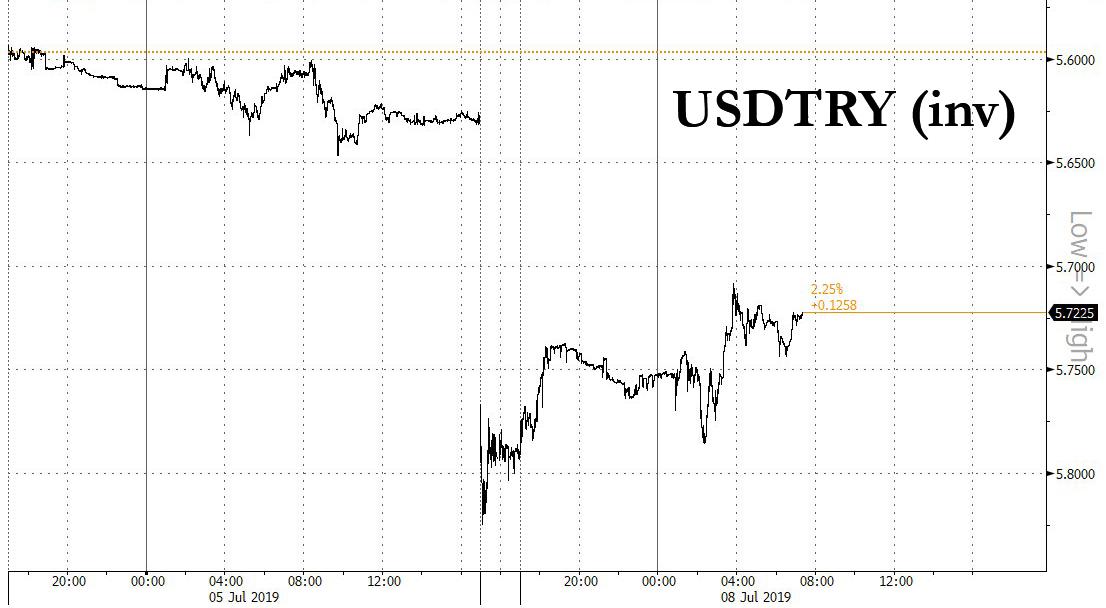 Not too far away, the Greek stock index rallied at first before erasing gains and slipping 1.2% after Greece's opposition conservatives returned to power with a landslide victory in snap elections on Sunday.
European bonds mostly trade steady to 2bps lower, with 10-yr Greek yield -4bps to 2.11% after center-right party won election at the weekend. 10-yr BTP/bund spread 1bp wider at 212bps. UST yields 1bp lower in the 2-yr through 10-yr tenors. Greek 10-year bond yields fell by 14 basis points in early trade to hit new all-time lows of 2.016%, reversing the 12 basis point yield rise on Friday.
There was some positive news on the protracted China-U.S. trade war, with White House Economic adviser Larry Kudlow confirming that top representatives from the United States and China will meet in the coming week for trade talks.
"Whether the negotiators can find a solution to the difficult structural issues that remain between the two sides is another matter, and Kudlow cautioned there was 'no timeline' to reach an agreement," National Australia Bank strategist Rodrigo Catril said.
In FX, the dollar index stood at 97.229 in early London trading, below the near three-week high of 97.443 it hit on Friday after last week's strong U.S. jobs data lowered expectations for a sharp Federal Reserve interest rate cut. The euro, which dropped to $1.1208 EUR=EBS on Friday, traded at $1.1225, unchanged on the day. After hitting a six-month low to the dollar on Friday as a result of poor economic data and a rise in expectations that the Bank of England will cut interest rates, the British pound was last quoted at $1.2513 down 0.2% on the day.
Geopolitics will also be in focus this week following news on Sunday that Iran will boost its uranium enrichment, in breach of a cap set by a landmark 2015 nuclear deal. "So far U.S.-Iran tensions have not had a material impact on markets, but if tensions escalate it could be a different story," said NAB's Catril.
In commodity markets, oil prices rose with Brent crude futures LCOc1 up 8 cents at $64.31. U.S. West Texas Intermediate was up 6 cents at $57.57 a barrel.
In other geopol news, President Trump said the Fed does not have a clue and that the most difficult problem for the US is the Fed and not the nation's competitors, while he separately commented that the Fed would lower rates if it knew what it was doing. Furthermore, Trump said that China is devaluing its currency and that the UK Ambassador to the US has not served the UK well.
Iran announced that it has surpassed the 3.67% uranium enrichment cap, according to a Iran Nuclear Energy Spokesman; additionally, enriching uranium above 20% has been discussed at the Supreme National Security Council but no decision has been taken as of yet; Iran's 3rd step in reducing commitments under the 2015 nuclear deal will be stronger. Follows earlier reports that Iran is to lift uranium enrichment to over 3.67%, while an Iranian official confirmed they will scale back commitment to the 2015 nuclear deal and will keep reducing its commitments every 60 days unless signatories move to protect it from US sanctions and signal room for diplomacy
Trading is expected to be subdued ahead of Powell's semi-annual testimony to the U.S. Congress on Wednesday, which will provide further clues on the near-term outlook for monetary policy. The only economic data on the calendar is the latest Consumer Credit report at 3pm ET.
Market Snapshot
S&P 500 futures down 0.2% to 2,985.25
STOXX Europe 600 up 0.09% to 390.48
MXAP down 1.2% to 159.82
MXAPJ down 1.4% to 523.74
Nikkei down 1% to 21,534.35
Topix down 0.9% to 1,578.40
Hang Seng Index down 1.5% to 28,331.69
Shanghai Composite down 2.6% to 2,933.36
Sensex down 1.9% to 38,746.13
Australia S&P/ASX 200 down 1.2% to 6,672.20
Kospi down 2.2% to 2,064.17
German 10Y yield fell 0.9 bps to -0.372%
Euro up 0.06% to $1.1232
Italian 10Y yield rose 6.8 bps to 1.39%
Spanish 10Y yield rose 6.1 bps to 0.384%
Brent futures up 0.6% to $64.60/bbl
Gold spot up 0.4% to $1,405.53
U.S. Dollar Index down 0.1% to 97.18
Top Overnight News from Bloomberg
The Turkish lira declined by the most since March after President Recep Tayyip Erdogan dismissed central bank governor Murat Cetinkaya, undermining the institution's independence weeks before it's scheduled to decide on policy and fueling concerns that borrowing costs will be lowered faster than expected
Deutsche Bank announced a radical overhaul of its business — it is cutting a fifth of its 91,000-person work force and closing it's equity trading. Analysts said that while the restructuring was broader than expected, the newly announced targets will be tough to achieve
Kyriakos Mitsotakis will have to move swiftly to tackle a raft of lingering economic problems when he's sworn in as Greek prime minister on Monday. Investors expect the 51-year-old New Democracy leader, whose conservatives secured a healthy parliamentary majority in Sunday's election, to prove his business-friendly reputation is deserved
British Conservatives plotting to thwart a no-deal Brexit will make another attempt this week to stop the next prime minister from forcing a chaotic break with the European Union without Parliament's consent. BOE has a forecast problem in market's bets on Brexit rate cuts
President Donald Trump wrapped up the weekend as he started it, jawboning the Federal Reserve to lower interest rates at a time when he may be sizing up his two latest picks for Fed governor as successors to Chairman Jerome Powell.
The European Central Bank has the determination and capacity to act as needed to support the euro-area economy, Bank of France Governor Francois Villeroy de Galhau said
Bank of Japan Governor Haruhiko Kuroda says extremely low interest rates will be kept in place until at least around next spring while the bank will keep an eye on risks for price momentum.
China's foreign-currency holdings rose for a second month amid potential capital inflows and positive valuation effects to the highest level in more than a year
Oil edged higher as rising tension in the Middle East kept investors wary, while expectations the U.S. and China can make a quick breakthrough following the resumption of trade talks are low
German industrial production saw a slight pick-up in May — a rare sign of resilience as manufacturers in Europe's largest economy struggle with global trade tensions and subdued demand. Output gained 0.3% on the month, just short of economists' estimates for a 0.4% gain. While the increase is welcome, it claws back only a fraction of the 2% drop recorded in April
The U.K. plans to fine British Airways 183.4 million pounds ($230 million) over computer attacks that exposed customer data, marking the first major application of far-reaching European Union rules requiring companies to tighten anti-hacking measures
Asian equity markets began the week with firm losses as the region reacted to the weakness last Friday on Wall St. ASX 200 (-1.1%) and Nikkei 225 (-1.0%) were lower in which the commodity-related sectors led the broad declines in Australia, especially gold miners after the precious metal slipped below the USD 1400/oz level as a function of a stronger USD and tempered rate cut calls, while Tokyo sentiment was also downbeat as participants digested data releases including a contraction in Machinery Orders. Hang Seng (-1.5%) and Shanghai Comp. (-2.6%) were the laggards after continued PBoC liquidity inaction and further clashes between police and protesters who have now targeted tourist areas in Kowloon. In addition, there were suggestions the US-China trade truce at the G20 has done little to bring the sides closer to an actual trade agreement and it is also expected that China could use its plan to name foreign companies a national security risk, as a bargaining chip in trade discussions. Finally, 10yr JGBs were lower as they tracked the decline in T-notes and rebound in yields in the aftermath of the strong US jobs data, with the absence of the BoJ in the market also contributing to the lack of demand for bonds.
Top Asian News
China's June FX Reserves Rise to Highest Since April 2018
SocGen's Long Lira-Rand Call Proves Short-Lived on Erdogan Risk
Kuroda: To Keep Rates Very Low Until at Least Around Spring 2020
Anta Drops Most Since May as Second Short Seller Targets Firm
Investors Dump Korean Chip Makers Amid Japan's Export Curbs
Major European indices are little changed this morning [Euro Stoxx 50 -0.1%] though bourses have been somewhat choppy. Deutsche Bank (-0.1%) have announced a major restructuring programme (full details available in the EU Equity Opening News) which includes 18k job cuts by 2022 and the creation of a net capital release unit representing EUR 74bln of risk-weighted assets. In addition, no dividend is to be paid for the next two years and they anticipate a Q2 net loss of EUR 2.8bln. The bank opened firmer this morning by around 3.5%, as markets initially had positive expectations for the Co's plan; notably the FT highlight that UBS's share prices roughly doubled in the 3 years after they announced a very similar plan in 2012. However, Co. shares have since given up these gains as further comments have been released by the Co for instance that they see significant uncertainty in their forecast to at least break even in 2020. Unsurprisingly, the banking sector has moved largely in sympathy the German bank this morning, currently lower by around 0.2%. Elsewhere, Pirelli (+4.0%) reside at the top of the FTSE MIB after being upgraded to overweight from neutral at JP Morgan. Finally, Sodexo (-4.1%) are in the red this morning post-earnings, where the Co. indicated that FY19 operating profit is to towards the lower end of the previously announced range.
Top European News
ECB Plan to Modernize Bond Sales Gets Cool Reception From Banks
New Democracy Meets Old Greek Problems After Mitsotakis Win
Tories Plotting to Thwart No-Deal Brexit Prepare New Attack
Philipp Who? Julius Baer Stuns Market With Insider Pick for CEO
Spanish Bulls Shrug Off Doubters as Economy Keeps on Booming
In FX, vastly contrasting starts to the new week for the Kiwi and Lira, as Nzd/Usd rebounds firmly from post-NFP lows to probe above 0.6650, but Usd/Try extends gains to just over 5.7930 at one stage on the back of further Government intervention aimed at forcing the Turkish CB to cut rates. In short, President Erdogan sacked CBRT chief Cetinkaya over the weekend by decree and put Deputy Governor Uysal in charge and it seems that the failure to cut rates at the June policy meeting and/or not signalling sufficiently aggressive easing for this month prompted the decree and change of leadership.
USD – The Dollar has eased back from Friday's headline payrolls peaks across the board, not just against the Kiwi as noted above, with the DXY unable to sustain momentum or breach 97.500 to expose the next upside technical objective. Another verbal lashing from US President Trump about the Fed not helping the economy, along the lines of his Turkish counterpart may be weighing on the index and Greenback generally, as markets brace for Powell's semi-annual testimony to gauge whether easing is on the cards for the July FOMC, and more importantly if there is more than merely an insurance cut in the offing. On that note, markets are 97.5% certain that Funds will be lowered by 25 bp vs just 2.5% still looking for -50 bp.
AUD – The next best major, but capped ahead of 0.7000 as the Aud/Nzd cross drifts back down to 1.0500 from rebound highs posted in wake of last week's RBA rate cut and tweak in guidance to signal a pause after 2 in a row.
GBP/JPY/CAD/EUR/CHF – All narrowly mixed against the Usd as Cable consolidates in a narrow range north of 1.2500 and the Yen pares some losses between 108.58-29 amidst weaker than forecast Japanese data (machinery orders) and with decent option expiry interest sitting just below (1.2 bn from 108.25-15 and 1 bn from 108.05-00). Meanwhile, the Loonie has also found its footing after underperforming on Friday when Canadian jobs data revealed an unexpected decline, but the breakdown was not as bleak, with Usd/Cad meandering in a 1.3062-83 range, and the single currency has shrugged off a surprise deterioration in Sentix sentiment to hold above 1.1200 in a 1.1219-34 band. Note, expiries could keep Eur/Usd in check given 2.5 bn sitting at 1.1250-55 and 1.1260-65, while the Franc is midway between 0.9900-19 and straddling 1.1125 vs the Euro in lacklustre mood overall.
In commodities, WTI and Brent have had a jittery start to the week and are trading within a relatively narrow USD 0.50/bbl range, with the complex continuing to garner some support from Friday's price action where WTI reclaimed the USD 57.00/bbl level on Friday and is approaching the USD 58.00/bbl level; session high of USD 57.91. Recent commentary for the complex has been relatively light, Iranian Oil Minister Zanganeh said he is hopeful that Iran's oil exports will improve and the main concern is Iran's ability to export oil not the price of oil. Elsewhere, Ineos' Forties Pipeline System's (575k BPD) oil flows are to be continually reduced as a processing unit is in need of maintenance; flows are expected to be reduced to 150mln BPD until Tuesday. Separately, Goldman Sachs have reiterated their stance that they continue to see WTI between USD 50-60/bbl and Brent between USD 55-65/bbl. Looking ahead, this week we have the three main monthly oil market reports beginning with the EIA's STE tomorrow at 17:00 BST which includes their expanded forecast discussion. Gold (+0.5%) is firmer this morning as the metal has once again surpassed the USD 1400/oz level to the upside after losing the handle last week post US jobs report. Of note for the yellow metal, PBoC added 0.33mln ounces of gold to their reserve stockpile in June, to a total of 61.94mln ounces; the PBoC's seventh consecutive months of gold buying. Separately, copper has been largely resilient to the downside seen in Asia overnight, with the red metal firmer by jut shy of 1.0% this morning; though does trade within a narrow range on the day thus far.
US Event Calendar:
3pm: Consumer Credit, est. $17.0b, prior $17.5b
DB's Jim Reid concludes the overnight wrap
Welcome to a new week where the main highlight for markets will likely be Fed Chair Powell's testimony before the House Financial Services Committee (Wednesday) and the Senate (Thursday) on monetary policy and the state of the US economy. Friday's strong payrolls report has thrown the cat amongst the pigeons to some degree with regards July's rate cut options(0, 25bps or 50bps?) with 2yr yields up 10bps on Friday and markets moving from pricing in low 30bps of rate cuts earlier on Friday to around 27.5bps now. We'll also see the last FOMC meeting minutes on Wednesday for a little extra detail on how that dovish get together played out. In addition it's a very busy week for Fedspeak as tomorrow Bostic and Bullard address a conference in St Louis while Quarles will make a keynote address on stress testing with Powell due to make introductory remarks. On Wednesday we're due to hear from Bullard again while on Thursday we're expecting comments from Williams, Bostic, Barkin, Kashkari and Quarles. So plenty of potential for market moving headlines.
As for data, global inflation reports are the highlights. The June CPI report will be out in the US on Thursday followed by the June PPI report on Friday. The consensus for the former is a 0.0% mom headline reading and +0.2% core reading which should be enough to hold the annual rate at +2.0% yoy. We'll also get June CPI and PPI data in China on Wednesday while in Europe we get final June CPI revisions for Germany and France on Thursday. In Europe the other key data are probably the May industrial production prints in Germany on Monday, the UK on Wednesday and the Euro Area on Friday. In the UK we also get May GDP on Wednesday which given the alarm over the recent deterioration in data will be closely watched. The rest of the day by day week ahead is at the end as usual.
Asian markets have started the week on a weaker footing after Friday's strong US payroll report reduced expectations for the scale of imminent Fed rate cuts. The Nikkei (-0.98%), Hang Seng (-1.64%), Shanghai Comp (-2.46%) and Kospi (-1.84%) are all lower. Meanwhile, the Turkish lira is down c. -2.2% this morning as over the weekend Turkish President Erdogan removed the central bank chief Murat Cetinkaya and made it clear that he expects both the successor and the rest of the establishment to toe the government's line on monetary policy. Deputy Governor Murat Uysalwas has been named as a replacement. Elsewhere, futures on the S&P 500 are down -0.21%.
In other weekend news, Greece's centre-right New Democracy party led by Kyriakos Mitsotakis has regained power in the country after a sweeping general election victory with the party securing 40% of the vote and a comfortable majority of 158 seats in the 300-seat Parliament. Mr. Tsipras's party, Syriza, got around 31% of the vote. Elsewhere, President Trump continued with his criticism of the Fed by saying if the Fed "knew what it was doing" it would cut rates and added that the Fed's policy is putting the US at a disadvantage versus Europe and suppressing gains in the stock market.
Now recapping Friday's and last week's main news and market moves. The strong US jobs report was the main story on Friday, with nonfarm payrolls in June +224k (vs +160k expected), a big rebound from May's revised +72k figure. There was only a small downward revision of -11k in the previous two months, leaving the 3-month average at 171k. The unemployment rate ticked up a tenth to 3.7% (vs 3.6% expected), although looking at the number to two decimal places showed it only rose from 3.62% to 3.67%. Average hourly earnings remained at 3.1% (vs 3.2% expected), while average weekly hours remained at 34.4 (vs 34.4 expected). Treasuries sold off as investors reassessed the likelihood of a rate cut at the Fed's July meeting, with 2-year Treasuries up +10.0 bps on Friday to end the week up +10.4bps, its biggest one-day increase in 6 months, while the 10-year rose +8.4bps on Friday to end the week +2.9bps resulting in a big flattening on the week to 16.8bp.
Equities fell back in the US and Europe following the jobs report as investors reacted to the reduced prospect of monetary easing, although the S&P 500 pared back earlier sharper losses to close –0.18% on Friday, leaving its gains for the week at +1.65% as the index reached consecutive new highs. For context, Friday's closing level of 2990.41 leaves it just a 0.32% gain away from a record 3,000 level, a long way away from the lows of 2009, when the index closed at a low of 676.53 on 9th March that year. The dollar advanced following the report to end the week +1.16% (+0.50% Friday) while gold fell back to close -0.72% for the week (-1.17% Friday).
Here in Europe, the STOXX 600 also fell back -0.72% on Friday, ending a run of six successive moves upwards, although the index was still up +1.36% for the week as the reaction from the previous weekend's G20 meeting and the prospect of easier monetary policy following the nomination of Christine Lagarde as ECB President supported European equities higher.
Fixed income in Europe followed the US on Friday, with ten-year bunds up +3.6bps, although they still ended the week -3.6bps overall. The striking move was in BTPs though, which fell -35.6bps last week (+7.0bps Friday), as the avoidance of an Excessive Deficit Procedure and the Lagarde news led to a large fall in yields. Italian banks were also beneficiaries, helping the STOXX Banks to end the week +4.42% (+0.38% Friday), a seven-week high, with the top 5 performers in the STOXX Banks last week all Italian institutions.
In terms of other data on Friday, German factory orders in May came in at -2.2% mom (vs -0.2% expected). The print brings the yoy change down to -8.6%, the biggest decline since September 2009.
I)MONDAY MORNING/ SUNDAY NIGHT: 
SHANGHAI CLOSED DOWN 77.70 POINTS OR 0250%  //Hang Sang CLOSED DOWN 443.19 POINTS OR 1.59%   /The Nikkei closed DOWN 212.03 POINTS OR 0.98%//Australia's all ordinaires CLOSED DOWN 1.04%
/Chinese yuan (ONSHORE) closed DOWN  at 6.8827 /Oil UP TO 57.82 dollars per barrel for WTI and 64.53 for Brent. Stocks in Europe OPENED GREEN//  ONSHORE YUAN CLOSED DOWN // LAST AT 6.8827 AGAINST THE DOLLAR. OFFSHORE YUAN CLOSED DOWN ON THE DOLLAR AT 6.8859 TRADE TALKS STALL//YUAN LEVELS GETTING DANGEROUSLY CLOSE TO 7:1//TRUMP INITIATES A NEW 25% TARIFFS FRIDAY/MAY 10/MAJOR PROBLEMS AT HUAWEI /CFO ARRESTED  : /ONSHORE YUAN TRADING ABOVE LEVEL OF OFFSHORE YUAN/ONSHORE YUAN TRADING WEAKER AGAINST USA DOLLAR/OFFSHORE YUAN TRADING WEAKER AGAINST THE DOLLAR /TRADE DEAL NOW DEAD..TRUMP  RAISED RATES TO 25%
3 a./NORTH KOREA/ SOUTH KOREA
Real estate once again rising in Japan
(zerohedge)
Japan Is Once Again Inflating A Massive Real Estate Bubble
Real estate firms in Japan are once again "entering dangerous territory," according to Bloomberg. S&P Global Ratings said on Friday that the sector's debt levels are now higher than the nation's bubble era.
It is bringing back memories of the 1980s, when the grounds of the Tokyo Imperial Palace were being proclaimed as more valuable than all of the real estate in California. This proclamation was then famously followed by a quarter of a century of stagnation in the country's real estate sector.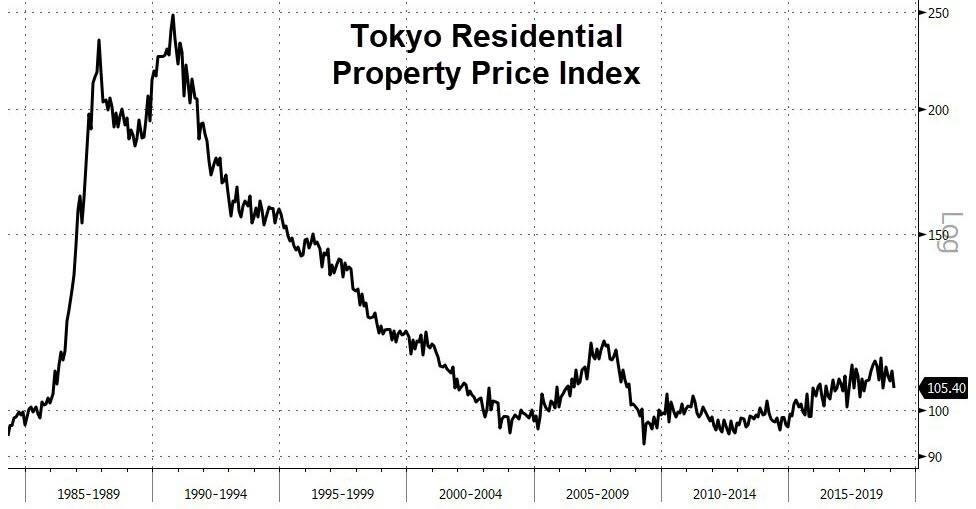 S&P said:
"Japan's real estate market is peaking out and ready to head down. Although the conditions in the office leasing market are solid, there are signs of a slowdown in corporate earnings, particularly among manufacturers. In addition, we expect major upticks in central Tokyo office building supply in 2020 and 2023."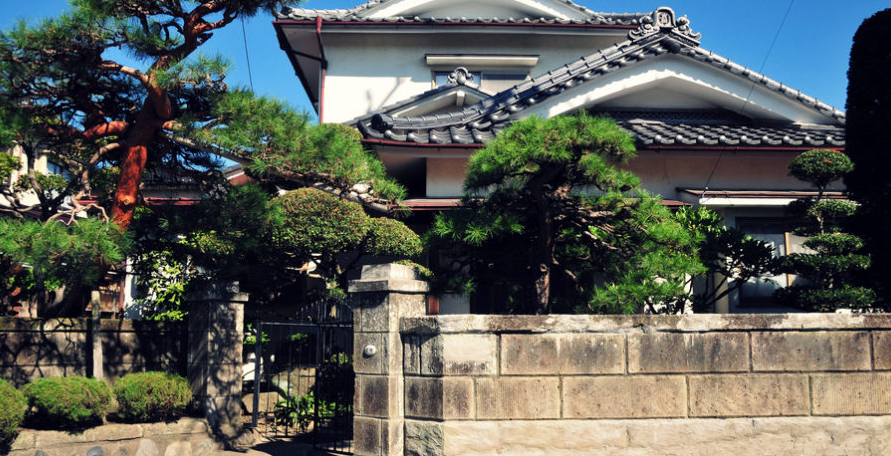 Companies that are said to be most at risk include Mitsubishi Estate Co., Mitsui Fudosan Co., Sumitomo Realty & Development Co. and Nomura Real Estate Holdings Inc.
Low interest rates in Japan haven't prevented domestic lenders from seeing their profitability weaken, mostly due to lower net interest margins. These lenders have increased loans to developers because demand from other corporate customers is relatively weak.
This, in turn, has prompted developers to take on large redevelopment projects and acquisitions. S&P thinks that financial leverage in the sector is only going to increase as firms use more debt to finance its growth.
S&P concluded:
"If banks reduce their loans to real-estate companies as financial conditions deteriorate, they could pull down property prices and push up debt financing costs. This, in turn, could worsen the financial standing of real estate majors."
END
3c China/Chinese affairs
Employees of Huawei confirm links to Chinese military
(zerohedge)
Is This The Huawei & Chinese Intelligence Smoking Gun? 
Some reports are already calling it the 'smoking gun' in the ongoing conflict between Washington and Beijing centered on Chinese telecom giant Huawei, and accusations that it's tied closely to Chinese military and intelligence, as a way for Beijing to infiltrate and spy on western governments and US companies.
Now, a "massive trove" of newly leaked records of Huawei employees appear to show "far closer links"between the private company and military-backed cyber agencies than previously known, according to The Telegraph. This follows on the heels of the discovery of academic research documents also confirming close cooperation between Huawei employees and the People's Liberation Army (PLA) uncovered by Bloomberg last month, as we previously reported. The new trove of employee CVs contains some 25,000 recordsanalyzed by Fulbright University's Christopher Balding and UK-based Henry Jackson Society researchers (which, it should be noted, is a hugely controversial neocon think tank).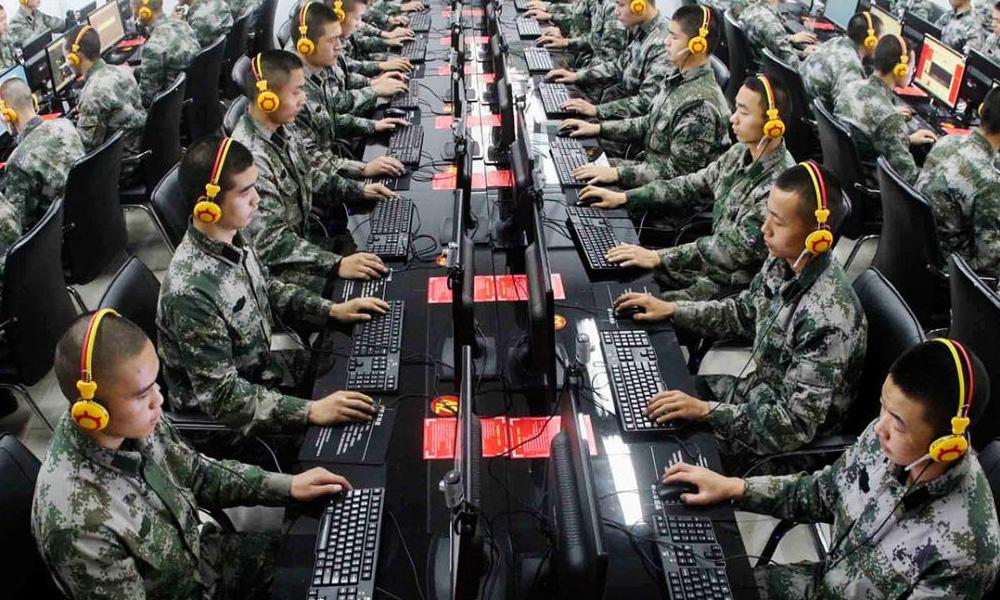 Yet in spite of the growing mountain of documented evidence, the company line has remained, "Huawei does not have any R&D collaboration or partnerships with the PLA-affiliated institutions,"as stated by Huawei spokesman Glenn Schloss less than two weeks ago. "Huawei only develops and produces communications products that conform to civil standards worldwide, and does not customize R&D products for the military," he added, as cited in Bloomberg.
Huawei's defense following that prior report was to say the joint research publications were "not authorized" — but the newest revelation places cooperation with the PLA even closer, per a new bombshell report:
According to the study, the employment files suggest that some Huawei staff have also worked as agents within China's Ministry of State Security; worked on joint projects with the Chinese People's Liberation Army (PLA); were educated at China's leading military academy; and had been employed with a military unit linked to a cyber attack on US corporations."
Analysts are calling it confirmation of a "systemized, structural relationship" between the PLA, Chinese intelligence, and Huawei.
The company has responded by pointing out it's common to have an employee revolving door of sorts between the private and public sectors (as does Washington), and that personnel CVs will reflect this reality.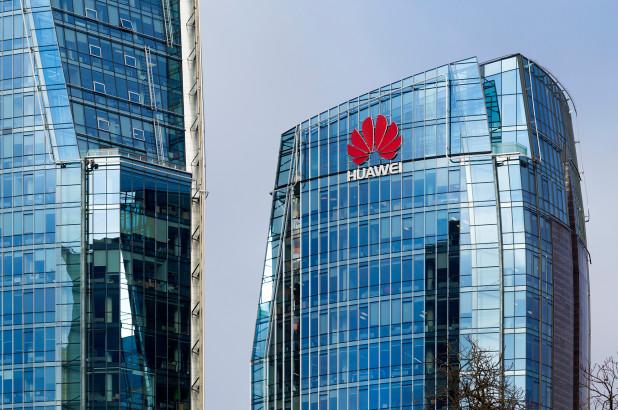 However, many employees' prior postings within China's intelligence apparatus are shockingly high level and at the heart of the PLA's cyber-spying operations. As Forbes summarizes of the findings:
One example given is for a current employee whose previous posting was with the National Information Security Engineering Centre, which Reuters has linked to the PLA's Unit 61398—"the unit has been accused of being at the heart of China's alleged cyber-war against Western commercial targets."

Some employees have links to the Chinese Ministry of State Security (MSS), which the report points out "is the primary entity responsible for espionage and counter-intelligence. It should raise immediate concern that MSS assets are working on networking equipment as representative agents for Huawei."
And further examples from the trove of documents are as follows:
Analysis of the CVs found 11 Huawei staff graduated from the PLA's Information Engineering University, a military academy reputed to be China's centre for "information warfare research".
CVs are full of references to military backgrounds among Huawei employees:
Prof. Balding, in conjunction with the Henry Jackson Society, a London-based think-tank, concluded that about 100 Huawei staff had connections with the Chinese military or intelligence agencies and their "backgrounds indicated experience in matters of national security".
In a number of instances employees at the managerial level maintain simultaneous roles in PLA operations and the private telecom giant:
The study claims that one Huawei project team leader refers on his CV to work on joint projects between the telecoms company and the Chinese Army's National University of Defence Technology, one of China's leading military academies and was put on a U.S. list, banning American firms from selling it technology in 2015, under Barack Obama's presidency.

Another Huawei employee's CV says she works both at the telecoms giant as a software engineer and also at the Radar Academy of the Chinese Army. The academy, says Prof. Balding, "matches closely her work for Huawei".

…The study links another Huawei engineer, who has worked in Europe, to being a "representative" of the Ministry of State Security, China's intelligence agency.
A HJS investigation has revealed, contrary to Huawei's claims, its employees claim on their own CVs to be working on "MSS" projects and cooperating with the PLA. https://www.telegraph.co.uk/news/2019/07/05/huawei-staff-cvs-reveal-alleged-links-chinese-intelligence-agencies/ …

Huawei staff CVs reveal alleged links to Chinese intelligence agencies

Huawei staff admitted to having worked with Chinese intelligence agencies in a "mass trove" of employment records leaked online, according to an analysis of the files.
And crucially, at least one telecoms engineer involved in Huawei's controversial next generation 5G broadband roll out has a CV which heavily restricts information "due to the involvement of military secrets":
A further CV reveals a senior Huawei engineer worked on "a database-driven surveillance system capable of accessing every citizen's record and connecting China's security organizations" — otherwise known as the "Great Firewall of China".

One more CV shows a Huawei telecoms engineer involved in development of 5G "base stations" who says on his CV that he cannot comment on his previous employment "due to the involvement of military secrets".
One of the chief researchers involved in analyzing the employment records said, "These CVs are a treasure trove"; however, in light of the report's release Huawei maintains a nothing to see here stance, likening the findings to the parallel situation of former NSA contractors rotating between the public and private sectors in the US.
A Huawei spokesperson quoted in Forbes said "this information is not new and is not secret, being freely available on LinkedIn and other career web sites. It is also not unusual that Huawei, in common with other tech companies around the world, employs people who have come from public service and worked in government. We are far more competitive thanks to our colleagues' previous experiences. We are proud of their backgrounds and we are open about them."
Is this indeed the Huawei-PLA intelligence smoking gun, or just business as usual for a major tech giant in an industrialized, militarily powerful nation?
END
4/EUROPEAN AFFAIRS
Deutsche Bank/Germany
Deutsche bank is now set to put 80 billion dollars of toxic assets into its bad bank. The only way it can survive is if interest rates rise.  The ECB is already telegraphing lower rates   Thus DB will without a doubt be nationalized.
(zerohedge)
In "Radical Overhaul" 20,000 Deutsche Bankers Will Be Fired As "Bad Bank"costs Soars To €80BN, 5x DB's Market Cap
One month ago, Jeff Gundlach – in his latest DoubleLine investor call – cracked jokes that Deutsche Bank's imploding stock, which has been hitting fresh all time lows virtually every day, had "major support" at €0.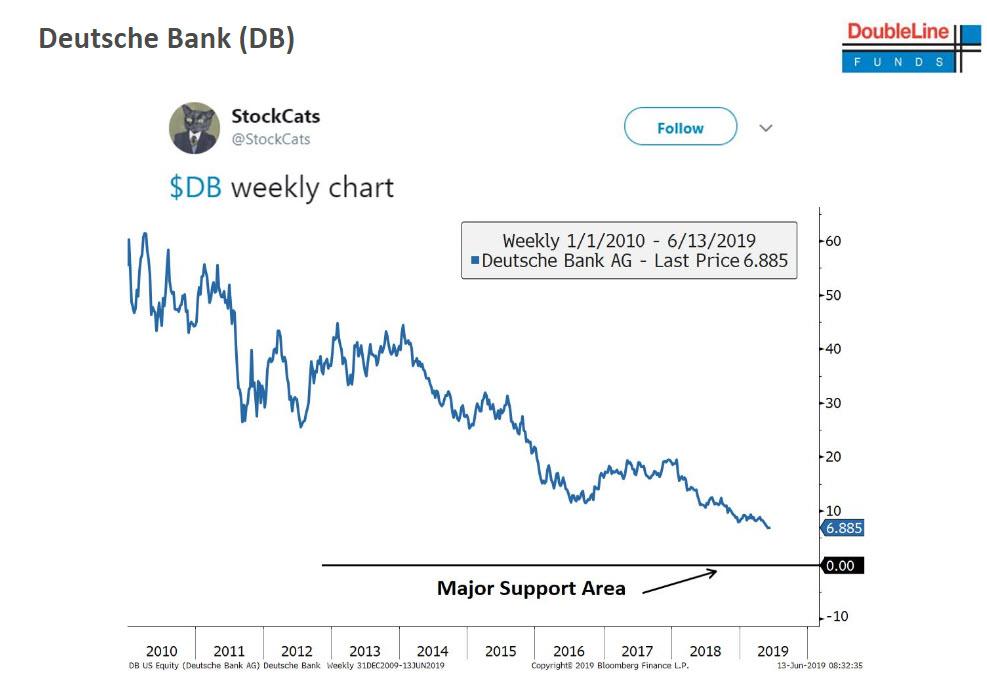 Once again, he was on to something because just a few days later, the FT first reported that the bank which was this close to nationalization in 2016, and failed to consummate a merger with that "other" German bank, Commerzbank, was preparing to roll out Plan Z: amid a deep overhaul of its trading operations (read: mass terminations), the biggest German lender was set to roll out a "bad bank" holding some €50 billion in legacy toxic derivative assets, a plan that was quite popular in the depths of the global financial crisis.
As we noted at the time, it would hardly come as a surprise that the German bank best known for housing €43.5 trillion in gross derivatives notional (something we first pointed out way back in 2013)…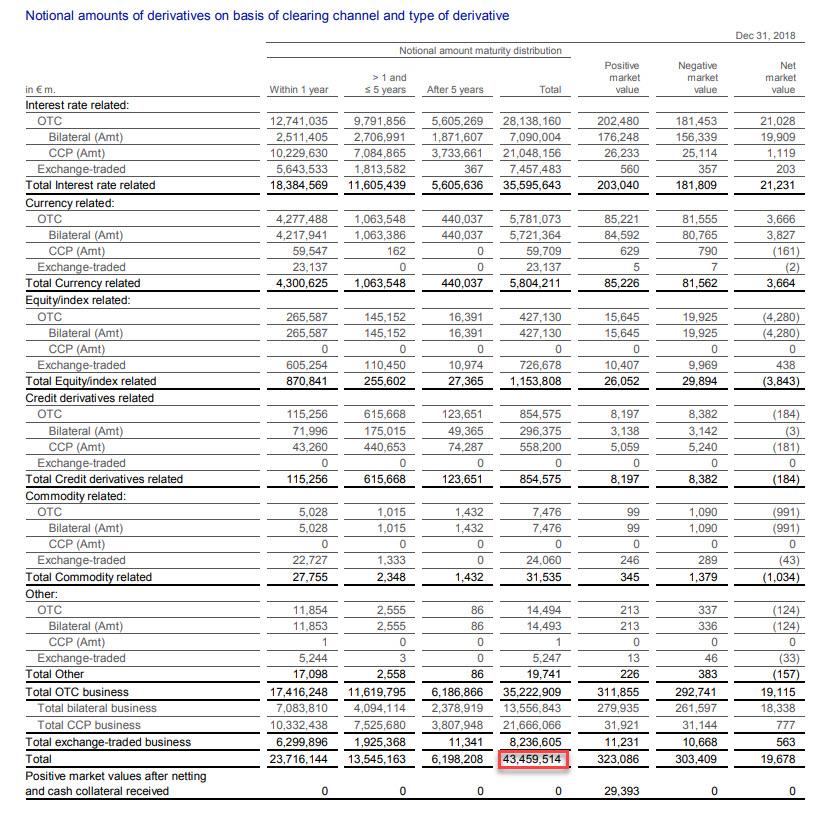 … would stuff its "bad bank", known internally also as "the non-core asset unit", with – drumroll – long-dated derivatives.
More to the point, we said that while this "bad bank" plan was commendable – after all admitting you have a problem is the first step toward recovery – it would fall far short of what is necessary to be ring-fenced from DB's legacy balance sheet.
Today, Bloomberg confirmed as much when it reported that just two weeks after the original, €50 billion bad bank plan was floated, the German bad bank's bad banks has already grown by 60%, with about €75 billion "and maybe as much as 80 billion euros of risk-weighted assets will form the basis of bad bank", a Bloomberg source said.
At the higher number, that's the equivalent of about a quarter of Deutsche's total balance sheet; it is also more than 5 times the German largest bank's market cap, suggesting that absent this critical restructuring shape, Europe's largest bank by assets is now effectively insolvent.
There's more: as Bloomberg notes, as part of the most ambitious restructuring plan to be soon implemented by Deutsche Bank, there will soon be a cull of top leadership and "better visibility on how many jobs will be cut."
And while the fact that at least two board members are expected to depart as part of a reorganization aimed at stemming the German lender's downward spiral, what is more shocking to DB's rank and file employees is that the number of workers to be cut has also grown in the past 2 weeks, rising from a prior range of 15,000-20,000, to 18,000-20,000, which at its high end means more than one in five jobs will be terminated.
As reported last week, investment bank chief Garth Ritchie will be quitting, while the departure of two fellow board members – retail head Frank Strauss and Chief Regulatory officer Sylvie Matherat – will be announced as early as Sunday, and as many as two new members will be added. Strauss – who was on Deutsche Bank's management board for just less than two years, and was previously CEO of Postbank, a German subsidiary of Deutsche Bank that it previously wanted to sell but decided to keep in 2017, will be replaced by Karl von Rohr, the chief administrative officer.
According to Bloomberg, the mass layoffs will also include numerous executives below the management board level. Stefan Hoops will be promoted to head a new division, probably comprised of the transaction bank and the lender's commercial-clients unit, and Mark Fedorcik will oversee the investment bank. At the same time, DB's debt chiefs Yanni Pipilis and James Davies may also leave.
Finally, the current transaction bank chief, Stefan Hoops, will be in charge of a fourth core division that Sewing plans to create. The proposed transformations are shown in the table below: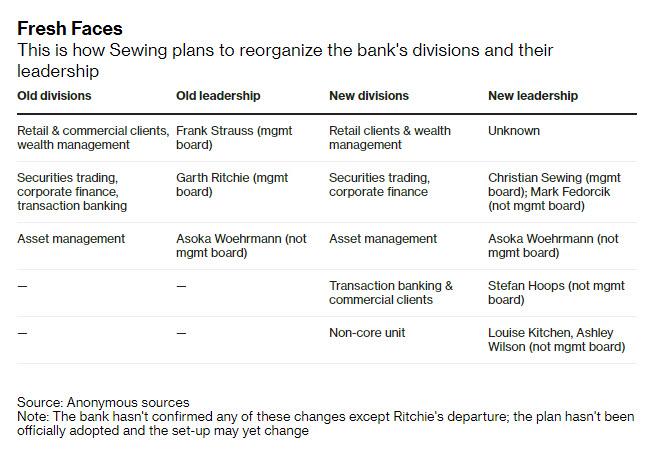 All this and more is expected to be announced on Sunday, when CEO Christian Sewing will announce the largest restructuring in recent history which along with deep cuts to the investment bank, will also involve reorganizing the company's divisions to boost the profile of the transaction bank as well as a shake-up of the management board.
Meanwhile, in a separate report, Bloomberg also details the vast strategic transformation that is about to be unveiled by the bank just short of its 150th anniversary, as Deutsche Bank seeks to "return to its roots" – as part of the overhaul, DB will sever many ties with institutional clients – one of the bank's key income sources – while seeking to boost its appeal to domestic corporations.
Sewing plans to slash headcount, drastically cut securities trading outside Europe, create a new division for transaction banking services and another unit to hold unwanted assets, shake up the bank's top leadership and cut the balance sheet, people familiar have said.
"It's a difficult adaptation process within Deutsche Bank," Annegret Kramp-Karrenbauer, the head of Germany's largest political party CDU and a former contender to succeed Chancellor Angela Merkel (until Merkel had a change of heart two months ago), said Saturday in a Bloomberg TV interview. "All those responsible are currently trying with much focus and responsibility to move along, and I really hope that this process leads to success."
The biggest change will be observed at the investment bank, which accounts for roughly half of Deutsche Bank's revenue and was a major actor in its downfall; it will be broken in two. The transaction bank will be lifted out and merged with the commercial clients segment that's currently within the retail division.
The change is designed to accelerate the shift of Deutsche Bank's focus away from acting as the first port of call for institutional clients such as asset managers and hedge funds toward becoming the primary bank selling cash management, trade finance and hedging products to corporate clients. The new division, to be lead by current transaction bank head Stefan Hoops, will be at the heart of the lender's future business model.
The securities business will be shrunk, perhaps drastically. Sewing wants to slash equities trading and parts of the fixed-income business. Those assets will be placed in non-core unit to sell or wind them down. The U.S. operations will be particularly hard hit, with the bank getting ready to start rolling out the job cuts on Monday, people familiar with the matter have said.
The decision to pull the plug on a big part of securities trading effectively ends a 30-year effort to become a global trading powerhouse that kicked off when Deutsche Bank took over London-based investment bank Morgan Grenfell, and culminated with Edson Mitchell, who joined the bank in 1995 as head of its global markets organization, and took it from an also-ran in trading bonds, securities and foreign currencies to a major and highly profitable player in those activities (Mitchell died in December 2000 in a plane crash in his private Beech 200 aircraft).
Deutsche Bank's subsequent acquisition of U.S.-based Bankers Trust a decade later, briefly turned the German lender into the world's biggest financial services company and set it on a course to become the largest buyer and seller of fixed-income securities as well.
Unfortunately, all DB has to show for that brief moment of glory is one of the largest gross derivative books – which in the past decade was well over 50 trillion euros – in history.
* * *
So will the latest wholesale restructuring help DB become viable?
Probably not: JPMorgan recently estimated that Deutsche's US operation was losing 25 cents for every dollar of business it does and its global equities business alone loses about €600m annually.
There is one final problem: in the summer of 2016, just a month before fears about the viability of DB sent its stock careening lower and prompting Angela Merkel to discuss whether or not DB will be nationalized, the IMF found that Deutsche Bank is "the bank that poses the greatest risk to the global financial system":
Network analysis suggests a higher degree of outward spillovers from the German banking sector than inward spillovers. In particular, Germany, France, the U.K. and the U.S. have the highest degree of outward spillovers as measured by the average percentage of capital loss of other banking systems due to banking sector shock in the source country.
Here is the IMF's chart showing the key linkages of the world's riskiest bank:
Since then, the gross notional value of derivatives on DB's balance sheet has indeed shrunk, but so has its equity market cap… which has never been lower and the buffer to absorb losses is virtually nil – DB's market cap is now just €14 billion, roughly the same as the recent IPO star, Chewy. Which makes sense: as we said two weeks ago, "one creates dog shit, the other is collateralized by it."
So should things turn bad, it is virtually certain that Germany's taxpayers will once again be on the hook for the most important bank bailout in European history.
But the biggest irony of all, is that Deutsche Bank may actually have a chance of survival… if only the ECB were to ever hike rates. As it stands now, however, with the ECB set to cut rates in the near future and possibly resume QE, the Frankfurt banking giant is as good as nationalized.
"It's Going To Be Carnage" – Deutsche Begins Culling 18,000 Employees
Some readers might have dismissed warnings of "Lehman-style" scenes outside Deutsche Bank's global offices as hysteria related to the bank's restructuring. But the mass firings that will eventually cull some 18,000 employees, roughly 20% of the bank's global workforce, have already begun.
After announcing the bank's most radical restructuring plan in two decades, CEO Christian Sewing on Sunday revealed that the bank would immediately move ahead with the steep job cuts. On Monday, whole teams of equity traders in Tokyo and the bank's other Asian offices were let go, the first step toward winding down the bank's equities sales and trading operation. The bank is also planning cutbacks to its fixed income, and rates, trading business. Shares bounced in pre-market trading on Sunday, but have since turned lower; in recent trade, DB shares were off nearly 2%.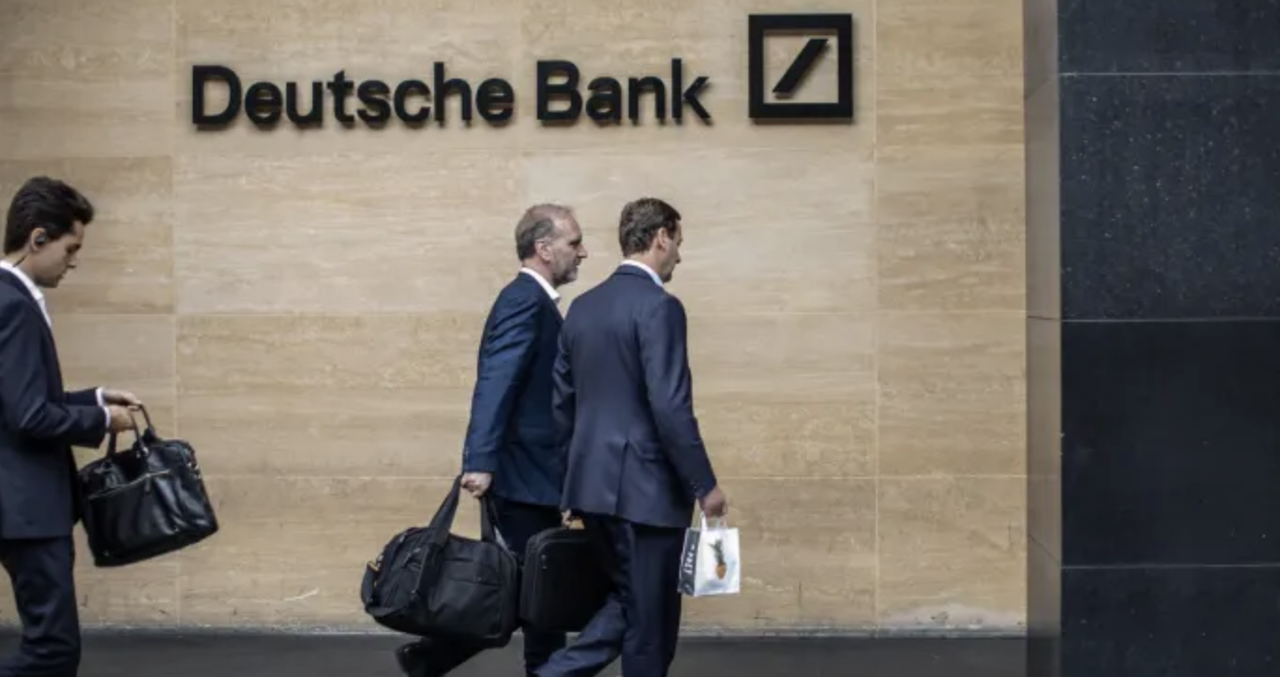 Though DB didn't disclose the regional breakdown of the job cuts, it's widely believed that roughly 50% of the employees in its bloated investment bank will be let go. That would mean the bank's offices in New York and London will be the hardest hit.
One Singapore-based employee whose team had not been hit by the cuts told the FT on Monday: "The mood is always depressed in Deutsche."
The FT said DB staff working in London will receive "notification risk" notices, effectively a warning that they might soon be fired, offered a 'consultation session with HR, and then given the rest of the day off.
"People know the bank is not doing well…It's not like a party…This is really sad what is going on right now in the bank, but I guess from top management's point of view that is what is needed to be done," said one Deutsche staff member in London who declined to be named.
As a reminder, here are the highlights of the "radical transformation" as published by the bank:
Creating a fourth business division called the Corporate Bank which will be comprised of the Global Transaction Bank and the German commercial banking business.
Exiting the Equities Sales & Trading business and reducing the amount of capital used by the Fixed-Income Sales & Trading business, in particular Rates.
Returning 5 billion euros of capital to shareholders starting in 2022, facilitated by a new Capital Release Unit (CRU) to which the bank plans initially to transfer approximately 288 billion euros, or about 20% of Deutsche Bank's leverage exposure, and 74 billion euros of risk weighted assets (RWA) for wind-down or disposal.
Funding the transformation through existing resources including maintaining a minimum Common Equity Tier 1 ratio of 12.5%. The bank expects to execute its restructuring without the need to raise additional capital.
As a result, the bank's leverage ratio is expected increase to 4.5% in 2020 and approximately 5% from 2022.
Reducing adjusted costs by 2022 by approximately 6 billion euros to 17 billion euros, a reduction by a quarter of the current cost base.
Targeting a Return on Tangible Equity of 8% by 2020.
Investing 13 billion euros in technology by 2022, to drive efficiency and further improve products and services.
The layoffs come as DB refocuses on its core European corporate business, while also planning to package some €74 billion in derivatives into a 'bad bank'. Most of the job cuts will land outside Germany, partly because Germany's powerful unions will shield employees from the axe. The bank has committed not to fire any German retail employees against their will until mid-2021, and since 2017 it has been reducing head count through natural attrition.
One fund manager in Germany described CEO Sewing's cuts as "a crash diet" to help the bank get back in shape, adding that the steps are long overdue.
"The announced measures are a crash diet," said Alexandra Annecke, fund manager at Germany's third largest asset manager Union Investment.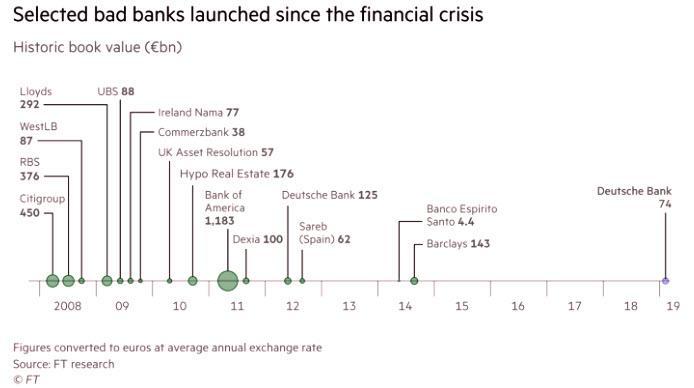 As the cuts begin, one staffer warned: "it is going to be carnage" inside the bank's London office on Monday.
GREECE
Syriza is thrown out  and this is good for the mining companies that are producing in Greece.  Glad they threw out these idiots
(zerohedge)
Greek Bond Yields Drop To Record Low After Landslide Win For Opposition Conservatives
Almost exactly four years after Greek bonds were in a bidless freefall during the summer of 2015 political disaster which almost saw Athens break away from the EU, on Monday Greek 10Y yields dropped to an all time lows, sliding as low as 2.013% – below US 10Y Treasurys which are trading at 2.035%…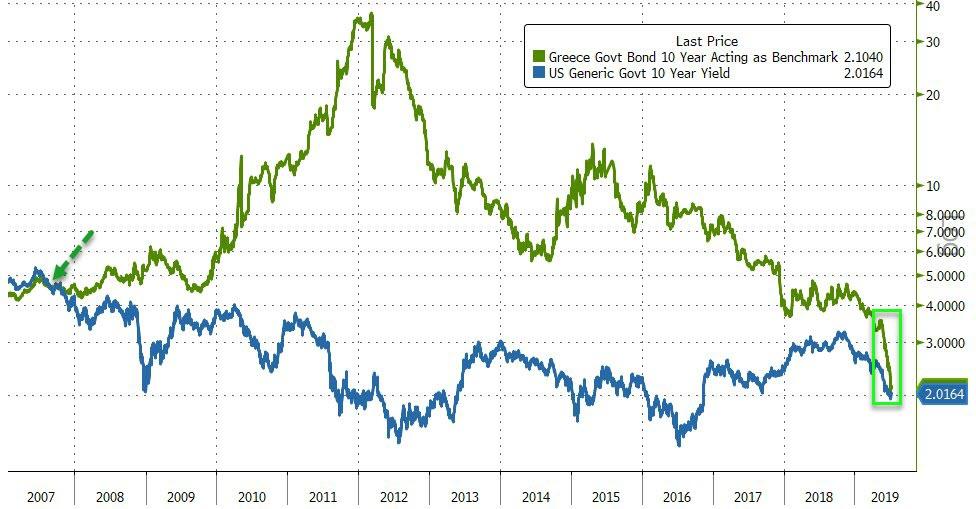 … after Greece's centre-right New Democracy party led by Kyriakos Mitsotakis regained power in the country after a sweeping general election victory with the party securing 40% of the vote and a comfortable majority of 158 seats in the 300-seat Parliament.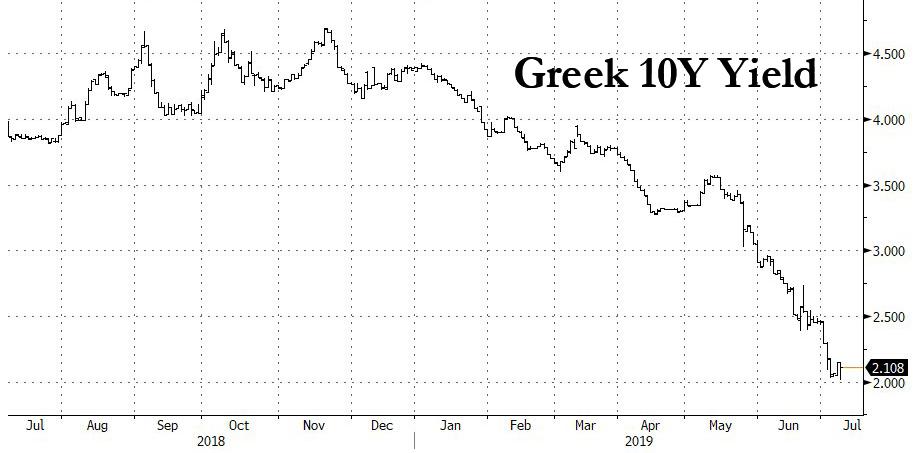 Tsipras' party, Syriza, got around 31.5% of the vote, having failed to deliver on any of his campaign promises when he stormed on the Greek scene 5 years ago, and in fact betrayed most of his voters when he, too, fell into line and did all Europe demanded after the ECB took Greek banks hostage, and a Greek referendum was summarily scrapped when the outcome was contrary to what Belgium wanted.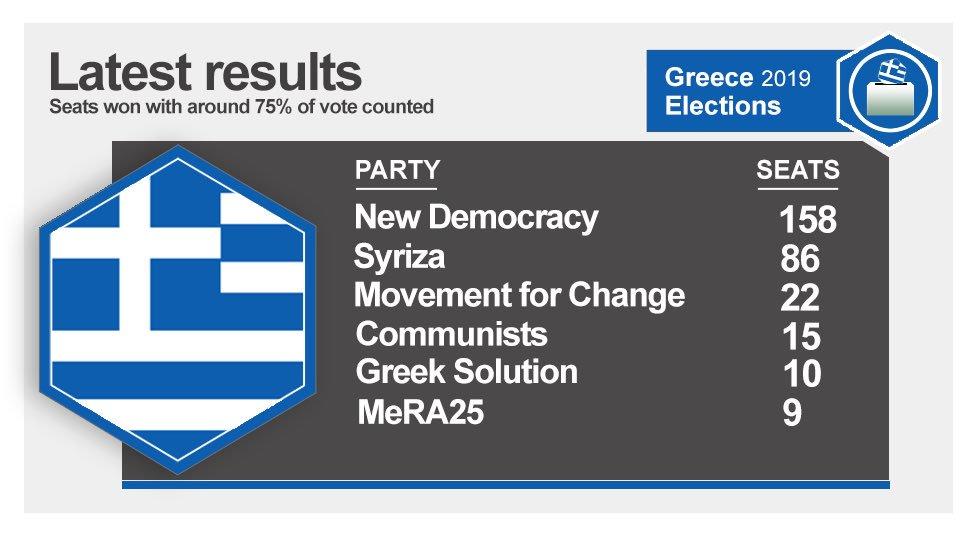 Mitsotakis' victory was a landslide, on a clear mandate for change, pledging more investments and fewer taxes.
Ironically, his win appeared driven by fatigue with years of European Union-enforced belt-tightening, combined with high unemployment, after the country almost crashed out of the euro zone at the height of its financial travails in 2015. The paradox is that a ND victory assures even worse conditions for what's left of the Greek middle class, and even more compliance with European demands, hence the spike in Greek bonds and bounce – at least initially – in Greek stocks.
Mitsotakis said in a televised address that the election outcome gave him a strong and clear mandate to change Greece.
"I am committed to fewer taxes, many investments, for good and new jobs, and growth which will bring better salaries and higher pensions in an efficient state," Mitsotakis said.
The loser, Tsipras, said he respected the will of the Greek people.
"Today, with our head held high we accept the people's verdict. To bring Greece to where it is today we had to take difficult decisions (with) a heavy political cost," he told journalists.
Tsipras took over from the conservatives in 2015 as Greece was at the peak of a financial crisis which had ravaged the country since 2010. Initially vowing to resist deeper austerity, he was forced into signing up to another bailout months after his election, a decision which went down badly with voters.
The handover will take place on Monday, after Mitsotakis's swearing in as new Prime Minister.
Sunday's snap vote was the first national election since the country shook off close scrutiny by its European partners who loaned Greece billions in three bailouts. Tsipras signed up to the latest, in 2015, in return for debt relief.
Mitsotakis, 51, assumed the helm of New Democracy in 2016. Although he is regarded as a liberal, his party also harbors members with more right-wing views. Golden Dawn, an extreme right-wing party detractors accuse of having neo-Nazi sympathies, lost significant ground with early results suggesting it may not reach the 3 percent threshold to parliament.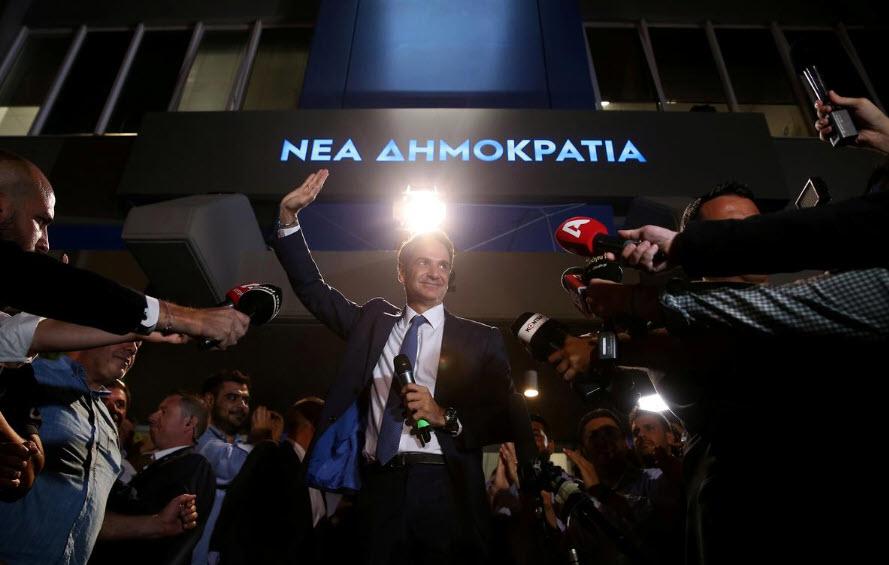 "The basic reason (for the result) is the economy," said analyst Theodore Couloumbis. "In the past 4.5 years people saw no improvement, on the contrary there were cutbacks in salaries and pensions," he said. The focus now turns to Mitsotakis's picks for the key economics ministries – finance, energy, development and foreign affairs. He has been tight-lipped on choices during the campaign.
Mitsotakis will inherit an economy that is growing at a moderate clip – at a 1.3% annual pace in the first quarter – and public finances that may fall short of targets agreed with official lenders.
The Bank of Greece projects that the 3.5% of GDP primary surplus target that excludes debt servicing outlays is likely to be missed this year and reach just 2.9% of economic output. With Greece still challenged by its debt overhang, the fiscal policy stance of the new government will be closely watched.
According to Reuters, the real test will be next year's budget with Mitsotakiss expected to outline the key contours in the traditional economic address in Thessaloniki in September. "I want the government that will be elected to do its best for the people, who are hungry," said pensioner Christos Mpekos, 69. "To give jobs to the young so they don't leave."
Naturally, Tsipras says that a vote cast for Mitsotakis would go to the political establishment, which forced Greece to the edge of the precipice in the first place. The irony is that Tsipras was roundly criticized for mismanagement of crises – not to mention selling out to Europe after vowing to fight Brussels when he was elected – and for brokering a deeply unpopular deal to end a dispute over the name of neighboring North Macedonia.
Meanwhile, Greece wrapped up its last economic adjustment program in 2018 but remains under surveillance from lenders to ensure no future fiscal slippage. While economic growth has returned, Greek unemployment of 18% is the euro zone's highest.
The market reaction was clearly favorable, with Greek 10Y bonds briefly yielding less than 10Y Treasurys. Greek assets have been in vogue since May's European election when Syriza suffered a crushing defeat; The Greek stock market, the ASE general index, gapped higher at the open although it failed to sustain momentum and reverses modest losses, and was last trading down 0.6% to 889.46; Greek banks benchmark index slips 2.7%.
.
5. RUSSIAN AND MIDDLE EASTERN AFFAIRS
TURKEY
Erdogan fires his Central Bank Governor and replaces him with his Deputy Governor Uysal who has no objection to lowering interest rates from its current 24% to zero, Expect the Lira to plummet badly this week
(zerohedge)
In Shocking Move, Erdogan Unexpectedly Fires Turkey's Central Bank Governor
Just as glimmers of hope were starting to emerge that Turkey may finally crawl its way out of the deep hole it dug for itself last summer… and Erdogan happens.
* * *
The world sure can be an ironic place: just one week after the Bank of International Settlements highlighted Turkey as the case study of all the bad things and political costs resulting from political meddling and intervention in a central bank's affairs, when BIS General Manager Agustin Carstens said  "you see the government undermining the autonomy of the central bank and at the same time you see the negative consequences," adding that looking at Turkey, other countries can "see what happens when the government tinkers with the autonomy", Turkey's president Erdogan had just one message: "hold my bear."
That's right: two weeks after Erdogan appeared to finally throw in the towel on aggressively authoritarian practices when he conceded the loss of the Istanbul election revote to his ruling party's primary challenger in a surprisingly subdued response, the "executive president" reminded everyone just why Turkey remains a consummate economic basket case, when on Saturday morning, Erdogan unexpectedly fired Murat Cetinkaya as central bank governor, after he reportedly refused an informal request to resign, according to Bloomberg which also correctly notes that the decision to terminate the centrist central banker risks a furious market backlash just as foreign money started returning to Turkey, which was expected to start interest-rate cuts in the immediate future.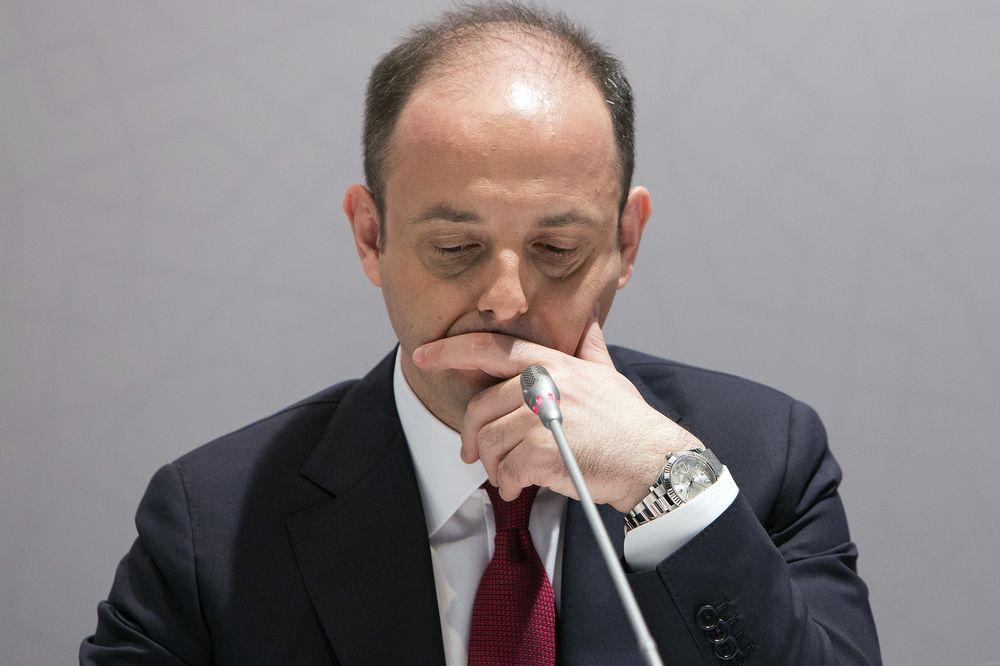 To single-handedly fire the central bank head – and remind the world just who is Turkey's boss – Erdogan used the powers gained from last year's general election, which transformed the political system into an executive presidency, effectively making Erdogan into an "unchecked", quasi-dictator. And, as a reminder, the first batch of presidential decrees issued under the new rules last July included a change that allowed Erdogan to name central bank governors – an appointment that previously required the support of the cabinet.
The rising tensions between the now ousted central banker, whose four-year term was due to end in 2020, and the government hit a breaking point after a monetary authority meeting on June 12, when he kept borrowing costs unchanged over Erdogan's long-running demands for a rate cut, according to Bloomberg sources. The now terminated governor was appointed in April 2016, and was often criticized for acting too slowly to tighten monetary policy during a currency rout in August. He then showed resolve in the face of market turmoil, increasing the benchmark interest rate by 625 basis points in September and holding it ever since; however by doing so he infuriated Erdogan which ultimately cost him his job.
In addition to sparking Erdogan's anger, Cetinkaya also came under fire by the international community for his lack of transparency over recent volatility in the bank's reserves, prompting concerns that the central bank was using its assets to prop up the lira before municipal elections earlier this year.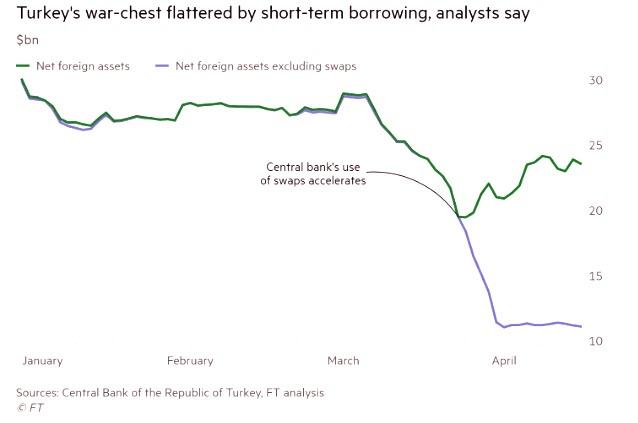 He also sparked outrage in late March when in order to crush lira shorts, he sent the overnight lira swap rate as huigh as 1,400%, a move Turkey borrowed from the PBOC, and in the process crippled foreign investors' faith in the country.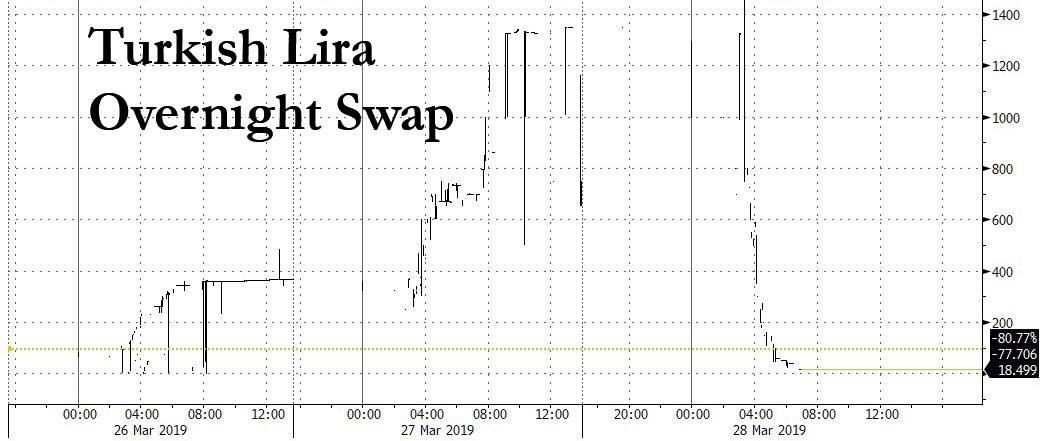 Cetinkaya's replacement is said to be the bank's Deputy Governor Murat Uysal, according to a presidential decree in Saturday's Official Gazette, and while his policy style is unknown something tells us he will be glad to cut rates all the way back to zero even if it means a collapse in what had recently become the world's favorite carry currency due to its shockingly high 24% rate.
The "shock ouster", as Bloomberg called it, is set to reignite investors' concern about the central bank's independence, and may derail a ridiculous rally in the lira that started at the beginning of May, driven largely by Mrs Watanabe, whose penchant for chasing momentum is about to blow up in her face again.
Cetinkaya's termination also came just a few days after Turkey's real rate – a number which is even more manipulated than Turkey's "official" reserve data, or any economic data out of China, printed at 8.3%, which while the highest in the world  was below expectations, giving policy makers room to start an easing cycle.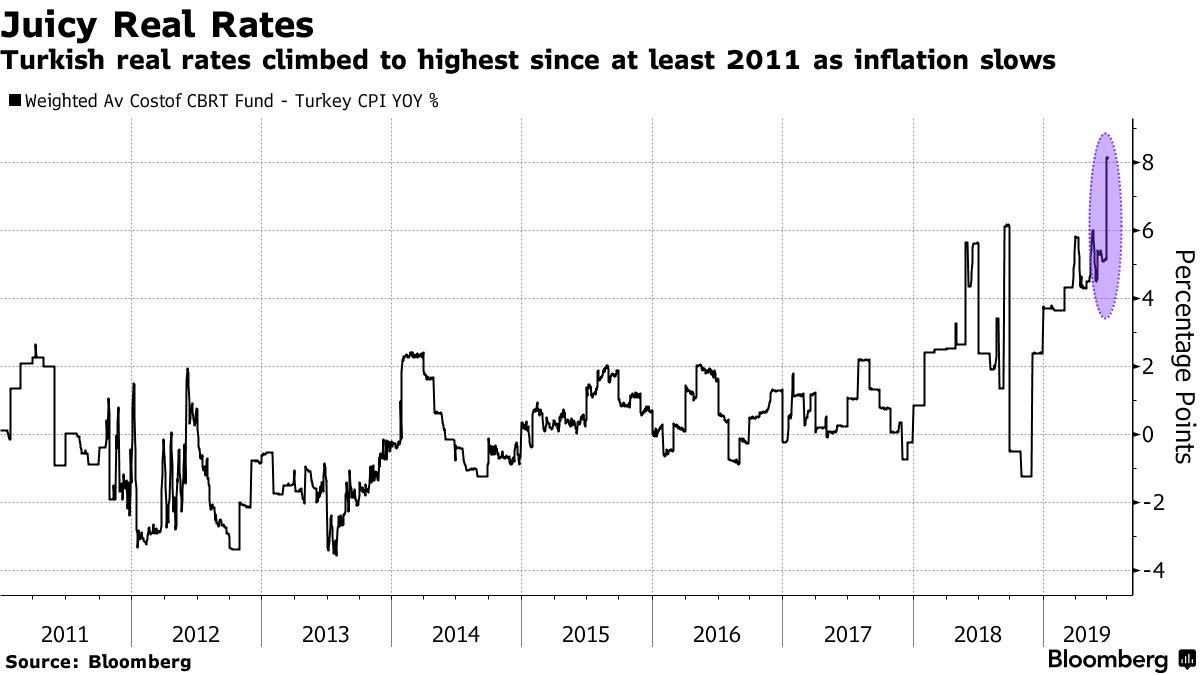 And with the next policy decision is scheduled for July 25, FX investors can shift their obsession from the Fed, which is no longer set to cut by 50bps just a few days later, but to Turkey, where the only question is how many percent will Uysal cut the repo rate by to make sure he isn't fire just weeks after he was appointed.
"By abruptly dismissing Cetinkaya, Erdogan reminded everyone who is in charge of monetary policy,"said Rabobank's Piotr Matys, a longtime skeptic that Turkey has any chance of normalization as long as Erdogan is in charge. "The decision is set to undermine credibility of the central bank, which may start unwinding the emergency rate hike announced in September much faster than previously anticipated."
To be sure, the move is set to reverse the Lira's recent appreciation, and will likely result in a plunge when trading resumes late on Sunday that could see the TRY plummet back under 6.00 vs the USD.
Bloomberg's mideast economist Ziad Daoud, wrote that "If Erdogan's aim was to get lower interest rates, then the decision to replace the governor could backfire. Now there's an additional credibility constraint, with financial markets certain to scrutinize the motivation and magnitude of any easing. Investors will question whether it was really warranted by economic data, or if it was delivered under pressure from the government."
Just like Trump, Erdogan has frequently criticized the central bank for keeping borrowing costs elevated, and just last month, he complained that while the U.S. Federal Reserve is moving closer to lowering interest rates, "the policy rate in my country is 24%, this is unacceptable."
Of course, Trump may beg to differ.
Then there is also the question of just what is the true level of CBRT's net reserves, and whether the central bank used up most of its reserve "dry powder" to prevent the lira from crashing below 6.00, with the currency now set for a far worse collapse with the central bank now unable to do anything to prevent a plunge to new record lows.
Furthermore, in cracking down on the central bank, many are asking if this sets the stage for Trump to pursue a similar course of action with the Federal Reserve, whose head Trump has repeatedly lashed out against in recent weeks; in fact just on Friday, Trump said the Fed is "our most difficult problem" and that the Fed doesn't have a clue
Donald J. Trump

✔@realDonaldTrump

Strong jobs report, low inflation, and other countries around the world doing anything possible to take advantage of the United States, knowing that our Federal Reserve doesn't have a clue! They raised rates too soon, too often, & tightened, while others did just the opposite….
….As well as we are doing from the day after the great Election, when the Market shot right up, it could have been even better – massive additional wealth would have been created, & used very well. Our most difficult problem is not our competitors, it is the Federal Reserve!
Amusingly, the new head of the CBRT, Uysal, deputy governor since June 2016, said he would continue to implement monetary policy independently, in line with his mandate and authority. Spoiler alert: he won't.
And now we patiently wait until Trump gets wind of what just happened in Turkey, and tweets his praise for Erdogan's show of power over the central bank, or – just to show the world that he has more executive power than the Turkish president – goes for the kill and informs Powell – via Twitter – that his serves are no longer necessary, and he will be replaced by Neel Kaskhari.
Iran exceeds enrichment level of 5%. It will be very dangerous to have Iran as a nuclear power and thus we might see Israel strike
(zerohedge)
Iran To Announce Enrichment To 5% Sunday, Aiming At Higher-Grade Uranium
The Iran crisis which recently saw a US military build-up in the gulf region has actually begun to fade from the headlines, at least compared to the bated breath coverage in the aftermath of last month's US drone shoot down, when potential major war was immediately on the horizon. The White House's rhetoric seems to have cooled or at least slowed in terms of frequency of bellicose statements for the moment (it's been a little while since Trump has tweeted threat of war), especially with attention focused on Trump's historic walk across the Korean DMZ with Kim a week ago. And there's even rumors that uber-hawk John Bolton could be on his way out as national security adviser (keep your fingers crossed).
But now it seems Tehran's leaders are in a dangerous gambit to provoke a response from the White House, which means we could be days away from a crisis level where the proverbial finger is again on the button, ready to let tomahawk missiles soar. Here we again with a rapidly escalating situation, as Reuters reports:
Iran on Sunday will announce an increase in uranium enrichment to 5%, a concentration above the limit set by its 2015 nuclear deal, an Iranian official told Reuters, in a move signaling a deepening challenge to escalating U.S. sanctions pressure.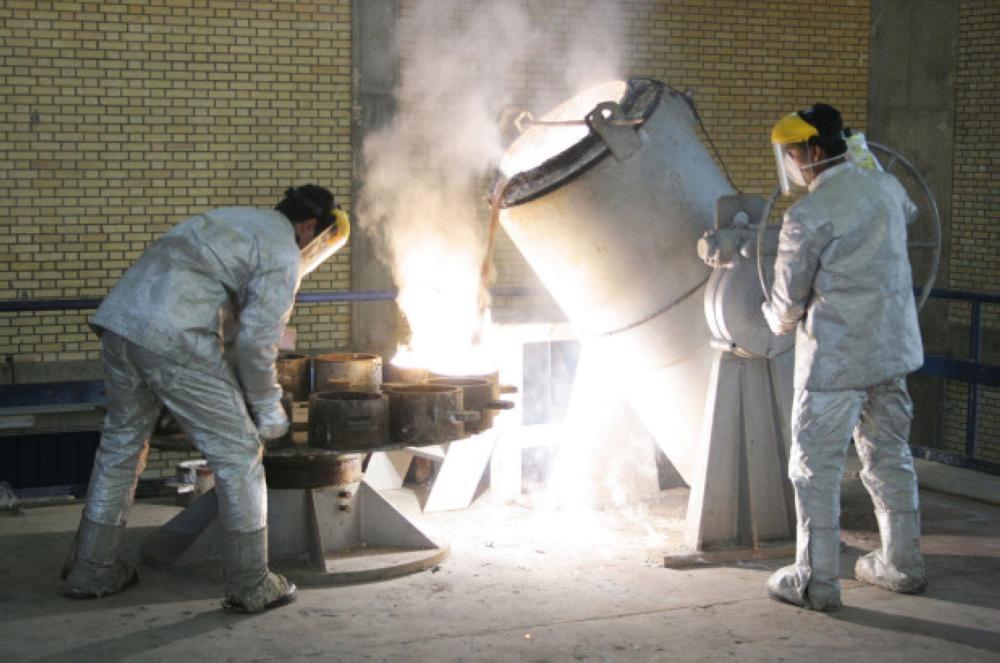 Iran is intent on waging its own "counter-pressure campaign" after feeling the brunt of the White House's "maximum pressure" in the form of unprecedented sanctions, leaving the country's spiraling economy starved of the ability to freely export its desired level of 2.5 million bpd (which is what Iran had been shipping in April 2018, on the eve of Trump's pulling the US out of the JCPOA).
Reuters cited the Iranian official as saying: "The main announcement tomorrow will be the increase of the level of enrichment to 5% percent from 3.67% that we agreed under the deal" — a move no doubt meant to urgently grab Europe's attention amid Iranian accusations of EU indifference and inaction.
Senior nuclear negotiator Abbas Araqchi will announce the further cuts in Iran's commitments to terms of the JCPOA at a news conference at 10:30 a.m. (0600 GMT) in Tehran on Sunday, Iranian media reported.
Though French President Emmanuel Macron is reportedly in desperate talks with Iran's President Hassan Rouhani seeking to restart dialogue on the nuclear question, Iran has for months been signaling to Europe that it's "too little, too late" while Iran's economy and energy sector are being gutted by sanctions, and with the latest unprecedented move of Britain seizing a tanker transporting Iranian oil, as it had allegedly been in contravention of EU oil sanctions on Syria.
end
British oil tanker travelling in the Gulf seeks shelter as it fears could be seized by Iran.
(courtesy zero hedge)
British Oil Tanker Seeks Shelter Over Fears It Could Be Seized By Iran
After a former IRGC commander exhorted his government to take a British oil tanker hostage following the seizure by Royal Marines last week of a vessel hauling Iranian crude, an oil tanker run by British Petroleum is sheltering in the Persian Gulf over fears it could soon be seized by Iran in a tit-for-tat response, Bloomberg reports.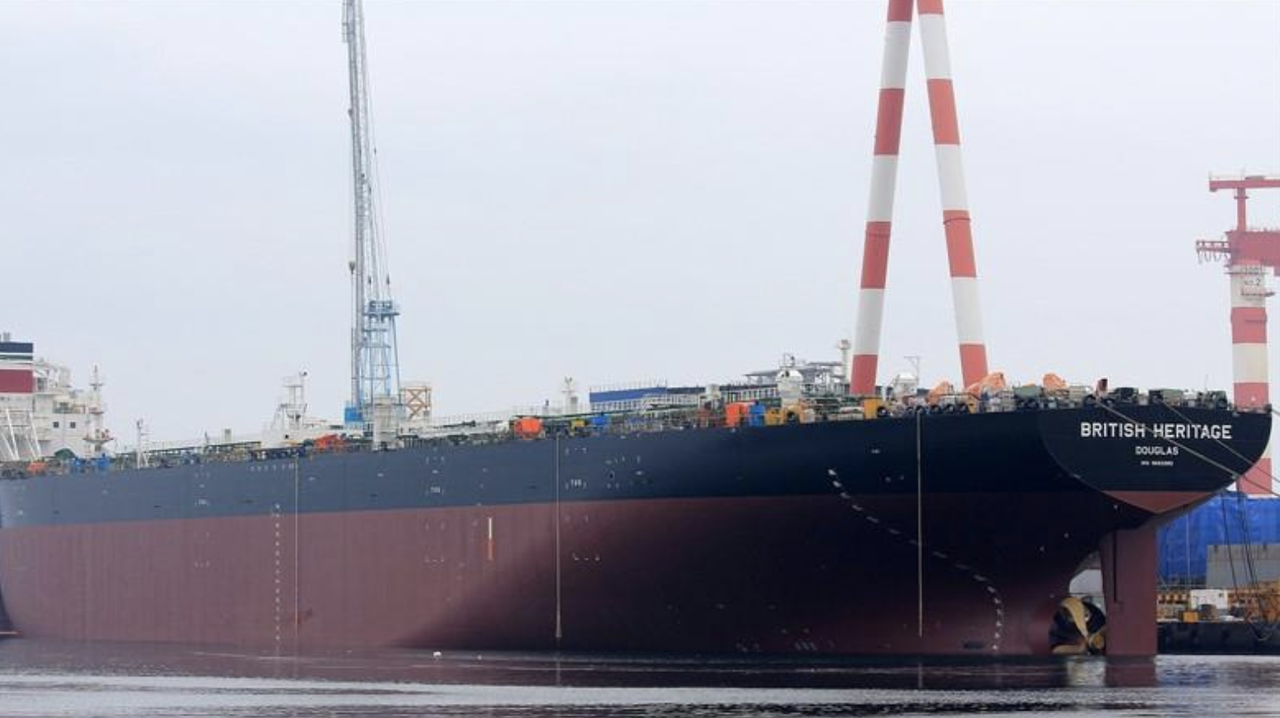 British Heritage
The tanker, which is named 'British Heritage', is able to haul about 1 million barrels of crude. It had been sailing toward Iraq's Basrah oil terminal when it made an abrupt U-turn over the weekend.
The ship is now hanging out near Saudi Arabia's coast because BP is reportedly worried that the vessel could be targeted if Iran seeks to retaliate for the seizure of the tanker Grace 1 on Thursday.
The Grace 1 was seized after being caught transporting Iranian crude, in breach of sanctions.
British Heritage, registered in the Isle of Man and flying under the British flag, had been chartered by Royal Dutch Shell Plc to transport crude from Basrah to northwest Europe. However, it never collected its cargo and the booking was canceled.
Of course, the ship won't be able to pass through the Strait of Hormuz, the chokepoint through which about 1/3 of global oil shipped by sea moves, without sailing close to Iran's coast. It's unclear how long the ship will be sheltering for.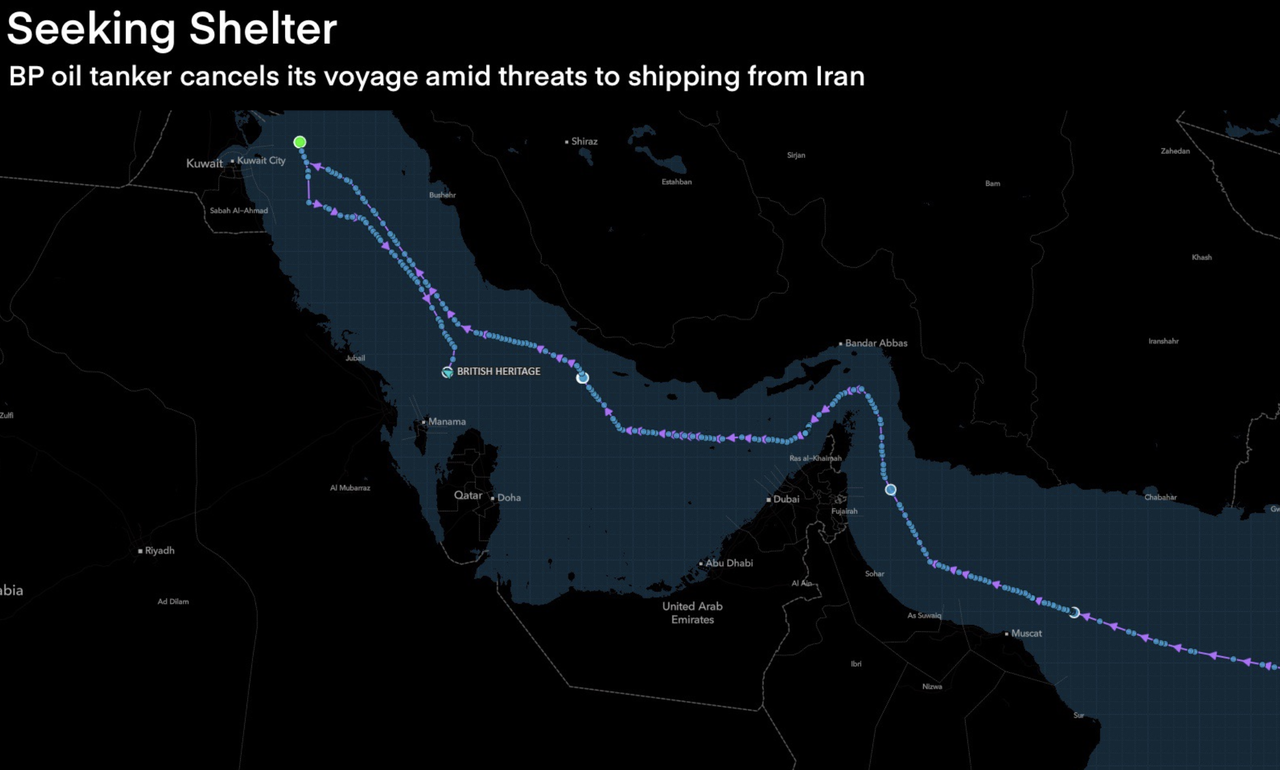 Iran's deputy foreign minister said on Sunday he considered the seizure of Grace 1 to be an 'act of piracy,' while a former leader of Iran's Revolutionary Guard said the Islamic Republic should take a British tanker in response.
While it's owners apparently believe the British Heritage to be 'safe' in Saudi custody, we wouldn't be surprised if it was conveniently and mysteriously 'bombed' like the handful of other tankers over the past few months – an incident that the UK and KSA would have no problem pinning on the Iranians.
END
"Iran-Backed" Attack On Merchant Ship In Red Sea Thwarted: Saudi Coalition
As the tanker and pipeline wars in the gulf continue to heat up, Saudi state sources are claiming to have thwarted a new "terror attack" on a commercial ship targeted by Yemen's Houthis.
Spokesman for the Saudi coalition fighting in Yemen, Col. Turki al-Maliki, announced Monday that "Houthis attempted to attack a commercial ship south of the Red Sea using a booby-trapped boat with explosives," according to a statement from the Saudi Press Agency.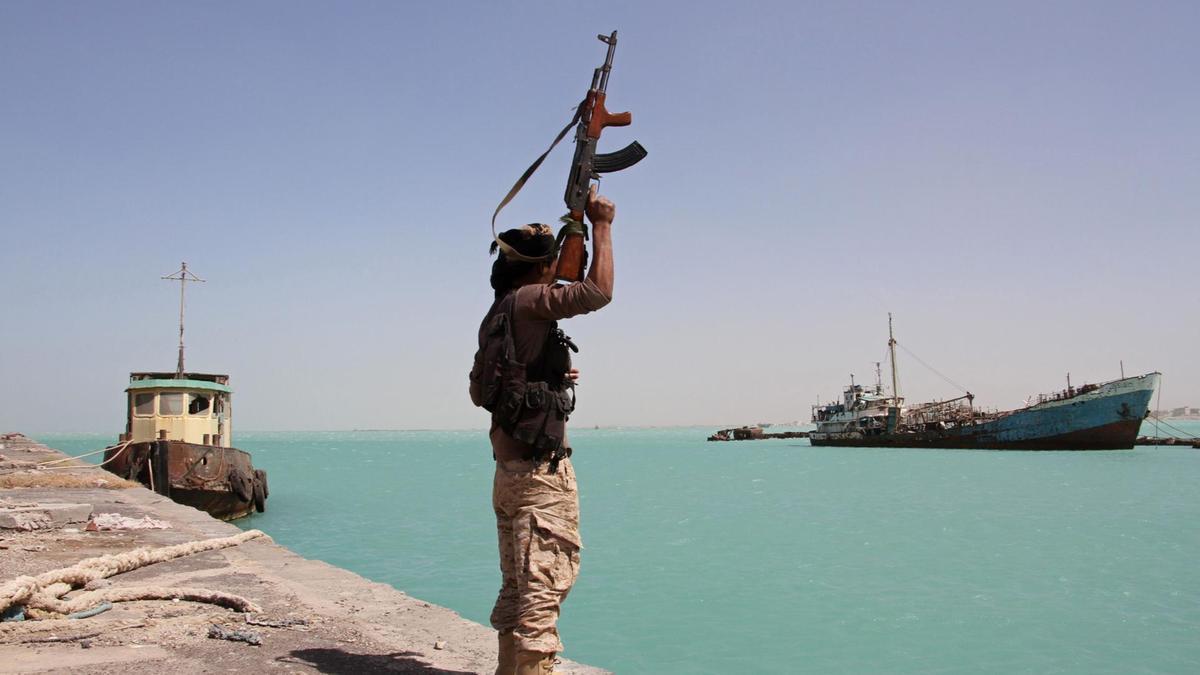 Al-Maliki pointed the finger at the "Iran-backed" Shia militia for posing a threat to navigation and international trade, but vowed that the coalition — which has since 2015 included US forces — would "neutralize" all hostile threats in the region.
The statements via the Saudi Press Agency suggest that an active, ongoing operation is underway in response to the alleged Houthi targeting of a merchant vessel in the south Red Sea.
The Bab El Mandeb strait, located between Yemen on the Arabian Peninsula to the Red Sea's south, is considered one of the world's most important trade routes for oil tankers and over the course of the Saudi-Yemen war has been site of multiple military operations launched between the Houthis and Saudis.
Impossible to predict Iran's response vs UK. Expect mischief/hassling of UK tankers in Persian Gulf. Is bigger risk than attack on tanker in Persian Gulf, the wildcard of Iran proxies, in particular the Houthis who have attacked Saudi tankers in the Red Sea/Bab el Mandeb? #OOTT
See Dan Tsubouchi's other Tweets
The claimed attack comes a day after the Houthis confirmed they conducted drone attacks on military aircraft hangars and other sites at Jizan airport in southern Saudi Arabia, according to Reuters.
Airports in the southern part of the kingdom have been under threat of late from increasingly sophisticated Houthi ballistic missile attacks. Washington and Riyadh have for the past year accused Iran's IRGC of supplying the advanced medium range rockets to the Shia rebel force fighting the US-Saudi coalition in Yemen.
It also comes following threats from the Iranian military to seize UK oil tankers in the region near the gulf, in a tit-for-tat threat after last Thursday's British Royal Marine seizure of a Panamanian-flagged tanker said to be carrying 2 million barrels of Iranian oil, reportedly bound for Syria.
However, the breaking allegation of a new "terror attack" in the Red Sea backed by Iran should be taken with a grain of salt, given both sides have routinely accused the other of hostile and belligerent acts, often with little evidence to back the assertions.
TURKEY/LIBYA

Turkey now supplying terrorists who are now joining the government of Libya in its fight against American backed Hafter as he is trying to get control of Tripoli(zerohedge)
Turkey Charged With Running Foreign Terrorist "Rat Line" Into Libya
Libya was once a key embarkation point for jihadists headed to foreign battlefields – first in the 1980s Afghan-Soviet War where they supported the CIA-backed mujahideen, and more recently in Syria, where both massive jihadist manpower and heavy weaponry were transferred to the killing fields of Aleppo and Idlib (also, it should be noted, in support of CIA regime change efforts against Assad).
But as we described after a recent New York Times report unveiled that US anti-tank missiles have been found in "unknown" Libyan rebel hands fighting within warlord Khalifa Haftar's ranks, the once stable formerly Gadaffi-ruled Arab North African country which was in 2011 "liberated" at the hands of US-NATO forces has once again become ground zero in a grinding proxy war which has allowed jihadists to run rampant amid the chaos.
Whereas a jihadi "rat line" previously ran from Libya into Syria via Turkey, we now have an exact reversal of the prior Syria situation given Turkey is becoming more heavily involved militarily in support of Tripoli's GNA government, currently under siege by UAE and US-backed Haftar's LNA.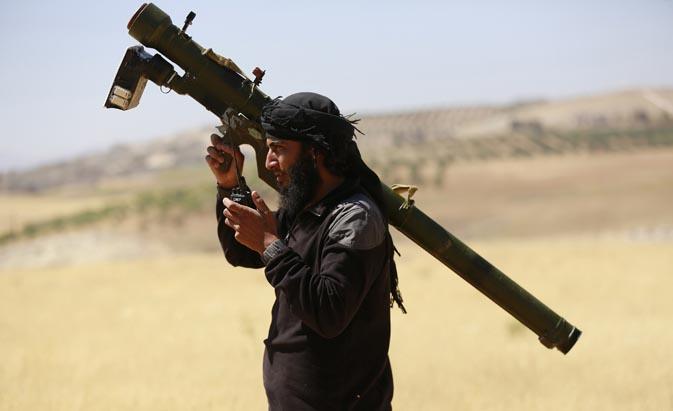 A Libyan official representing the rival Libyan government loyal to Haftar has alleged in a Russian state media interview that Turkey is actively transferring terrorists to fight in Libya. According to Beirut-based Al-Masdar News:
A Libyan official told the Arabic language version of Russia's Sputnik News Agency on Saturday that Turkey is transferring foreign terrorists to Libya to fight the Benghazi-based Libyan National Army (LNA).

Speaking to Sputnik from Tobruk, Libyan parliamentarian 'Ali Al-Sa'eedi Al-Qaidi said that Turkey has been sending terrorists to Libya for quite some time now, highlighting the fact that these militants only attack the [Tripoli-based] Libyan National Army.
"The transfer of terrorists is not new. This is a long story. Many terrorists come from Turkey through Tripoli and Misrata to fight the Libyan National Army in Tripoli and obstruct its advance into the center of the Libyan capital of Tripoli," Al-Qaidi said further.
Al-Qaidi is a member of the Tobruk-based Libyan House of Representatives, the rival government to the UN-recognized GNA in Tripoli. It should be noted further that Russia has emerged in recent years as a supporter of Gen. Haftar (as has the White House only months ago).
A 2017 map showing regions of Libya with the highest recent concentrations of jihadists via Middle East Institute: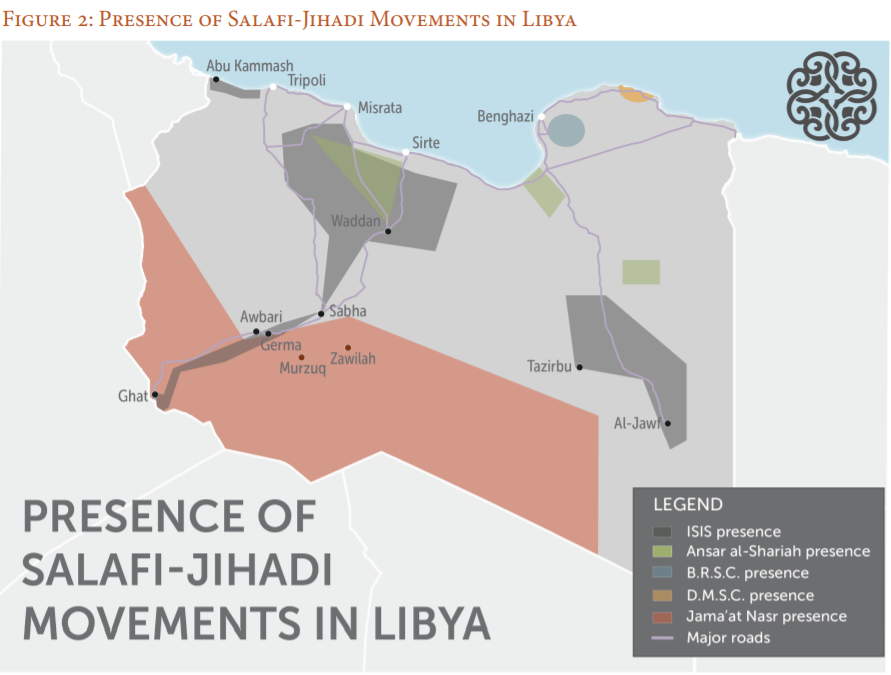 The official said further of the foreign jihadists that "these groups are now fighting in [Tripoli's] Libyan National Army under the protection of the civil state," and stressted that "on Saturday, a Tunisian terrorist was arrested at the Wadi Al-Rabea, south of the capital Tripoli," according to the Al-Masdar translation.
However, many reports have noted that jihadists are fighting on both sides of the LNA-GNA conflict; with most foreign fighters possibly supporting Tripoli with Turkey's assistance, and with many homegrown jihadists among Haftar's ranks, despite the CIA-linked commander presenting himself as "secular" and a nationalist.
Haftar's LNA has recently declared war on any Turkish military vessel or plane found in Libyan territory, given Ankara's close military support role to Tripoli.
END
ISRAEL/IRAN
Netanyahu is very concerned with Iran;s enrichment of Uranium at 5%
(zerohedge)
Netanyahu Compares Iran's Uranium Enrichment Breach To Nazi March Into Rhineland
Usually the 'reductio ad hitlerum' argument rolls out shortly before the West or its allies take some kind of military action against a Middle East regime. Following Sunday's announcement out of Iran that it's advancing its uranium enrichment beyond the 3.67% ceiling set by the 2015 nuclear deal — with officials telling Reuters over the weekend that enrichment will go to 5% — Israeli Prime Minister Benjamin Netanyahu did just that.
Speaking at a weekly cabinet meeting, Netanyahu told his ministers that it's a "mistake" to dismiss Iran's declaration as a mere "small step" given that the Nazis also took "small steps" in the 1930s before blitzing across European territory. He said Iran's enrichment "is for only one thing – to prepare nuclear weapons,"according to The Jerusalem Post.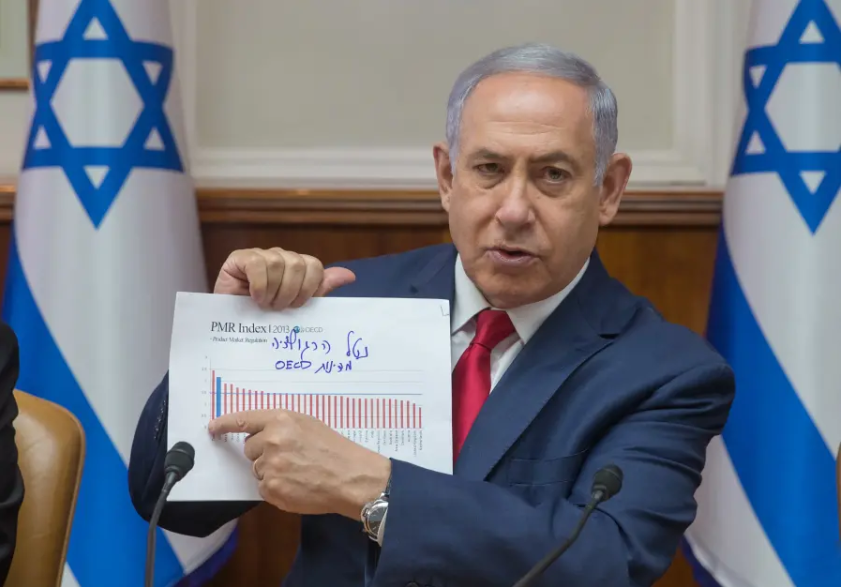 This after Iran's Deputy Foreign Minister Seyyed Abbas Araghchi announced Sunday plans to increase uranium enrichment to the level needed for operations of Bushehr Nuclear Power Plant. Prior statements had indicated this level at five percent.
The Deputy FM said:
Our commitments regarding the level of enrichment were revised, and we are reducing our commitments starting today.
And Iran nuclear agency spokesman Behrouz Kamalvandi announced further that, "Within hours, the technical tasks will be done and enrichment above 3.67% will begin." He said, "We predict that the IAEA measurements early tomorrow morning will show that we have gone beyond 3.67%."
The IAEA, which is the international nuclear watchdog, said "inspectors in Iran will report to our headquarters as soon as they verify the announced development."
Netanyahu was reacting to these and other statements out of Tehran. He asserted the entirety of World War II began when:
"Nazi Germany took one small step – to enter the Rhineland [in 1936]. A small step. No one said anything and no one did anything. The next step was the Anschluss, the connection with Austria [annexation of Austria in March 1938], and the next step was entering the Sudetenland in Czechoslovakia [October 1938]. And the rest is known."
He then appealed to international signatories of the 2015 JCPOA to take action, saying, "I call on my friends, the heads of France, Britain and Germany: You signed this [nuclear] agreement [with Iran], and you said that once they take this step, there will be harsh sanctions. That was the decision of the Security Council."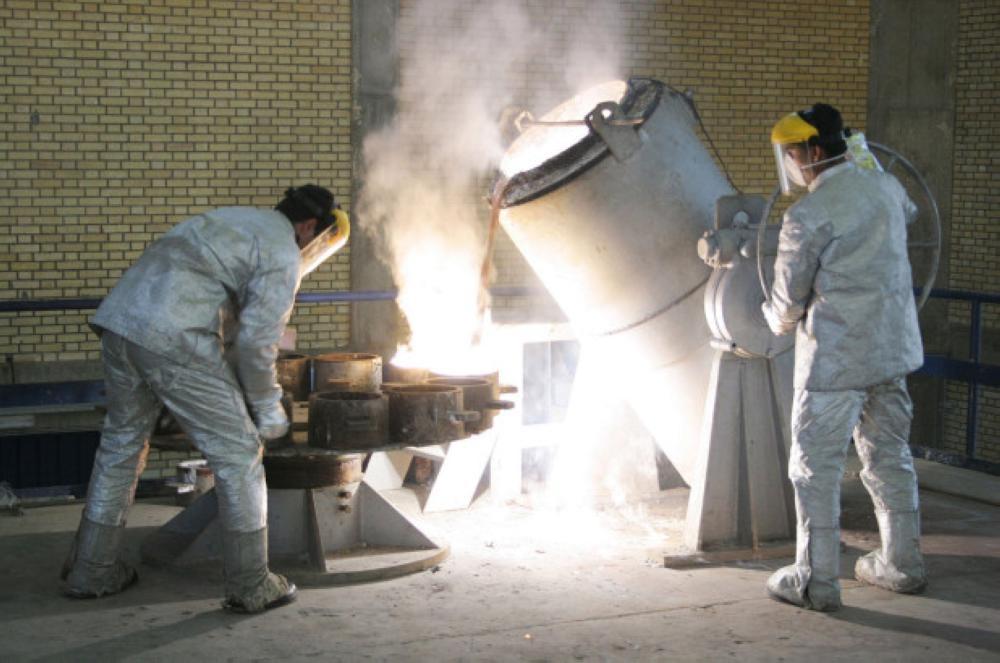 "Where are you?" Netanyahu pleaded of European allies. "Take the actions you promised to take; impose the sanctions," he added, though it appears he fundamentally wants to see more actions taken like last week's UK Royal Marine seizure of a tanker transporting Iranian oil allegedly to the Syrian port of Baniyas.
Speaking of allies Syria and Iran, the Israeli prime minister asserted Israel was doing its part to "nip" Iranian expansion "in the bud" and that Europe must do the same regarding Iran's pursuing higher enriched uranium.
A good indicator of another country showing lack of growth
(courtesy zero hedge)
Apple's India iPhone Sales Crash 42%
According to The Economic Times, Apple's continuing slowdown in India has translated into a 42% decline in iPhone shipments in 1Q19 from a year before. During the first quarter, Apple shipped 220,000 iPhones in India, followed by an improvement in April thanks to carrier discounts. In May and June, however, iPhone sales plunged again.
Neil Shah, research director at Hong Kong-based Counterpoint Technology Market Research, said the full-year estimate for iPhone shipments in India is 1.5 million to 1.6 million, a 10-17% drop from 2018 and as much as 53% collapse from the peak shipment of 3.2 million in 2017.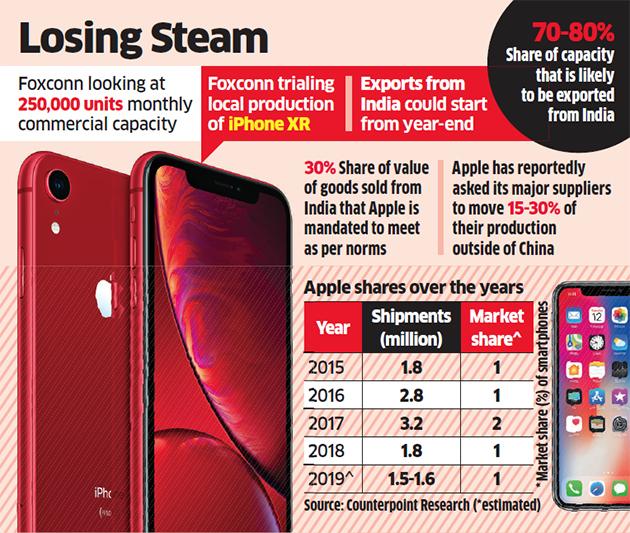 Apple could start manufacturing its iPhones in India through Foxconn, with an initial monthly capacity of 250,000. About 75% of the iPhones may be exported as Apple figures out how to rework its supply chains outside of China.
"Apple had a disappointing run in 2018 and the outlook for 2019 looks weaker, with shipments having fallen further compared to last year, with the exception of April, thanks to price correction that month," said Shah.
The Times said Apple is preparing to transform India into a major production hub than a top producing market, and intends to scale up local manufacturing amid US-China trade tensions.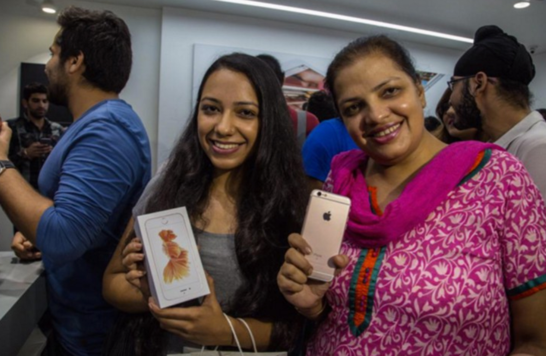 Apple has instructed its key suppliers — Foxconn, Pegatron, and Wistron to move 15-30% of their production facilities outside of China to avoid US tariffs.
"Companies like Apple already have some of their global partner manufacturers in India and with the right environment and possibly incentives, can create a large-scale global hub for making in India and a deep ecosystem for component manufacturers," said Pankaj Mohindroo, chairman of the Indian Cellular and Electronics Association.

"We are sitting on an opportunity which needs to be lapped up without losing a minute, else we run the risk of these investments going to other countries like Vietnam."
Foxconn and Wistron have already constructed factories in India and industry experts told The Times that manufacturing volumes are increasing.
"Commercial production of iPhone XR and the models above that should begin by the year-end at Foxconn and exports will be part of the plan from day one," said an anonymous industry insider.
India is also planning on relaxing its requirements on companies sourcing at least 30% of goods locally, but those requirements have been major hurdles for technology companies to meet. As a result, foreign direct investment dropped 13% in India in 2018. However, the relaxation of local sourcing regulations will allow more companies who are reworking supply chains out of China to find a possible home in India.
Your early morning currency/gold and silver pricing/Asian and European bourse movements/ and interest rate settings MONDAY morning 7:00 AM….
Euro/USA 1.1233 UP .0013 REACTING TO MERKEL'S FAILED COALITION/ REACTING TO +GERMAN ELECTION WHERE ALT RIGHT PARTY ENTERS THE BUNDESTAG/ huge Deutsche bank problems ///ITALIAN CHAOS /AND NOW ECB TAPERING BOND PURCHASES/JAPAN TAPERING BOND PURCHASES /USA RISING INTEREST RATES /FLOODING/EUROPE BOURSES /RED 
USA/JAPAN YEN 108.37 DOWN 0.057 (Abe's new negative interest rate (NIRP), a total DISASTER/NOW TARGETS INTEREST RATE AT .11% AS IT WILL BUY UNLIMITED BONDS TO GETS TO THAT LEVEL…
GBP/USA 1.2536   UP   0.0023  (Brexit March 29/ 2019/ARTICLE 50 SIGNED/BREXIT FEES WILL BE CAPPED/BREXIT EXTENDED TO OCT 31/2019//
USA/CAN 1.3069 UP .0003 CANADA WORRIED ABOUT TRADE WITH THE USA WITH TRUMP ELECTION/ITALIAN EXIT AND GREXIT FROM EU/(TRUMP INITIATES LUMBER TARIFFS ON CANADA/CANADA HAS A HUGE HOUSEHOLD DEBT/GDP PROBLEM)
Early THIS  MONDAY morning in Europe, the Euro ROSE BY 13 basis points, trading now ABOVE the important 1.08 level RISING to 1.1307 Last night Shanghai COMPOSITE CLOSED DOWN 77.70 POINTS OR 2.50% 
//Hang Sang CLOSED DOWN 443.14 POINTS OR 1.54%
/AUSTRALIA CLOSED DOWN 1,09%// EUROPEAN BOURSES ALL RED
Trading from Europe and Asia
EUROPEAN BOURSES ALL RED
2/ CHINESE BOURSES / :Hang Sang CLOSED DOWN 443.19 POINTS OR 1.54%
/SHANGHAI CLOSED DOWN 77.70 POINTS OR 2.50%
Australia BOURSE CLOSED DOWN. 1.09% 
Nikkei (Japan) CLOSED DOWN 212.03 POINTS OR 0.98%
INDIA'S SENSEX  IN THE RED
Gold very early morning trading: 1405..10
silver:$15.09-
Early MONDAY morning USA 10 year bond yield: 2.02% !!! DOWN 01IN POINTS from FRIDAY'S night in basis points and it is trading WELL BELOW resistance at 2.27-2.32%.
The 30 yr bond yield 2.53 DOWN 1  IN BASIS POINTS from FRIDAY night.
USA dollar index early THURSDAY morning: 97.17 DOWN 12 CENT(S) from  FRIDAY's close.
This ends early morning numbers MONDAY MORNING
xxxxxxxxxxxxxxxxxxxxxxxxxxxxxxxxxxxxxxxxxxxxxxxxxxxxxxxxxxxxxxxxxxxxxxxxxxxxxxxxxxxxxxxxxxxxxxxxxxxxxxxxxxxxxx6
And now your closing MONDAY NUMBERS \12: 00 PM
Portuguese 10 year bond yield: 0.48% UP 6 in basis point(s) yield from YESTERDAY/
JAPANESE BOND YIELD: -.15%  UP 0   BASIS POINTS from YESTERDAY/JAPAN losing control of its yield curve/56
SPANISH 10 YR BOND YIELD: 0.44%//UP 11 in basis point yield from yesterday.
ITALIAN 10 YR BOND YIELD: 1.78 up 11 points in basis points yield from yesterday./
the Italian 10 yr bond yield is trading 134points higher than Spain.
GERMAN 10 YR BOND YIELD: RISES TO –.29% IN BASIS POINTS ON THE DAY//
THE IMPORTANT SPREAD BETWEEN ITALIAN 10 YR BOND AND GERMAN 10 YEAR BOND IS 2.16% AND NOW ABOVE THE  THE 3.00% LEVEL WHICH WILL IMPLODE THE ENTIRE ITALIAN BANKING SYSTEM. AT 4% SPREAD THERE WILL BE A HUGE BANK RUN…
END
IMPORTANT CURRENCY CLOSES FOR MONDAY
Closing currency crosses for MONDAY night/USA DOLLAR INDEX/USA 10 YR BOND YIELD/1:00 PM
Euro/USA 1.1209  down     .0012 or 12 basis points
USA/Japan: 108.76 UP .330 OR YEN DOWN 33  basis points/
Great Britain/USA 1.2512 down .0007 POUND DOWN 7  BASIS POINTS)
Canadian dollar DOWN 26 basis points to 1.3096
xxxxxxxxxxxxxxxxxxxxxxxxxxxxxxxxxxxxxxxxxxxxxxxxxxxxxxxxxxxxxxxxxxxxxxxxxxxxxxxx
The USA/Yuan,CNY: AT 6.8818    0N SHORE  (DOWN)..GETTING DANGEROUS
THE USA/YUAN OFFSHORE:  6.8888 (YUAN DOWN)..GETTING REALLY DANGEROUS
TURKISH LIRA:  5.7360 EXTREMELY DANGEROUS LEVEL/DEATH WISH.
the 10 yr Japanese bond yield closed at -.15%
Your closing 10 yr US bond yield UP 2 IN basis points from FRIDAY at 2.05 % //trading well ABOVE the resistance level of 2.27-2.32%) very problematic USA 30 yr bond yield: 2.53 DOWN 1 in basis points on the day
Your closing USA dollar index, 97.41 DOWN 13  CENT(S) ON THE DAY/1.00 PM/
Your closing bourses for Europe and the Dow along with the USA dollar index closing and interest rates for FRIDAY: 12:00 PM
London: CLOSED DOWN 3.87  0.06%
German Dax :  CLOSED DOWN 25.02 POINTS OR 20%
Paris Cac CLOSED DOWN 4.53 POINTS 0.08%
Spain IBEX CLOSED DOWN 50.30 POINTS or 0.54%
Italian MIB: CLOSED DOWN 9.79 POINTS OR 0.04%
WTI Oil price; 57.49 12:00  PM  EST
Brent Oil: 63.84 12:00 EST
USA /RUSSIAN /   ROUBLE RISES:    63.68  THE CROSS LOWER BY 0.14 ROUBLES/DOLLAR (ROUBLE HIGHER BY 14 BASIS PTS)
TODAY THE GERMAN YIELD RISES  TO –.38 FOR THE 10 YR BOND 1.00 PM EST EST
This ends the stock indices, oil price, currency crosses and interest rate closes for today 4:30 PM
Closing Price for Oil, 4:00 pm/and 10 year USA interest rate:
WTI CRUDE OIL PRICE 4:30 PM :  57.49//
BRENT :  63.84
USA 10 YR BOND YIELD: … 2.05…   VERY DEADLY//
USA 30 YR BOND YIELD: 2.53..VERY DEADLY/
EURO/USA 1.11209 ( DOWN 12   BASIS POINTS)
USA/JAPANESE YEN:108.76 UP .330 (YEN DOWN 433BASIS POINTS/..
USA DOLLAR INDEX: 97.41 DOWN 13 cent(s)/
The British pound at 4 pm   Britain Pound/USA:1.2511 DOWN 7 POINTS
the Turkish lira close: 5.7360
the Russian rouble 6368  UP 0.14 Roubles against the uSA dollar.( UP 14 BASIS POINTS)
Canadian dollar:  1.3096 DOWN 26 BASIS pts
USA/CHINESE YUAN (CNY) :  6.8836  (ONSHORE)/we need to watch these levels/anything greater than 6.95 will be deadly./
USA/CHINESE YUAN(CNH): 6.8888 (OFFSHORE) we need to watch these levels/anything greater than 6.95 will be deadly/
German 10 yr bond yield at 5 pm: ,-0.38%
The Dow closed  DOWN 115,98 POINTS OR 0.43%
NASDAQ closed DOWN 63.46 POINTS OR 0.48%

VOLATILITY INDEX:  13.91 CLOSED UP .63
LIBOR 3 MONTH DURATION: 2.311%//libor dropping like a stone
And now your more important USA stories which will influence the price of gold/silver
TRADING IN GRAPH FORM FOR THE DAY//
i

Downgrade Sparks Tech-Stock Slide As Dollar, Gold, Bonds Flatline
Jay Powell rehearsing his testimony to Congress…
The biggest market news, on a slow news day ahead of Powell's testimony to Congress, was the downgrade of AAPL – which for once actually sparked some selling (down over 2% and back below $200)…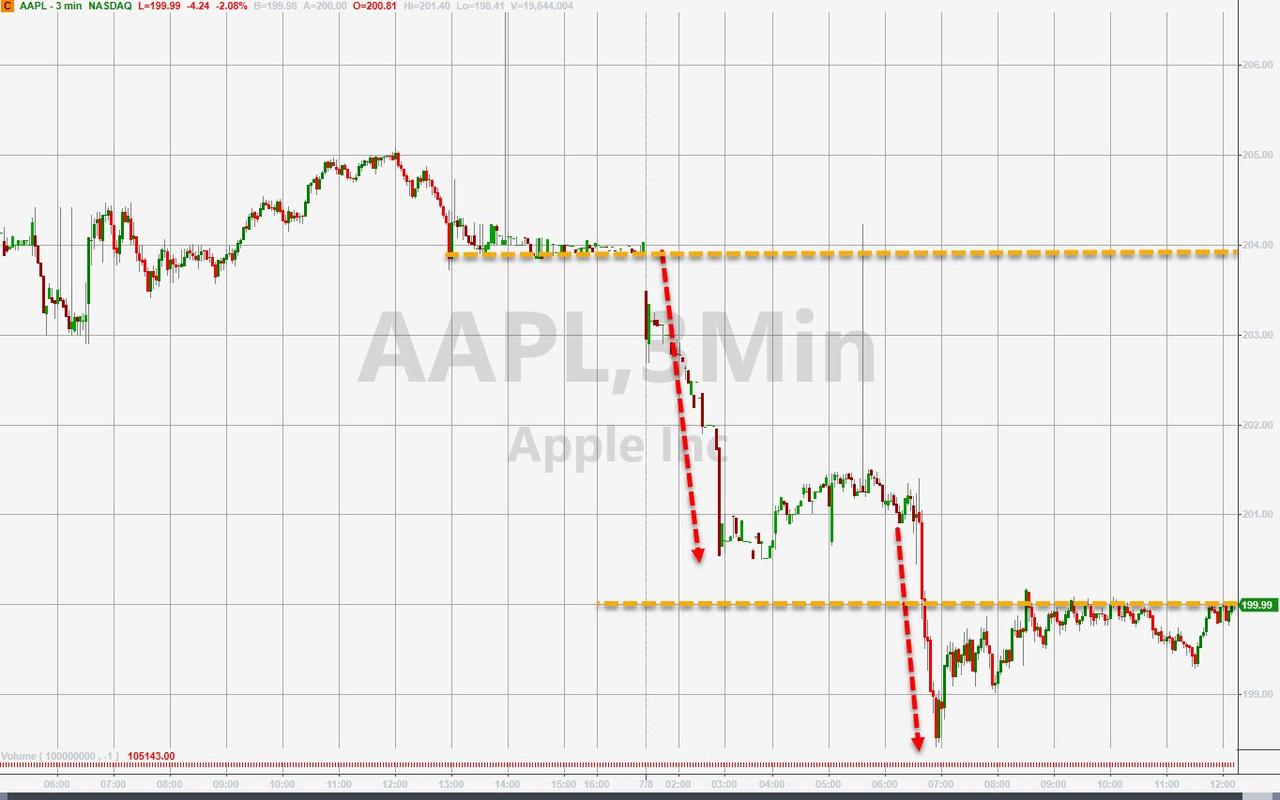 Apple fell after Rosenblatt Securities downgraded the iPhone maker to sell. That brought the total number of bearish analysts up to five among the 57 ratings tracked by Bloomberg, the highest number since at least 1997.
This weighed down Nasdaq immediately…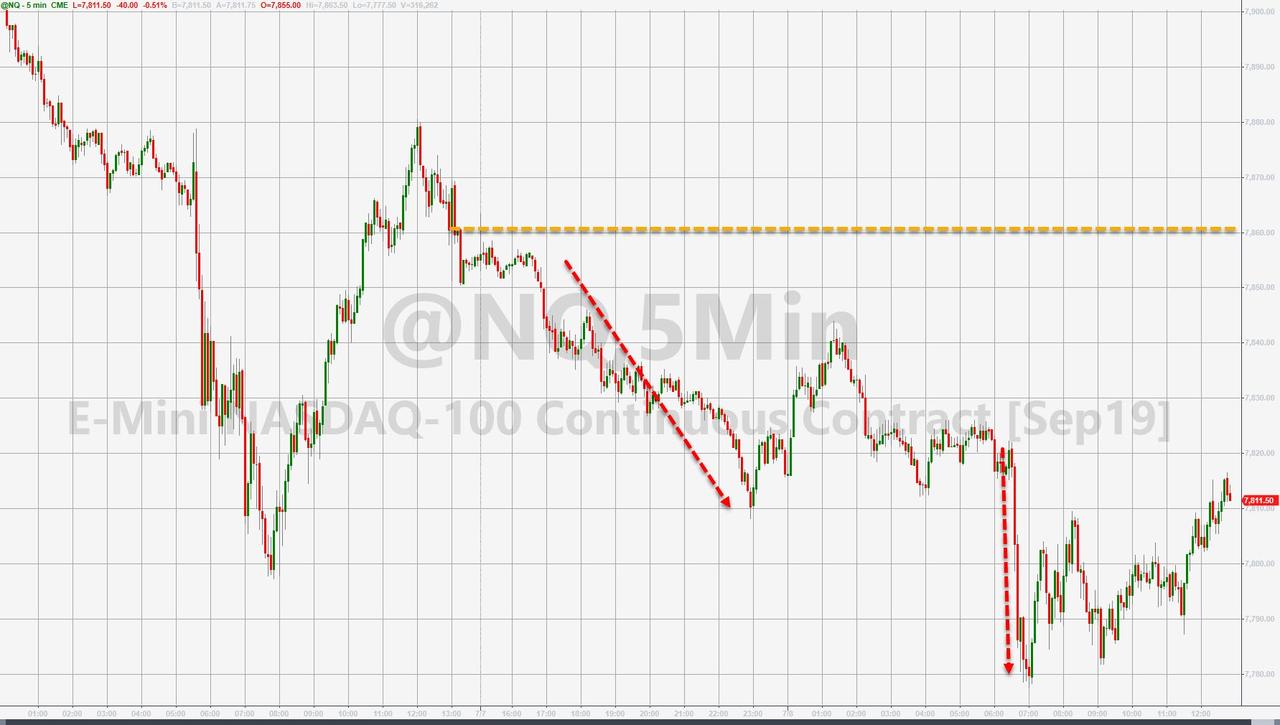 On the day, The Dow (weighed down by Boeing) and S&P outperformed the major US peers but all major US equity indices were down…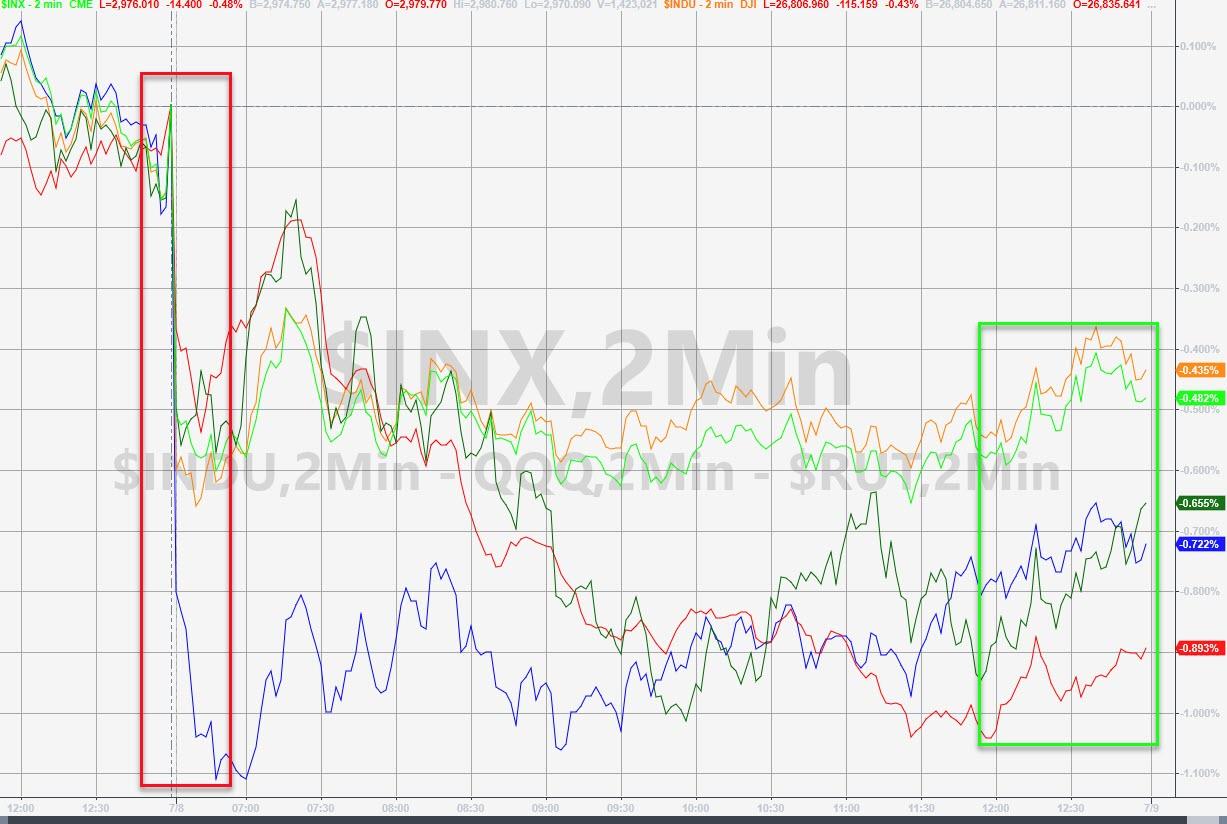 NOTE – the machines tried to ignite momentum off the opening lows but, for once, it failed.
Defensive stocks dominated trading today (just as they did on Friday)…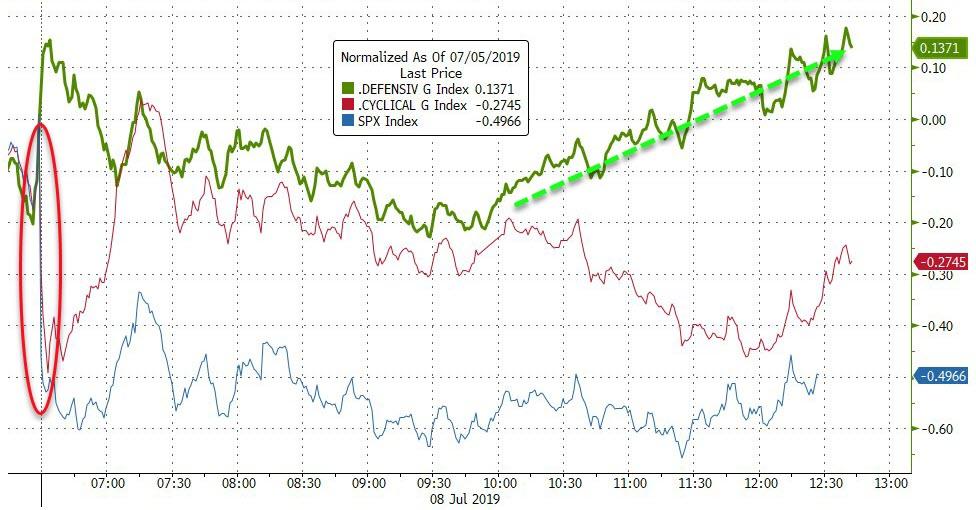 It was ugly overnight in China…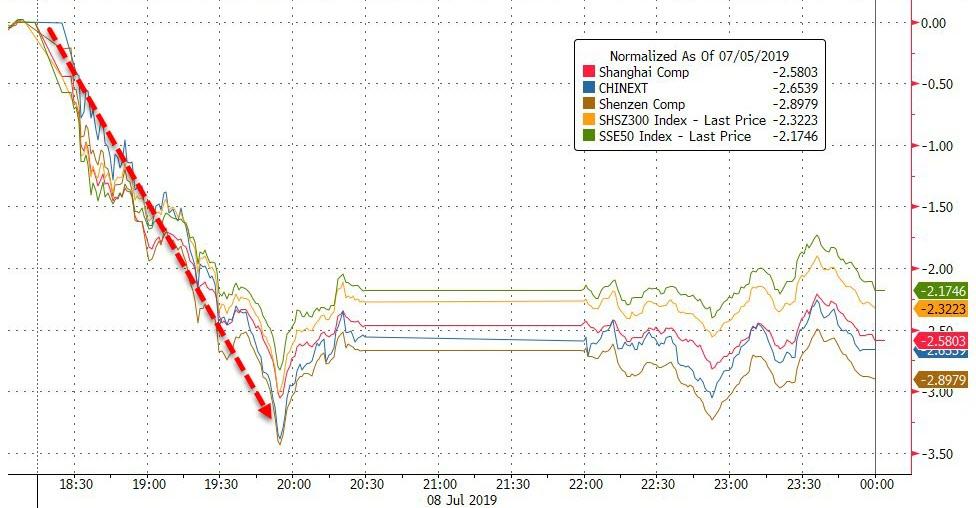 And European stocks were lower on the day…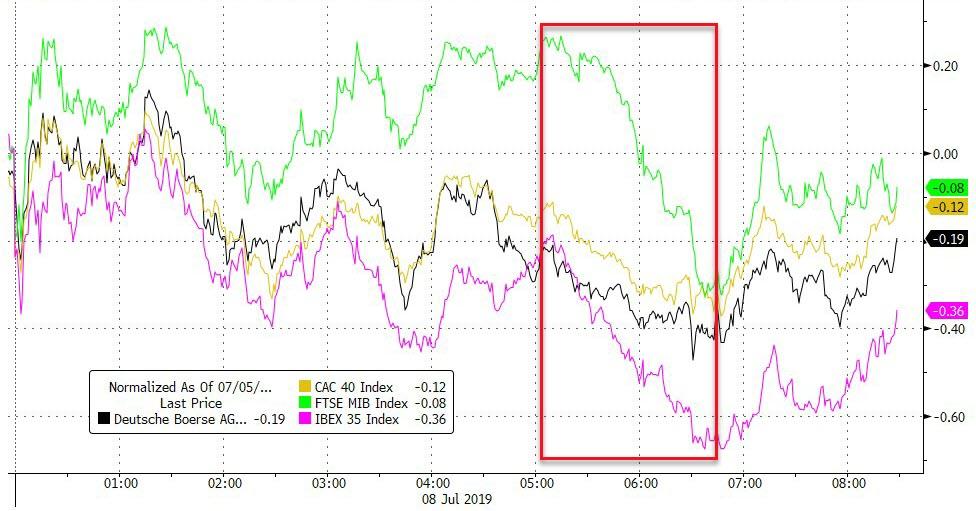 Weakness in Europe was not helped by the collapse of Deutsche Bank after its massive restructuring…
US equities erased all those ridiculous rebound gains and caught back down to bonds, gold, and the dollar…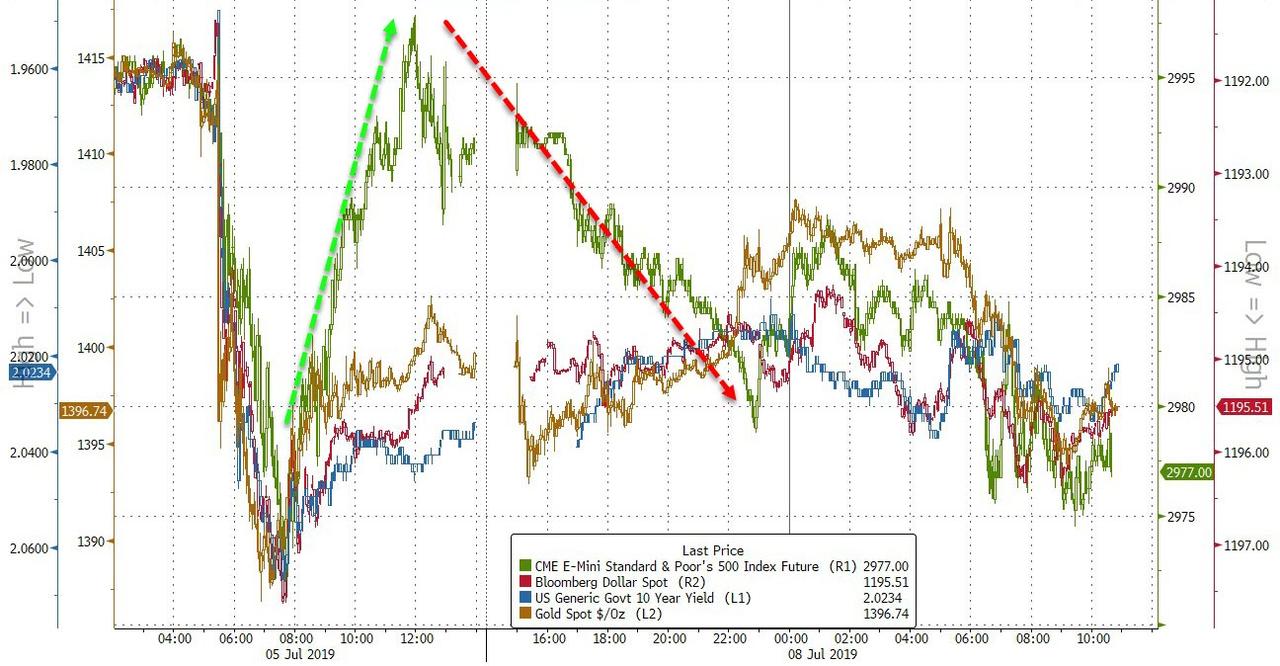 Most of the Treasury curve was modestly higher in yield today but the longer-end outperformed…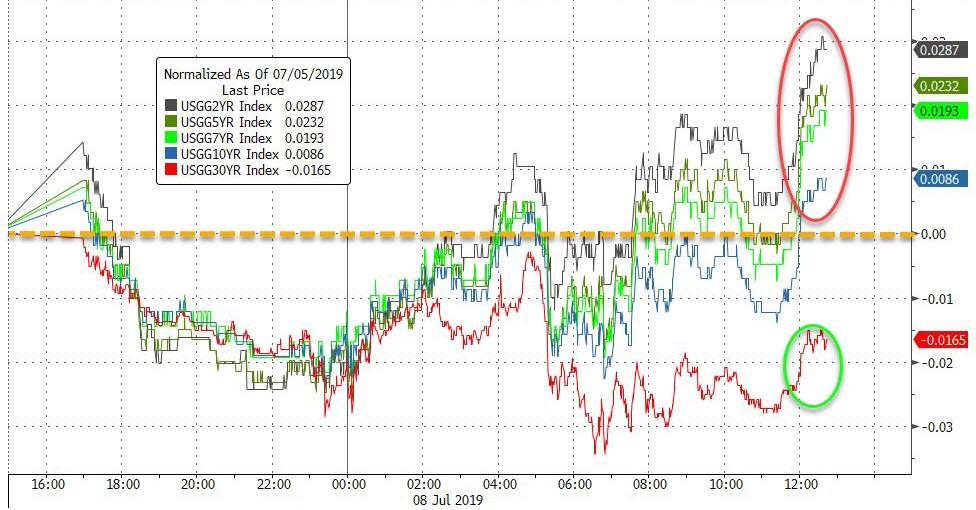 NOTE – yields spiked a little in the last hour as a CBO report on minimum wage hikes hit…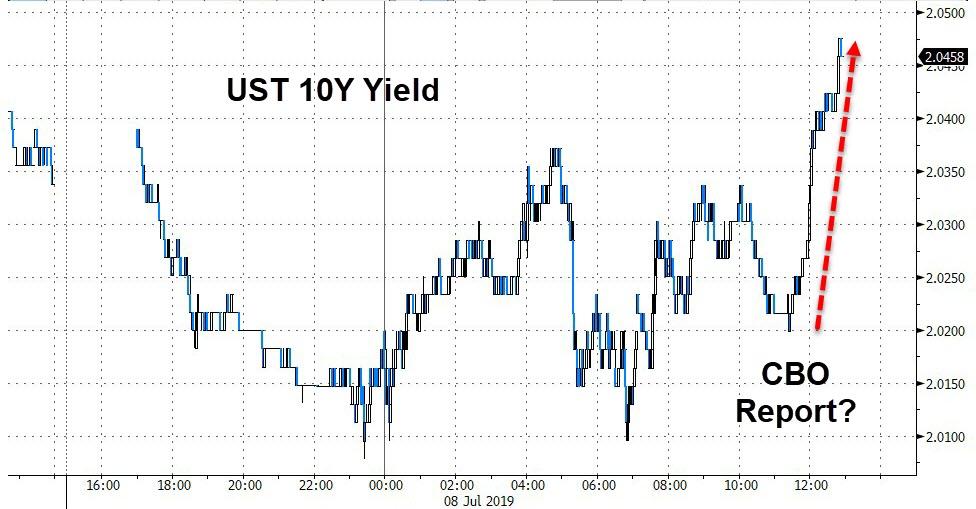 2s30s continues to flatten hard, now below the pre-FOMC levels…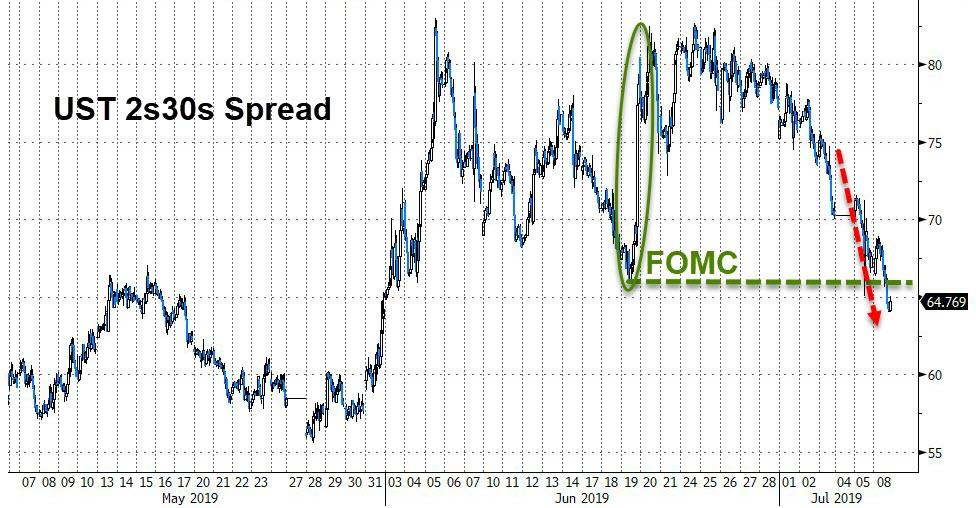 And Debt Ceiling anxiety is starting to impact the T-Bill curve…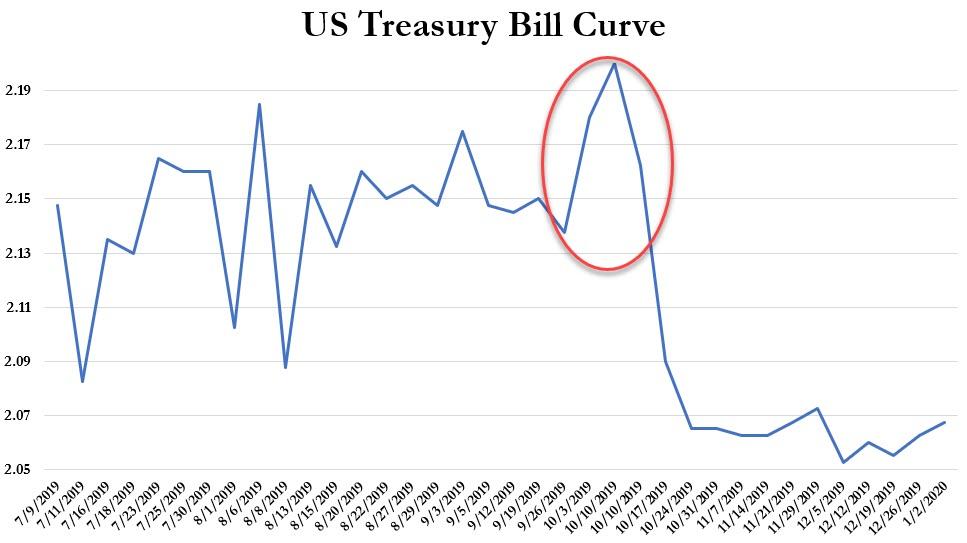 Before we leave bond-land completely, here's a fun fact – Greek 10Y bond yields fell below US 10Y yields today for the first time since Oct 2007…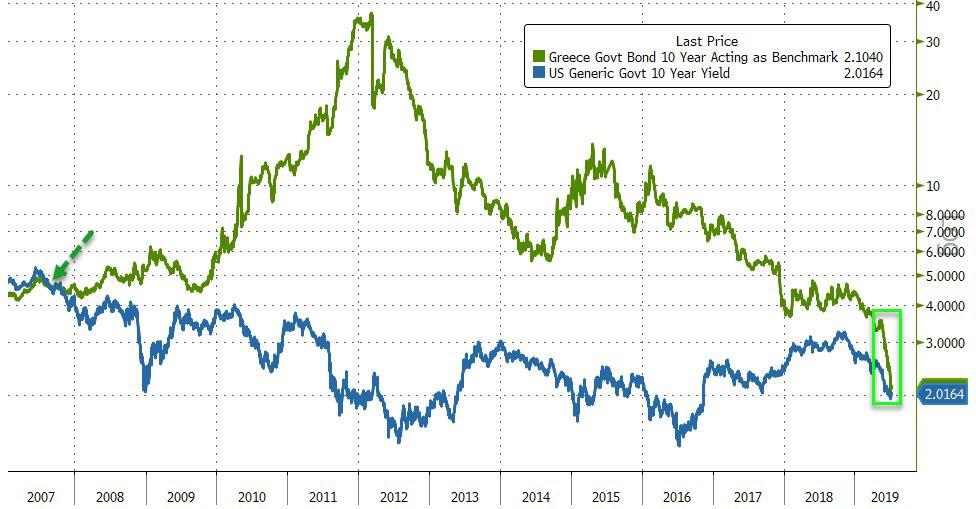 The dollar inched higher on the day but remains well off Friday's spike highs…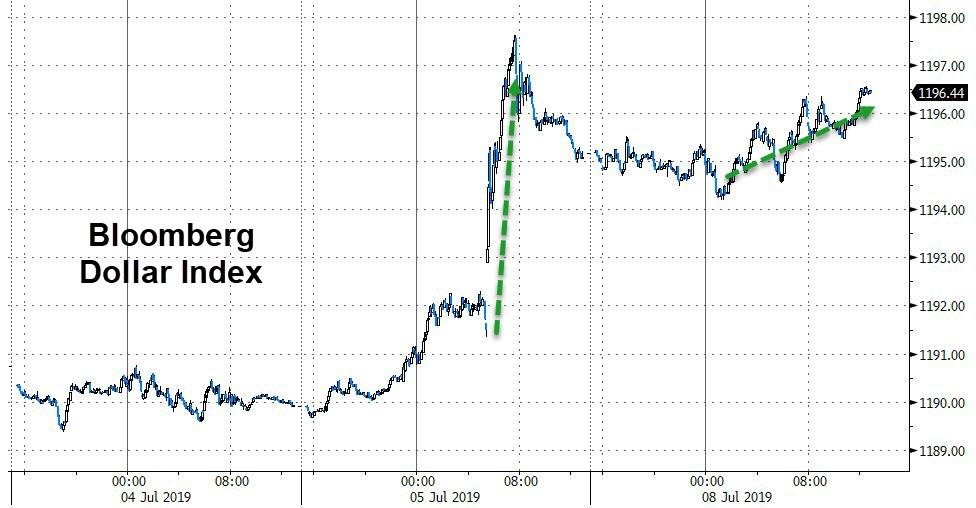 The Turkish Lira tumbled after Erdogan fired the central bank chief…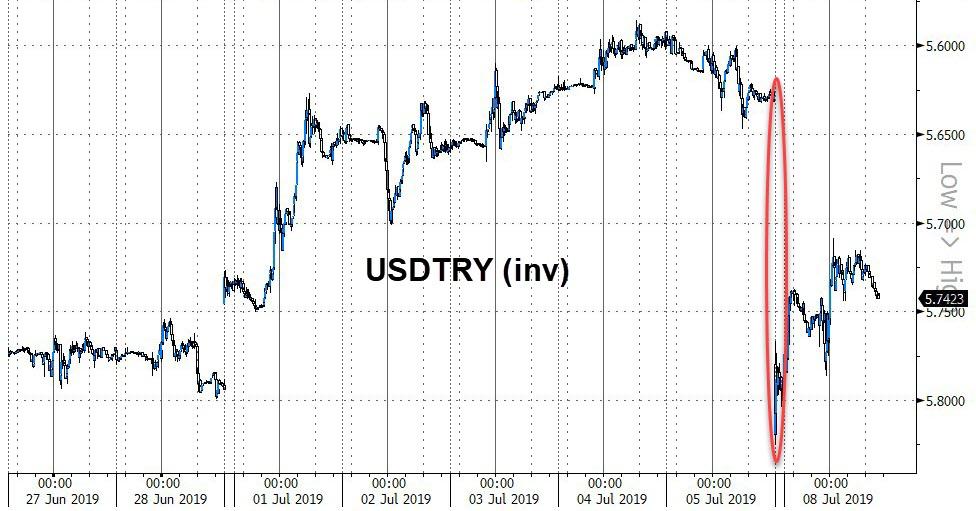 Big positive jolt overnight in cryptos pulled them all green from Friday with Bitcoin and Ethereum leading…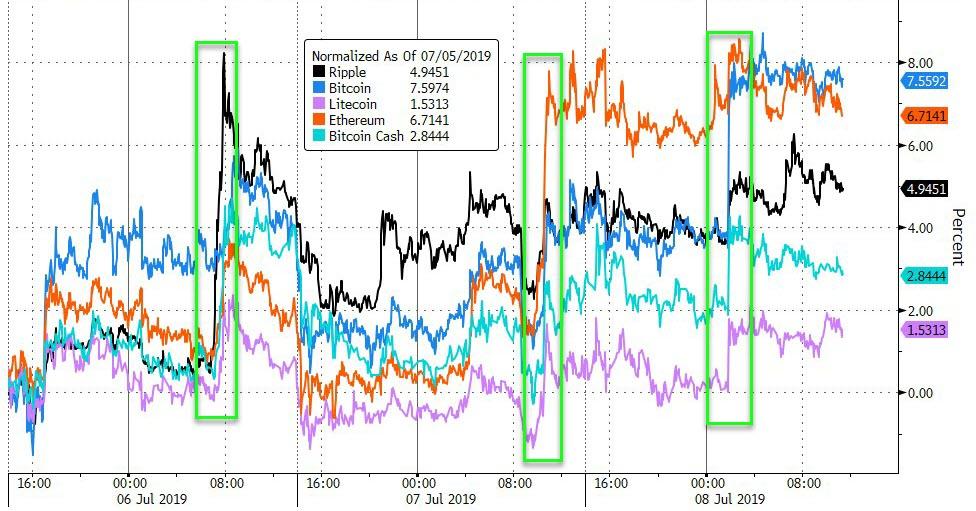 Bitcoin tagged $12,000 this morning but couldn't quite hold it, for now…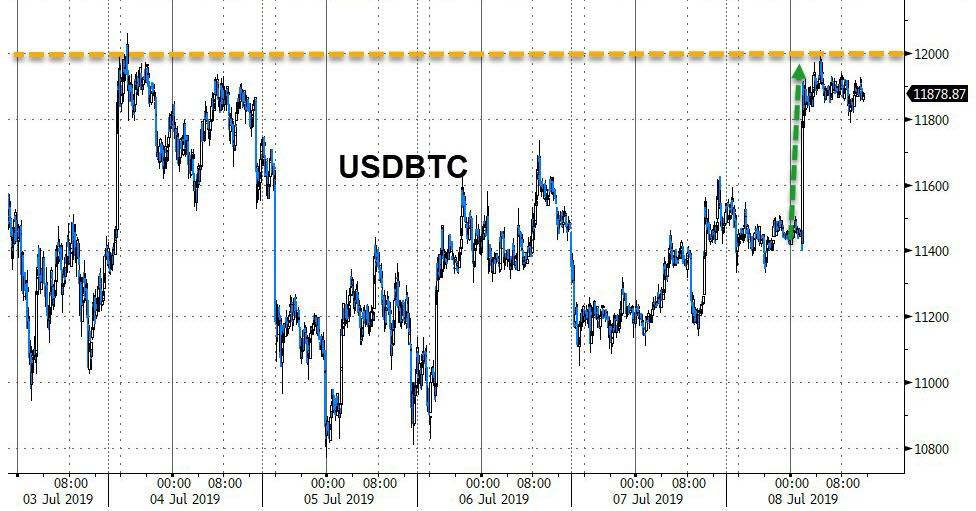 And Ethereum broke back above $300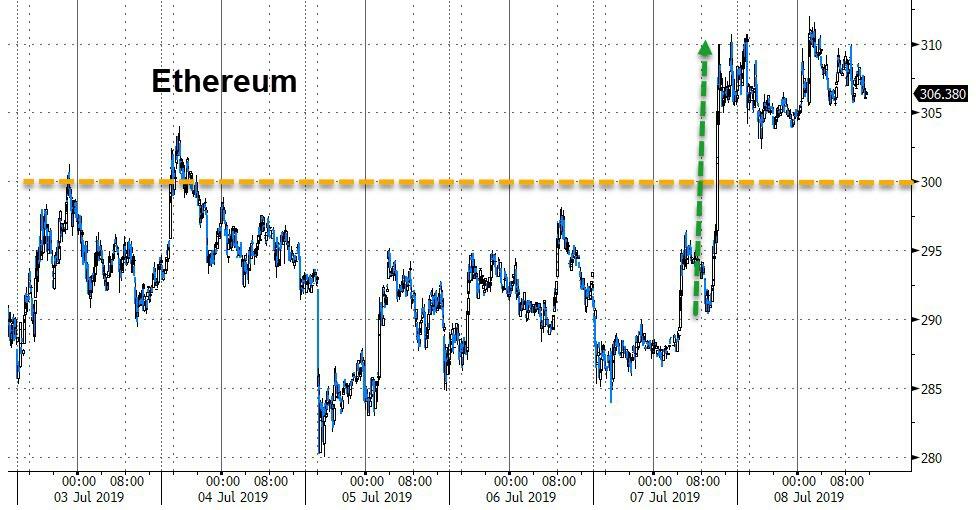 Silver surprised with some outperformance as copper and gold dipped…oil dropped notably into the NYMEX close…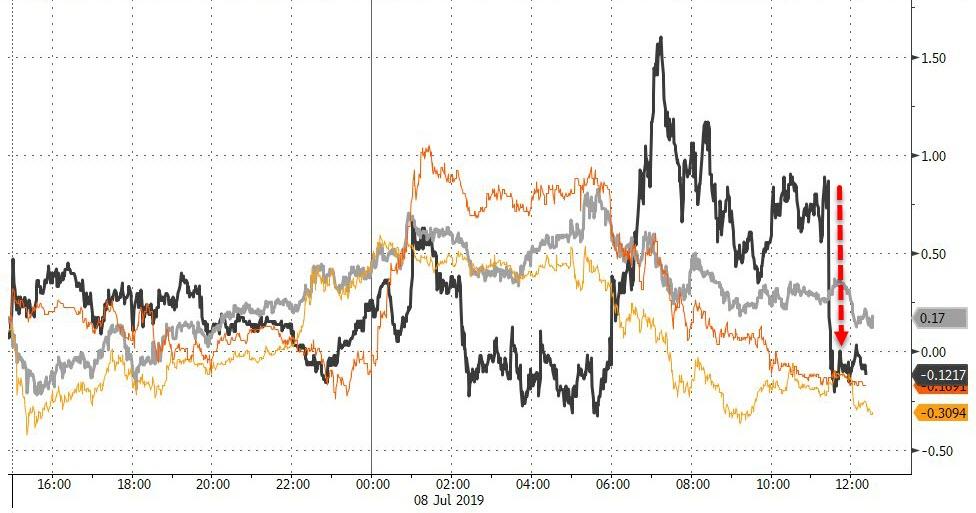 Gold fell back below $1400…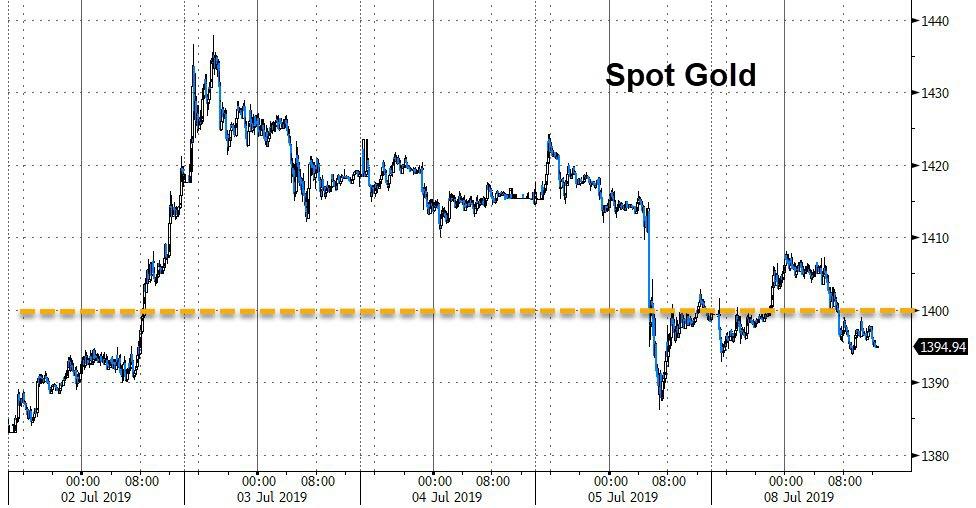 The Gold/Silver ration pulled back very modestly from 93x once again…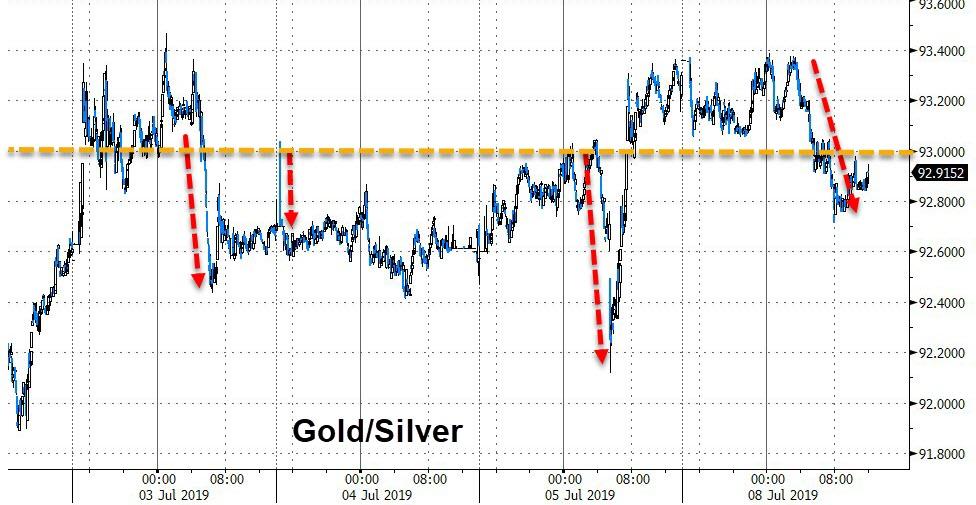 WTI snapped back below $58 as the NYMEX settle loomed…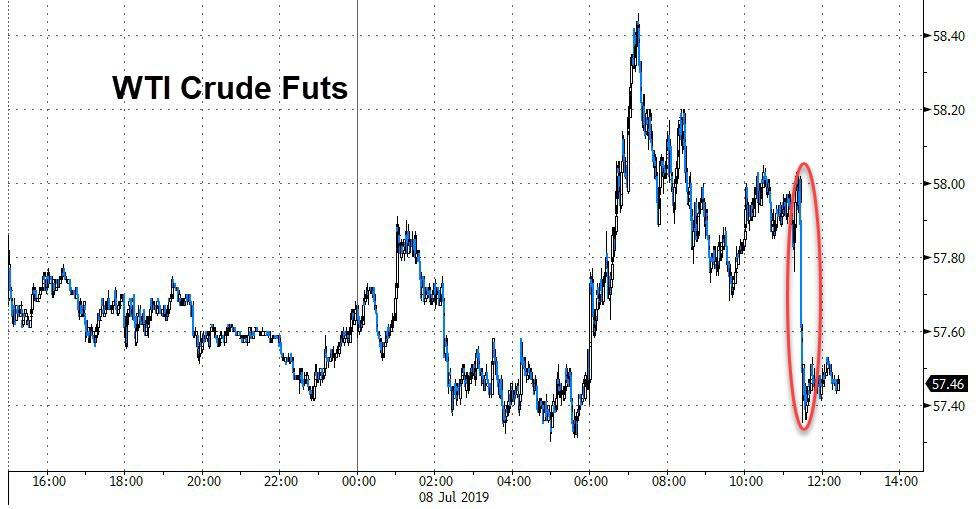 Finally, in case you're fed up with hearing about how awesome the economy is BUT we still need an "insurance cut" – here's Gluskin-Sheff's David Rosenberg to explain just how bad it actually is…
Adding insult to injury was the OECD leading indicator, which dipped in May to 99 from 99.1 in April and 99.3 at the turn of the year. The overall level is now the lowest since the global economy was trying its utmost to climb out of the Great Recession in late summer 2009.
But, of course, we know fun-durr-mentals don't matter anymore…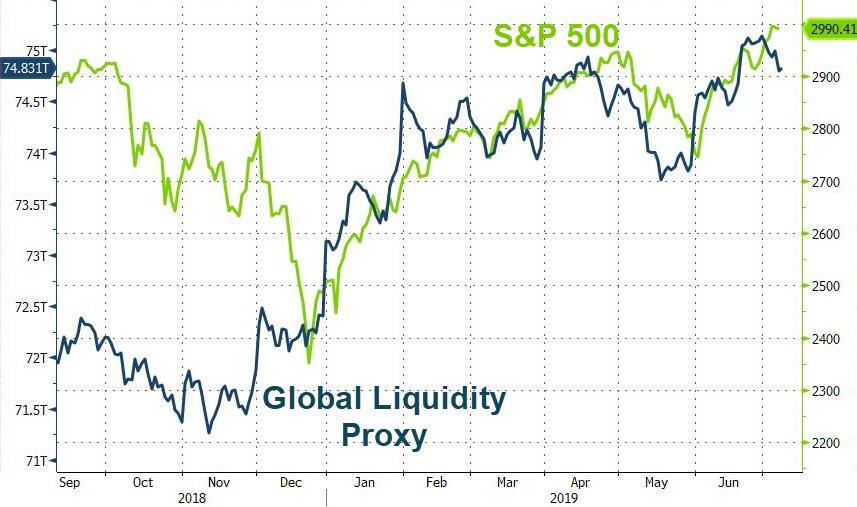 Powell better deliver or this entire ponzi will collapse.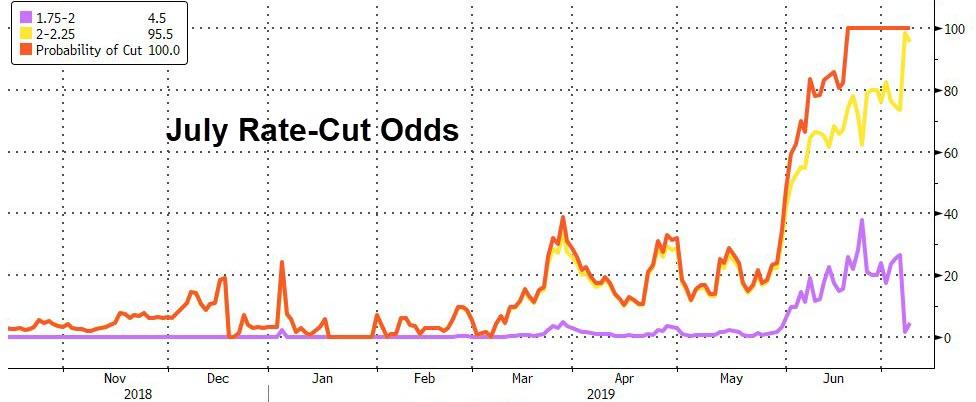 MARKET TRADING/LATE MORNING
CONSUMER CREDIT HITS ALL TIME HIGHS
(COURTESY ZERO HEDGE)
Consumer Credit Hits All Time High As Credit Card Debt Surges
Two months after an unexpectedly poor March consumer credit print, when just $10.3 billion (since revised to $10.9 billion) in revolving and non-revolving debt was created to fund another month of US purchases on credit, moments ago the Fed reported that in May, things went back to normal, as total consumer credit jumped by $17.1 billion – just shy of April's $17.5 billion – the highest since November's $21.6 billion, and to a new all time high in consumer credit of $4.088 trillion, which in turn was up 5.2% from a year earlier, rising roughly twice as fast as overall GDP.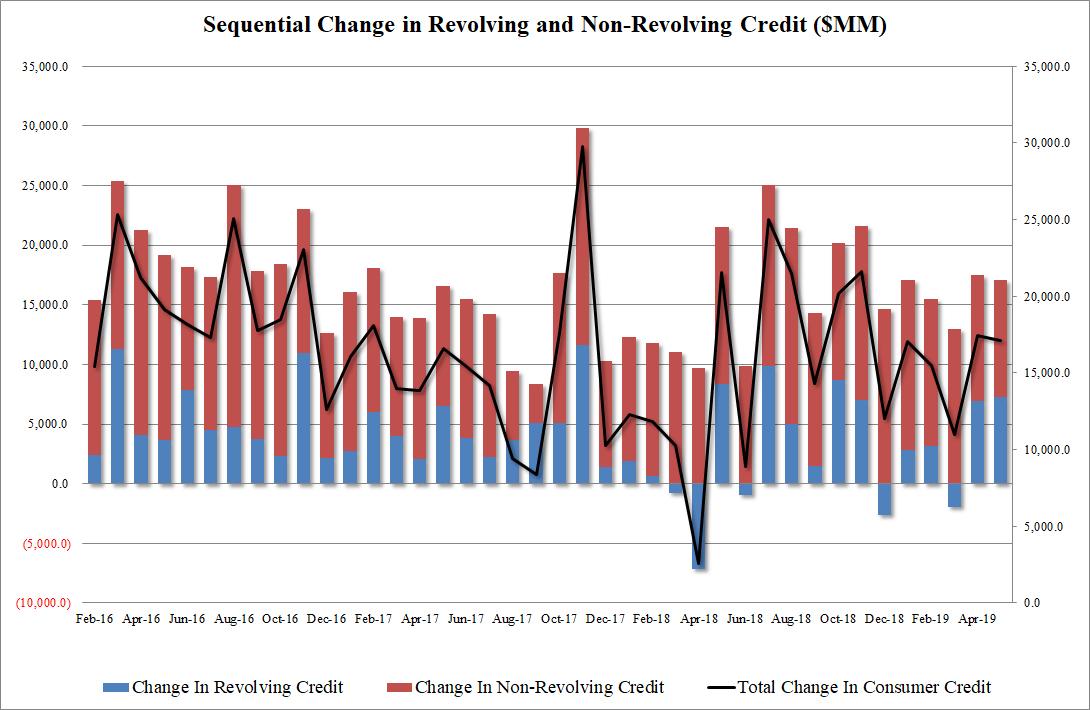 This was entirely thanks to a surge in credit card debt as the latest revolving credit print was a whopping $7.2 billion injection, up from a draw of $2 billion in March, and from $7 billion in May, and not only more than all the credit card debt issued in the first three months of the year but the highest since last October when Americans were racking up credit card debt to pay for Thanksgiving.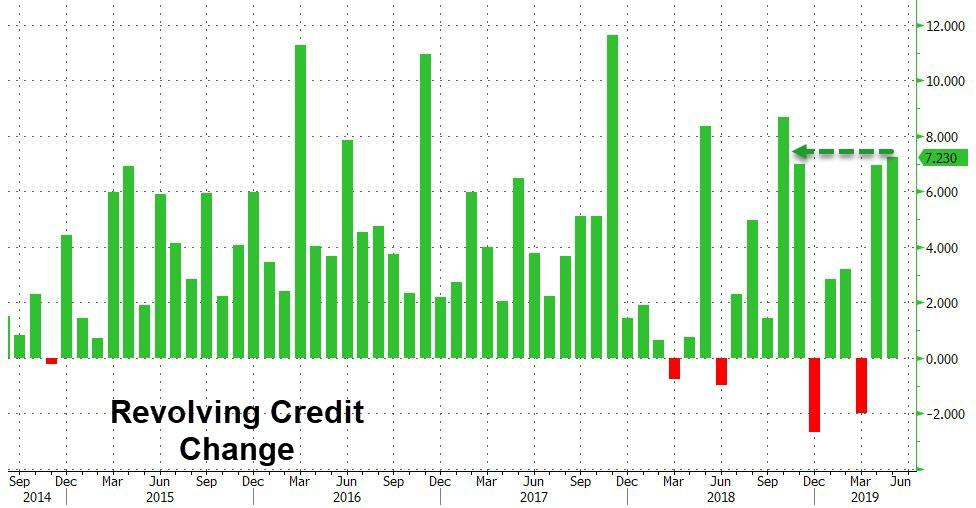 Meanwhile, as credit card debt soared, nonrevolving credit – auto and student loans – posted a surprisingly soft print, with only $9.9 billion in new debt created. This was over $600 million below last month's print, and the lowest since June 2018.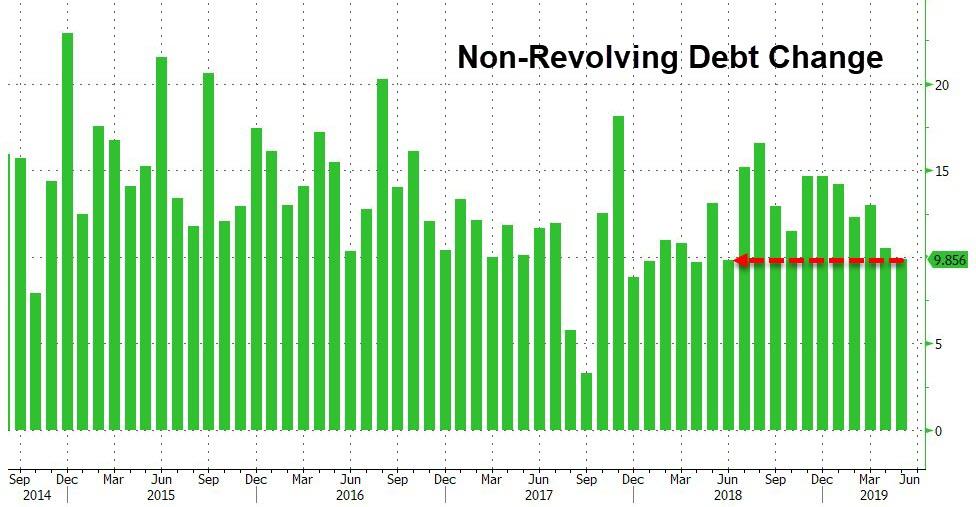 And while the combined April and May rebound in credit card use may ease concerns about the financial stability and propensity of the US consumer to spend, one place where there were no surprises was in the total amount of student and auto loans: here as expected, both numbers hit fresh all time highs with a record $1.6 trillion in student loans outstanding, a whopping increase of $30 billion in the quarter, while auto debt also hit a new all time high of $1.16 trillion, an increase of $8 billion in the quarter.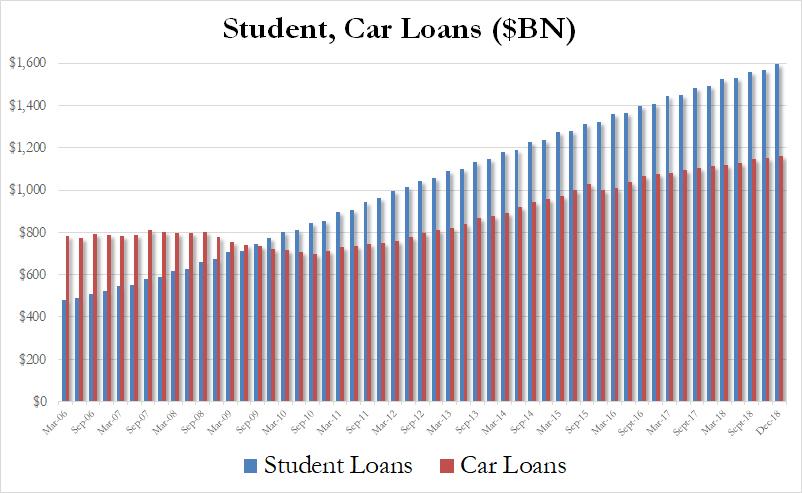 In other words, whether they want to or not, Americans continue to drown even deeper in debt, and enjoying every minute of it.
iii)USA ECONOMIC/GENERAL STORIES
A good indicator of usa growth problems in the USA..plunging new car sales
(zerohedge)
Carmageddon Continues: New Vehicle Sales Plunge To "Horribly Mature" 1999 Levels
The auto industry continues to look like a bursting bubble in progress and all around sad state of affairs, despite low rates and the "prosperity" of the stock market hitting new all time highs.Meanwhile, under the surface of those numbers, the actual economy – especially in autos – is telling a different story.
New vehicle deliveries, combining fleet sales and retail sales, were down 1.5% in Q2 to 4.5 million vehicles, according to Wolf Street.
For the first half of the year, vehicle deliveries fell 2.4% to 8.4 million vehicles. This puts the pace for new vehicle sales on track to fall below 17 million for the year, which would be the worst level since 2014. Further, it has lowered estimates for the full year to 16.95 million units delivered, on par with a "horribly mature market" in 1999. In addition to a struggling consumer, these lowered estimates are also result of rising interest rates and competition from off-lease vehicles.
This has resulted, simply, in fewer customers splurging on new cars.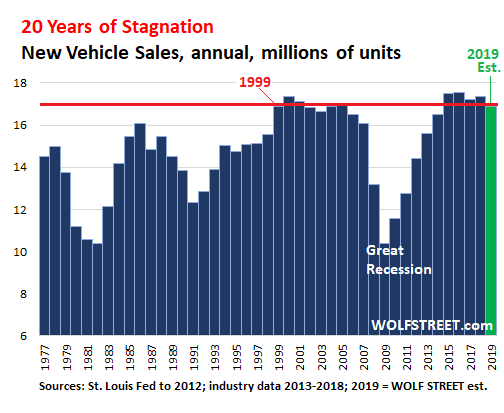 As we noted on Friday morning, it's likely Ford and General Motors are breaking a sweat after the latest slate of economic data hit the wires. Though its overall truck sales held up, those of Ford's signature F-Series pickup truck fell over last year in June. GM was not as fortunate with sales of its Silverado and Sierra trucks down, especially on the heavy-duty side of the line-up. With the caveat that fleet sales can indeed be trucks and comprised 24% of Fiat Chrysler's June sales, Ram pickups were nonetheless the standout as a fresh redesign and fat incentives drove sales up over 2018.
Ford's sales fell 4.1% in Q2. Car sales at Ford plunged another 21.4% to just 110,195 units, as customers continue to favor new pick up trucks, SUVs and vans instead. Truck sales rose 7.5% but F-series pickups fell 1.3%, cannibalized by Ford's midsized pick up, the Ranger. However, even the company's SUV sales look ugly – they fell 8.6% to 215,898 units.
According to newly released data on Friday, Ford also posted an abysmal quarter in China, selling a total of 154,042 vehicles in the second quarter, a 21.7% decrease compared to the same period last year. 
General Motors saw sales fall 1.5% in Q2 after plunging 7% in Q1. Fiat Chrysler sales fell 0.5% in Q2 and the company announced that it will abandon reporting deliveries on a monthly basis, following in the footsteps of Ford and GM. Here's a better look at Q2 numbers for most auto makers: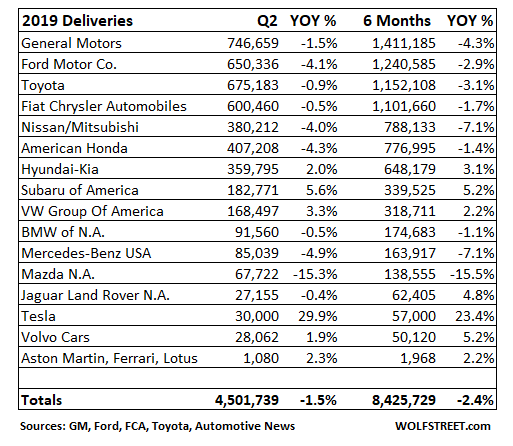 No matter how you look at it, 2019 has been ugly:
Year to date, Toyota Motor sales are down 3.1% to 1,152,108 vehicles.
Year to date, Honda Motor sales have fallen 1.4% to 776,995 vehicles.
Year to date, Nissan sales are down 8.2% to 717,036 vehicles.
Year to date, Fiat Chrysler sales are down 2% to 1,096,110 vehicles.
Year to date, total GM auto sales in the U.S. are down 4.2% to 1,412,499.
Over the first half of 2019, total Ford sales are down 2.9% to 1,240,585.
To try and continue capitalizing on truck demand, automakers are flooding the market "with efficient and restructured versions of pickup trucks". And the industry – not unlike most market participants across all sectors in general – is hoping for help from the Fed. A rate cut this summer could help drive more business to dealerships heading into the middle of the third quarter.
Recall, we reported just days ago that more than 25% of June's 41,977 announced job cuts came in the automotive industry, according to Managing Economist for Refinitiv Jeoff Hall. Hall commented on Twitter that the industry's 10,904 redundancies were the most in seven months and the second most in seven years.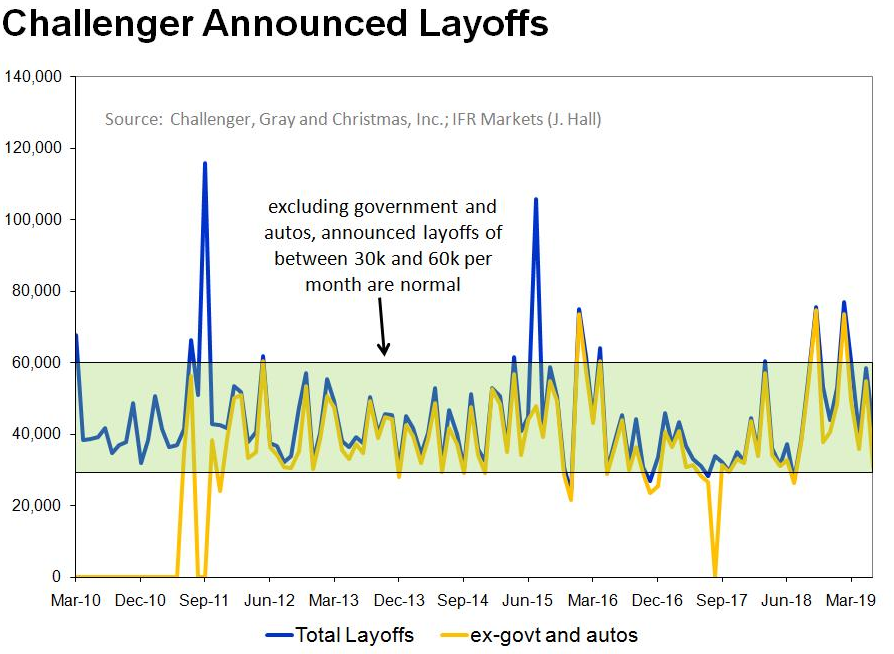 Hall also noted that excluding autos, there were only 31,073 job cuts in June, the fewest in 11 months, in low-normal range.
About a month ago we focused on layoffs in the auto industry, noting that China, the United Kingdom, Germany, Canada and the United States have all seen at least 38,000 job cuts over the last six months.
Recall, at the beginning of June we noted that Bank of America had said that "the auto cycle had peaked". 
While Bank of America attributed much of the downturn in the manufacturing sector to the ongoing trade war, it singled out the automotive industry as a specific area for concern. Calling the problem a "classic story of demand/supply mismatch", the bank pointed out that producers continue to ramp up output at a time when demand has softened. It's easy to see in the two following charts – one showing auto sales topping out and the other showing output and production not falling.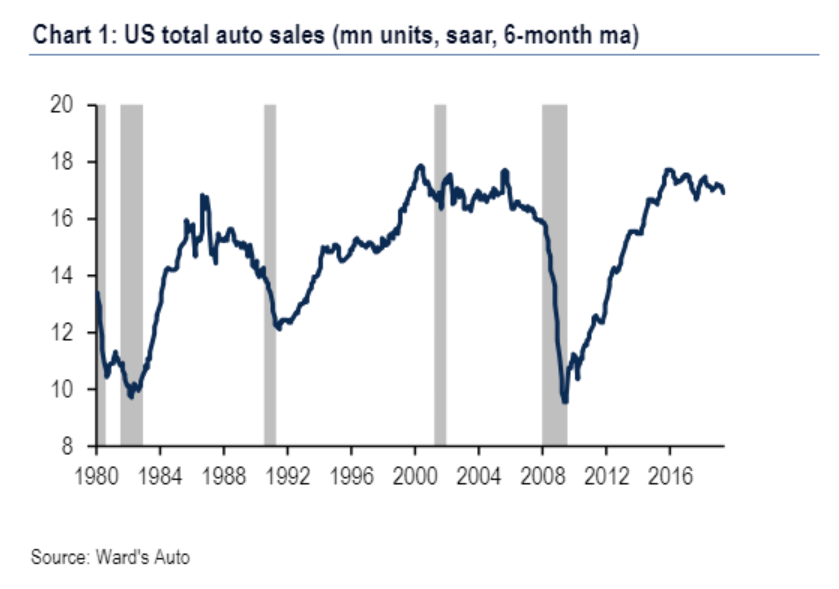 More on the lMDB case involving our good friends over at Goldman Sachs
(courtesy zero hedge)
'Wolf Of Wall Street' Producer Charged With Stealing $248 Million In 1MDB Case
The stepson of former Malaysian Prime Minister Najib Razak has been arrested in Malaysia and is now facing charges of laundering $248 million from 1MDB to finance production of the hit Hollywood film "The Wolf of Wall Street."
A few years back, WSJ – which broke the 1MDB scandal and has led reporting on it ever since – published a lengthy story exploring the ties between 1MDB money and Red Granite Pictures, the shadowy production house that financed the film. As it turns out, the production studio was seeded with hundreds of millions of dollars allegedly stolen from 1MDB. It was also managed by Riza Aziz, Razak's stepson.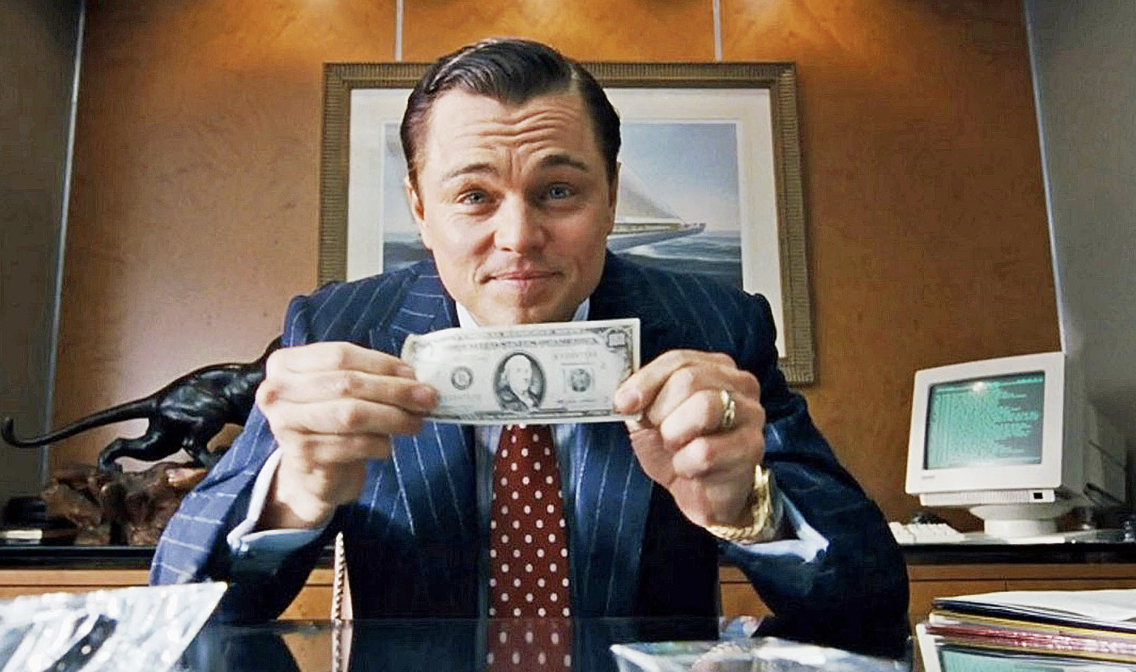 Aziz was arrested in Kuala Lumpur on Friday. He is reportedly pleading innocent to the charges, and maintains that he was unaware of the fraud. Prosecutors – who have also charged his step-father (the former prime minister), as well as Aziz's mother (Razak's wife) in the fraud. A Goldman banker who was arrested and charged in Indonesia has been extradited to the DoJ, which is also prosecuting the fraud.
According to the DoJ, the fraud at 1MDB siphoned off $4.5 billion of public money. The fraud was facilitated by Goldman Sachs, which has found itself at the center of investigations in both Malaysia and the US, after the bank ignored warnings from its compliance department and underwrote three bond deals that helped raise more than $6 billion for the fund, which was set up in 2009.
Aziz has been charged with receiving $248 million in illicit money from 1MDB. Prosecutors allege that the money was funneled through bank accounts belonging to Red Granite in 2011 and 2012. Aziz was credited as a producer in the Academy Award winning film.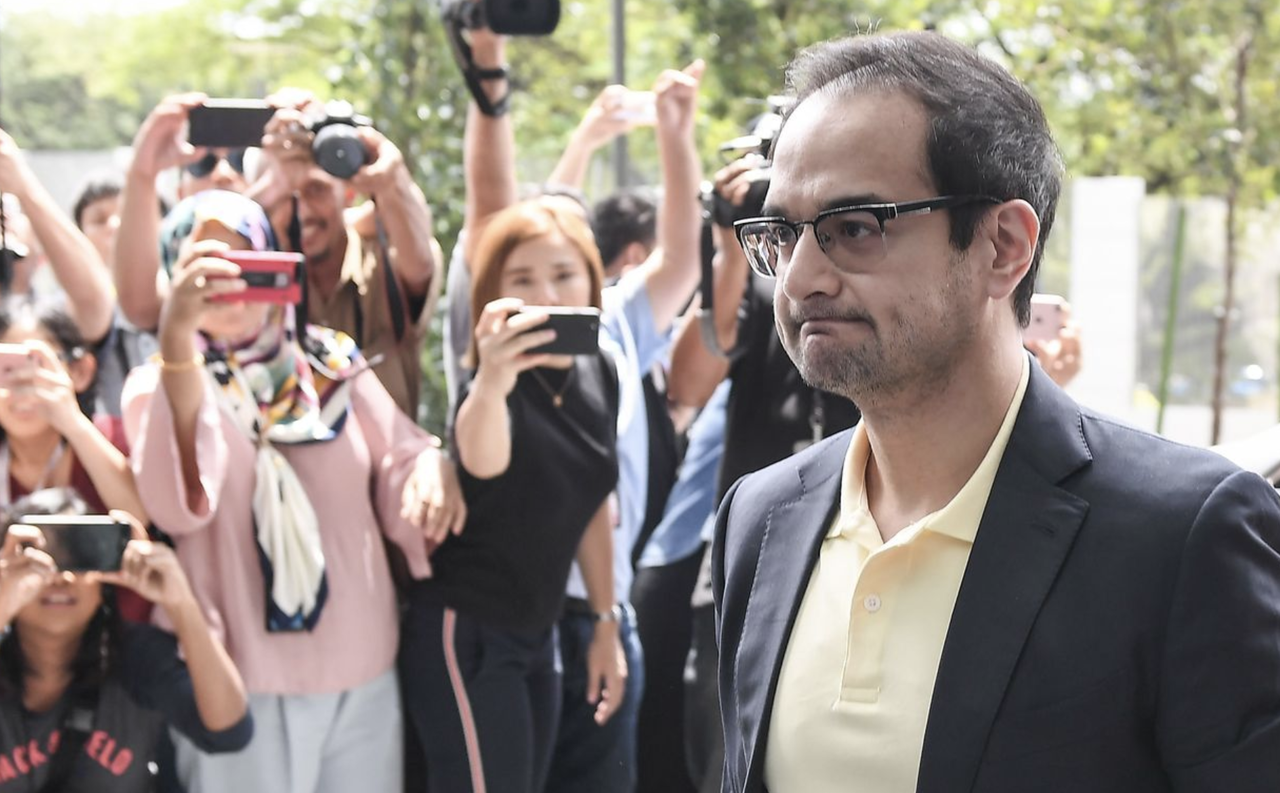 Riza Aziz
In the US, Red Granite has already been targeted by civil lawsuits, and paid back $60 million to settle civil claims against it back in 2017.
Aziz was arrested Thursday, but was released on bail. Later, he appeared in a Kuala Lumpur court, where his lawyer, Matthew L. Schwartz, denounced the charges as retreading allegations that have already been addressed by the DoJ.
"It is a shame that Riza has become collateral damage in a political crusade to jail his stepfather," Schwartz said.
In an Instagram post, Aziz's sister slammed Malaysian authorities for going after her brother, whom she declared is "not a criminal."
Luongo: Epstein's Arrest Tells Me Trump Is Now Out For Blood
"Bernie Birnbaum is a horse of a different color, ethics-wise that is…

…as in he ain't got none!"

— Johnny Caspar, "Miller's Crossing"
Serial pederast Jeffrey Epstein is going to be arrested again.
The big questions are why?  And why now?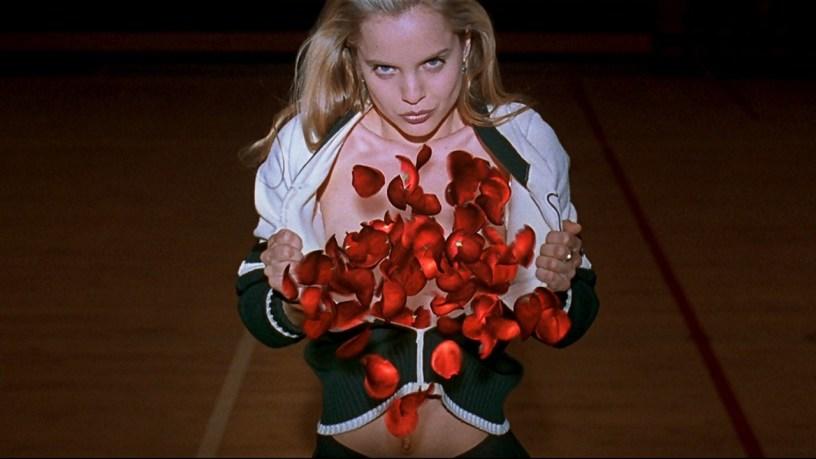 I never doubted Donald Trump's sincerity in wanting Hillary in jail.  But the reality is that Trump was not in any position to do so.  Until a few months ago.
When Attorney General William Barr ended the Mueller investigation back in February that was a turning point.  I talked about it back then in a piece called "The Old Political Order is Just Old."
Mueller, his staff of hatchetmen, the Obama administration and the rest of the corrupt old-guard in D.C. fully expected to be allowed free rein to convict Trump politically of Obstruction of Justice based on an interpretation of Federal Statutes that could only be justified in the world of Philip K. Dick's Minority Report.

When that didn't happen, they are now looking at potential blowback from a vain and vindictive man occupying the supposedly most powerful office in the world.

But is that really the case anymore? It seems John Bolton has been more president than Trump recently.
I was cautiously optimistic that Trump would turn the corner on his presidency now that Mueller, impeachment and the rest of it would lift from his shoulders.  His foreign policy maneuvers didn't fill me with much, if any, confirmation of this hope.
But domestically signs were there that he had stabilized the battlefield.
Epstein's arrest tells me he's now out for blood.
Because this goes directly to the heart of the matter.  Trump left the Clintons' social circle in disgust and I'm convinced he ran to stop her corrupt sell out of the U.S.
Never forget that, while corruption is rampant in D.C., it is not all-pervasive.  It's not a black and white thing.
William Barr may not be a Boy Scout or anything but even he, like Trump, has a disgust circuit.  And that circuit has a threshold.
The level of corruption of the Departments of Justice, State, Treasury and the intelligence agencies needed to coordinate the RussiaGate hoax all to serve as Hillary's revenge porn was too much for enough people.
And there are still plenty of people in all of those departments willing to step up now that the board state has changed.
Remember back when Trump said we should just leave Hillary be, she's been through enough?  That wasn't him capitulating to the Deep State, that was him offering her a way out.  He knew then what was going on but thought he was powerless to stop it, politically.
To go after her you go after the person who is her Achilles' heel, Epstein through his association with Bill.  Because what if this isn't just about Bill's antics?
But this is more than just Hillary and Bill.
This is likely far deeper a rabbit hole than anyone in D.C. wants to admit.   Don't think for a second that Epstein hasn't been blackmailing very prominent people for years.
Because he has. And they are all now scared to death.
And Robert Mueller is up to his neck in this.  Because it was Mueller who helped Epstein mostly get off the hook the last time and had the court documents sealed.
Now that Mike Cernovich worked to get those documents unsealed, we have an arrest warrant a week later by a Justice Department led by someone, at this point, loyal to Trump.
Even if Barr and Trump have a marriage of convenience here, it doesn't matter.
What matters is that Epstein will no longer be able to hide behind Clinton bag men and will this time have to cut a real deal to stay out of gen pop.
This process will be slow and painful, but it will grind to the kind of conclusion that will only benefit Trump's re-election bid.  It will be an epic drip feed of leaks, innuendos, implications, indictments and the rest.
Because there comes a point where the Alinsky method of accusing your enemy of the thing you do backfires when it's raping 14-year-old girls. 
Once this thing gets a head of steam, once the #MeToo crowd gets a hold of this, there won't be anyone left standing.  I always said Hillary would indict herself.  Her insane lust for power and revenge against her obstacles led us here.
And it will lead her to the kind of shame and disgrace that befits her avarice.
When Nancy Pelosi's daughter is out there signaling for her mother on this immediately, you know this is bad.
Pelosi doesn't roll over for nothing folks. Think what you want about her but she's a pitbull. And she rolled over on border wall funding last week.
This Epstein arrest is a testament to what happens when the pendulum swings too far in one direction.  Where despicable people get away with the most heinous acts simply because they are connected in a web of corruption and venality.
Maybe this is the moment of Peak Swamp?  Maybe it's the moment where we can see things begin, ever so slightly to improve. 
Is it too little, too late?  Likely.  But something had to be done to keep our faith in our political and social institutions intact.  Because otherwise that way leads to only chaos and collapse.
*  *  *
Join my Patreon because you also weep for humanity at where these people have led us.
E)SWAMP STORIES/MAJOR STORIES//THE KING REPORT
The unexpectedly strong June Employment released on Friday dashed hopes for a July rate cut.
The Birth Death Model produced 102k jobs vs 112k jobs in June 2018.  https://www.bls.gov/news.release/pdf/empsit.pdf
707k NFP NSA in June 2019.  This was adjusted to 224k, a seasonal adjustment of -483k.
https://www.bls.gov/web/empsit/ceseeb1b.htm
For June 2018, the data: 150.062 NFP NSA and 149.007m SA; a seasonal adjustment of -1.055m.  For June 2019, the data: 152.307m NFP NSA and 151.308m SA; a seasonal adjustment of -999k.
https://www.bls.gov/news.release/empsit.t17.htm
Establishment Report Highlights
NFP 224k, whisper 120k
Mfg 17k, 3k exp
Education & Health services +61k
Prof & Biz Services +51k
Trans & Warehousing +23.9k
Government +33k
Wages 0.2%, 0.3% exp
Household Survey Highlights
Unemployment Rate +0.1 to 3.7%
Civil Labor Force +335k
Employment +337
Unemployed +87k
Not in Labor Force -158k
Labor Force Participation Rate +0.1 to 62.9%
Employment-population ratio +0.1 to 60.8%
The 'everything rally' turned into an 'everything tumble' on Friday morning.  Stocks, bonds, gold, commodities and forex fell. The early equity plunge on Friday ended on Team Trump verbal intervention.
Kudlow, as well as Trump, faced the conundrum of propagandizing the strong June Employment Report while harassing the Fed to cut rates.  So, Uncle Lar went with the sophistry, 'the US economy is strong, the June jobs report proves it, but the Fed should cut rates anyway'.
Fed Should 'Take Back' Rate Hike, White House's Kudlow Says
"I'm not encroaching on Fed independence," said Kudlow. "I'm reading the market tea leaves."
https://www.bloomberg.com/news/articles/2019-07-05/u-s-jobs-top-forecast-as-224-000-gain-dilutes-case-for-fed-cut
Apparently Trump was concerned that Uncle Lar's verbal intervention was not enough to save stocks on Friday, so the Mouth that Roared appeared and asserted: "If we had a Fed that would lower rates we would be like a rocket ship, but we're paying a lot of interest and it's unnecessary.  We don't have a Fed that knows what they're doing, so it's one of those little things."
The verbal intervention rally persisted until the last hour of trading.  Traders liquidated into the close.
Fed's Powell Spoke With Trump in May amid White House Criticism of Rate Policy
Call marked the third straight month in which the two men have spoken after they shared February dinner
The two men spoke by telephone for five minutes on May 20, according to Mr. Powell's public calendar for the month, which was released Friday. The calendar didn't indicate who initiated the call or what was discussed…  https://www.wsj.com/articles/feds-powell-spoke-with-trump-in-may-amid-white-house-criticism-of-rate-policy-11562351983
The WSJ's @NickTimiraos: Trump called Fed Chair Powell for a short five-minute call in March, April and May.  The two men hadn't spoken for over a year when they had dinner in February
Trump says 'favored-nations clause' on drug prices is on its way [Bad news of big pharma]
"As you know, for years and years, other nations paid less for drugs than we do," he told reporters gathered on the South Lawn of the White House. "We're working on it right now, we're working on a favored nations clause, where we pay whatever the lowest nation's price is."  Trump said he will sign an executive order to implement the plan…
https://www.upi.com/Top_News/US/2019/07/05/Trump-says-favored-nations-clause-on-drug-prices-is-on-its-way/7001562346583/
Gasoline rallied 1.3% on Friday after declining 1.7% during European trading.  A fire at the Irving St. John refinery ignited the turnaround.
There was other negative news on Friday that weighed on stocks.
China won't buy US agricultural products if Americans 'flip-flop' in trade talks – state media
Beijing also wants to see if Washington eases supply restrictions on Huawei before it commits to buying American soybeans, source says
https://www.scmp.com/news/china/diplomacy/article/3017315/all-eyes-huawei-ban-us-and-china-try-break-trade-war-deadlock
ESUs and European stocks sagged on ugly May German Factory Orders, which tumbled 2.2% m/m and 8.6% y/y.  -0.2% m/m and -6.2% y/y were expected. This is the biggest y/y decline since September 2009.
OAN's @jennfranconews: The U.S. has called for an emergency meeting of the United Nations nuclear atomic agency board to discuss Iran, after the nation breached the 2015 nuclear deal
On Saturday Trump intensified his attack on the Fed:  Strong jobs report, low inflation, and other countries around the world doing anything possible to take advantage of the United States, knowing that our Federal Reserve doesn't have a clue! They raised rates too soon, too often, & tightened, while others did just the opposite.  As well as we are doing from the day after the great Election, when the Market shot right up, it could have been even better – massive additional wealth would have been created, & used very well. Our most difficult problem is not our competitors, it is the Federal Reserve!
Senate Finance Com Chair @ChuckGrassley told Trump to shut up about stocks and explains why.
[On Saturday] @ChuckGrassley: @realDonaldTrump U have the economy on the move. Rather than citing the Stock Market as measure of success  cite the statistics in Friday s WSJ Ed "A Tale of Twp Economies " so the average Jill & Joe know how the economy works for everybody
'Smoking gun': Huawei staff employment records link them to Chinese military agencies
Analysis of CVs of Huawei employees appear to show 'far closer links' between the company and military-backed cyber agencies than previously thought – Huawei staff admitted to having worked with Chinese intelligence agencies in a "mass trove" of employment records leaked online…
https://nationalpost.com/news/world/smoking-gun-huawei-staff-employment-records-link-them-to-chinese-military-agencies
Deutsche Bank will exit its global equities business and slash 18,000 jobs in sweeping overhaul
The German bank also expects to report a net loss of 2.8 billion euros in the second quarter of 2019. It will release its second quarter results on July 25, 2019.
https://www.cnbc.com/2019/07/07/deutsche-bank-will-exit-its-global-equities-business-and-scale-back-investment-bank.html
DB will bundle €74 billion of assets into a separate 'bad bank'.  This is 40% more than its initial proposal.  The bank will take a €3 billion charge for Q2 2019 and will not pay dividends in 2019 or 2020.
ECB member [de Galhau] says stimulus package could come this month if needed [Due to DB?]
https://www.cnbc.com/2019/07/08/ecb-member-says-stimulus-could-come-before-lagarde.htm
Today – Traders will play for the expected Monday, abetted by the knowledge that Team Trump will arise to verbally intervene if something negative for equities appears.  On Sunday, DJT said the DJIA would be 5k to 10k higher with a better Fed policy.  With Trump in 2020 Campaign mode, stocks are likely to keep plodding higher.  However, if stocks bubble up, there will be hell to play soon thereafter.
This will be a very interesting week, especially after Trump's latest boorish jibes at the Fed.  Powell has three scheduled appearances: a speech today and two Congressional appearances (Wed House Fin Serv; Thur Senate Banking Com).  If Powell is dovish, he will appear to be kowtowing to Mighty Mouth.  If he is hawkish, he will look defiant.  So, Powell has a tough task in trying to traipse the middle ground.
The Fed Minutes from June 19 are scheduled for release on Wednesday at 14:00 ET.  ESUs are down 4.25 at 21:33 ET after opening +4.25.  Concern about DB is trumping the usual Sunday night buying.
Jeffrey Epstein Arrested for Sex Trafficking of Minors
Saturday's arrest by the FBI-NYPD Crimes against Children Task Force comes about 12 years after the 66-year-old financier essentially got a slap on the wrist for allegedly molesting dozens of underage girls in Florida… Under the sweetheart deal, Epstein dodged federal charges that might have sent him to prison for life. He instead pleaded guilty to minor state charges in Palm Beach, and served 13 months in a private wing of a county jail, mostly on work release…
    Epstein reportedly supplied valuable intel to federal investigators in exchange for his lenient plea deal… But in March 2019, FOX Business reported that Epstein "did not provide any meaningful cooperation to obtain his relatively light sentence in the hedge fund case or likely any case tied to the financial crisis."…  https://www.thedailybeast.com/jeffrey-epstein-arrested-for-sex-trafficking-of-minors-source
CNN reports the SDNY's Public Corruption Unit is handling the Epstein case. This suggests that the DoJ believes official misconduct occurred in the prior investigation.  It also prevents pols and the local DA office from interfering in the case.
According to recent reports, paper filed against his friend Jeffrey Epstein in 2006 mentioned that he had installed hidden cameras everywhere in his property to record the indecent acts of important people with underage prostitutes for further criminal use such as blackmail…
https://archive.fo/20150129122854/http://au.ibtimes.com/prince-andrew-might-have-been-caught-tape-sex-slave-1407641#selection-1397.106-1397.381
@Barnes_Law: Were they [FBI] searching for this [tapes] in their raid at Epstein house?
Nancy Pelosi's daughter Christine Pelosi @sfpelosi: This Epstein case is horrific and the young women deserve justice. It is quite likely that some of our faves are implicated but we must follow the facts and let the chips fall where they may – whether on Republicans or Democrats.
Flight logs show Bill Clinton flew on sex offender's jet much more than previously known
https://www.foxnews.com/us/flight-logs-show-bill-clinton-flew-on-sex-offenders-jet-much-more-than-previously-known
Fusion GPS tried to tie Trump to Clinton's pedophile pal Epstein as part of smear campaign
https://www.washingtontimes.com/news/2017/dec/10/glenn-simpsons-fusion-gps-ran-donald-trump-smear-c/
Trump Was 'Only One' to Help Prosecutor in 2009 Epstein Case
Edwards: President Trump… is the only person who, in 2009 when I served a lot of subpoenas on a lot of people, or at least gave notice to some pretty connected people, that I want to talk to them, is the only person who picked up the phone and said, let's just talk.  I'll give you as much time as you want.  I'll tell you what you need to know, and was very helpful, in the information that he gave, and gave no indication whatsoever that he was involved in anything untoward whatsoever, but had good information. That checked out and that helped us and we didn't have to take a deposition of him in 2009…
      Radar reported last April, "According to an investigation by Radar, Trump was among dozens of renowned New Yorkers who knew Epstein socially but ostracized him after Palm Beach police uncovered the financiers sleazy double life," adding that Trump "once barred child molester Jeffrey Epstein from his famed Mar-a-lago club after the presidential candidate caught him hitting on a young girl."…  https://www.zerohedge.com/news/2019-07-07/trump-was-only-one-help-prosecutor-2009-epstein-case
WaPo columnist Marc Thiessen: Trump made his critics look small during his 'Salute to America'
Of all the stupid freak-outs we have experienced since Trump was elected, the hyperventilation over his Fourth of July address and celebration on the Mall may be the stupidest…
    Trump is not the first U.S. president to give a major speech on the Fourth of July. Harry S. Truman once delivered an Independence Day address in front of the Washington monument. Presidents Woodrow Wilson, John F. Kennedy, Gerald Ford, Bill Clinton and George W. Bush all gave Fourth of July addresses from Independence Hall in Philadelphia. And, in 1986, Ronald Reagan delivered a Fourth of July address from the deck of an aircraft carrier, the USS John F. Kennedy, strategically placed in front of the Statue of Liberty…
https://www.washingtonpost.com/opinions/2019/07/05/democrats-swore-trump-would-give-partisan-speech-he-gave-unifying-one/
CNN: Trump calls bluff of critics in July 4th speech
In one of the least polarizing speeches of his presidency, Trump paid tribute to America's armed forces at a July Fourth appearance before the Lincoln Memorial in Washington that unfolded amid stormy skies and criticism that he was politicizing the nation's Independence Day celebrations…
https://www.cnn.com/2019/07/05/politics/trump-july-4th-speech/index.html
The MSM, Dems and his usual critics warned that DJT would turn the 4th of July into a tribute to himself.  Biden explicitly stated this.  Instead, Trump made the event a history lesson and salute to the military.
@AnnCoulter: Hey POTUS: Thrilling to see our military in action at DC parade.  Would be more thrilling to see 'em in action at the southern border.
Barbs about Kamala Harris's Indian-Jamaican ancestry are apparently hurting her polling.  On Saturday, Harris proposed a $100B program to help Black Americans buy homes.
https://www.foxnews.com/politics/kamala-harris-announces-100b-plan-for-black-homeownership-tackling-racial-wealth-gap
The legendary Biden gaffe machine cranked out another whopper on Friday.
Biden: Russia Election Interference Wouldn't Have Happened 'on My Watch and Barack's Watch
"It wouldn't have and it didn't."… [Ergo, according to Joe: The 2016 Election is legit; Putin did not interfere and the Mueller probe was unnecessary.]
https://news.grabien.com/story-biden-russia-election-interference-wouldnt-have-happened-my
OAN's @jennfranconews: Joe Biden says he would bring back the unpopular individual mandate under Obamacare, and insists it's still more popular than the healthcare proposals being promoted by his Democratic challengers
Elizabeth Warren: Tax on Rich Will Pay for Day Care… A two cent per dollar tax on every $50 million levied against 75,000 of the top earners in the United States… The tax would raise more than $1 trillion, Warren said, enough to pay for child care for every baby in this country from newborns to 5 year olds, universal pre-kindergarten for every 3-and-4-year-old child, and tuition-free technical school, community college and four-year college for everyone who wants a higher education.  "Plus, we can cancel student loan debt for 95% of people," Warren added…
https://www.breitbart.com/politics/2019/07/06/elizabeth-warren-tax-rich-pay-day-care-every-newborn-u-s/
@RealSaavedra: Democrat Rep. Veronica Escobar (TX) is secretly sending staff into Mexico to coach asylum-seekers "to pretend they cannot speak Spanish to exploit a loophole letting them to return to the U.S."   https://www.washingtonexaminer.com/news/democratic-congresswoman-secretly-sending-staff-into-mexico-to-coach-asylum-seekers
Starbucks barista asks Tempe officers to leave because customer felt unsafe, police say
[Five officers asked to leave because ONE customer complained about their presence.]
https://www.ajc.com/news/national/starbucks-barista-asks-tempe-officers-leave-because-customer-felt-unsafe-police-say/bVGNtTgrxknGq1003yGORO/
San Francisco to paint over historic George Washington mural
Criticized as racist and degrading for its depiction of black and Native American people.
https://apnews.com/9f3037c7ec9d48a286059ac8f9975afe
Hillary Clinton Withdraws as Cybersecurity Conference Keynote, Citing 'Unforeseen Circumstance'     https://dailycaller.com/2019/07/04/hillary-clinton-cybersecurity-conference/